Every couple is looking for honeymoon ideas to make their honeymoon unique and memorable; they are also eager to capture their sweet honeymoon memories for a lifetime.
Young couples take photos and film video clips to record their honeymoon bit by bit. Why not choose to make a romantic and memorable honeymoon video to relive your sweet honeymoon memories forever? A honeymoon video capture all the precious moments during the honeymoon that you want to treasure forever, which is more valuable than a simple collection of photos or clips.
Here are the helpful honeymoon video editing tips for you to turn your raw honeymoon footage into a romantic movie. Follow us and get started.
Free Templates for Your Honeymoon Video Editing Inspiration
Honeymoon Slideshow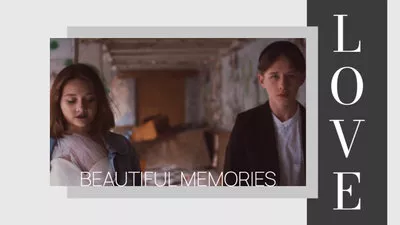 Couple Photo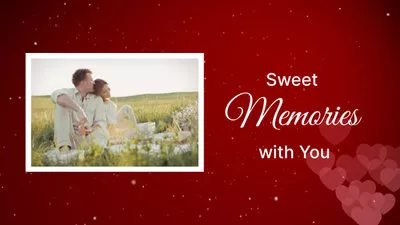 Sweet Love Collage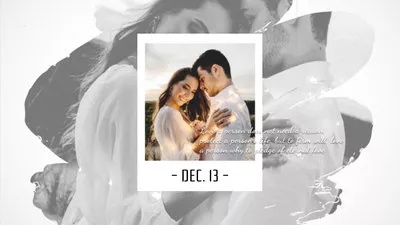 Story Of Love
Also Read: Best Save the Date Video Maker - Create Your Save the Date Videos for Free >
Honeymoon Video Maker for the Professional yet Easy Honeymoon Video Editing
The right honeymoon editing tool offers a double bonus. So finding the best honeymoon video edits is pretty essential when you try to make a honeymoon video. Although there are various professional software like Adobe Premiere Pro and After Effects that we can use to edit a honeymoon video, the complicated steps often overwhelm the beginners and take tons of time for editing.
So here, we introduce a powerful yet easy-to-use free online honeymoon video editor/maker - FlexClip - to you.
FlexClip is the best video editing or creation tool that helps you turn your raw honeymoon clips and photos into a romantic movie. Never mind if you're not good at video editing! FlexClip can help you make a fantastic honeymoon video with professional editing tools in a breeze. As a feature-packed yet user-friendly honeymoon video maker, FlexClip strikes a perfect balance for making a memorable honeymoon video and ease of use.
Honeymoon Photo and Video Editing for a Romantic Honeymoon Movie
Now, let's see how you can use the many user-friendly editing tools of FlexClip to edit the collected honeymoon photos and videos into memorable videos.
1. Basic Video Editing Features to Adjust the Honeymoon Footage
Basic video editing feature such as cutting/trimming, flipping, and rotating to adjust your honeymoon footage. Once you add your footage to the FlexClip video editor, you can use those free tools to edit your footage as you wish with simple clicks: cut out the unnecessary parts, change the orientation, straighten the horizon, etc.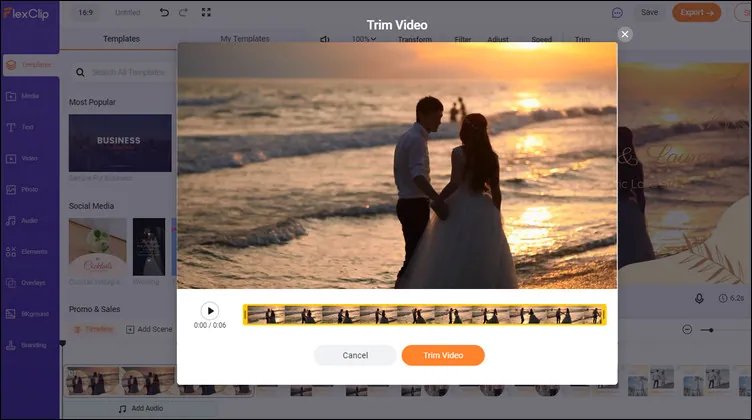 Adjust Your Honeymoon Footage
2. Advanced PIP Feature to Make Cool Honeymoon Collage
FlexClip comes with picture-in-picture feature to help you edit your honeymoon video in cool way. You can layer multiple photos and a video over the background to make a cool honeymoon photo collage, which should make your honeymoon video far more creative and appealing.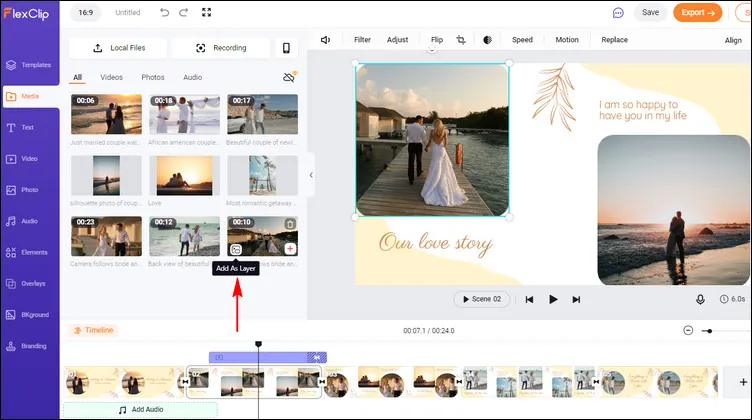 Make Cool Honeymoon Collage
3. Creative Cropping Tool to Add Shapes & Styles to Your Footage
FlexClip offers creative frame & crop mask tools for your honeymoon video editing. You can use them to crop your honeymoon photos or clips into different shapes, like crop to circle, heart shape, and more, and add styles to your honeymoon videos.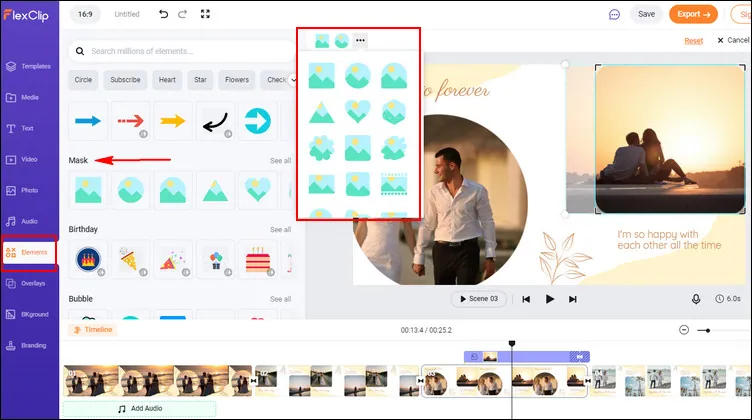 Add Shapes & Styles to Your Honeymoon Footage
4. Cool Animations to Bring Life to Your Honeymoon Footage
FlexClip offers easy animation/motion tools, which allow you to easily animate a photo, make text animation, or animate other decorative elements with custom animations. Also, you can adjust the duration, speed, and direction of the animation in your honeymoon video in clicks.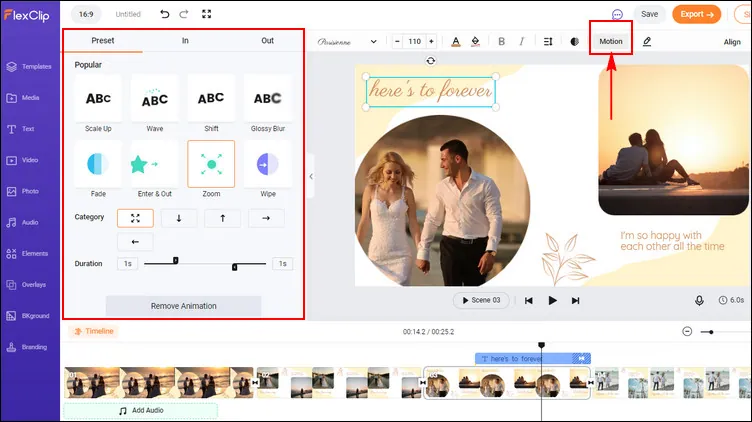 Animate Your Honeymoon Footage
5. Beautiful Filters and Flexible Color-grading to Improve the Quality
You can choose from lots of free filter effects to color-grade your honeymoon footage with one click or manually adjust them on contrast, brightness, temperature, and more to maintain a consistent aesthetic in the final honeymoon video.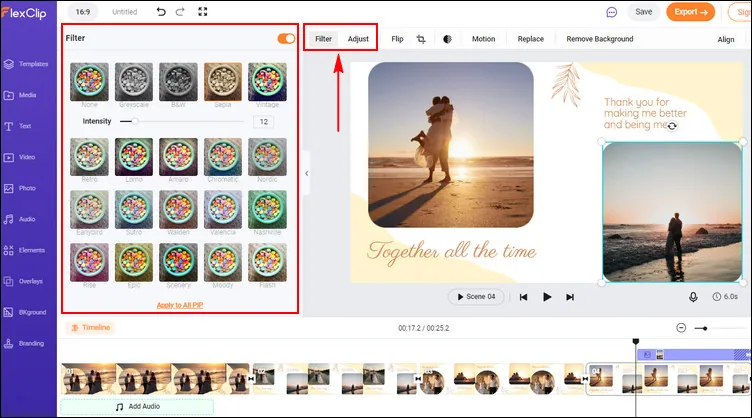 Beautiful Filters and Flexible Color-grading
6. More Editing Tools to Level up Your Honeymoon Video
More video editing feature like transition and overlay effects, speed controller, etc. for you to explore. Transition effects help your video clips go smoother. Overlay effects, like film grain overlay or snow overlay, make your honeymoon video look more cinematic and memorable. Changing video speed, slowing down or speeding up the footage, make your video more interesting.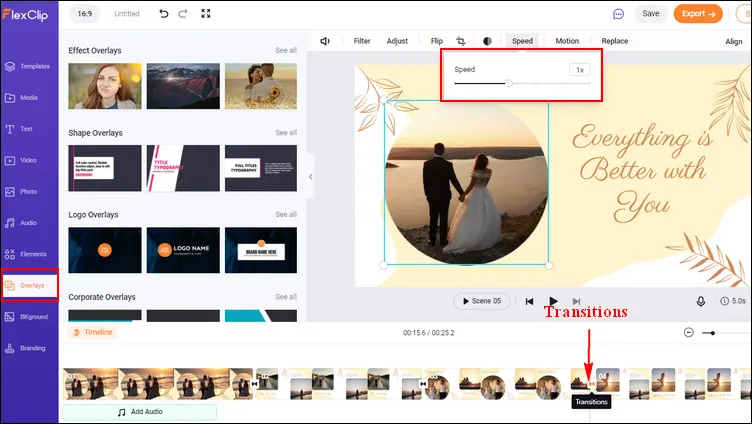 More Editing Tools to Level up Your Honeymoon Video
Besides helpful video editing tools, FlexClip offers numerous designer-made and fully customizable video templates with music and styles to help you get started quickly. Simply pick a template you like, then replace the default imagery with your own honeymoon footage and edit the text and other elements in the template as you wish to make a romantic honeymoon movie in a breeze.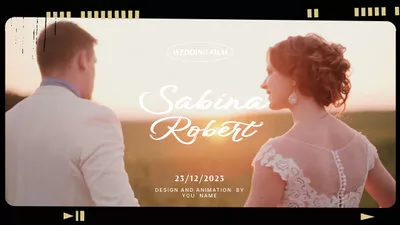 Wedding Teaser Template
Anniversary Photo Collage
More video editing features and resources are waiting for you to explore! Turn to FlexClip and start turning your raw honeymoon footage into an amazing video right now!
Final Words
That's all for how to edit a honeymoon video. Hopefully, with the tool and honeymoon video editing suggestions we recommend above, now, you are an expert in making cool edits on your honeymoon video. If you find this post useful, please do share it with others!