Most videos nowadays are rectangular in shape because they are recorded in either a landscape or portrait format. However, you might need a video in circle or oval to share on different social platforms or further editing. Additionally, changing video shape also saves loads of storage space. All reasons mentioned above make it essential to learn how to change the shape of your videos.
Here in this post, we will focus on how to crop videos to circle. Check the following methods and follow.
Free and Customizable Circle Video Template You May Need:
Company Introduction Presentation
Freelance Graphic Designer Resume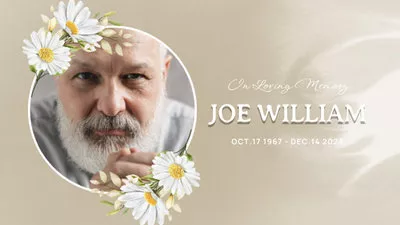 Flower Funeral Memorial Slideshow For Grandfather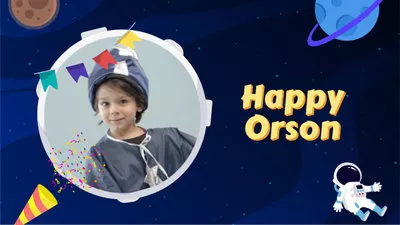 Birthday Greeting Slideshow
Also Interested: How to Change Shape of a Video>>
1. How to Crop Videos to Circle Online
Cropping videos from a rectangular shape to a square is pretty basic. But how about cropping a video into a circle or oval? Well, it's still easy to do that with the help of online video cropper - FlexClip.
Packing various circle/oval mask presets with stylish layouts, it enables you to crop videos into circle shape in one-click operation without being an expert, including regular circle, hand-drawing circle, mellow irregular circle and more. Additionally, circle-shaped video with ornaments like garland, picture frame, white border can also be reached by using Frame presets.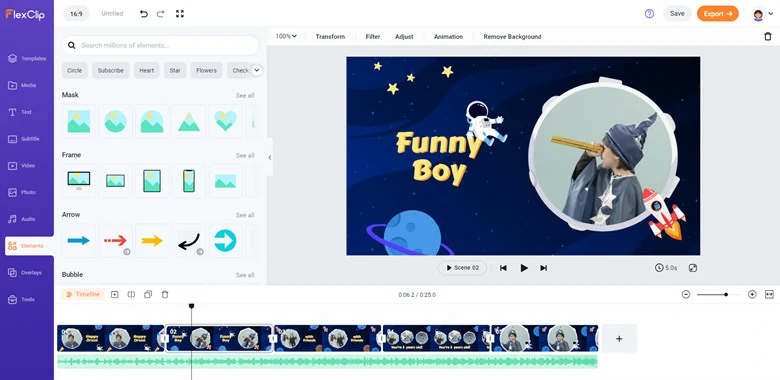 Crop Video into Circle Editor - FlexClip
Aside from its extensive circle video shapes, there are also features like flipping the video, filter options, lighting and contrast adjustments to choose from. What's better, it's totally free to use online and you don't need any previous editing experience or quality comprise!
How to Circle Crop Video Online Using FlexClip
Follow the step-by-step guide to crop videos into circle shape.
Step 1
Visit FlexClip's editor page and import the video you want to crop in circle from PC, mobile, Google Drive, OneDrive, Dropbox, etc.
Step 2
Instead of directly cropping videos in circle, FlexClip, like most video editors, helps you create a circle video as an overlay. So, here you need to add a background video or change the default background video color as you like. After that, ensure the background video and the original video share the same duration.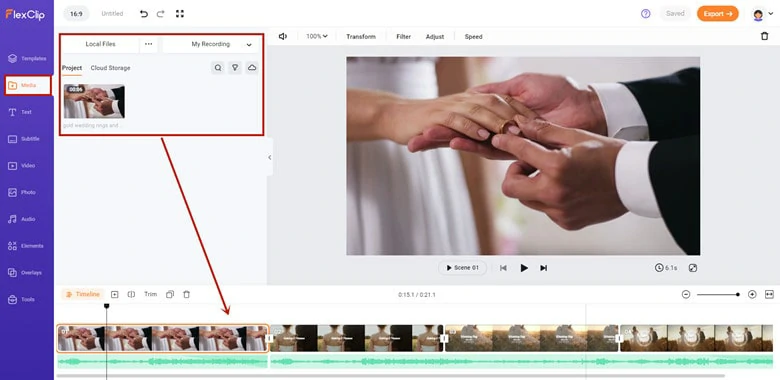 Add Background Video and Adjust Time to Match the Circle Video
Step 3
Tap Add As Layer to add the target video to the background.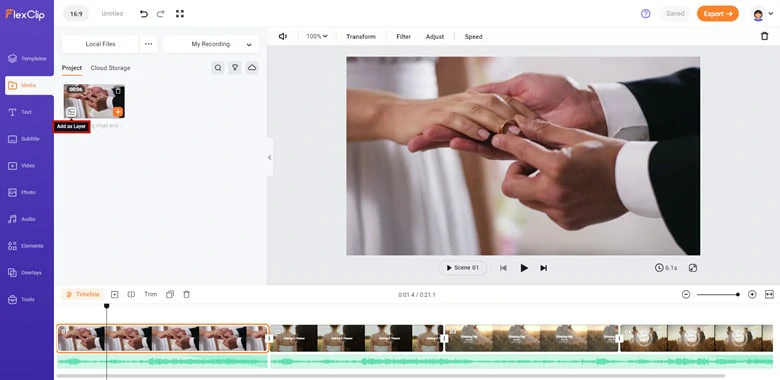 Use Picture-in-picture Effect to Add the Target Video
Step 4
Select the video, use the crop tool, select the circle preset from the drop-down menu and start to crop. You can adjust what would be seen in the circular frame by dragging the video.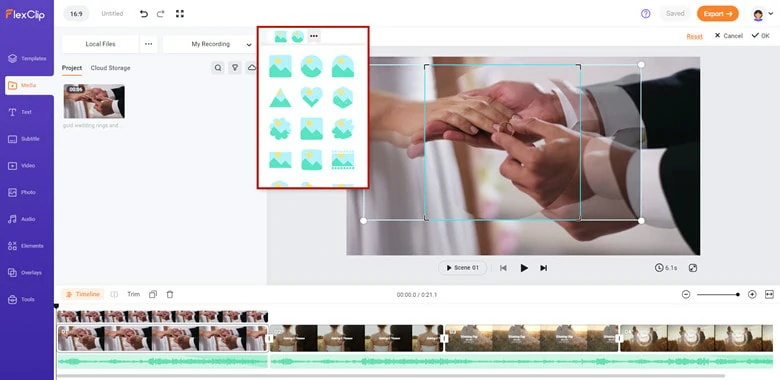 Crop Video into Circle Shape
Step 5
Take a quick view of your video to make sure nothing important is cropped out. Once you're satisfied with the video, export and download the file.
Or you can shape video circle with frame for particular themes like wedding, birthday, travelling. Check the step-by-step guide to create circle video online.
Step 1
Click on Crop it Now below and upload videos under the Media panel.
Step 2
Add the background video to timeline. If you don't have one, go to FlexClip's video stock to find a high-quality video background without copyright issue.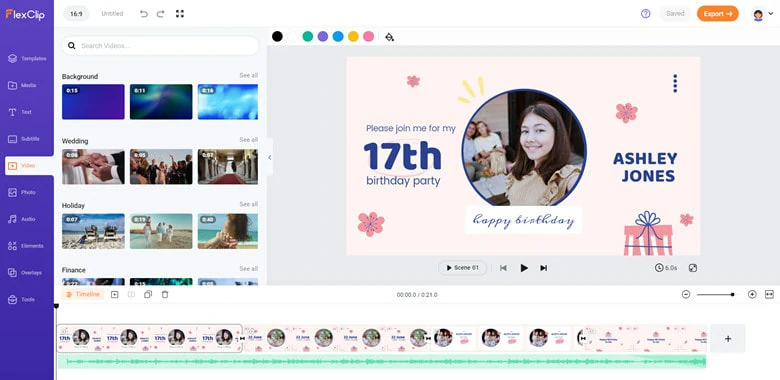 Add or Find Background Video to Timeline
Step 3
Next, move to Elements > Frame and scroll down to add the circle frame preset you like.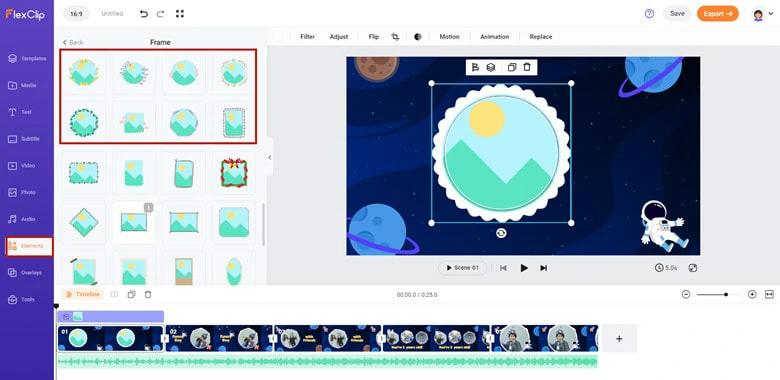 Find a Circle Frame Preset You Want
Step 4
Drag and Drop the video to the frame preset and it will instantly crop video in circle.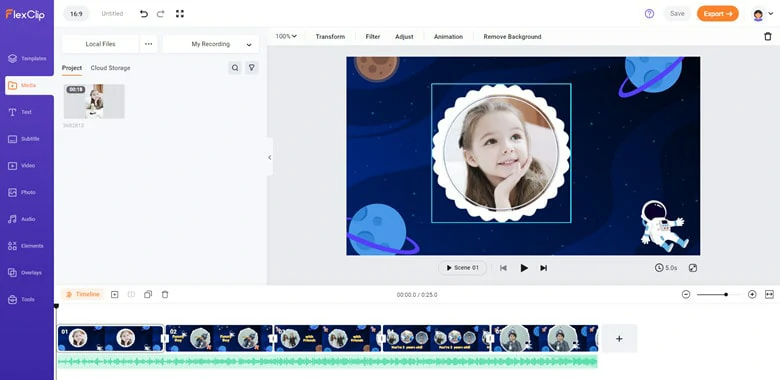 Crop Video in Circle with Frame
Step 5
Adjust the viewing area to make sure nothing important is cropped out. Once you're done, tap on Export icon to download or share across social media platforms like YouTube and TikTok.
Besides cropping videos into circle, FlexClip has much more to offer:
700+ circle video templates to sparkle your creativity, covering nearly all the themes you can imagine, including logo intro, birthday, wedding invitation, business presentation, YouTube intro/outro and more. You don't have to be an expert in video editing as FlexClip's professional-looking template is a shortcut for you.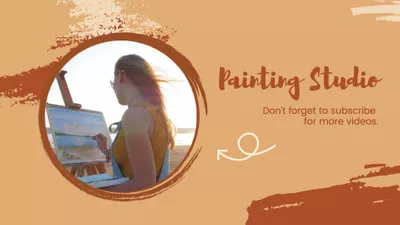 Youtube Art Outro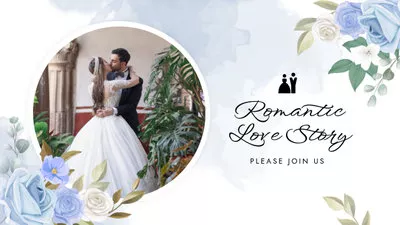 Watercolor Wedding Invitation Card
It's extremely easy to
record a gameplay and tutorial video with webcam
displayed in circle shape. From screen recording with webcam to post-production editing, FlexClip has the easiest yet powerful toolkit to make your creation process a breeze. What's more, all the tools are totally free to use!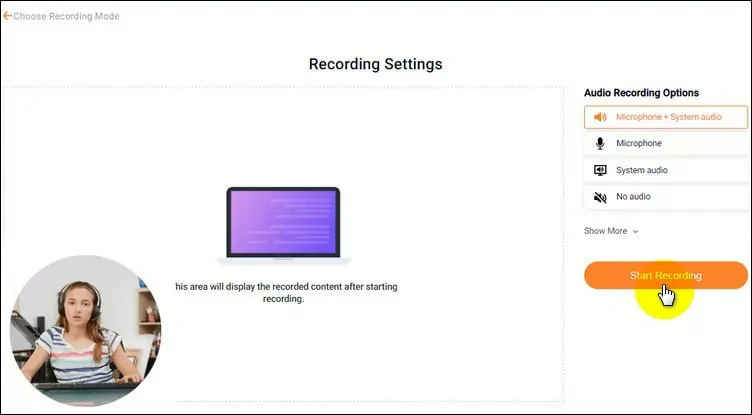 Record Screen with Webcam in Circle Shape
You can also crop photo in circle and save it as JPG in FlexClip. It supports PNG, JPG, WEBP, SVG, GIF (within 500 frames), BMP and ICO formats and changes the photo to round using Mask/Frame presets. Moreover, advanced features like filtering, adding text and inserting shapes are available to perfect the circled photo.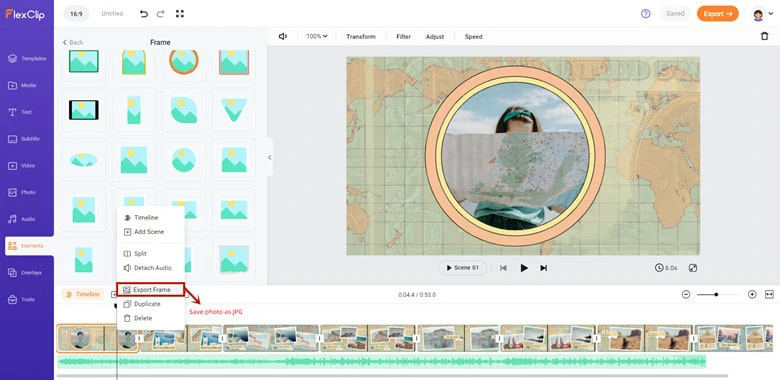 Crop Photo Circle in FlexClip
Aside from circle shape, you can crop videos in fixed aspect ratio(16:9, 1:1, 9:16, 4:5 and 21:9), adjust the size manually or change the video shape of heart, flower, star, cross, number, ect. No matter what types of video shape you want, there is always a quick solution in FlexClip.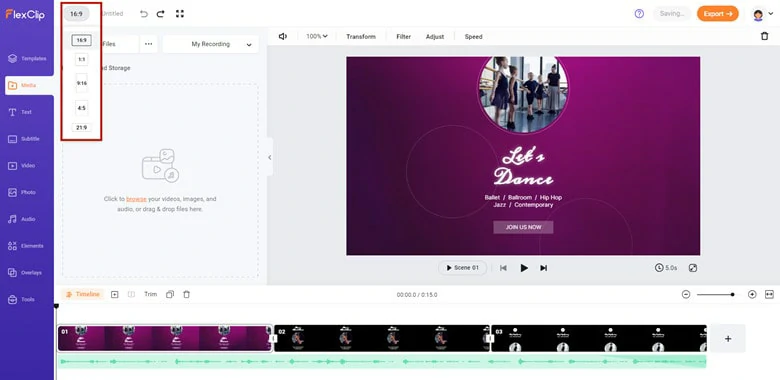 Powerful Cropping Feature in FlexClip
Want to jump on the board of AI tools? You've come to the right place.
AI text-to-image
, auto video script generator, image background remover,
text-to-speech tool
, AI subtitle generator and text-to-video features are all included in this versatile online video cropper.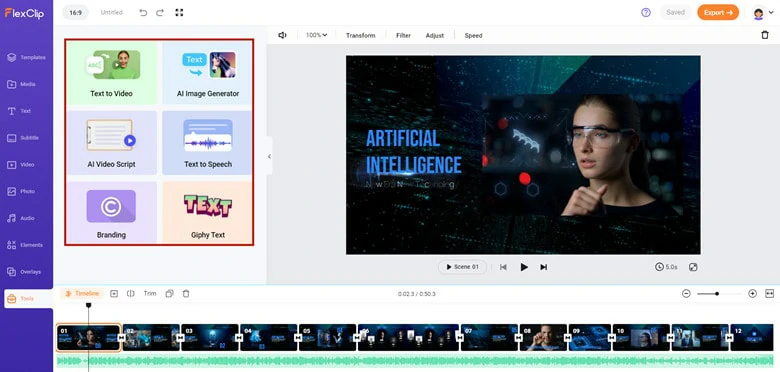 Popular AI Tools in FlexClip
Feel to level up videos with 7M+ royalty-free media resources, fast sharing to social media, awesome transition effects, extensive animated elements and stylish text layouts. Fast to edit and easy for sharing.
2. How to Crop Videos Into a Circle on Desktop
Another software that you can use to crop videos into a circle is Camtasia.
Camtasia is an app that allows you to record and edit videos and it has a free and paid version. The trial or purchase comes with free phone support, free webinars with access to Camtasia experts, and a large library of video tutorials.
When it comes to cropping circle videos, Camtasia has a crop mode built into the Camtasia Editor which does the job pretty well. Below is a step-by-step guide to cropping a video into a circle or oval using Camtasia:
Step 1
Download the Camtasia app on your desktop.
Step 2
Upload the original video to your timeline in the Camtasia app.
Step 3
Go to annotations and then select the shape you want. In this case, a circle.
Step 4
If you want to adjust the shape, simply hold SHIFT and one end of the circle, then drag it until you get the size you want.
Step 5
Once you've got the exact shape and size for the video, adjust the video to fit the circular shape perfectly.
Step 6
Export the video and download the file.
Crop Video into Circle on Desktop Using Camtasia
3. How to Crop Videos to Circle on Mobile
If you don't have access to a desktop and want to edit your video into a circle using your mobile phone, try the Video Crop app. With over 1 million installs of the app it's a popular one because of its ease of use on mobile.
This application is simple to use and can help you crop and reshape a video into a circle or oval.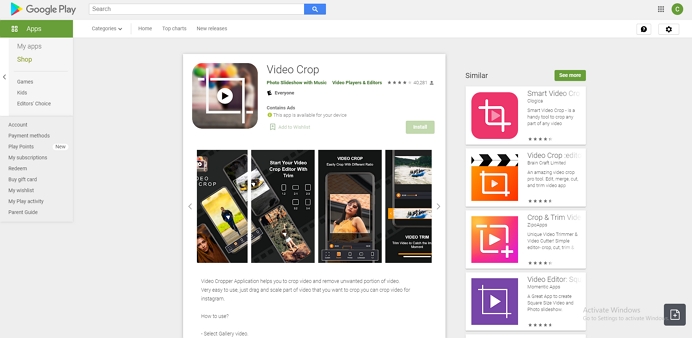 How to Crop Videos to Circle on Mobile - Video Crop
Step 1
Download the Video Crop app on your mobile device.
Step 2
Open the application and select the edit video feature.
Step 3
Upload your original video file to the app.
Step 4
Select the video cropper tool and select the shape you want.
Step 5
After selecting the circle or oval shape, crop the video and adjust the frame.
Step 6
Preview the video and export it once it's good.
FAQs
1. How to crop video into circle in iMovie?
iMovie doesn't have a built-in method for cropping video into circle. Instead, you can download a circle image in transparent and then overlay it to your video to reach the circle effect.
2. How to crop circle in CapCut?
The process of cropping circle in CapCut app is extremely easy! Follow the guide and let's learn how to make it.
Step 1: Firstly, download a green screen preset online and save it to your photo gallery.
Step 2: Open the CapCut application > Create a New Project > import the green screen image. Drag the slider to adjust the length of photo to match the video.
Step 3: Find Overlay button and tap on Add Overlay to import the video you want to crop into circle. Zoom the video to match it match the frame.
Step 4: Now it's time to do circle crop. Select the video > choose Mask in the Toolbar > use Circle preset. After that some points will appear that allows you to adjust the shape and size of your circle. If circled object is moving, apply Keyframe feature to focus on the object.
Step 5: When you finish with this, export the circled video. Additionally, you can use a green screen remover to remove unwanted green screen.
The Bottom Line
Cropping videos into circle is a technique widely used in video editing, especially for digital marketing and tutorial. In this blog, we've taken you through three ways to crop circle videos computer, mobile and online. Well, if you're looking an easy yet flexible video cropper, FlexClip is your go-to option without any download. Ready to have a try? Click on Crop it Now to get started!