Picturesque Wedding Video Templates for Free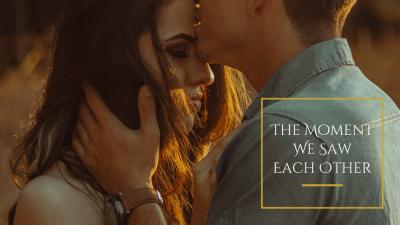 Wedding Slideshow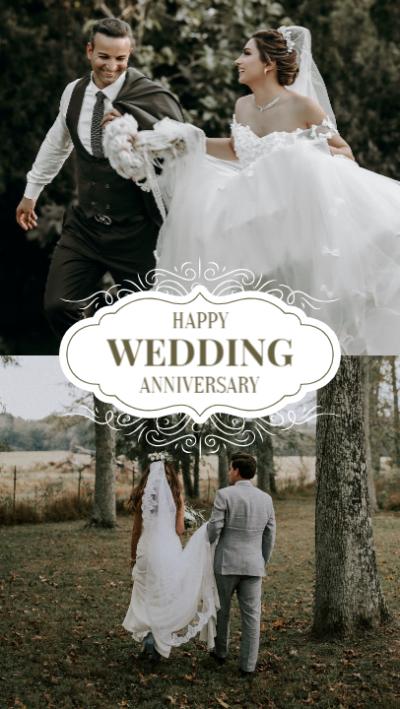 Modern Minimalist Wedding Anniversary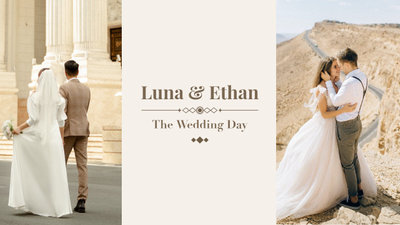 White Wedding Photo Gallery Slideshow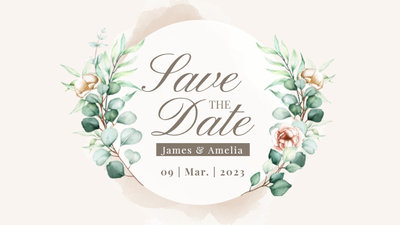 Wedding Save the Date Slideshow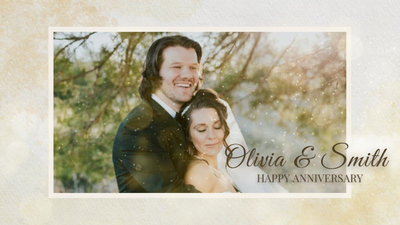 Romantic Bokeh Wedding Anniversary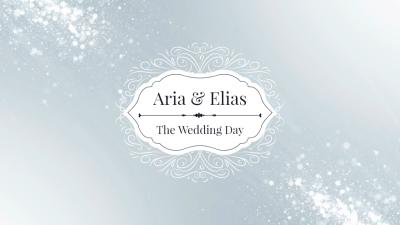 Minimalist Wedding Photography Album Slideshow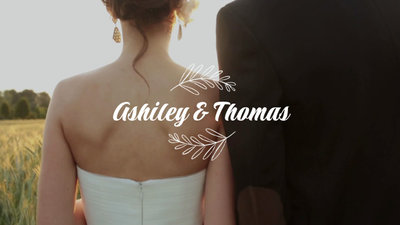 Wedding Title Save the Date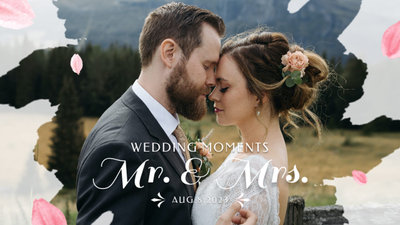 Pink Flower Love Wedding Story Slideshow Video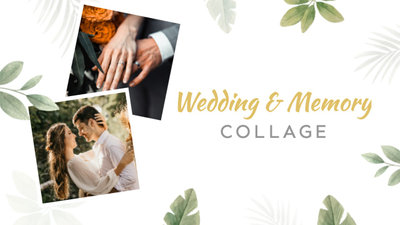 Wedding Collage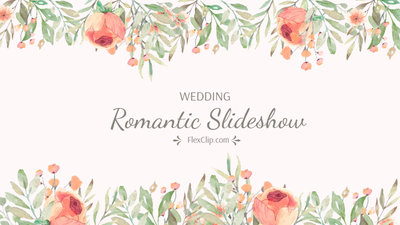 Romantic Pink Wedding Slideshow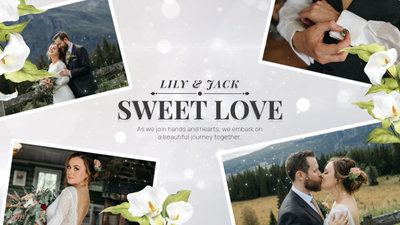 Pure Wedding Memory Collage Save the Date Slideshow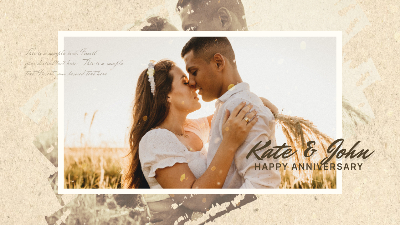 Love Romantic Wedding Anniversary Memory Floral Slideshow
What You Can Do with a Custom-made Wedding Video?
Make Wedding Videos and Photos Exquisitely Stunning
Craft a Wedding Invitation
Create an artistic and fabulous wedding invitation on your own using normal-looking photos & videos from your pre-wedding shoot! Send them out to your friends and relatives, and invite them to your wedding nicely!
Make a Wedding Video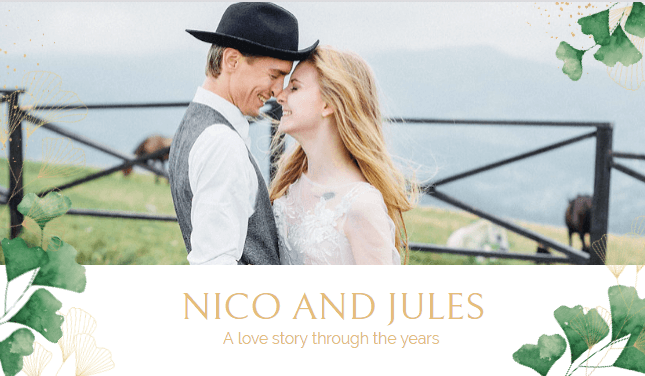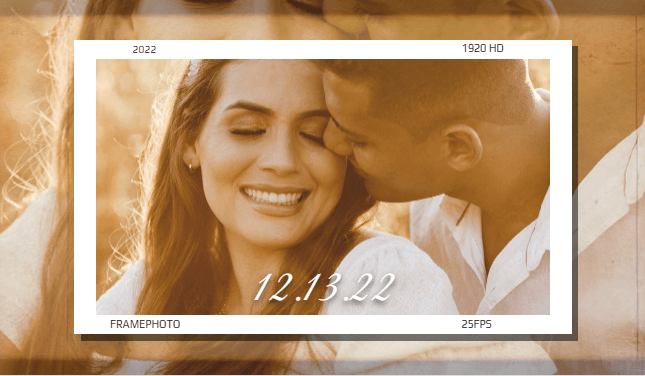 Make a Lovely Wedding Slideshow
Walk on your post-wedding venue aisle while your wedding photos play in the background. Using the available photo and video editing templates makes these photos and video clips look even sweeter!
Make Wedding Slideshow
Collage of Memories for Wedding Anniversary
Celebrating a wedding anniversary marks another milestone, denoting that another year has been added to your love and marriage! Turn a simple celebration into something more special by making a collage of memories.
Make a Wedding Video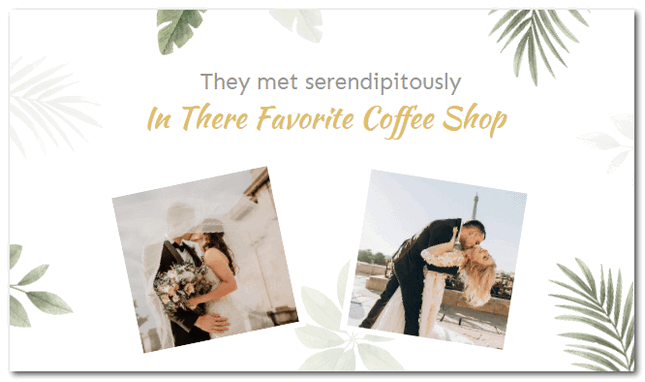 Tips to Storyboard Graceful Wedding Videos Like a Hollywood Blockbuster
Weddings are indeed costly. And one thing's for sure - you can save a lot on video editing expenses! Save money on pricey video editing subscriptions and create your dream wedding video yourself. And what if you are stressed out in planning your own wedding and adding the video editing task to your schedule? Worry no more - here are the four simple steps that will surely help you finish the wedding video in no time!
Collect stunning images and videos of weddings and love.
If you have a pre-wedding shoot, you have better chances of having professionally shot images and videos to include in your video. Also, you can make use of our images and video templates to level up your wedding video! Even the simplest photos taken with your phone camera can be turned into something more exquisite.
Piece them together like a love story - just as how you see it in the movies!
Choose from the available templates to place your wedding photos and videos together. Or, just drag and drop visuals into your storyboards and start from scratch. Easily incorporate your wedding's theme color into your film. You may easily modify the font colors, background images, transitions, and find extensive love graphics to match the color palette you used for your event.
Add heartfelt words to the wedding video.
Make your wedding video stand out even better by adding pop-ups of romantic words while the video plays. May it be common words, such as "love", "faith" and "forever", or any words that have deeper meanings to your relationship, add them. Not only will it make the video more lovely, but it can also appear more personal to you as newlyweds!
Choose a romantic song as the background music.
There are a lot of romantic songs available for download online, such as the classics "Because You Loved Me" by Celine Dion or "A Thousand Years" by Christina Perri, or you can make use of the song that played on your first date. But if you want something more instrumental and fewer vocals, you can choose from the available free wedding sounds!
Why You Need to Make a Wedding Video
Share Moments
Making a video story is a great way to share your important moments with family and friends.
Evoke Emotion
A video can convey strong emotion and resonate well with audiences.
Improve Engagement
People are more likely to engage, share, and comment on video content.
Create a Wedding Video in 3 Easy Steps
Add Media
Add videos or photos from computer or stock libraries to the scene.
Customize
Add text, music, and voiceover to customize your wedding video.
Export
Download your wedding video in various ratios and definitions or share it online with the world.