Tired of watching rectangular videos? Or are you struggling to make creative videos? Well a special shape video is here to save you! With a video shape changer, it's super easy to change your video to any wanted shape, be it a star or a heart shape.
No need to look around to find the best video shape changer! Simply take a look at four best ways to change video shape and pick your favorite way. Let's dive in!
Here are some stunning YouTube video templates for you: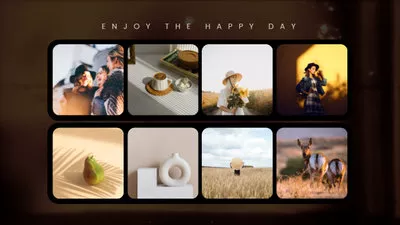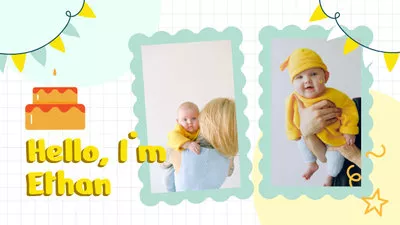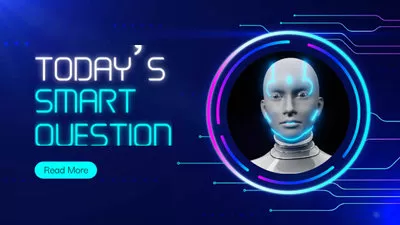 Can't Miss: Change Video Aspect Ratio Online for Free
Part 1. The Best Tool to Change Video Shape Online - FlexClip
Videos are not limited to rectangular! Use FlexClip as a shortcut to turn your normal videos into creative shape videos! As an online video shape changer, it packs multiple ways to change the shape of your videos. Be it circle, start or triangle, FlexClip lets you change the video to a unique shape in no time.
Besides special video shapes, 1000+ shaped-video templates, animated shape icons, different speech bubbles will greatly extend your creativity. No editing experience is needed! Simply tap on Create a Video to get started!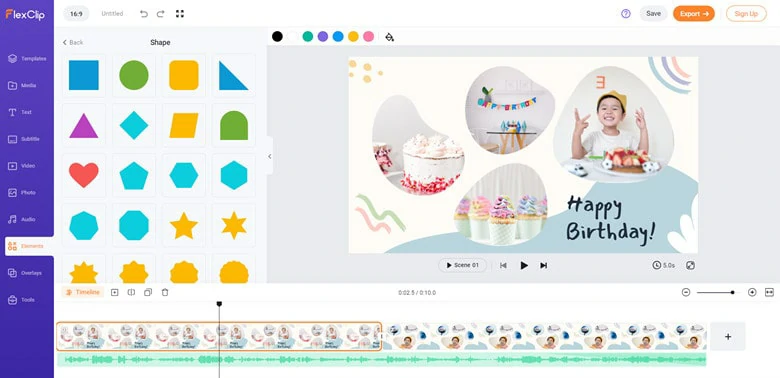 Change Video Shape Online with FlexClip
Video Shapes You can Access in FlexClip:
Basic Shape Presets: Common shapes like rectangle, arch, heart, circle and hexagonal can be easily reached in FlexClip. Simply add the ready-made shape preset and drag and drop video above the element, then congratulations! You've got a well-shaped video!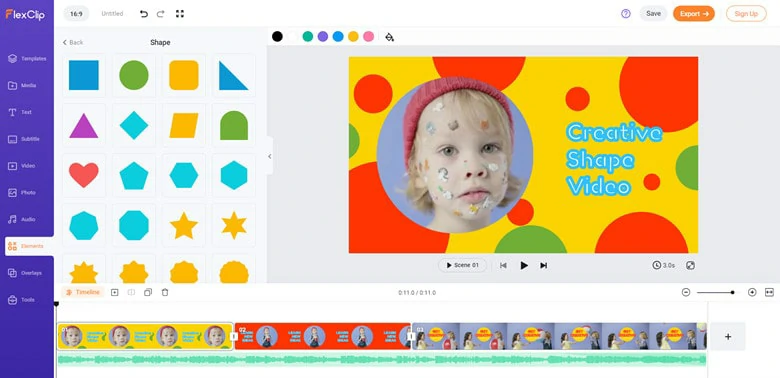 Basic Shape Presets in FlexClip
Artistic Shape Masks: Quickly make your video stand out by changing the shape to flower, filmstrip, tree, jigsaw and other artistic layouts. With FlexClip's ready-made preset, you don't have to master skilled to create a specific layer in professional software like Premiere, instead, you can reach the effect with one-click operation in FlexClip.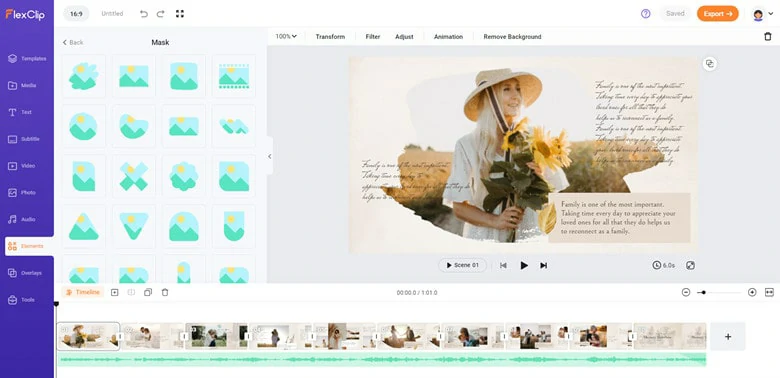 Multiple Artistic Video Shape Masks
Creative Shapes with Frame: Sometimes, you may want to shape the video with a specific frame that make the scene look natural. Be it a mobile frame, photo frame or TV frame, you can always find the matchable preset to suit your needs.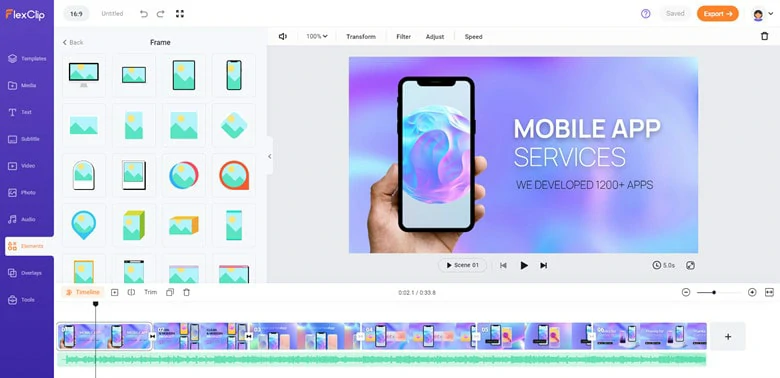 Creative Shapes in FlexClip
Number and Letter Shape Presets: Want to unveil your video with a letter or number? FlexClip has all the letters from A to Z with different styles and numbers from 0 to 9 that can be used to make all the combinations you want. All you need is a one-click operation.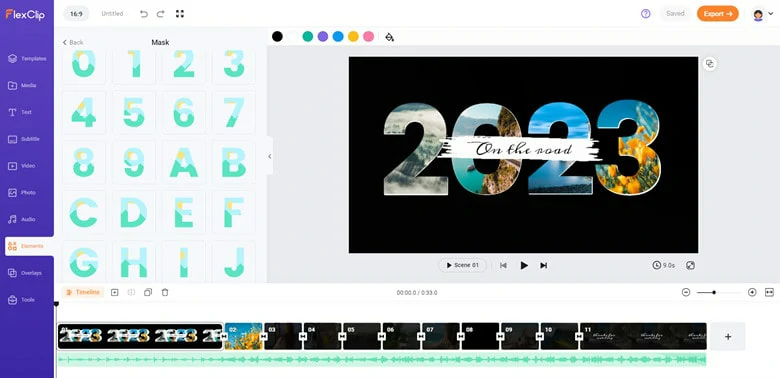 Number and Letter Shape Preset in FlexClip
Flexible Cropping Features: Besides mask and frame features, FlexClip also comes cropping function that allows you to change video shape by selecting from common fixed aspect ratio options or manually adjusting the shape with cropping tool. No matter what method you choose, it's easy to get started!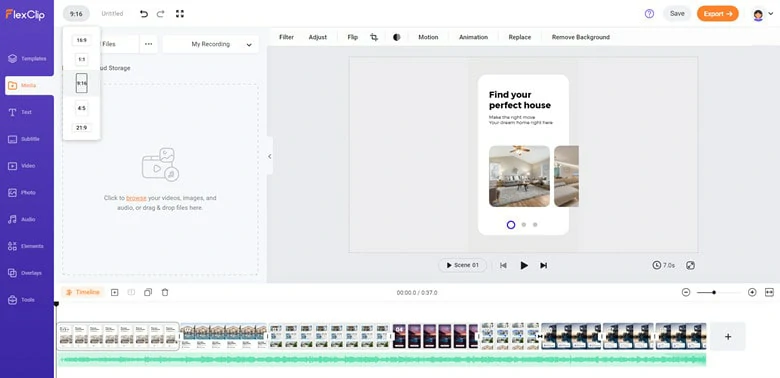 Cropping Feature in FlexClip
1.How to Change Video Shape by Adding Shapes
Step 1
Go to FlexClip's editor page and click on the Media icon to upload your footage from your PC or mobile phone.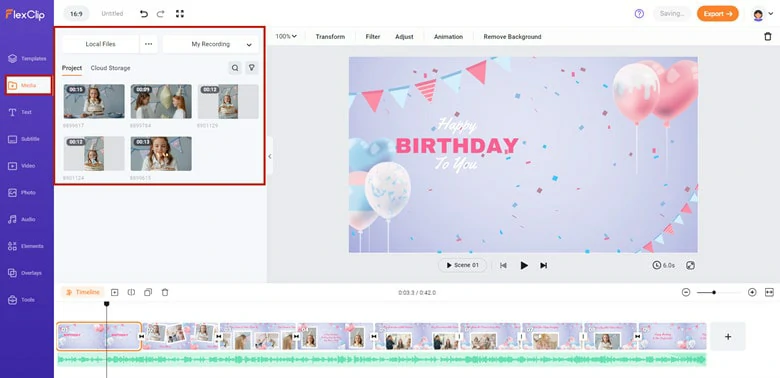 Upload Media Resources to FlexClip
Step 2
Now move to Shape section and select and add the shape preset you like. Once you picked the favorite preset, customize the size, color and position with ease.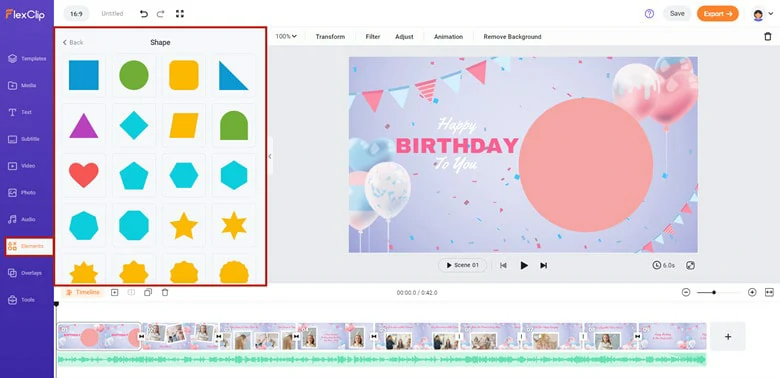 Pick Your Favorite Shape Preset
Step 3
Drag your video over to change its shape and adjust the border to make sure the wanted frame displayed. Export the shaped video or do further editing.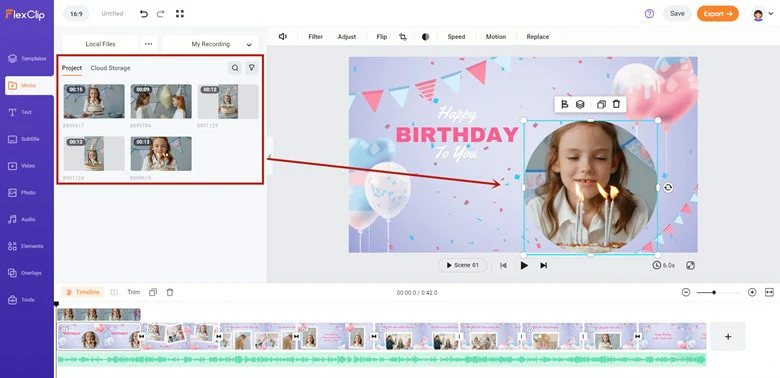 Change Your Video Shape
2.Change Video Shape by Cropping
Unleash your creativity by changing video shapes with FlexClip's cropping feature! Let's see how it works as below.
Step 1
Upload your video and add it as an overlay with the Add As Layer icon. You can change the background color to match your theme.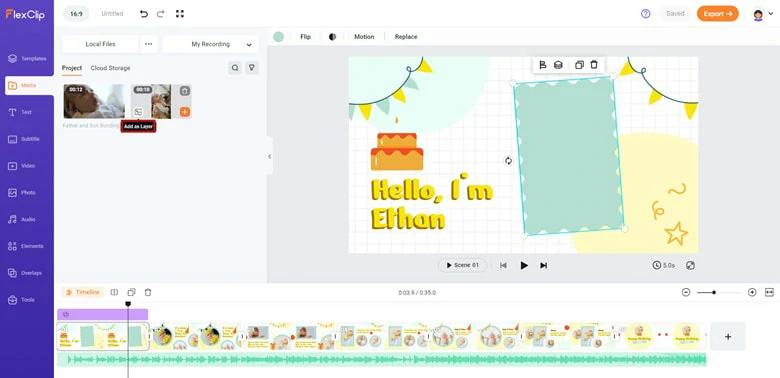 Add Your Video as An Layer
Step 2
Find the Crop tool on the top of the Preview panel and choose the desired shape. Then make adjustments to circle all the most important parts you want to show.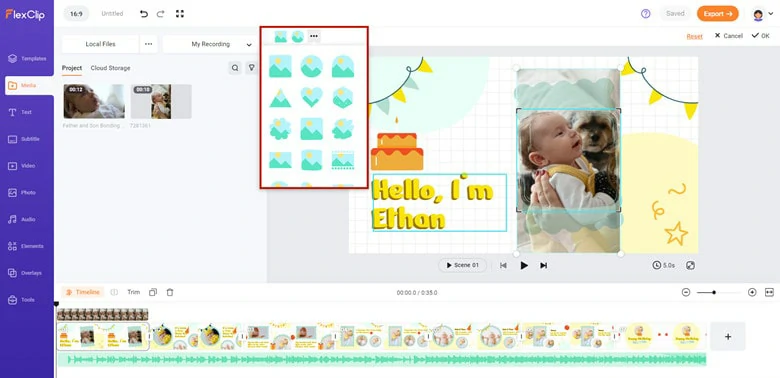 Use the Crop Tool to Change Video Shape
Step 3
Edit your video to make it appealing and pair a piece of
background music
to highlight the emotion.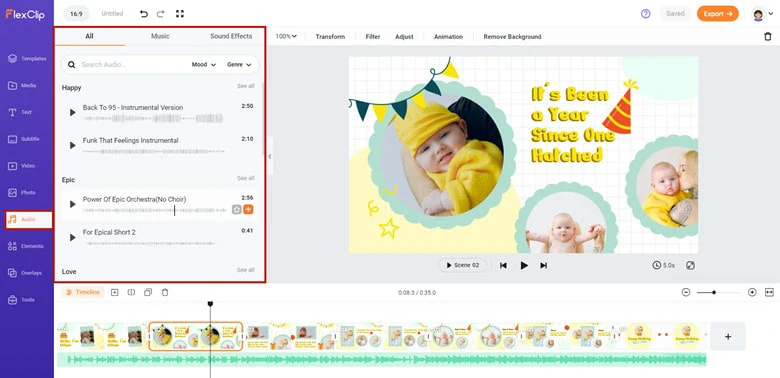 Make More Edits to Your Video
3.Change the Shape of Your Video by Applying Mask & Frame Effect
If you want to give your video a more creative and appealing shape, you can use FlexClip's >Mask & Frame effects to wow your audience. The steps given below explain how to change video shape with masking in FlexClip.
Step 1
Import the video from your PC or phone and drag it to the timeline.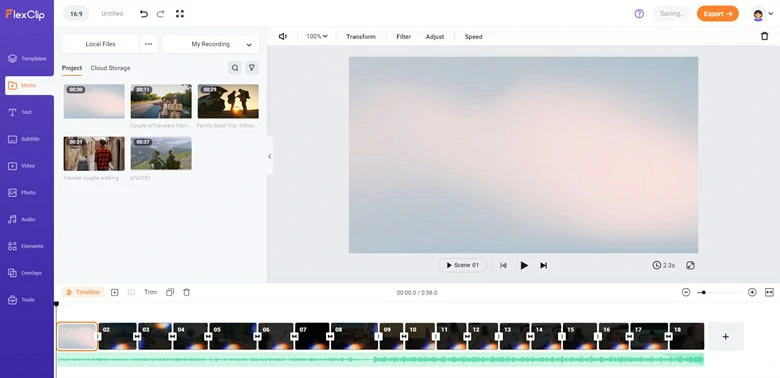 Import Your Video to FlexClip
Step 2
Head to the Elements section and scroll down to find Mask or Frame option, where you can see numerous shapes. Pick your favorite Mask/Frame effect then drag and place it with your video.
Go to Elements Section and Find the Shape You Like
Step 3
Add the video over the frame/mask and also level up your shape video by adding a
filter
, music background, and even motion. After that, export the video and share it across your platform.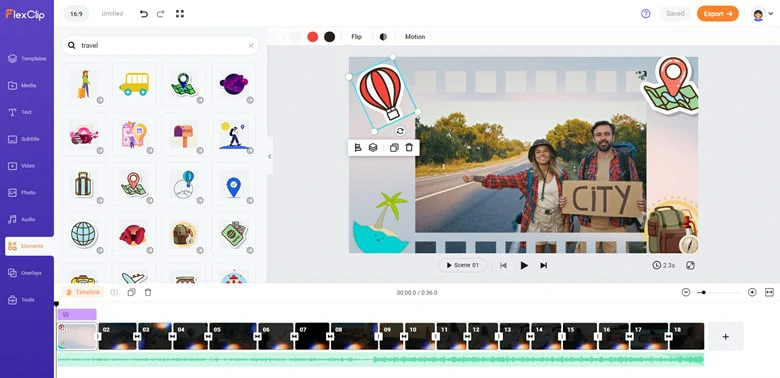 Level up Your Video
Part 2. The Awesome Editor to Change the Shape of Video - iMovie
With iMovie, creating professional-looking videos becomes easy even for people without any editing degree. When it comes to changing video shapes, most iMovie fans are looking for ways to achieve it. Indeed, iMovie allows you to change the video aspect ratio at any time before you export.
However, iMovie only provides two aspect ratio options: Widescreen (16:9) and Standard (4:3). When you change video's ratio aspect using iMovie, it may insert a black bar to make your video fill the full screen of 16:9. If you need the video aspect ratio of 1:1, 9:16 or 21:9, iMovie is not the perfect video shape changer to match your needs.
How to Use iMovie for Changing Video Shape on Mac
Step 1
Open iMovie on your Mac and click the Create New icon to import your footage. Once it's loaded, drag it to the timeline.
Step 2
Crop the video to your desired shape. Click on the Crop icon on the top toolbar and drag the edges of the cropped window across your video. When you're done, select the Share icon to save it to your device.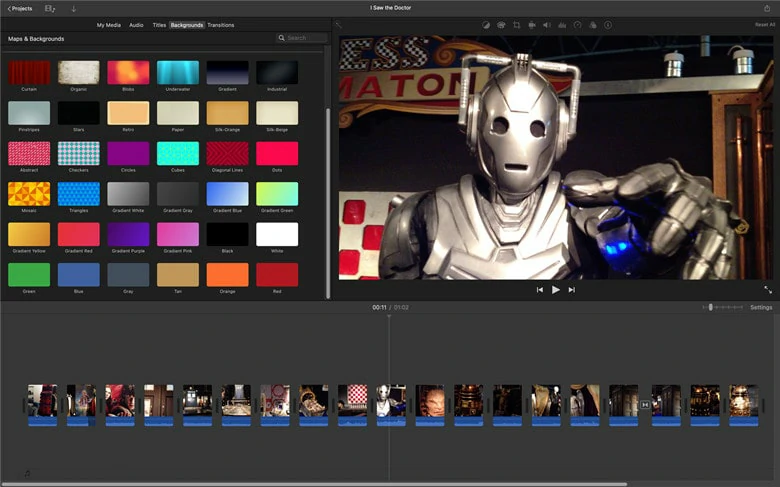 Change Video Shape with iMovie
1.iMovie 10 or later only offers widescreen aspect ratio option. Under such circumstances, you have to crop the frames to change the video shape.
2.For users of other versions, you can directly go to "File > Project Properties > Aspect Ratio" to change the aspect ratio as 16:9 or 4:3.
Part 3. An Easy Way to Change Your Video Shape - PowerPoint
PowerPoint is not only for making stylish presentation slides! Instead, it can insert videos and change them to multiple unique shapes in clicks. With PowerPoint's Change Shape tool, videos are not limited to rectangles. If you embed video into your presentation slide, try to make it eye-catching with the steps below.
Step 1
Download and open PowerPoint on your computer. Then copy and paste your video to a blank slide.
Step 2
Next, click on the video and see the tools tab at the top. In the Format section, select the Video Shape icon and choose your desired option from the drop-down menu with different shapes.
Step 3
Drag the handles to resize the video and change the position.
Change Video Shape Using PowerPoint
Part 4. A Paid Software to Help You Change Video Shape - Filmora
Filmora claims itself as an easy yet powerful video editor for beginners and professionals. It has an intuitive interface with a brunch of editing features, including green screen, keyframe, text to speech and more. As for changing video shape, Filmora also has something to offer that allows you to change video aspect ratio or adjust the video with a mask.
Although it gets some crashes and lags and the templates are not pretty good to use, it still a nice choice if you need a professional editor but scared of Adobe's heavy work.
How to Change Video Shape to Circle or Other Shapes in Filmora
Step 1
Launch Filmora on your PC and import the video to the timeline.
Step 2
Add image/shape mask to your video. Drag your desired mask option from the Utility window, then confirm that the fx icon appears on the video layer to ensure the effect has been applied.
Step 3
Customize the shape mask to make it perfectly fit your video. When you're done, export the video to local.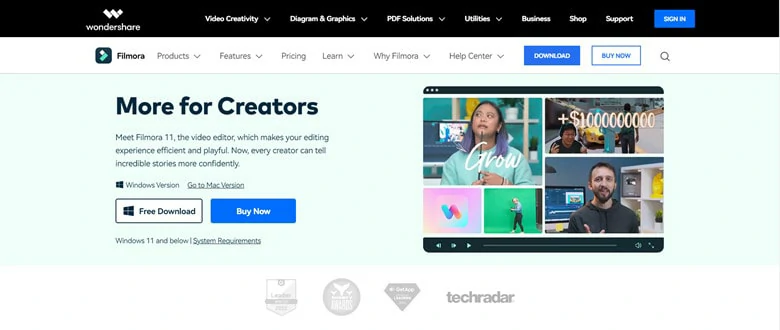 Change Video Shape with Filmora
In addition to the mask effect, Filmora also offers simple ways to change video shape, like changing the aspect ratio. Depending on your actual needs, make options as you like.
Final Words
Changing video shapes is a good way to make appealing and creative videos. This blog takes you through 4 best ways to change the shape of your video, each of which has its strength. By the way, FlexClip is the best tool for anyone who wants to create stunning videos without editing skills. Now it's your turn to make the decision and get started!