Changing face in video is not a daunting task. Here in this article, we provide you the easiest ways to help you replace face with another face in video on Android/iPhone/desktop and online. Find the solution that meets your requirements most.
Changing face is also called Face swapping. It first gained popular on Snapchat, a program that allows people to record a video with other people's face or emoji. As for face swapping in an existed video, lots of video editors can help out.
This post will introduce you 4 ways to change face in video on Android/iPhone, desktop and online. Refer to the part you need.
Also Read: 8 Best Video Background Music Resources >
Replacing face with another face in video may cause legal issues in some areas. In this post, we will talk about changing face in video with emojis, stickers, and motion face for entertainment purposes.
How to Change Face in Video on Android/iPhone
Method 1. Change Face in Video with Reface
Reface is a top rated face swap application for iOS and Android. Combined with a frequently updated video, video, GIF resources, you can make hilarious face swap videos and GIFs with a single selfie. It will absolutely morph your face and switch it with celebrities. You can also have fun replacing your face with memes. What's better, you can share your face changing video to messengers and social media platforms, which might help win you lots of likes and comments.
It is extremely easy to change face in video with Reface. Here is a detailed guide on using Reface to change face in video.
Change Face in Video with Reface
Method 2. Change Face in Video with InShot
InShot is a video editor and video maker with professional features. It provides you numerous emojis and stickers to change face in video. Pick one sticker you like, enlarge and add it to your face! Besides that, you can also use it to add text, transitions, change speed and more. One shortcoming to note is that the stickers Inshot provide may not fit your video very well. You might have to try for many times to pick a great sticker.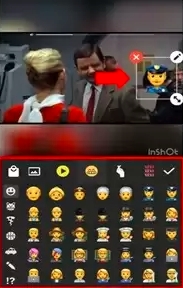 Change Face in Video with inShot
Part 2. Change Face in Video Online
FlexClip is an online video editor that requires no download. It helps you replace your face with other people's photo, interesting memes, or built-in stickers, which will add numerous fun to your videos. The whole process is easy and simple. Even if you have no experience in face swapping at all, you can catch up with it quite easily.
The detailed steps of using FlexClip to change face in video are as follows.
Step 1
Enter the editing panel.
Click on the Get Started button, you will be brought to the editing panel. However, you are also welcomed to click on the View Templates button to check the video templates for endless inspirations.
Step 2
Add to the Timeline
Upload your photos or videos from your computer to the Media section. Click on the Add to Timeline button to add to the timeline. Drag and drop will also do.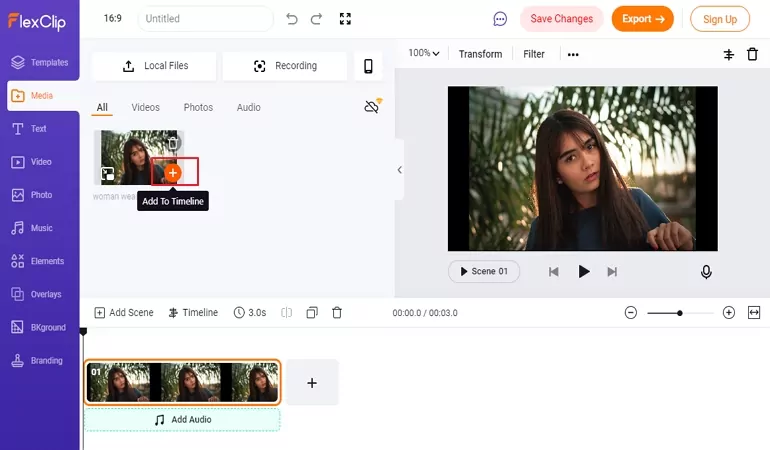 Change Face in Video Online - Upload
If you like, FlexClip also provides a library with numerous photos and videos. They are all royalty-free. Don't hesitate to use them!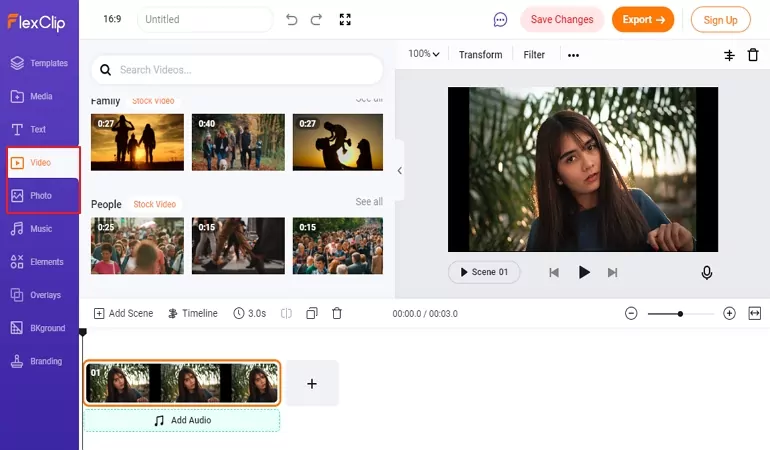 Change Face in Video Online - Free Resources
Step 3
Change Face in Video
Go to Elements, check the endless results of FlexClip emojis. Pick the meme, drag and drop to the face and resize it so that the meme fits the video.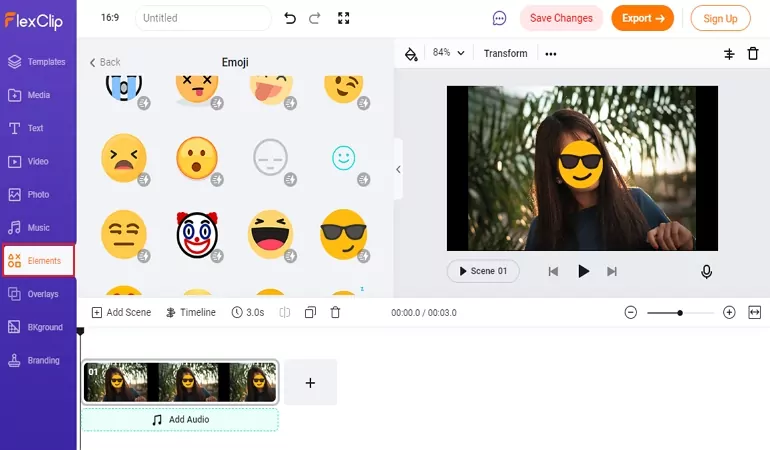 Change Face in Video Online - Add Emoji
FlexClip is integrated with GIPHY. Go to Photos, switch to the GIPHY section, you can find all GIFs here. Use the GIFs to enrich your video!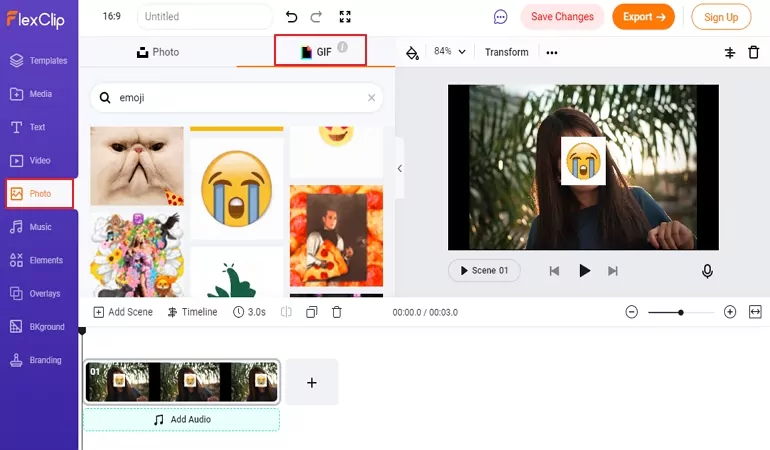 Change Face in Video Online - GIF Resources
FlexClip enables you to download your work in MP4 video and GIF. Pick the format you like, download or share your work to any social media platform.
Part 3. Change Face in Video with Adobe After Effects
Adobe After Effects is surely a professional way to help you with changing face in video. Even though this program could be more complicated to use, but it is worth trying. Here is how to do face swapping with Adobe After Effects.
Step 1
Download this application to your computer and launch it.
Step 2
Drag and drop your video to the program, and click on Animation tab on the upper left. Choose Track in Mocha AE.
Step 3
Select the area you want to change, click Track.
Step 4
Hit the Export Tracking Data option and click "Copy to Clipboard". Move to AAE.
Step 5
Create a null object and paste the file you copied. Select the image you want to add to your video and paste over it.
Step 6
Export your video to your computer.
Change Face in Video with Adobe After Effects
The Bottom Line
That's all for how to change face in video on Android/iOS/desktop/online. If you find this post helpful, please do share it with others. Have other ideas? Tell us via Facebook!