Summary: This blog aims at telling you detailed steps to make good YouTube videos online for free. Read more and get a share of YouTube market.
As Gary Vaynerchuk says in his book, no platform has created more wealth and opportunities than YouTube. In recent years, many social media experts also have vouched for its future prosperity. It is almost doubtless that in 2019, more and more businessmen and individuals are going to marching towards YouTube, hoping to gain one portion of this market.
A decent video plays a vital role in making profits via YouTube. Want to know how to make good videos and gain more profits? Read this post and you will know everything about making YouTube videos.
Also Read: Create a Trailer Video to Win More Audiences >
Part 1. Footage Shooting
Professional equipment is necessary, like camera, tripod. If you don't have them, it is still fine. However, do make sure you have a clean background and hold the filming device steadily, otherwise, your videos will give people seasick feelings.
Moreover, while using phones to make videos, put your phone horizontally instead of vertically. It is bad and unprofessional to shoot videos with a vertically placed phone. Most importantly, it is always better to have more footages for the same scene so that you can choose the best one for editing.
Part 2. Edition
Edition can make your video more fun and neatly edited videos can win more views for you. Don't fret, you don't have to be professional in video editing to create a YouTube video, there are a lot of free YouTube video makers online which can help you make edits easily.
FlexClip is a free and easy-to-use tool you can start with. With this excellent YouTube movie maker, the output video will always be fascinating. Now, visit https://www.flexclip.com/ and get started.
Step 1. Click the Plus symbol on the down-left corner, add video clips or photos from your computer. Each video on the storyboard will be combined orderly.
Image Board: How to Create A YouTube Video - Step 1
Step 2. Click the Music button on the toolbar or the Record button below the preview window, recorded voice or the song you choose from will be set as background music. You can cut the background music or loop it till the end of the video.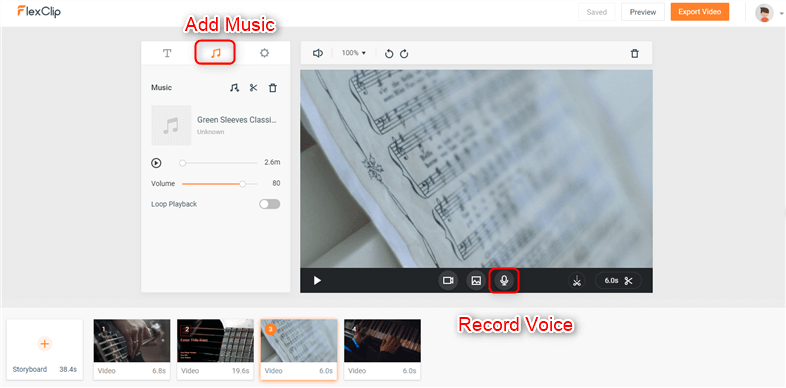 Image Board: How to Create A YouTube Video - Step 2
Step 3. Click on Text button on the toolbar, you can add texts and logo as you wish.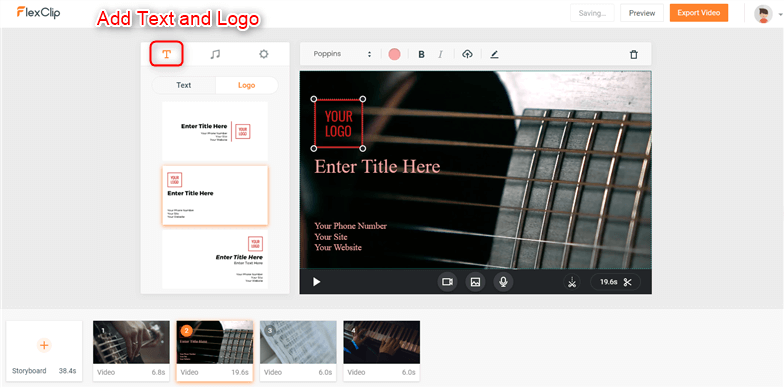 Image Board: How to Create A YouTube Video - Step 3
Step 4. Preview the video you edited. After that, you can make more edits or export it directly to your computer. It won't take too long to export the video.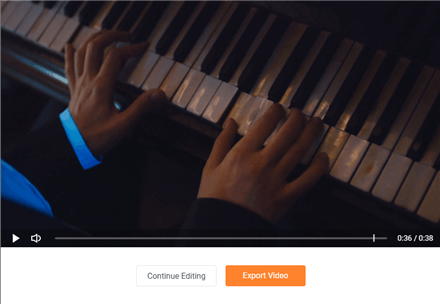 Image Board: How to Create A YouTube Video - Step 4
Part 3. Upload Videos
Sign in your YouTube account, at the top of the page, click Upload. Select Upload Video. Choose the video you just edited on the computer, then click Publish.
Bonus Tip: Tricks That Make Your Videos More Popular
> Long videos are preferred. If YouTube detects that people are watching videos for a long time, there is a big possibility that YouTube will recommend it to more people. Generally speaking, the best length for YouTube video is 10-15 minutes.
> Choose a good topic. One thing you have to know about YouTube video is there are lots of similar videos, which gain considerable views. Don't worry about what others have done. With a little creativity, you can be popular.
> Each view matters. Make sure you post your videos to relevant forums, group chats and so on. This will not help you gain thousands of views in a day, but more views mean more opportunities that YouTube recommends your videos to others.
> Make sure you are mentioned on other YouTube videos. A friend who is also making YouTube videos can lend you a helping hand. If you can take part in their video shooting and your friend can mention you, people may like and subscribe you both.
Conclusion
That's all for how to make a YouTube video. With the three steps and tricks, you can easily make good YouTube videos. By the way, as you can see, FlexClip is an excellent free YouTube video maker online. Besides YouTube videos, it can also help you make birthday videos, wedding videos. Give it a try and you will never regret. Find this tool interesting and helpful? Don't forget to share it with your friends!