This blog is a beginners' guide for Tik Tok. It will tell you how to use Tik Tok, how to make a Tik Tok video, and tricks to make you popular on Tik Tok.
Tik Tok, owned by a Chinese company ByteDance, was launched as DouYin in China in September 2016 and then introduced to the overseas market as TikTok one year later. Ever since it was released, Tik Tok has pushed a short video viewing and making trend among the young. The statistic shows that 500 million youngsters are now obsessed with watching 15-second-videos on Tik Tok.
No matter you just want to have fun or gain popularity, Tik Tok, with huge fans, is the right platform to go. Here in this blog, we will show you how to use Tik Tok, how to make a Tik Tok video that gets likes, and offer you some Tik Tok ideas.
Part 1. How to Use TikTok
4
Navigating Other Features.
1. Sign Up
TikTok is a mobile device-based application available both on Android and iOS device's app store. After downloading and installation, you can immediately browse videos of others. To use any other TikTok features, you need to sign up or log in.
Phone numbers, emails, or Facebook, Instagram, or Twitter account can all be used to sign up for a TikTok account. After successfully sign up, TikTok will generate a username automatically. You can change the default username and your profile by using the Edit Profile button on the main page.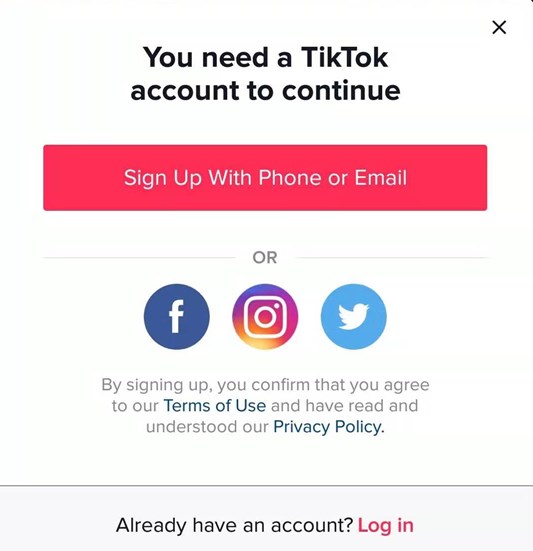 Image Board: How to TikTok - Start an Account
2. Enjoy Videos!
Get a pair of earphones and start to enjoy TikTok videos! The music is the most important part anyway.
The video viewing page is divided into two parts, they are Following and For You respectively. If you open TikTok, you will be in For You. In this feed, TikTok will recommend videos that you might like based on an algorithm. Swipe left, you will go to the Following. You will only see uploads from people you choose to follow.
3. Interact
There are five icons to your right that allow you to do different interactions.
Scroll to your left or click the profile icon, you will enter the video producer's main page and then follow or watch other videos from him. If you just like the video, tap the heart-shaped icon. Tap the conversation bubble, you can make comments on the Tik Tok video you are viewing. To share the video to the social media, tap on the Share icon.
The last icon is a spanning record with music notes emanating. Click on it, you can see the detailed information about the music that the video is using.
If you don't like a certain video, please long press the video to reveal a Not Interested button.
Image Board: How to TikTok - Menu Bar
4. Navigating Other Features
There are also five icons are on the bottom. Click the first icon shaped like a house, you will get a refreshed page with new recommended videos. Tap on the search icon, you can search any types of video and users. The "+" icon allows you to create videos or upload a video from the Gallery. The message icon offers you access to any notifications.
The last icon is the access to your own main page. From there, you can edit profile, change nickname, view your own videos.
TikTok emphasizes on privacy. Click on the three horizontal dots on the upper right corner, you will be able to set your account as private, or who can download your video, who can send comments, etc.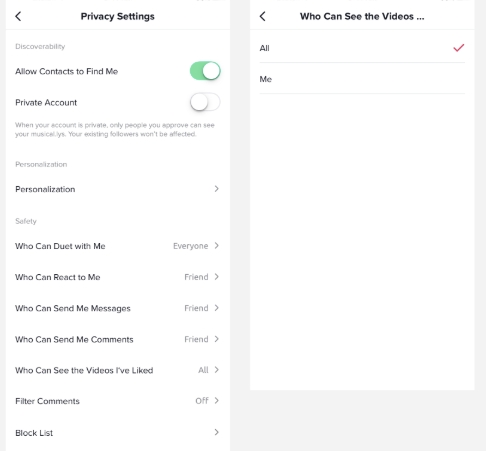 Image Board: How to Use TikTok - Privacy Settings
5. Create videos!
TikTok is all about video sharing and creating. If you'd like to create videos, please follow part 2. Besides creating videos of your own, you can do duet on TikTok, create TikTok videos with templates. Explore more fun on TikTok.
Part 2. How to Make a Funny TikTok Video Step by Step
TikTok is integrated with video sharing and video creating feature. Creating a TikTok video is extremely easy.
Step 1
Click on the "+" button. If it is your first time to shoot, you need to allow TikTok to access your camera and recorder.
Step 2
Set up the timer, speed, beauty effects, filters, effects, long press the red button to start shooting.
Step 3
Choose one piece of music to level up your video.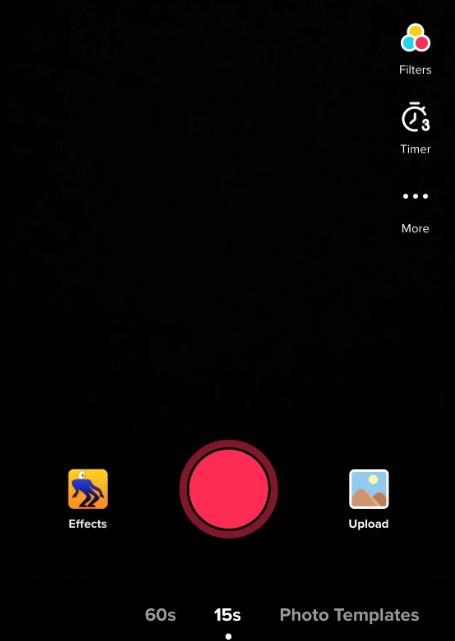 Image Board: How to Make the Best TikTok Videos - Step 3
Step 4
Once the film is done, press the red check to go to the editing page.
Step 5
Go to the upper right, you can choose another music, adjust the volume and cut sound.
Step 6
Set one frame of the video as a cover and add other special effects through the two buttons on the down left corner.
TikTok extends the maximum video length from 15 seconds to 60 seconds! If you need to upload a longer video, record it with a camera instead of recording with TikTok directly.
Part 3. How to Edit TikTok Videos
Unluckily, once your video is on TikTok, you don't really have much room to change it on the application itself. Under this circumstance, relying on some professional video editing tool is a smarter choice.
Head to your profile, select the video you want to edit, then tap the triple-dotted icon. The video would be saved to your mobile device. Now follow us to edit it.
You will need,
* A computer,
* TikTok video you want to edit,
* Music, photos, or video clips. Any materials you want to add to your video,
* FlexClip.
FlexClip is a professional video editor that helps creating good videos in few steps. Compared with TikTok, it is much easier to operate. Moreover, this program offers you many features, like doing voice-over, adding logo, transitions, filters. Last but not least, FlexClip provides rich royalty-free music, video and photo resources and templates. All of them cost you no money. Click on the Create a Video to start TikTok video creation or start with a template now!
Step 1
Go to the Media to your left and then upload your photos and videos or resources from stock media to the blank section. Click and use them on the storyboard.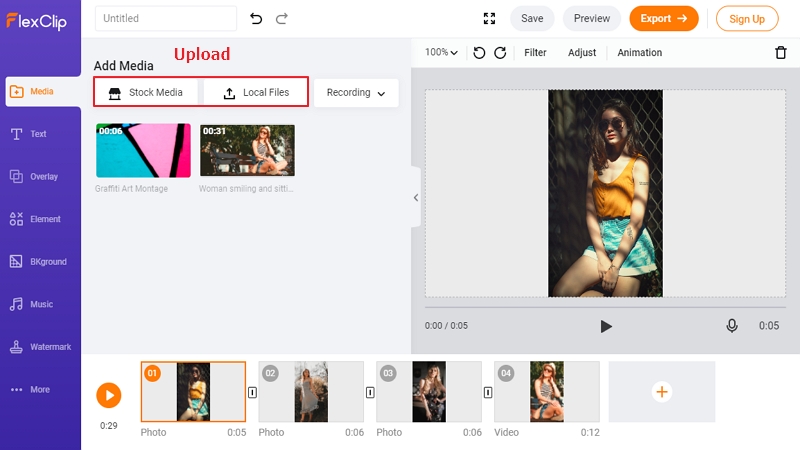 Image Board: How to Edit TikTok Videos - Step 1
Step 2
Hit the Text icon to add text to your video.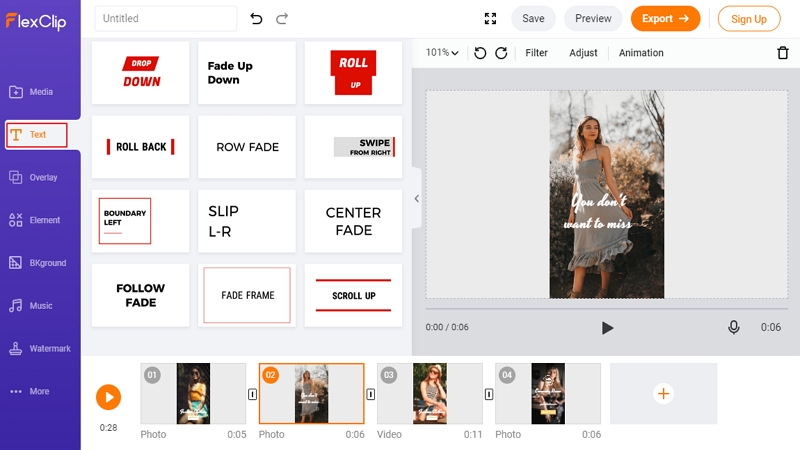 Image Board: How to Edit TikTok Videos - Step 2
Step 3
Tap on Music, upload any songs. If you like, click the Record button to do voice-over.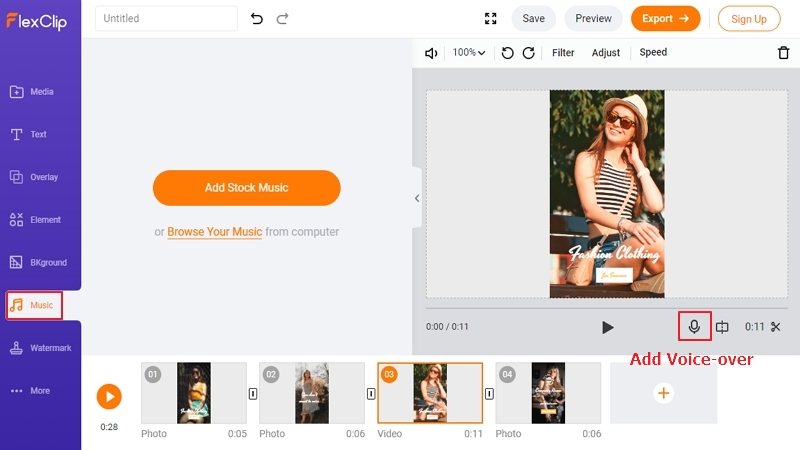 Image Board: How to Edit TikTok Videos - Step 3
Step 4
Add some special effects if you like, for example, adding transitions, filters and overlays, or adjusting the video speed.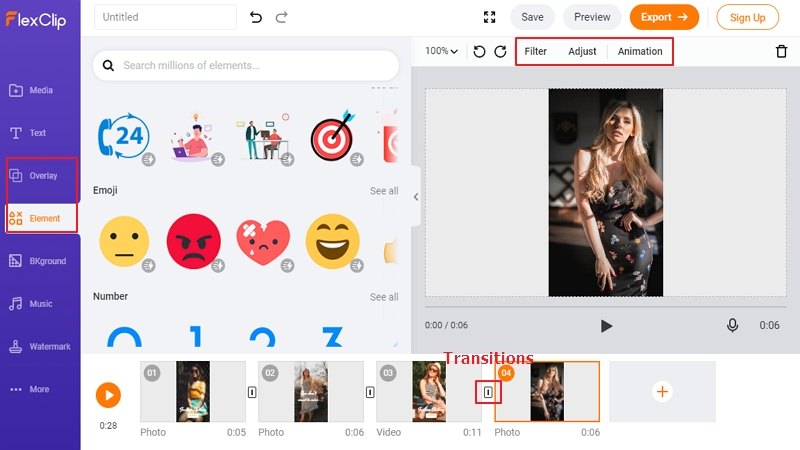 Image Board: How to Edit TikTok Videos - Step 4
Step 5
Preview and download. Click on Preview button to enter live preview window. Continue editing, download or save to Dropbox. Get your video to your phone via Dropbox and then share to TikTok.
1. It is suggested to choose 9:16 portrait aspect ratio.
2. The downloading time may vary due to the Internet connection. Please be patient.
3. After done with editing, you can save your video to Dropbox. Get it via a phone and share your video to TikTok!
Part 4. Best TikTok Ideas
* Lip Sync Video. A song can inspire many people to create. If you are creative, try the lip sync video and let others see your performance.
* Duet Video. Duet videos are always liked by YouTubers. Open the video from which you want to create a duet, tap on the Share icon and select Duet. Now, you can make a video as you wish.
* Pets Video. What are liked by most people? Pets. If you have cute dogs or cats, make sure to capture each cute moment of them.
* Imitating Other Popular Videos. There are reasons why some videos are popular. You may choose the same topic, or similar way to performance.
* Keep up with the trend. When it is festival, you can make a video about it, like what did you do on this festival, or is there anything interesting on this day. Moreover, if a certain type of video get more views, do make a similar one.
* Show off your skills. Can you DIY clothes? Can you do chorus quickly? Can you speak Chinese or Japanese? Show the skills that make you special.
* Impromptu videos. Always get your camera ready. You might bump into something interesting.
* Travel. Going abroad or some places of interest? Record the scenic views or the people you meet. All people will love that.
*Create a brand new hashtag challenge. Hashtag challenges are popular on YouTube, Facebook, Instagram. The same is on TikTok. But before you create a brand new hashtag challenge, do remember to keep it easy and fun so that more people are willing to participate.
*Cover current events. TikTok videos are not just about fun. TikTok videos are also great sources for people to catch up with the latest news.
Bonus Tip: How to Become Popular on TikTok
Here are some tricks to become popular on Tik Tok.
1. Post regularly and be consistent. You can post videos to Tik Tok once a week or twice a week. If possible, make a series.
2. Connect with other influencers.
3. Share your videos on social media. This is helpful to boost views. On the contrary, you can also mention your Tik Tok profile link or nickname on other social media to get more followers.
4. Be positive. Audiences hate negative contents.
5. Comment on others'video. By doing so, your videos will also get more comments.
6. Reply to each comment. Be interesting and fun while replying.
7. Follow at least 30 accounts per day and unfollow. This is a useful trick to leave your footprint.
8. Invite others to your video. A friend, a child or even a pet can make your Tik Tok video more fun and interesting.
9. Go live. Going live indicates that you care about your fans. They will cherish it and become more loyal.
10. Be exaggerate. TikTok is different from other video sharing sites. You need to be very exaggerate to attract people's eyes.
The Bottom Line
That's all for how to make a Tik Tok video that gets likes. If you find this post helpful, please do share it with others. By the way, as you can see, FlexClip is indeed a nice video editor. Go to its main page and explore more.