Want to publish your PPT presentation on social media like YouTube and Facebook? Or need to use the PPT file in eLearning courses? While most video-sharing sites don't accept PPT files, converting the PowerPoint presentation to a video presentation is the best solution.
Moreover, turning the PPT file into a video can allow you to view your presentation on portable devices and players without PowerPoint.
Contents:
Can't Miss: How to Insert a GIF in PowerPoint - Easy and Fast>
Method 1: Convert PPT to Video with PowerPoint Directly
In fact, the PowerPoint 2010 and later versions allow users to convert their PPT files to video format for free without using a third-party tool or a program. After you've created your presentation, follow the simple steps below to convert your ppt into a video with PowerPoint.
Step 1
Launch PowerPoint and open the PPT file you want to convert into a video.
Step 2
Go to File and click one of the following according to the version of PowerPoint you're using:
Save & Send, in PowerPoint 2010
Export, in version 2013 and above
Save as Movie, if using PowerPoint for Mac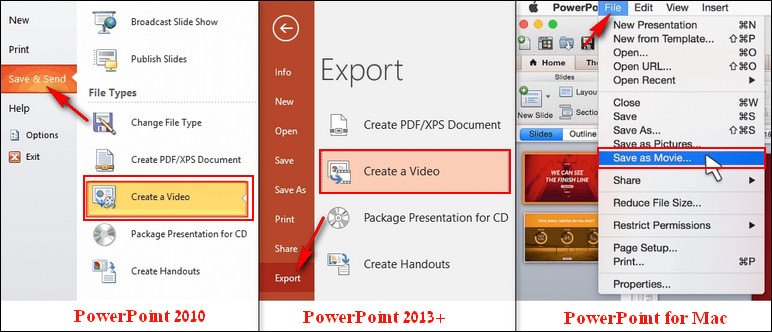 Image Board:PPT to Video with PowerPoint
Step 3
Then select Create a Video in Windows or Save as Movie in the Mac OS.
Step 4
Choose the video quality you want to use for your video slideshow and specify whether or not to include recorded timings and narrations in the video from the drop-down menu.
Step 5
After you've made your choices, click the Create Video button to proceed to the conversion process and wait for the output video to be created.
It's much convenient to have this feature included in PowerPoint itself. But if you use PowerPoint 2007, which doesn't support converting to video, check out the two best free online PowerPoint to video converters that can help you turn a ppt file into a video easily.
Method 2: Convert PPT to Video Online with Online Convert
Online Convert is a free online document converter that can help you convert your PowerPoint to multiple video formats. The process of converting a PowerPoint presentation to a video with this PPT to video converter is straightforward: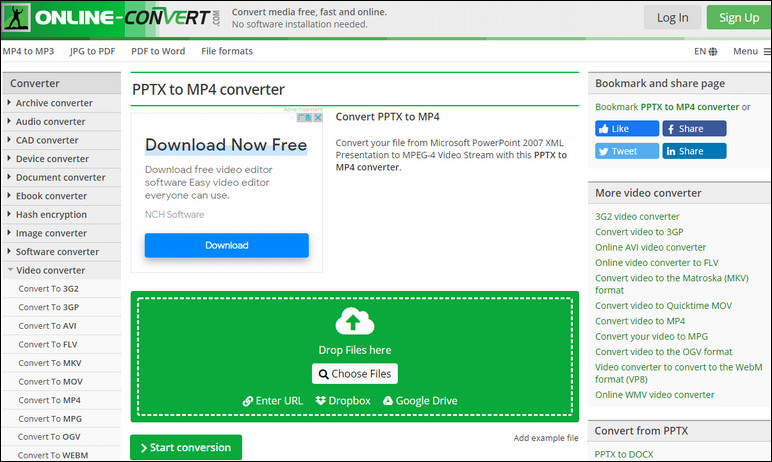 Image Board: Convert PPT to Video Online with Online Convert
Step 1
Click the Choose Files button to upload your PPT file or drag and drop your file here directly.
Step 2
Set the output file parameters at the Optional settings window.
Step 3
Click the Start Conversion button to start the process of converting PPT to video.
Method 3: Convert PPT to Video Online with Converter365
You can also convert your PPT file to MP4 or any other presentation format with Converter365. Take advantage of unlimited free conversions and convert all your PPT presentation files in just a few moments. No matter how many presentation files you need to convert, you are always only three steps away from it.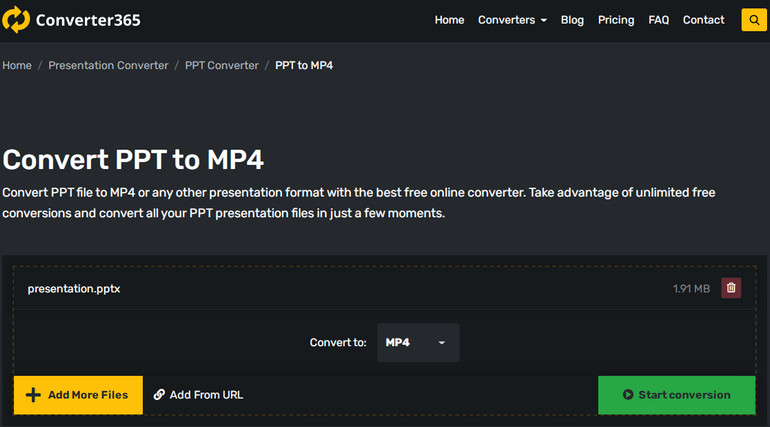 Image Board: Convert PPT to Video Online with Converter365
Step 1
Upload PPT files you want to convert with the Add Files button.
Step 2
Click the Start conversion button to start converting your presentation PPT file to a video.
Step 3
After just a few moments, you'll get a link directly on the website to download your converted MP4 presentation video.
Bonus: Make & Edit Your Presentation Video
Although there are many different ways to convert the PowerPoint to a video, you may always be limited if you want to do more with the video you create from your PPT. You may find that the timings of slide transitions in a video converted this way may be off, and there is no music and more other special effects a stunning video should contain.
Therefore, sometimes the video quality that you get from a PowerPoint ppt directly can not meet your need. If you find yourself in a situation like this, you need to turn to a powerful yet easy-to-use video editing tool, like FlexClip, to create stunning presentation videos in minutes!
Moreover, FlexClip offers various pre-made video templates that enable you with endless inspiration to make your own presentation videos with great ease!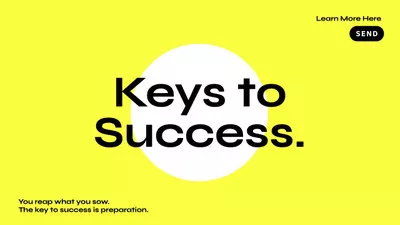 Business Plan Presentation
Company Introduction Presentation
Final Words
As you can see, converting the PowerPoint to a video is pretty easy. Hopefully, this tutorial is helpful for you. If you want to edit your presentation video with stylish text animation, cool transitions, and more effects, don't forget to try FlexClip.