Instagram story video quality bad after upload? In this article, we will tell you why Instagram Story videos go blurry and how to fix this issue. Check it out!
If you are an Instagram user, you will be aware of the importance of Instagram video/photo quality. However, on Quora and Reddit, you see lots of threads like this.
My videos become poor quality after uploading them to Instagram. There is no problem with the video. Why and how to fix this problem?
- Question from a Quora User
There are many reasons why Instagram video quality bad issue happens. Check the following content to solve this tedious problem.
Also Read: 8 Best Instagram Video Background Music Resources >
Table of Contents
How to Fix Instagram Story Video Blurry Issues
Part 1. Why Instagram Story Video Blurry Issue Happens
To solve an issue, the first step is to know the reason why it happens. In general, we summarized the reasons into the two main factors.
Video blurry issues don't happen on Instagram. You will also encounter the same problem on TikTok, YouTube, and other video hosting sites. In 2023, at least 95 million photos and videos are being uploaded to Instagram each day. To make the videos upload and share faster, compressing them and lowering down the video quality are the best options.
The Situation of Your Phone
Your phone also plays a decisive role. If your phone is not under a good Internet connection, or have too many caches, you may not be able to enjoy or upload videos in the highest quality on Instagram.
Free Instagram Video Templates to Take Away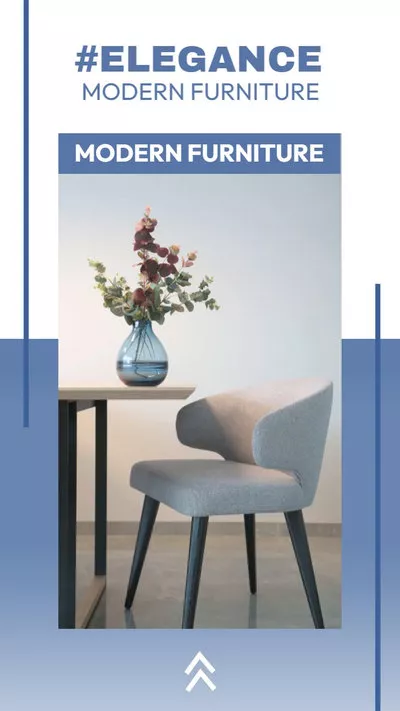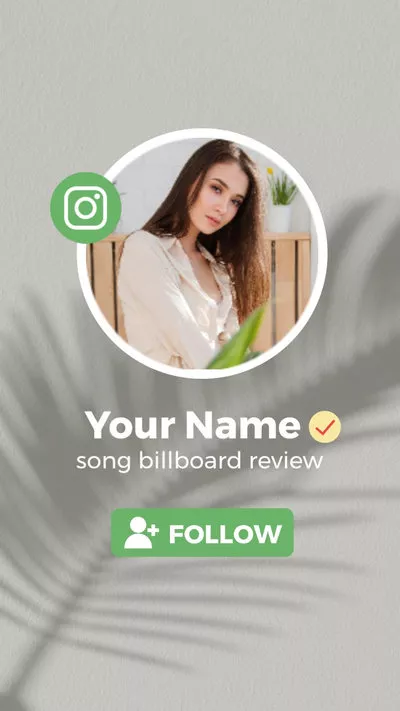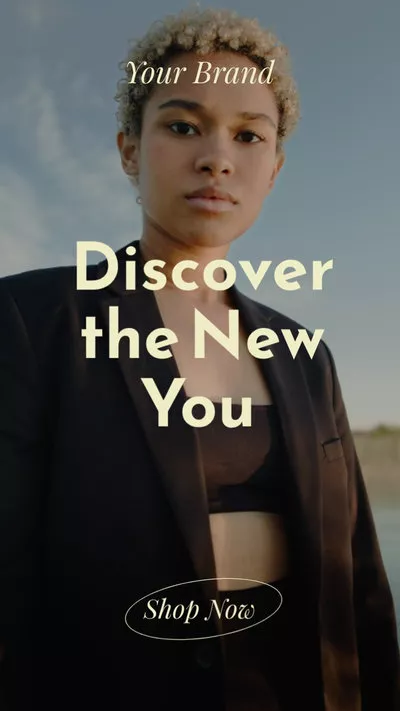 Part 2. How to Fix Instagram Story Video Blurry Issues
There is nothing we can do change Instagram uploading mechanism, but we can change a few settings and tell Instagram that we want to upload videos to Instagram in the highest quality.
Fix 1. Check Internet Connection
If your Internet connection is not stable, the uploaded Instagram story videos might get blurry because they are not fully loaded. That's not all, while you are uploading videos to Instagram under bad Internet connection, Instagram will automatically reduce the video quality in order to successfully upload it.
To check the Internet connection, you may try browsing videos on other video hosting sites, download videos. If things don't go well, try to connect your devices to a stable WIFI or switch to mobile data
Fix 2. Reset Network Settings
If other phone works fine under the same Internet connection, but yours just work encounters frequent network issues, it is time to reset network settings to make sure you get the best Internet.
On iPhone, to reset network settings, you have to go to Settings > General > Reset > Reset Network Settings. On Android phone, you need to go Settings >Backup and reset > Reset Network Settings.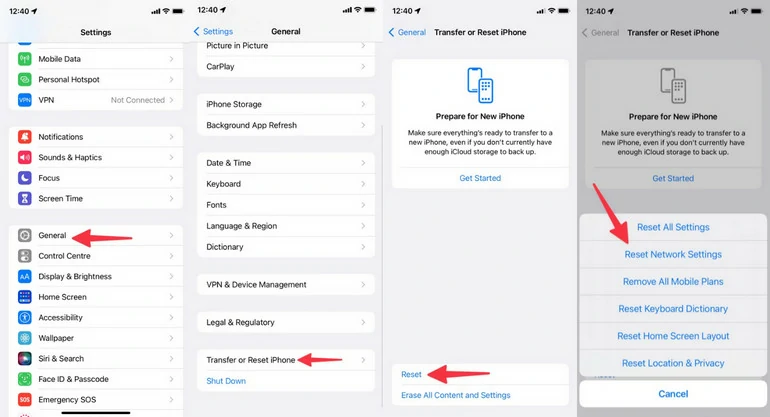 Reset Network Settings
Fix 3. Never Upload Photos/Videos Restored from a Backup
Restored your phone from a backup? Try other videos. The clarity of photos and videos may change during backing up or restoring process, especially for iOS users.
Fix 4. Adjust Camera Settings
When your phone can't capture high-quality video, here is what you do to adjust phone camera settings to capture the video in the highest definition.
On Android:
Step 1
Open the default Camera app on your phone.
Step 2
Click on the Settings icon shaped like the gear icon.
Step 3
Adjust the picture and video size to the highest quality.
Adjust Camera Settings on Android
On iPhone:
Step 1
Launch iPhone Settings app on your phone.
Step 3
Adjust camera quality and toggle the "Smart HDR" on.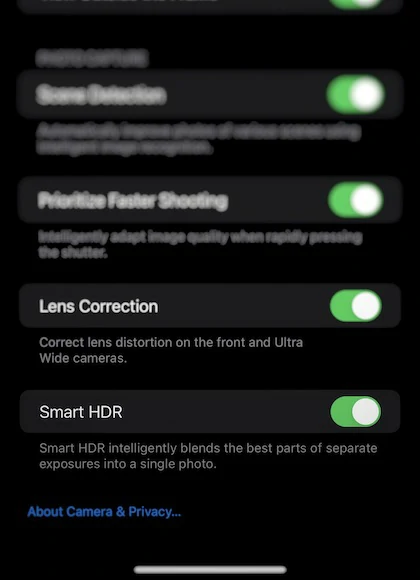 Adjust Camera Settings on iPhone
Fix 5. Mind the Video Size Limit
Instagram limits the size and quality of the photo and video you uploaded. If you are uploading a video or photo that is too large, Instagram will compress it so that your video could be loaded faster. As a solution, don't use phone's camera. Use Instagram's camera instead.
It is fine that you don't want to use Instagram camera. However, you must keep in mind the following Instagram video limitations.
Maximum Instagram Video Size: 15MB
Instagram Video Length: 3-60 seconds
Best Video Dimention: 920*1080
Fix 6. Update the App
When you are in the older version of Instagram, the Instagram Story video might appear worse. Update it so that you can enjoy the new Instagram journey.
To update the Instagram app, you should launch the Play Store or App Store, go to Manage Apps. Find Instagram, and click the Update button next to it.
Fix 7. Enable High-Quality Uploads on Instagram
Instagram burns your mobile data. To prevent you from overusing the data, Instagram provides you a setting to keep your mobile data usage to a minimum. This will significantly lower your Instagram feed quality. This is what you do to toggle off this settings.
Step 1
Go to your Instagram profile page. Click on the three horizontal lines on the top right corner.
Step 2
Go to Settings and Privacy. Move to Your App and media.
Step 3
Tap on Data Usage and Media Quality. Select Upload at Highest Quality.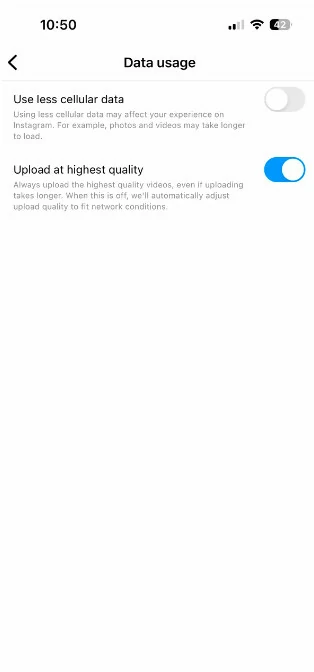 Enable Upload at Highest Quality
Bonus Tip: How to Create Instagram Videos 10 Times Faster
Creating an Instagram video that wins considerable views requires great aesthetics, sense of trends, and video editing expertise. On average, it took 2-3 hours to finish a one minute Instagram video from filming, editing to uploading.
AI can significantly reduces our work. Use FlexClip's AI script generater to generate video script that most people would be interested in. Or try the AI text-to-video tool to generate a video with the script. FlexClip also helps you generate natural-sounding voiceover in video. More AI features are waiting to be explored.
FlexClip Overview
The Bottom Line
With the 7 Instagram story video quality bad solutions, you will no longer suffer from blurry Instagram story videos! Share this post if you find it helpful. Have any ideas? Tell us via Facebook.
By the way, FlexClip, the AI-powered video editor can help you generate Instagram videos easily and effectively. Try the brand new way to create Instagram videos!