Instagram Reels is the latest feature to create video content on Instagram. One of the popular trends on Instagram Reel is the moving song lyric videos. If you've ever found it and are also interested in how to make Instagram Reels with song lyrics, you've come to the right place. This article will discuss the tutorial on how to add lyrics to Instagram Reels in 2 different ways.
Contents:
Free Customizable Lyrics Video Templates: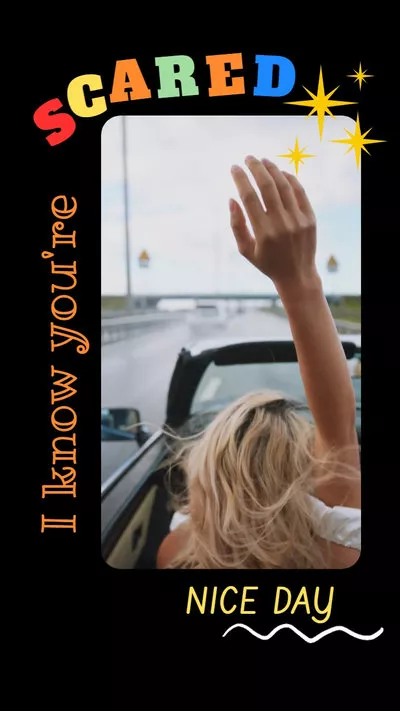 Song Lyrics Video For Reels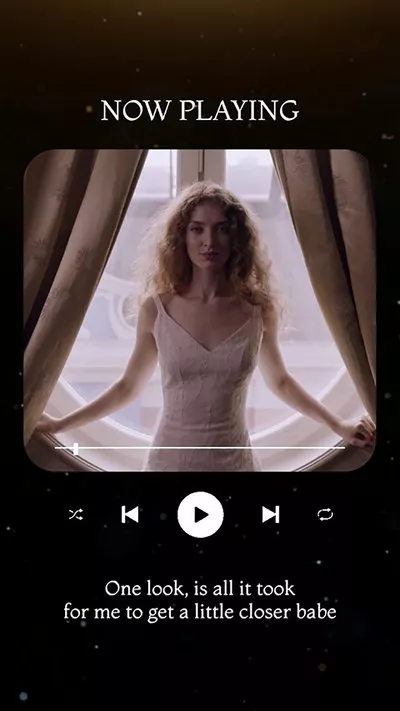 Music Sharing Love Lyric
Typewriter Lyric Subtitle
Also Read: How to Make Slow Motion Videos on Instagram Story/Reels >
Part 1 How to Add Song Lyrics in Reels on Instagram Directly
In fact, Instagram Reels can bring up song lyrics automatically with its lyric effects, including the 3D Lyrics and Dynamic Lyrics, which are the new update for Instagram Reel. You can use the lyrics effects to show the lyrics of a song as it plays along on Instagram Reels.
Step 1
Open the Instagram app on your device, hit the + icon in the top right corner, or swipe right on the homepage to create a new post.
Step 2
Tap REELS at the bottom to open the Reels Camera, and then tap the three stars icon on the left to open the effects tray.
Step 3
You should see a lot of effects, find the 3D Lyrics and Dynamic Lyrics by searching or browsing, just pick one for your lyrics video.
Step 4
Now, tap the music icon to choose a song with lyrics, then the song lyrics should appear on the screen, and you can make some adjustments to customize the lyrics as you wish.
Step 5
Once done, start recording to see the song lyric effect come to life.
Add Lyrics to Instagram Reel via Lyrics Effects
Notice that the auto lyrics are only available on songs that have lyrics activated on Instagram. So you may have to try several songs before finding one. If you want to add lyrics to a specific song or your own music track with no lyrics on Instagram, you may need to use the text tool to manually tape the lyrics in or try the way below to add lyrics to reels automatically with FlexClip.
Part 2 How to Add Lyrics to Instagram Reels Automatically with FlexClip
How do you add lyrics to Reels if you want the sound that you made yourself? Or what if the video is longer than 15 seconds? Don't worry! Here's a great workaround for you.
An online lyric video maker like FlexClip is the easiest way to add lyrics to your Instagram reel. Powerful yet easy to use, FlexClip allows you to add lyrics to your reel using its auto-subtitle feature in your browser without any hassle, and no download or installation is required. Besides, it has loads of text and video effects ready to level your lyric video up.
Step 1 Upload the Reels Video to FlexClip
Go to FlexClip video editor and upload the reels video that your want to add lyrics to FlexClip from your pc or mobile, or you can also import files from some third-party platforms, including Google Drive, Dropbox, etc. Also, remember to check the Aspect Ratio icon on the top-left corner to pick the right ratio for your song lyrics Reel video.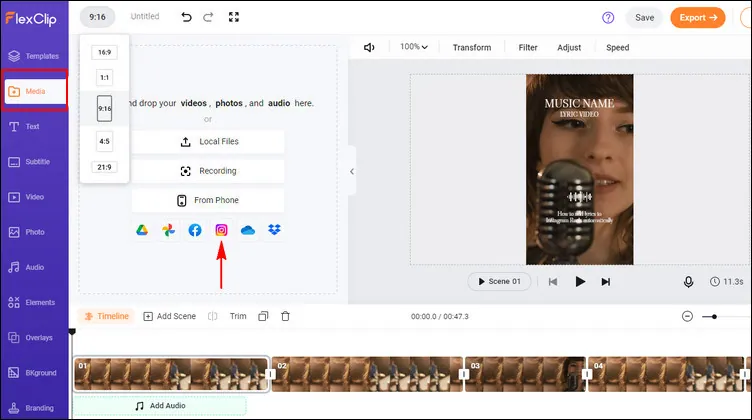 Add Lyrics to Instagram Reel Automatically - Upload
Step 2 Add the Video Footage to Timeline
Once you upload the video, drag and drop it to the Timeline directly. Then you can use FlexClip's powerful editing tools to adjust your clip freely, trim, rotate, add filter, etc.
Or if you're going to add a separate music file or song to the video for making lyrics, you can simply upload your audio file or find great music in FlexClip's audio library, and add it to Timeline in clicks. Then adjust its length, change the position where the music starts and ends, etc.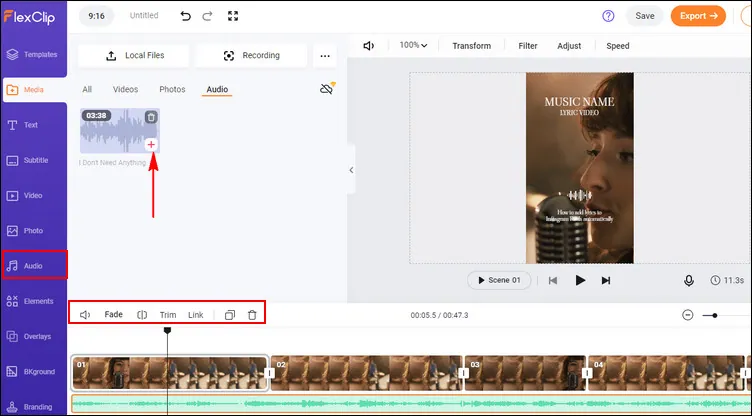 Add Lyrics to Instagram Reel Automatically - Add Music
Pro tip for you: make sure you have visuals accompaniment throughout the audio you want to share, otherwise, FlexClip will deliver only the video that contains the visual effects, rather than the entire audio. So add enough footage to match the length of the music track. Or, if there are some images in your project, you can simply lengthen the duration to meet your needs.
Step 3 Generate the Lyric Subtitle Automatically
Now you can start automatically generating lyric subtitles for the song. Simply click the Subtitle tab > Auto AI Subtitle > select the source language and choose content to add subtitle, here we select the audio, and then choose the style for your lyric subtitles, then hit the Generate Subtitles button.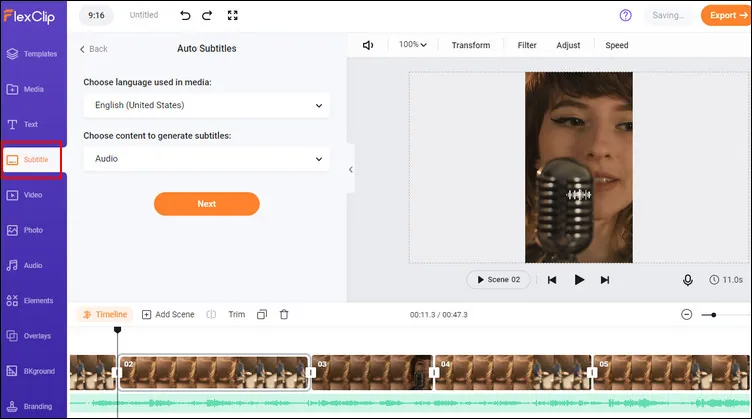 Add Lyrics to Instagram Reel Automatically - Auto Subtitle
Then, FlexClip shall automatically generate the lyric subtitles for you.
Step 4 Edit the Lyric Subtitles for Your Reel
Once finished, the lyric subtitle will be shown on your screen. You can skim through the lyric subtitles and manually correct any spelling errors. Or change the style, fonts, text color, the color of background fill, opacity, position, etc.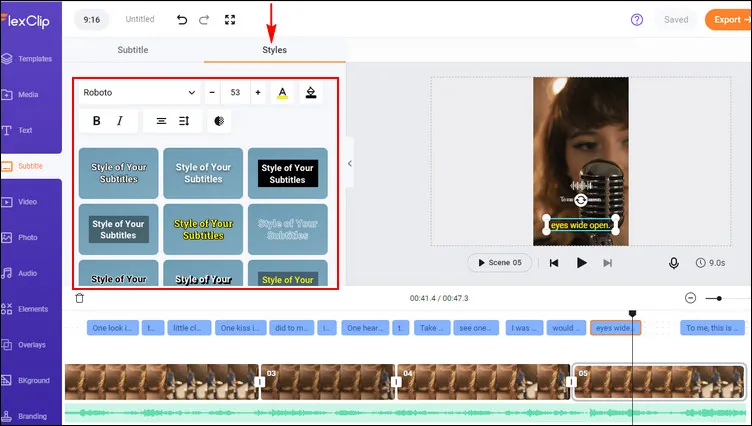 Add Lyrics to Instagram Reel Automatically - Edit the Lyrics
When the lyrics get ready, you can now make more edits to perfect your lyric video for Reels. Go to the text option to add a title card that shows the song info for your lyric video, or you can add a logo to brand your lyric video, and you can even add a subscribe button or any other cta overlay in your video. Just feel free to try the rich features of FlexClip.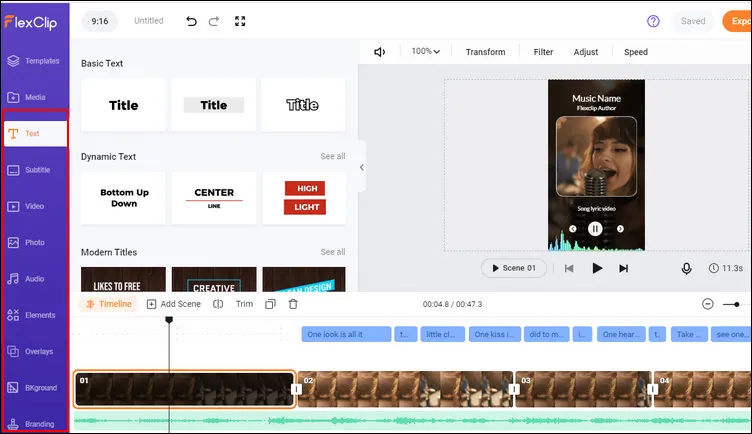 Add Lyrics to Instagram Reel Automatically - More Edits
Once you've done, you can preview and download the song lyric video and share it on Instagram Reels.
Final Words
That's all for how to add lyrics to Instagram Reels. We hope that now making a reel with song lyrics is no longer a headache. For more Instagram tips, you can check our blog page to explore more, like making reels with existing videos, adding text to Instagram reels at different times, etc.