What's the best birthday video maker with music and effects online? How to create birthday videos online for free? This post has everything you want to know about making birthday wishes videos.
Be it a birthday wishes video to express your sincere wishes, birthday party invitation video to have more people gathered together, or birthday party video recap to cherish the best moments, the birthday person will always be delighted to see all you've made. Here are some interesting birthday video templates for your reference.
Birthday Wishes Video Templates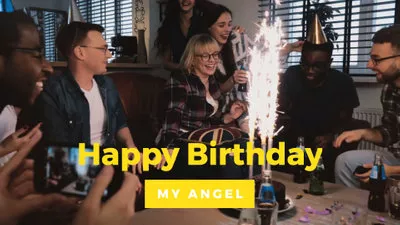 Special Birthday Wishes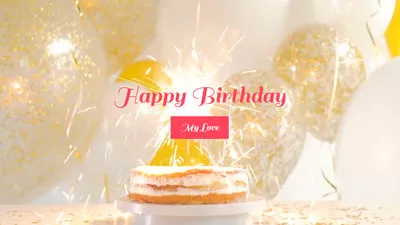 Birthday Wishes For Lover
Birthday Party Invitation Video Templates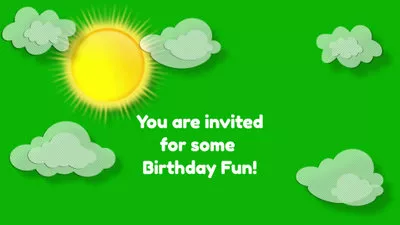 Birthday Cartoon Invitation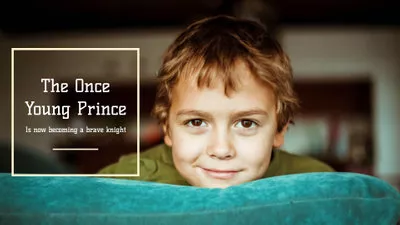 18th Birthday Invitation
Many of you might have flinched even at the first thought of making a video, not to mention making a birthday wishes video. Frankly, many free online birthday video makers with music and effects are available. In this post, we will show you the top birthday video makers online/offline. Check them out and decide which birthday video maker is the best for you.
Best Birthday Video Makers with Music & Effects Online
These are 5 birthday video makers online. You don't need to download anything to your computer and some even doesn't require you to register. Give them a try!
1. Best Birthday Video Makers Online FlexClip
FlexClip is the only online birthday video maker you will need to make excellent birthday videos. It is a birthday video maker with beautiful effects, royalty-free music, photos free to use and elaborate birthday video templates to get started easily! Besides that, this birthday video maker is equipped with easy to use but powerful video editing tools, allowing you to realize all ideas. Last but not least, you can export your video in any aspect ratio and dimension. Sharing your work to any social websites is easy and simple.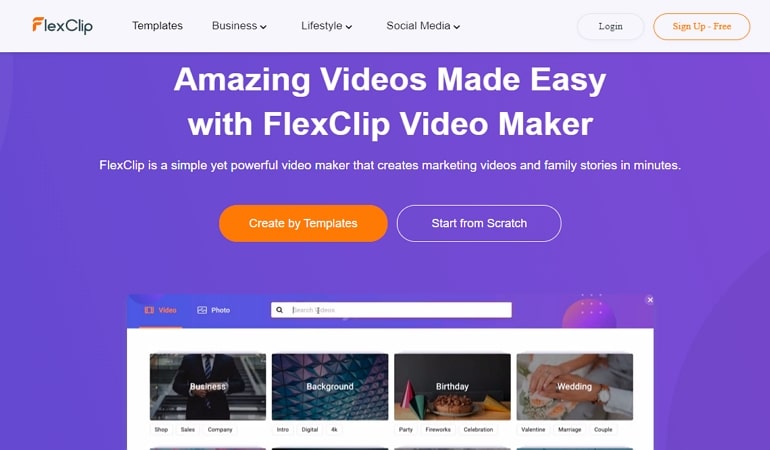 Birthday Video Maker - FlexClip
2. Animoto
Animoto combines photos, video clips, text and music to make beautiful birthday videos! Pick any template or start from scratch, then upload your photos and video clips to the storyboard, then personalize, you can get a birthday video in minutes! Animoto is similar to FlexClip, however, it will add a tedious watermark to the birthday video if you stick on the free version. Besides that, the free version only provides basic editing features, like adding texts, music, changing color. No transitions, filters, changing speed. It does provide rich music and effects, but they are for subscribed users.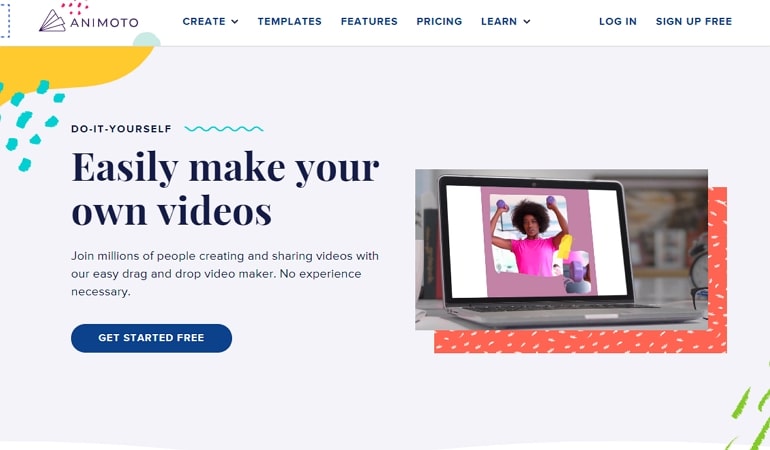 Birthday Video Maker - Animoto
3. Renderforest
If you like cool 3D birthday videos, Renderforest is the best online birthday video maker to turn to. It provides you varieties of birthday video templates that you might like. All you need to do is picking a template, uploading photos and videos, then changing text, adding music. The problem is, it doesn't provide too many editing tools for you to edit. You can't add your ideas to the birthday video. The option for background music is also very limited.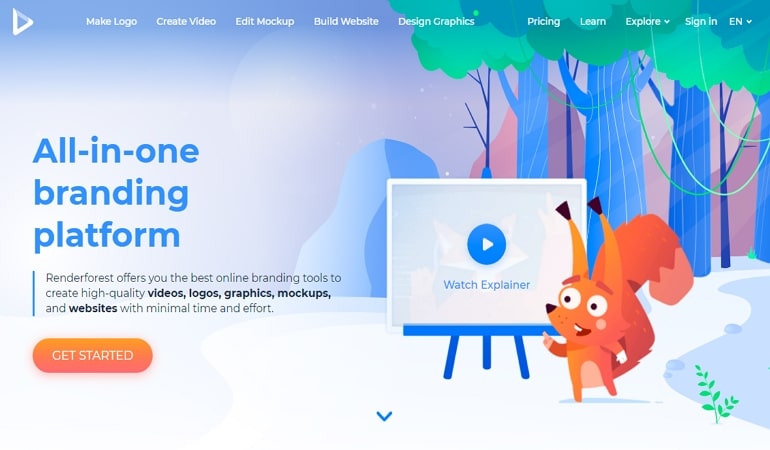 Birthday Video Maker - Renderforest
4. Animaker
Under the slogan of "Create beautiful videos by adding characters, properties, music, and other assets with the easiest drag-and-drop interface", Animaker serves millions of users each year. What makes it distinguish from others is that it provides animated figures that make your birthday video alive. Existing video templates are also available. However, it doesn't provide you many editing tools. The option for effects and music are also limited.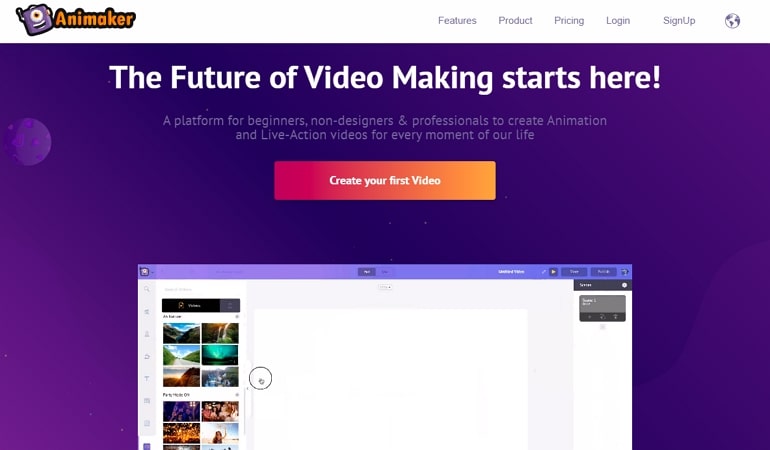 Birthday Video Maker - Animaker
5. Magisto
Magisto is one of the pioneers on birthday video editing. Once you upload media resources, it will generate a birthday video directly for you. No other operations required. For most times, the birthday video generated with Magisto is satisfying. If you want to use it to edit videos, Magisto is also a great option. It is equipped with powerful editing tool and rich music resources. However, none of those could be added to your video without watermark if you are a non-subscribe user.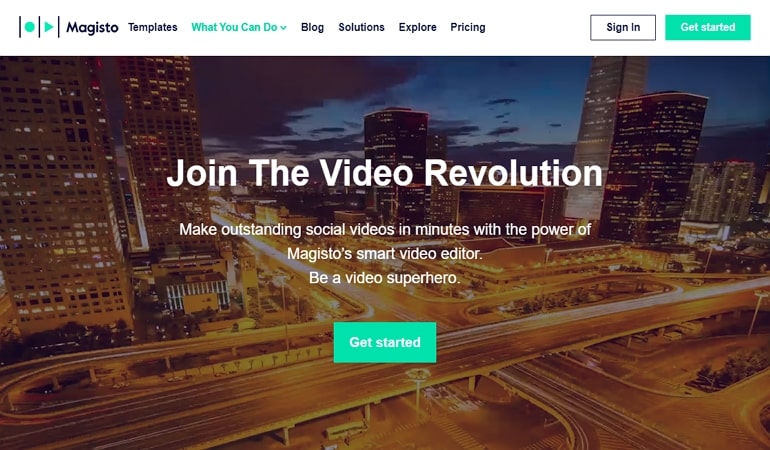 Birthday Video Maker - Magisto
Best Birthday Video Makers for Android/iPhone
1. InShot
InShot is an application for you to trim, speed up, add music or filters to video. Because it is pretty fundamental, this application is quite easy to use. No fancy collages or splicing. If you are looking for an application that's simple, give InShot a try! Generally speaking, the music and effects are satisfying.
2. PicPlayPost
You might have used some application that turns your photo into collages. How about making a birthday video collage? PicPlayPost helps you out! The problem is, you will not have access to many effects and music, and editing tools.
3. Magisto
Magisto enables you to create a birthday video in seconds with its variety of styles that are perfect for birthdays. Once the application is installed on your device, select one style you like and then import all video clips, then you can get a birthday video you like. Magisto also gives you room for personalization. You can change text, add filters and make more edits if you like. We strongly recommend you to use the desktop version because you have more access to music and effects here.
4. Birthday Video Maker
Birthday Video Maker is a shortcut to create an excellent birthday slideshow. Upload all photos, then adjust their positions, add frames and music, you have a good birthday slideshow video! It is free to use all frames and the royalty-free music, however, it can be quite annoying when ads pop up. Some effects may not look good in your birthday video.
5. Hyperlapse
Hyperlapse is an app created by Instagram itself. If you'd like to share your birthday video to Instagram or Facebook, then this application is the best to go. It doesn't provide you normal video editing features. Hyperlapse can only help you to adjust video speed from 0.25X to 12X. No other video editing effects, music available.
Best Birthday Video Makers for Computer Desktop
We recommend the following birthday video makers for computer desktop because they are powerful and have beautiful effects. However, if you are new to video editing, please don't try them at all, they sometimes can be tricky. Also, they don't provide background music.
1. iMovie
iMovie is a professional birthday video maker with beautiful effects for all iOS & Mac users. However, Windows users also have access to it after paying. It allows you to crop, trim, arrange video clips in timeline. Cool transition effects bring your birthday video to the next level! Even though iMovie can be hard to catch up for beginners, it is worth trying.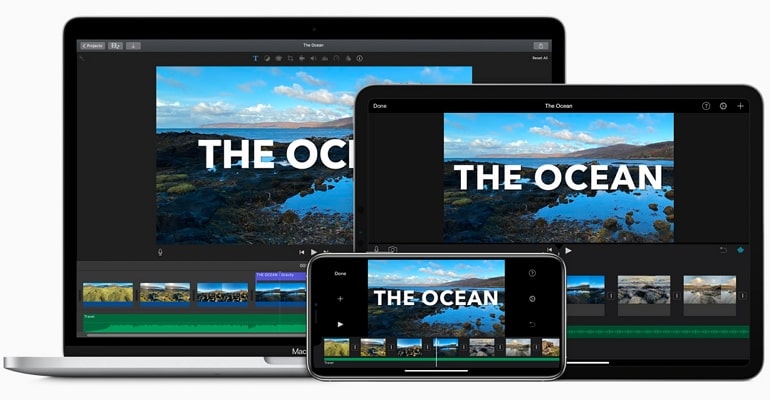 Birthday Video Maker - iMovie
2. Photos
Photos is a default application on Windows. Usually, people use it to browse videos and photos stored on computer. What's unknown to most people is Photos application can be used to create videos. It provides you various basic video editing features, like trimming, splitting, adding text, 3D effects.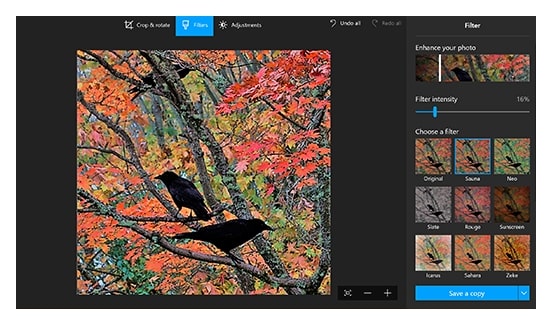 Birthday Video Maker - Windows Photo
3. VSDC Video Editor
VSDC is made to produce some professional-looking birthday video. Except for all video editing features that all its competitors have, advanced video effects, including color correction and object transformation as well as audio effects are all available. What's better, VSDC is truly free! No watermark added!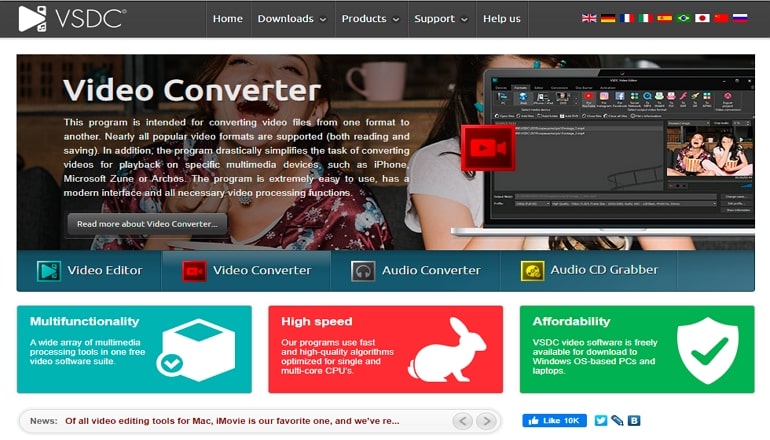 Birthday Video Maker - VSDC
How to Make a Birthday Video
Making a birthday video is not as hard as you thought. Follow the steps below and get started.
Step 1
Be prepared for what you are gonna say
Some people may be very good at speaking in front of the camera, while others may find themselves rather struggling with it. Whatever the case is, be prepared for what you are gonna say. Whenever you have an idea, write it down.
Generally speaking, you should start with a Happy Birthday. Then some interesting or warm wishes. If you want to make it more touching, show the birthday person's best quality, how they support you or some of the warmest memories.
You can film a birthday video with professional camera, but a phone will also do. The tricks of filming below work on both devices.
Trick 1. Find a clean background. Filming a video in a messy background is like drawing in a paper with wrinkles. The results won't be satisfying.
Trick 2. Use a tripod. A tripod may avoid shaking clips. Some other tools can also make your filming devices stable, like a pile of books.
Trick 3. Proper distance. While filming, make sure you are in the center of the screen. Don't get too close to the camera nor too far.
Trick 4. Good lighting. Think of the light in 7-9am or 5-7pm. That's the best lighting for filming.
Step 3
Edit birthday video
#1. Drag and drop all your photos and videos to the blank section and apply them to your storyboard. You can also click on the "+" button to add videos or photos to storyboard directly. If necessary, use resources from stock media.
Make Birthday Wishes Videos - Step 1
#2. Go to the side panel. Tap on Text, you can add dynamic text in different fonts to video.
Make Birthday Wishes Videos - Step 2
#3. Tap on Music, upload the background music you like and then trim it. Or you can click on the Record button to record voice for the birthday wishes video.
Make Birthday Wishes Videos - Step 3
#4. Add special effects to your video! Video transitions, interesting overlays, emojis and more are waiting to be applied.
Make Birthday Wishes Videos - Step 4
#5. Tap on the Preview button to preview your work. You can continue editing or save the video to your computer.
There are a few different ways to gift your video. You can post it to YouTube as a private video and send the link to the birthday person. You can also send the video via Dropbox or Google Drive.
More Tips on Making a Birthday Video
1. The birthday person can have a very special interest, like literature, painting. A birthday wishes video relating to their interest can be a much more emotional gift.
2. If there are too many photos, remember to create a slideshow video. People would enjoy a slideshow video with different frames or photo collage better than photos displayed one by one.
3. Don't forget to take videos for this birthday party. They can be very good materials for your next birthday celebration video.
4. We also have some posts about Birthday Video Ideas, Birthday Quotes. Refer to more posts to get more ideas.
The Bottom Line
Above are introductions on excellent birthday video makers and detailed steps of how to make a birthday wishes video. Hopefully, you can now make a good happy birthday video. By the way, FlexClip can also help you make other types of videos, like wedding videos, YouTube videos. Give it a try and explore more.