This post introduces you the best free online video editors in 2022. Without download, you can use it to make cool video edits freely and easily.
The majority of video editors is desktop-based. To use them, you have to download them to the desktop first. However, for those who are looking for easier editing experience or have limited CPU and RAM on the computer, the better option is using a free online video editor.
We must say that not every online video editor will do! Some don't really have many editing tools, some may contain tedious ads, or worse, contain spam, stealing your information to make profits.
To save you from endless struggle among the vast sea of video editors, we have listed the best free online video editors that require no download at all. They are powerful, safe, and work well on all computers. Check the following list out and decide which one is the best online video editor.
Also Read: How to Upload Reels on Instagram from PC >
Free Video Templates for Everyone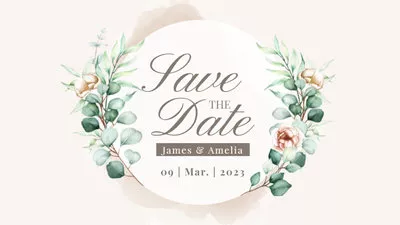 Wedding Save The Date Slideshow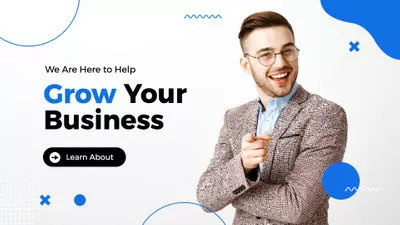 Company Explainer 2
The Best Free Online Video Editors No Download
Top 1. FlexClip
Price: Free to download low resolution video. Subscription price starts from $5.99.
Need an online video editor with immediate access? FlexClip is the one to go! It doesn't require you to download any launcher or even register. Just go to its editing page then make amazing edits in minutes without suffering from tedious ads! Discard your work if you are not satisfied at any time without inputting any information. However, 99% users would register and download their FlexClip work.
Immediate access is not the biggest merits of FlexClip. Most online video editors would make a compromise to ease-of-use by cutting down really powerful features. FlexClip makes a great balance. From basic trimming, splitting, transitions to advanced features like removing background, animation, all features are at FlexClip. Use them to make edits in clicks!
FlexClip Main Features
Free Online Video Editor No Download - FlexClip Overview
Top 2. WeVideo
Price:Comes with free plans. Paid subscription starts from $9.99 per month.
WeVideo is a robust, easy-to-use, and cloud-based video editing and creation platform working both on browser with computer, or mobile devices. When we say cloud-based video editor, we mean easy editing collaboration with colleagues and friends. Just send a link and invite other users to upload additional footage and edit. There is also no need to back up your work using a USB. Everything is backed up in the cloud storage.
When it comes to features, WeVideo is powerful enough. To name a few, the color correction, motion titles, green screen editing, screencasting. However, we must say that you will only be given limited editing features while collaborating with WeVideo. That's because WeVideo team wants to assure you don't accidently overwrite another's work.
Reasons for Recommendation
You can make edits anywhere at any time.
There is a massive music library where you can use to add background music.
Shortcomings
Advanced features like media library are only available with paid plans.
Doesn't come with Auto Save feature.
Free Online Video Editor No Download - WeVideo
Top 3. Movie Maker Online
Price: Free with built-in ads.
Movie Maker Online, as its name suggest, is an online video editor accessible for everyone. You might get little confused if it is the first time to visit Movie Maker Online main page because there are lots of ads. Don't be panic, you will get used to it. These ads are not really tedious.
Since it is a free tool, Movie Maker Online contains really basic editing features. You can only add text, add some effects and transitions to the video.
The media resources is a highlight. Movie Maker Online contains free photos, music from pixabay. Feel free to use them.
Reasons for Recommendation
It has page instructions. You won't be confused about using this software.
Rich photos, music resources.
Shortcomings
Web pages are filled with ads.
Cluttered, complicated controls restrict your edition.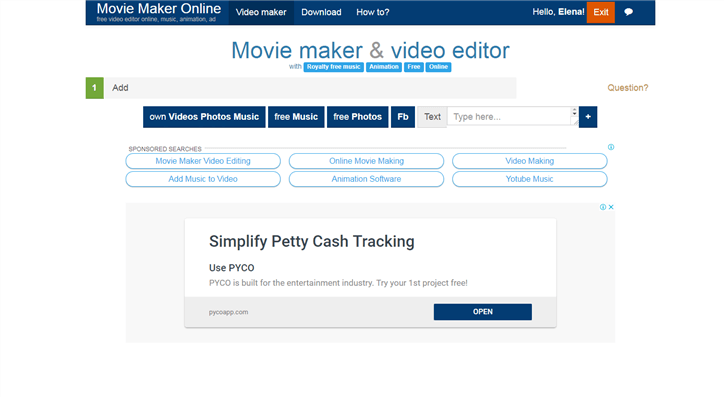 Free Online Video Editor No Download - Movie Maker Online
Top 4. Adobe Creative Cloud Express
Price: Comes with free version. Subscription starts from $9.99 per month.
Adobe Creative Cloud Express, once known as Adobe Spark, is a simple tool for graphic design and video creation. Different from most Adobe tools like PhotoShop, Premiere Pro, Adobe Spark is much more user-friendly. You can get started with it anytime even if you have no experience at all. With both free and paid version availble, online and mobile apps, Adobe Creative Cloud is perfect for small business, freelance professionals, bloggers, and design enthusiasts.
When you launch the free online video editor, you will be greet with loads of templates. It is fine if you want to start from scratch. There are loads of stock photos to help level up your work. Yet, we must say lots of photos are premium-only.
Adobe Creative Cloud Express has only limited features. It only allows you to add text, music, transition and change layout, which means this tool is perfect for creating slideshows. To create other videos like commercials, Ads, social media videos, you might need another tool.
Reasons for Recommendation
With templates offered, you can offer you inspirations and make every footage professional.
It can make square shaped videos especially for Instagram.
After edition, you can directly upload videos to cloud services.
Shortcomings
You don't really have many editing tools.
Finished videos will bear a watermark on the bottom if you are not a subscriber.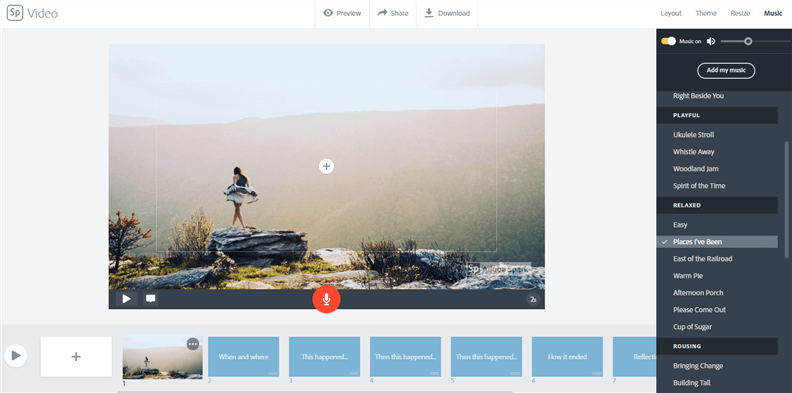 Free Online Video Editor - Adobe Spark
Top 5. Clipchamp
Price: Comes with free version, Paid plans starts from $9 per month.
Clipchamp is a capable, easy video editing tool that will be included in Windows 10 and Windows 11. Clipchamp is regarded as a courtesy to Photos App with more tools and flexibility. However, you now still be able to access this excellent tool via online.
Once you enter the Clipchamp video editing page, you can see a great variety of video templates including slideshows, ads, social media posts, and more. You can also add clips from local folders, webcam recordings, and even online media storage like Dropbox, Google Drive, Google Potos. Editing features include transitions, filters, PIP, overlays, which means Clipchamp basically meets all needs for creating social media videos and business videos.
The biggest shortcoming of Clipchamp is its soundtracks. There are just 11 background music soundtracks available for free, and 21 more sound tracks for subscribers. There are also no sound editing features like removing background noise, hum, or hiss.
Reasons for Recommendation
The editing panel looks like a pro editing app.
All basic features at one site.
Shortcomings
Using Clipchamp requires the latest version of Chrome.
It lacks advanced video editing features even in paid version.
No soundtracks or audio editing option.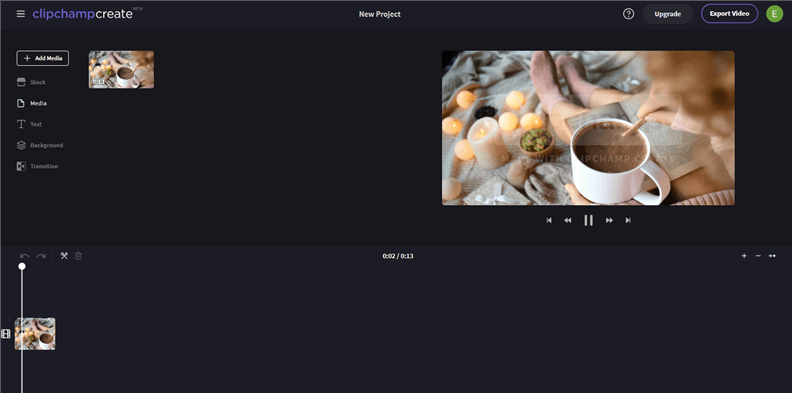 Free Online Video Editor No Download - Clipchamp
Top 6. Online Video Cutter
Price: Free for handling videos less than 4GB. Subscription starts from $5 per month.
Online Video Cutter now changed its name to 123 Apps. Instead of being a comprehensive video editor that allows you to make edits, it provides you lots of tools to help make small edits like cutting, cropping, and rotating and more. If you just need to make small edits, online video cutter is good to go.
When it comes to online tools instead of online editor, we shouldn't ask for many advanced features. Instead, we should emphasize on its uploading speed, quality loss and exporting. Online Video Cutter is slow in uploading and exporting, which many people have complained about. There are also 4GB limitations. That's to say these tools are better for dealing with small files. Online Video Cutter helps remain original video quality.
Reasons for Recommendation
You can even upload videos via URL.
The clear interface allows you to use them freely.
Shortcomings
Slow uploading and exporting.
It has limited functions comparing to other video editors.
4GB uploading limitations.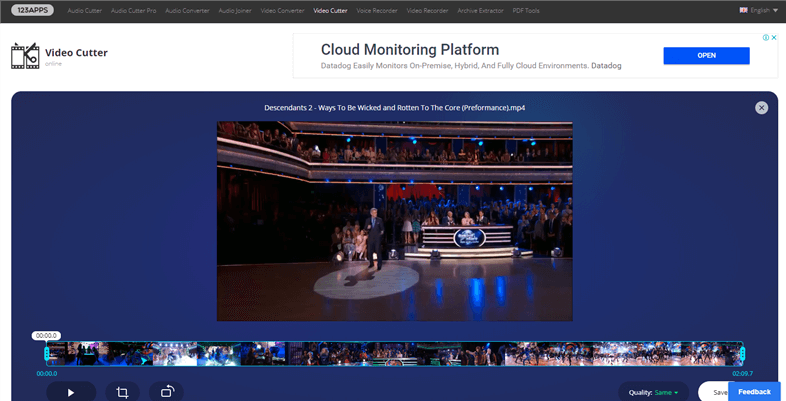 Free Online Video Editor No Download - Online Video Cutter
The Bottom Line
Those are top 6 best free online video editors. What's your favorite one? Which do you think is the best? If you find this blog helpful, please share it with others.