Here in this post, we'll show you the best music video maker for PC and desktop to help make the best music video ever at the lowest cost. Check it out and follow us to get started!
A good music video turns a song into a piece of art. Besides serving artistic purposes, music videos are also serving as commercial ad to help you boost sales. However, we all should admit it, they can be quite expensive to produce. Hiring a professional team to make a music video costs millions of dollars.
Stop paying over-priced video creation studio thousands of dollars! There are lots of music video makers that can help out! No experience, no compromise on video quality! Let's check the following excellent music video makers and decide which one is the best.
Also Read: How to Add Music to Instagram Story >
Music Video Templates Free to Use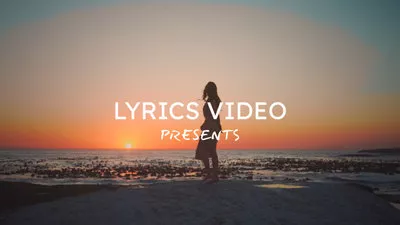 Animated Lyric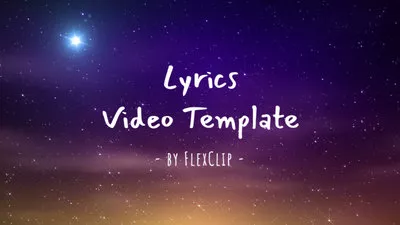 Lyrics With Background
Best Music Video Makers Online
Best Music Video Makers for Mobile Phones
Best Music Video Makers Online
Best Recommendation for Music Video Maker - FlexClip
FlexClip is the easiest to use online music video maker. If you are new on music video creation, you can create the best music videos within a few clicks with the help of music video templates. Drag and drop your music clips, change lyrics, a music video is done!
As for the experienced, FlexClip can bring endless inspirations and realize all your ideas with numerous effects,and royalty-free music, photos and music. The music videos created with FlexClip can be shared to all kinds of social media platforms like Facebook, Instagram, YouTube, and the whole process costs no money.
The best of all, you don't have to type the lyrics one by one. Let FlexClip's AI do the job for you. It automatically transcribes the audio file into lyrics with high accuracy.
Main Features of FlexClip Music Video Maker
Video Trim/Split/Merge
Audio Editing
AI Audio to Text
Voice Over
Real-time Preview
Video Filters
Media Library
Intro/Outro Sample
Widget
Fast Export
Since FlexClip is such an excellent music video maker, why not click the Create a Video button and get started? You are also welcomed to browse more music video templates.
Step 1
Upload your photos, videos, and music to the Media section and apply to the timeline. Drag and drop to the timeline will also do.
How to Make a Music Video - Upload Media
Step 2
Go to the Subtitle section, click on Auto AI Subtitle. FlexClip will automatically add lyrics to your video. Change the lyric font, size.
How to Make a Music Video - Add Lyrics
Step 3
Make some adjustment, for example, drag the slider to trim the music file, add a filter, transition to the video, or change video speed to make the video go smoothly.
How to Make a Music Video - Edit
Step 4
Preview. Click the preview button on the upper-right corner. Continue editing, save it to the desktop or one click share to YouTube, Facebook and more.
1. Before getting started, please make sure you have all media resources like music, video clips, photos organized. It will help fasten editing process.
2. Please stay at the download page while downloading, this will help get your music video faster.
2. Animaker
Animaker helps you make kickass music videos that are addictive and groove-worthy with ready-to-go templates and rich assets. 100+ royalty-free music tracks in different styles meet all your needs. Fun, bright text animations allow you to create eye-catching lyrics. Cool properties like GIFs, stickers, screen effects can realize all your ideas.
Price: 5 free watermarked downloads each month. Subscription price starts from $10 each month.
Pros
1. easy to operate
2. free download
3. rich properties
4. music visualizers
Cons
1. limited templates and music resources
2. there's watermark on video
3. Renderforest
Renderforest is a template-based music video maker. It provides users numerous music video templates for business. Those templates with music visualization and 3D effects are exceptional. The music video you created will be excellent, but there will be no much room for flexible editing.
Price: 360p watermarked video for free. Subscription plan starts from $7.99 per month.
Pros
1. elegant music video templates
2. rich resources
3. music visualizers
Cons
1. no much room for editing
Best Music Video Makers for Desktop
1. Magisto
Magisto is an excellent video editor. It standouts among all desktop software due to its AI driven smart editing tools and already-made templates. It is extremely easy to trim and cut your videos. The templates are well-designed, and the big library of commercially licensed songs are available for everyone.
Price: Free download to your computer, there are within-app purchases.
2. CapCut
If you know TikTok, you must know CapCut well. CapCut also developed by ByteDance to encourage users to create more TikTok videos. Compared with TikTok built-in editing tools, CapCut for PC is more powerful and convenient to make any edits. CapCut also provides numerous fonts and transitions to level up your music video. Give it a try!
Price: Free. Currently, the developer of CapCut only released the Chinese version.
3. iMovie
We recommend iMovie as a music video maker for those who are quite experienced in video editing. iMovie is indeed a powerful video editing tool and it can be used to create professional music videos, but newbies may get confused while using its features. Also, there won't be any music resources or music video templates. You need to start from empty scratch.
Price: Free for Mac users.
Best Music Video Makers for Mobile
1. Tempo
Tempo is a cool music video editor for both Android & iOS. As the best music video maker for mobile, Tempo has lots of popular subtitles suitable for all kinds of music styles and a varieties of music, templates to choose from. They will be uploaded each month. You can also use it to add music to video, edit video with music or make lyric videos. However, it could be somewhat inconvenient to create a music video on phone.
Price: Free. However, you need to pay for using the resources. Subscription price is $6.99 for a week.
2. Video Slideshow Editor
Video Slideshow Editor is the easiest way to create a music video, if you want to create a music slideshow. It has a tons of royalty-free photos and music you can use. After selecting the best music and photos, you can set timing, cool filters and text in several seconds. It is completely for free, but the resources it provides are quite limited.
3. TikTok
TikTok is one of the best video sharing platforms as well as the best short music video editor, especially lip syncing music videos. You can browse the large library of of licensed music and select one to use. Editing tools like trimming and special effects like transitions, stickers are all easy to use. The best part of using TikTok is that you can find endless inspirations from other people's work.
Price: Always free. Once your video is downloaded from TikTok, there will be a small watermark.
Tips on Making Your Music Video Go Viral
> Be patient. As a beginner, your work can be hard to go viral immediately. Don't give up even if it has been a few months but still few people view your work, some music videos may take years to become popular.
> SEO skills. If you have the chance to write URL and description for your music video, do set the song name as URL, and repeat the song name in Description as much times as possible. This would help people find your music video easily.
> Try a Cover Song. Let's see your song is much better than others, but still, nobody is listening and watching. The reason is that people don't know who you are. You can choose to pay homage to a known entity by covering one of their jams.
The Bottom Line
With the above easy-to-use music video makers, you can surely create the best music video ever. Besides detailed steps to make a music video, we also offered you some tips to make your work popular. Found this post helpful? We will appreciate it if you can share it with others.