Summary: This blog offers you a big collection of birthday video ideas, and all is creative and funny. No matter you need birthday video ideas for your best friend, boss, boyfriend, husband, children, this blog will offer you endless inspirations.
What are some unique ideas for making a creative birthday video? I can't even think of a creative birthday video idea for my best friend.
- A question from Quora
If you have the same question as above, you are not the only one. Relax! You are creative and fun. Maybe you are just too nervous to think of a happy birthday video idea that might surprise your loved ones.
A video is a combination of pictures, words, and music/duet. Here in this blog, we will offer you 10+ practical birthday video ideas to make the birthday video both fun and creative in respect of selection of words and video making. Let's get started.
Birthday Video Templates
Also Read: How to Make a Video Your Wallpaper >
What to say in the birthday video?
Tip 1. Sing a little bit. Speaking is dull. How about singing? Make up a few lyrics to express yourself. Don't worry if you don't sing well, singing poorly can be entertaining.
Tip 2. Use birthday quotes. Quotes are conventional, yet it can never be out of date to use few warm and touching, maybe silly sentences on birthday videos. Below are few examples.
* You are not one year older, you are one year better.
* It is a treat to wish happy birthday to someone so sweet.
* You would have loved the gift I forget to get you.
* We have got candles and fire extinguishers (the birthday person) ready!
* A true friend always remembers your birthday but never remembers your age.
* Birthday is like a pizza, the more you have, the less you want.
For more funny or creative quotes, please refer to Best Birthday Quotes Collection >
Tip 3. Share a memory. Be it a story from travel, enjoying a movie, or shopping, sharing a memory is the best way to remind both of you the sweetest moments. It will be fun to think of the beautiful past when it is the beginning of another year.
Tip 4. Review. Birthday is the best time to look back the last year and celebrate the new one. Why not make a video to review what have you done and where have you been last year and to show plans on the next year.
Tip 5. Narration. Suffer, enjoy. These two are the main elements of life. People in the middle ages may have lots of stories to tell. Try to draft a map of their life and create a birthday video like mini-biography.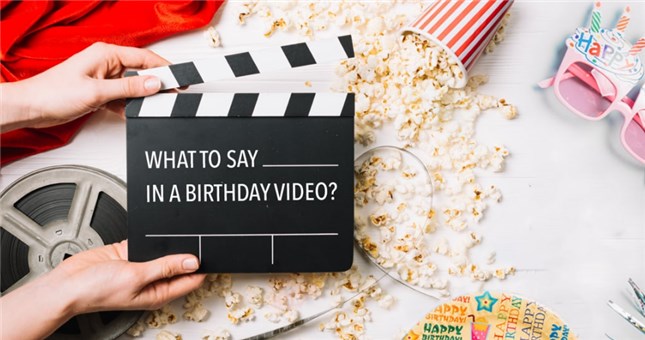 Image Board: 10 Birthday Video Ideas - What to Say in Birthday Video
What to show on the birthday video?
Tip 6. Be creative on the shooting location. Far away from the birthday person? No problem. Probably they will be interested in the place where you are staying. Think carefully about where the birthday person might like, maybe a scenic spot, a library, and shoot.
Tip 7. Old pictures. Dive into your old album to find loads of meaningful pictures, and then upload to your video.
Tip 8. Interview. Interview friends and families who come to the party and ask them a few silly questions. It would be fun to put the footage together and watch it on TV together.
Tip 9. Pets. The pet can't deliver the wishes themselves, help them out.
Tip 10. Gift video. Don't just give your birthday gift directly. Make a video with instructions or background to introduce your video, and then ask the birthday person to get it by himself. This is more like an adventure.
But birthday videos are not only about wishes
Tip 11. Birthday party invitation. If you want to surprise the birthday person, why not through a birthday party and invite all friends and family to the party? That would help you say more than just sending a video.
Tip 12. Birthday party recap. Your camera must be full of photos of last birthday parties. Get back the fun of past birthdays and see how things have been these years.
Tip 13. Belated birthday. It happens! All of us can miss out an important birthday. Asking for an apologize seems to be the only way to ask for forgiveness.
Tip 14. Business birthday. It's your business partner's birthday? Then in the birthday video, showing your appreciation is more important.
Still no clues.....
FlexClip has birthday video templates which you can customize with ease. Select a birthday video template you like and upload your own pictures, then add texts. A funny birthday video is only a few clicks away. For detailed steps, please refer to: How to Make a Birthday Video >
Birthday Party Invitation
The Bottom Line
That's all for birthday video ideas. Hopefully, you have now created an excellent video. As you can see, it is quite easy and efficient to create a video with FlexClip, including YouTube video, TikTok video. Give it a try right now!