No matter you just want to surprise your beloved ones or engage with frequent customers with a Valentine video on 14th Feb., this blog is what you need. It shows you several valentine video ideas and templates to help you create happy Valentine day video with great ease using an easy online Valentine video maker.
Valentine's day is about celebrating love and showing affection. Traditionally, we send chocolate or romantic cards to the partner. They are great, but sometimes expensive. Thus, creating a Valentine's Day video that is more memorable and special is a wiser choice.
A Valentine's Day video can do more than just showing affections or love. A Valentine's Day wishes video helps tell your friends and families that you care, helps businessman to build trust and boost sales. In this blog, we will show you several Valentine's Day video ideas, templates and the best Valentine's day video maker. Follow us to get started.
Contents:
Free Valentine Video Templates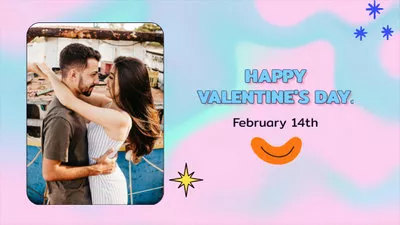 Cute And Fun Valentines Day Collage Slideshow
Pink Happy Valentines Day Promo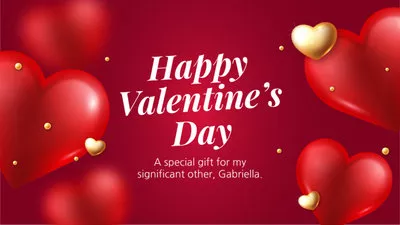 Red Lovely Valentines Day Slideshow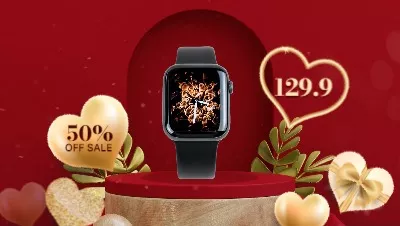 Valentines Day Promo Sale Heart
Can't Miss: Best Invitation Templates for Wedding, Birthday, and More [Free Download] >
Part1 Valentine Video Ideas with Free Templates
Want to surprise your beloved ones or engage with frequent customers with a Valentine video this Valentine's day? Check out the following valentine video ideas for some inspiration now!
1.1 Valentine Video Ideas for Your Beloved Ones
Below are several valentine video ideas for your beloved ones. With a little creativity and deep love, you can create the best one. However, before getting started, please get to know what your partner likes, for example, if he is emotional, then make a video that evokes the past. If he is humorous, then make a video that is fun and interesting.
Tell a Story
Each relationship contains a romantic story and making a story-telling valentine video is the easiest. All photos and videos of the past can be very good materials. Get them organized and then place them in chronological order, you have prepared your sweetheart a memory-evoking gift.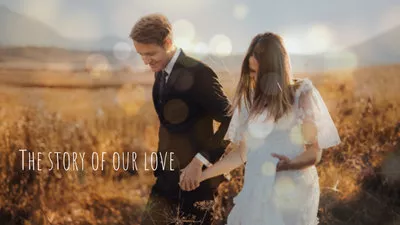 Love Story Slideshow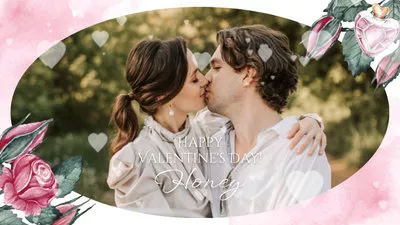 Pink Love Elegant Valentines Day Holiday Slideshow Video
Enjoy Happy Moments Together
Whether you two have been together for a short or long time, you are bound to share happy and unforgettable moments together. If you are lucky enough to have photos and videos of these moments, you can bring them back easily.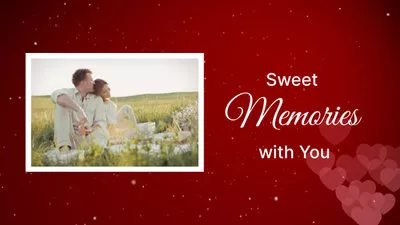 Sweet Love Collage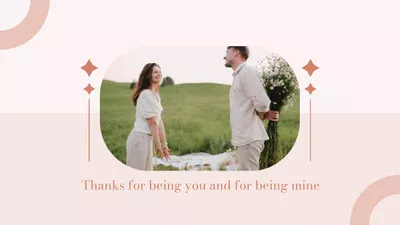 Message Of Love
"I Love You" Shape or Any
For whose partners enjoy simple things, a simple "I Love You" is perfect. Add "I Love You" Shape or the romantic heart shape to your own photos or videos and adjust it to the right font and color that match the valentine day.
Heart Shaped Collage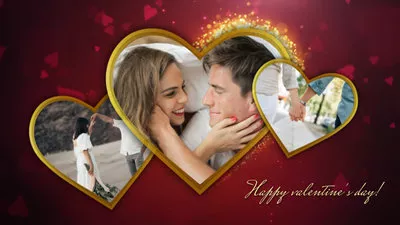 The Story Of Love Valentines Day Wedding
Pets
Pets nowadays are an inseparable part of our life and they sometimes bring endless joy and fun to us. The sad thing is that they can't express themselves. Why not say "I love you" in a valentine video for your pets?
1.2 Valentine Video Ideas for Your Business
If you are looking forward to boosting sale on this Valentine's day, here are some ideas.
Show Your Customer Love
Several days before Valentine's Day, you can start to play a warm and sweet video to remind people of the coming festival. The atmosphere makes people care about it and keeps your brand on customers'mind if they see it. This type of video takes any shape. Simple words with Valentine images will make a good video.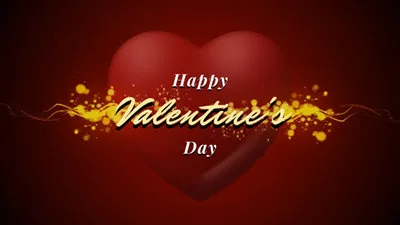 Love Valentines Day Business Valentine Greetings
Valentines Day Offer
Videos for Social Media
Everyone wants to be popular on social media. Give customers something fun and interesting to share in the festival, your brand will be more famous.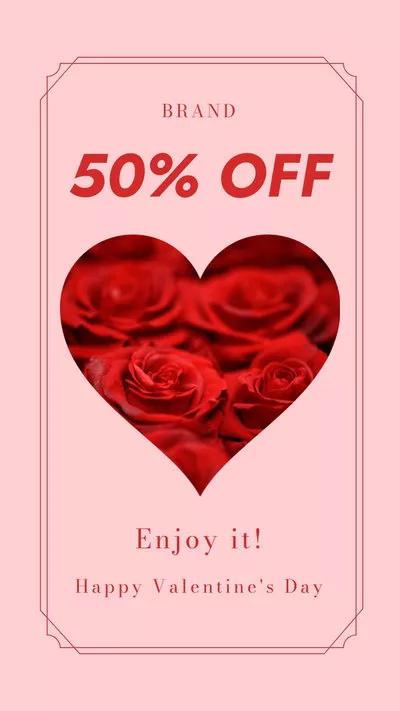 Tiktok Valentines Day Promotion
Part 2 Best Valentine's Day Video Maker
Frankly, a lot of Valentine video maker can help you out. Our recommendation is FlexClip.
FlexClip, as an excellent Valentine video maker, provides numerous Valentine's Day video templates for everyone to have a quick start. As for green hands, its video editing tools are quite easy to operate. In clicks, you can make any edits without confusion. If you are experienced in video editing, FlexClip's rich editing tools are enough to realize all your ideas. What's better, you have access to a media library with millions of music, photos, and video clips to level up your work.
Key Features:
Pretty easy and free to use
Stunning text effects & animations
Advanced editing features
Millions of royalty-free resources
Part 3 How to Make a Valentine's Day Video
Now, why not click on the Create a Video button to get started and follow us to make a Valentine's Day video of your own? You are also welcomed to view more Valentine's Day video templates.
How to Make a Valentine's Day Video - Upload
How to Make a Valentine's Day Video - Add Text
How to Make a Valentine's Day Video - Add Audio
How to Make a Valentine's Day Video - More Edits
Final Words
With the above valentine video ideas and detailed steps, you can surely surprise your sweetheart and customer. Try FlexClip and you will never regret.