Want to say Thank You to your loved ones, send a video invitation to bring all your families together, or boost sales on this special day? Let's make a Thanksgiving video! Follow the steps and get started!
This year, Thanksgiving falls on Nov. 23. Special Thanksgiving deserves something special. How about sending Thanksgiving videos to everyone to enrich the holiday atmosphere? As a business owner, you don't want to miss the chance to win a huge fortune with a promotional video. Let's browse some of the finest edited Thanksgiving videos.
Also Read: How to Make a Black Friday Video to Boost Your Sales >
Thanksgiving Wishes Video Templates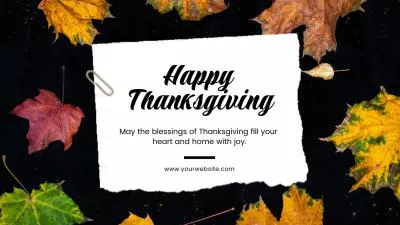 Happy Thanksgiving Day Holiday Greeting Message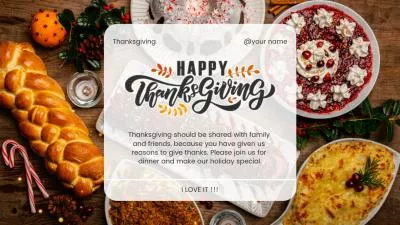 Happy Thanksgiving Day Greeting Wishes Message Post
Thanksgiving Invitation Video Templates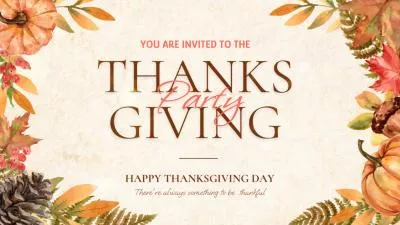 Elegant Watercolor Illustrate Thanksgiving Party Invitation
Autumn Thanksgiving Dinner Invitation Instagram
Thanksgiving Promotional Video Templates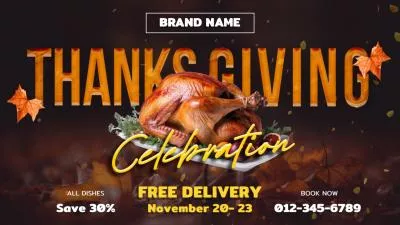 Thanksgiving Autumn Food Restaurant Promo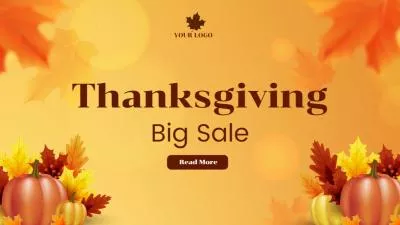 Gradient Thanksgiving Promo Sale
Thanksgiving Day Recap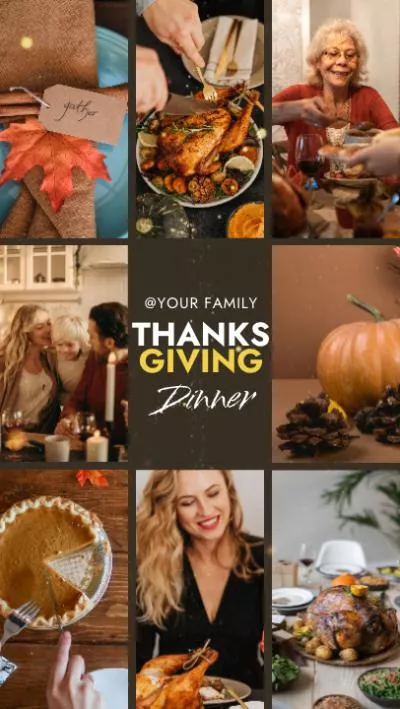 Family Thanksgiving Memory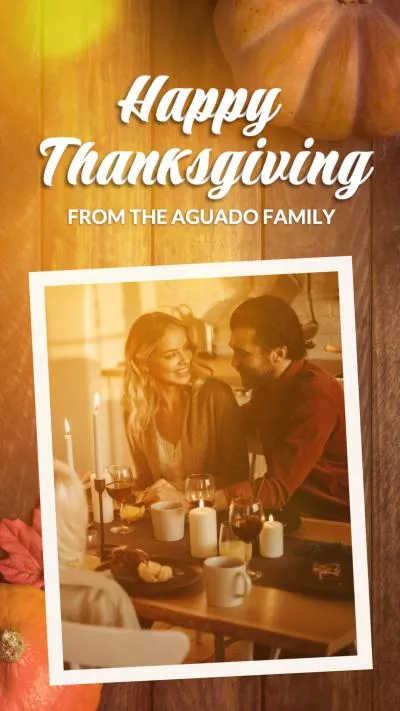 Thanksgiving Collage Slideshow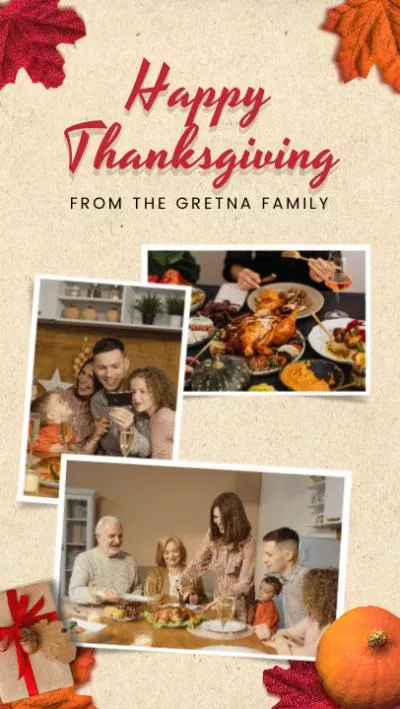 Thanksgiving Family Instagram Post
The complicated process of creating a thanksgiving video might have stopped you. Yet, some easy-to-use and powerful software can help you create Thanksgiving videos in several steps. Let's check out!
How to Make A Thanksgiving Video
Before getting started, we should pick the easiest-to-use and powerful video editor for creating a Thanksgiving video. We recommend FlexClip, it standouts because of its rich resources, templates, and powerful tools. By the way, FlexClip is an online and free tool, that's to say, you don't have to download any thing or pay a penny. Now, click on the Create a Video button and follow the steps below to get started!
Step 1
Drag and drop all your videos/photos to the Media section and apply to the timeline. You can also use any templates to get started quickly.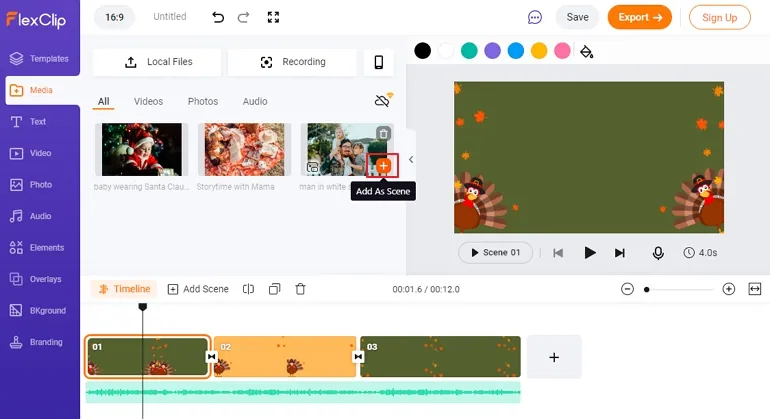 Make a Thanksgiving Video - Step 1
Step 2
Go to the Text section, add any wishes or invitation information to your video.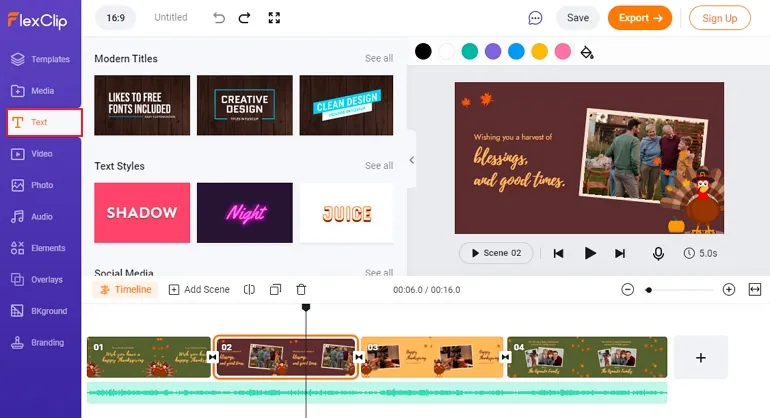 Make a Thanksgiving Video - Step 2
Step 3
Add more edits to level up your work, like animations, transitions,
voice-over
, changing video speed.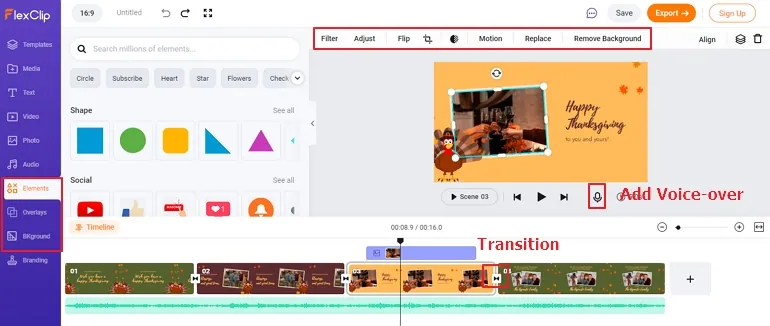 Make a Thanksgiving Video - Step 3
Step 4
Get a proper background music to highlight the Thanksgiving holiday atmosphere!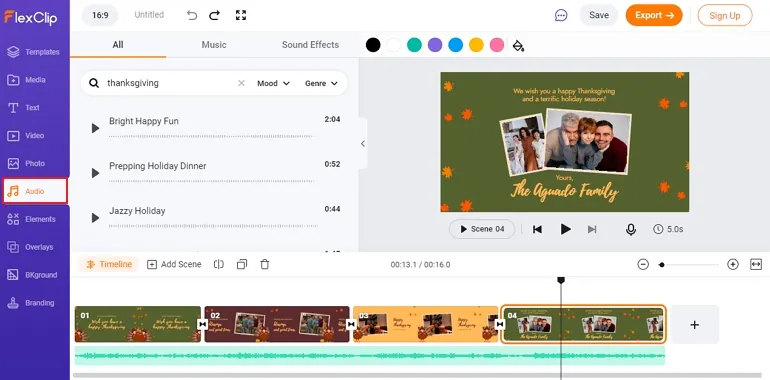 Make a Thanksgiving Video - Step 4
The Bottom Line
Isn't that easy to make a Thanksgiving video with FlexClip? Also, you can make other types of video like traveling, food, fitness, marketing, real estate and more. Give it a try!