Ready to take your travel video making skills to a higher level? Here are detailed steps to make a travel video and some practical travel video tips. Let's get started!
Travel is a physical as well as a mental challenge. However, all difficulties in travel just make people more determined to go outside, especially after the Covid-19 pandemic.
Travel videos turn your beautiful moments into memory. However, everyone might be frightened by ideas of making a travel video at first because it seems complicated and troublesome to create one. As a matter of fact, a travel video can be as easy as a few clicks. Now, check the tips and follow the detailed steps to make a decent travel video.
Also Read: How to Make a YouTube Video >
These Could Be Your Travel Videos, Edit Them!
Honeymoon Slideshow
Tips on Making a Travel Video
To make sure you can make a good travel video, please don't skip these tips, especially when you don't have any video editing experience.
Tip 1. Decide Your Goal & Watch A Lot
Most people create travel videos to remember the special moments and share on social media. Some, however, may want to start and grow a YouTube channel or create travel videos for clients. Whichever the case is, please keep your goal in mind and see what others who shared the same goal have created.
Watching other's travel videos helps understand some basic editing skills, and improve your standard about a good travel video. Here are two YouTube travel channels you might want to follow.
* @Benn TK
* @tourpia
Tip 2. Get Some Basic Equipment
Any phone at hand can take good pictures and videos for sharing to social media. If you want to create a more professional video, some equipment is necessary.
The equipment you might need include, a camera, a tripod, a microphone, memory cards, lighting system, and extra batteries. If you are new to video filming and editing, we also suggest that you get a book about video creation.
Good filming equipment is never cheap, so, this list is completely flexible. In general, a more expensive camera means better video quality. However, you don't need to get the most expensive or the newest ones. You can easily get a camera that's reasonably priced and takes good videos.
Tip 3. Know the Destination
Travel is about exploring new culture. However, unexpected things during travel can be devastating for filming. Before setting off and filming, know the place and the culture you are filming. The weather is another factor you can't miss. The cloudy days are the best for filming.
Remember to interact with the locals. If possible, contact some locals and ask them to show up in front of your camera.
Filming randomly is like wandering in forests. You can never get to the right destination. You need to have a picture of the whole video in your mind so that you know exactly what you want to shoot and can avoid wasting time on something else.
Tip 5. Diversify Your Shots
Sometimes you don't have enough resources, then try shooting the same interesting thing in different aspects. Try A & B roll, panning, time-lapse, spinning and more. These skills can keep all your audiences interested.
Music is something most green hands will ignore. Actually, the background music is vital in making travel videos. The right background can highlight the atmosphere and grasp more attention.
Even though some of you understand the importance of music, you can fall into culture stereotypes like drum music for Africa, organ music for Scotland, etc. We suggest you try different music to raise different feelings.
After choosing the music you like, follow the beats of music and add transitions accordingly.
How to Edit Travel Videos
When it comes to editing travel videos, there are millions of options, like iMovie, Davinci, Final Cut. These video editing software are great, but they can be expensive and hard to catch up for those who are new to video editing.
We recommend you FlexClip, a powerful online video editor that helps you make excellent videos. The powerful video editing features include adding filters, changing video speed. All your ideas can be realized. Moreover, FlexClip is easy to operate. Any edits can be done in several clicks. Last but not least, you have access to royalty-free photos, videos and music resources. Use them to level up your video!
Now, click the Create a Video button and follow the steps below to start creating a travel video.
Step 1
Upload your video clips and photos to the Media section and apply to the storyboard.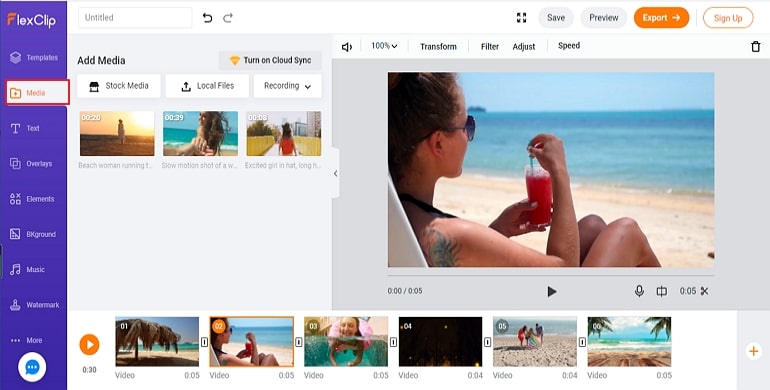 Make Travel Videos - Step 1
Step 2
Add text to your travel video.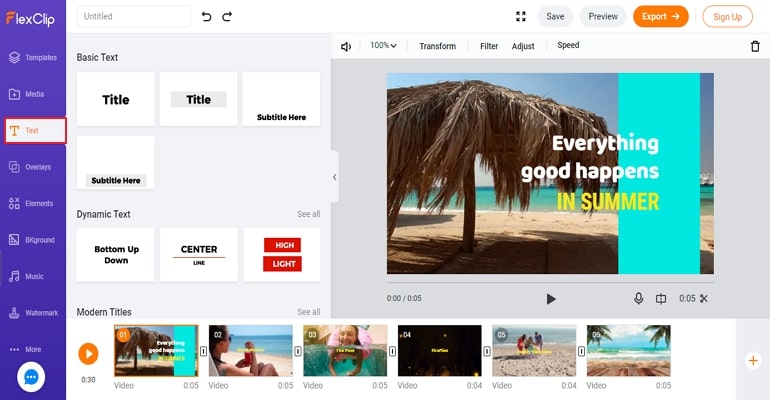 Make Travel Videos - Step 2
Step 3
(optional) If necessary, apply filters and transitions, change video speed, add animations and more.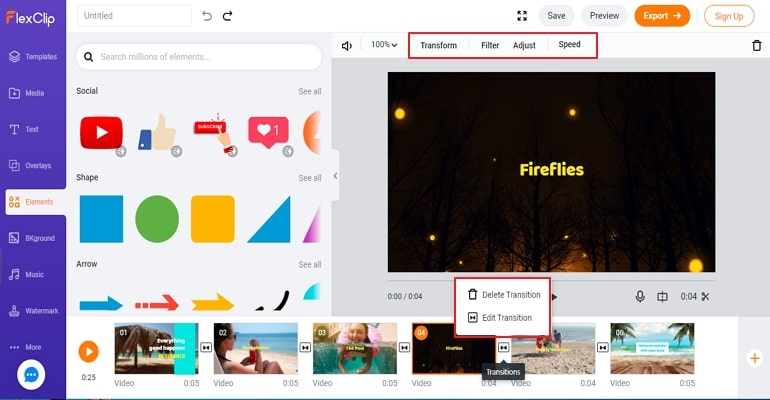 Make Travel Videos - Step 3
Step 4
Add music to highlight the atmosphere.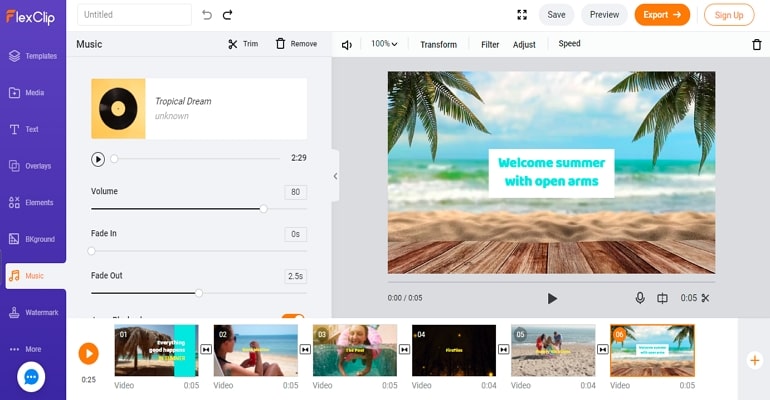 Make Travel Videos - Step 4
Step 5
Export. You can one-click share your travel video to YouTube or save to the computer as MP4.
The Bottom Line
Making a travel video is not as hard as you think. With FlexClip and above travel video tips, you can surely make an excellent travel video. Besides travel video, FlexClip can also help you make other videos, like promotional video, real estate video. Since it is such an excellent video maker, why not go to FlexClip main page and get more.