This blog shows you the best sports highlight video makers and detailed steps to make sports highlight videos. Follow us, pick the best sports video editor and start creation.
A sports highlight video showcases the best moments of a match. As a sports fan, you might need to create a sports highlight video to summarize the event or to look back on in years to come. As a high school athlete, you probably need a highlight video to showcase your best performance if you are applying for a college scholarship. Under either circumstance, creating a sports highlight video is not easy.
The good news is that loads of sports highlight video makers are available! They can make sports highlight video creation easy and effective. Here in this post, we will show you the best sports highlight video maker on computer or mobile and how to make an excellent sports highlight video, whether it's a soccer or football highlight, or basketball highlight. Keep reading and get everything you want to know.
Sports Highlight Examples for Football, Basketball, and More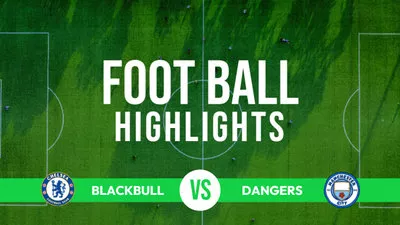 Football Match Highlight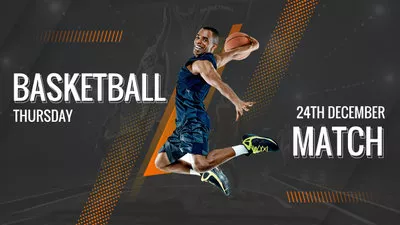 Sports Highlights Basketball
Part 1. Best Sports Highlight Video Makers for Computer
Part 2. Best Sports Highlight Video Makers for Mobile
Also Read: How to Make a Football Video for All Social Media Platforms >
Part 1. Sports Highlight Video Editors to Try for Computer
The best sports highlight video makers are as follows. Some are desktop-based software and some are online tools. Pick the best one according to your needs.
Sports Highlight Video Maker Best Recommendation: FlexClip
FlexClip doesn't top on the sports highlight video maker list because of nothing. It meets all your needs while making a sports highlight video. You have access to not only normal tools like trimming, speed changing, filters, transitions, voice-over to make your video look nice, but also effects like call out titles and arrow effects that help you highlight a player in a sports video, and rich animated texts to grab people's attention. These tools are completely online.
Another reason to make FlexClip outstanding from the rest is FlexClip's rich resources. Even though you might not need any photo, video resources to create a sports highlight video, the right background music will always highlight the tense atmosphere of your sports video. Explore FlexClip's free music library and select the best music!
Main Features:
How to Make a Sports Highlight Video with FlexClip
Now, click the Get Started Now button and follow us to create a sports highlight video with FlexClip. If you have no idea on how to get started, View Templates to get more ideas.
Step 1
Upload all your video clips.
Go to the Media section, click on the Upload icon, select all video clips. All selected clips will be appear in the Media section in seconds. Actually, drag and drop will also do. After that, apply all the resources to the timeline.
Image Board: How to Make a Sports Highlight Video - Step 1
Step 2
Edit all sports video clips.
We should start with dealing these clips one by one. Some basic edits you will need to do include trimming, adding filters, widgets, transitions, changing video speed.
How to Make a Sports Highlight Video - Step 2
On the sidebar, click the text icon to insert textual information. Still ones and animated ones are all at your disposal.
How to Make a Sports Highlight Video - Step 3
Upload any music files and set as BGM. If you don't have any, go to the Music library to find a proper one.
How to Make a Sports Highlight Video - Step 4
Step 5
Download & export.
How to Make a Sports Highlight Video - Step 5
Preview the video. Continue editing or save the video to your computer. You also have the option to share your video to YouTube directly or share via a short link.
2. LightMV
LightMV is a cloud based video creation tool that makes it easy for you to create high quality videos from desktop computer, tablet and mobile devices. LightMV offers professional photos, video clips and elegant templates to create stylish videos within minutes. No download needed.
The only shortcoming would be its lack of editing tools. You can only make some really basic edits with LightMV, like adding music, adding text and more. No specific editing tools for creating sports video like lower thirds, call out title.
Price: Annual VIP: $25.95 or Monthly VIP at $12.95. You can only produce 2 videos per month and HD output.
How to Create a Sports Highlight Video with LightMV
How to Make a Sports Highlight Video with LightMV
3. ACA
ACA is an innovative highlight video editor to assist in your college recruiting journey. Simply upload any video, then cut and combine, a highlight video is done. You can even add isolation effects for a professional quality highlight video that college coaches will love.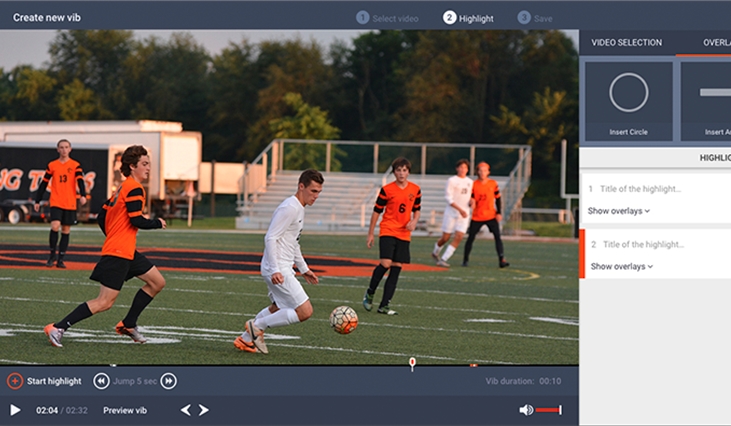 Sports Highlight Video Maker - ACA
4. Hudl.com
Hudl.com has everything you need to tackle one of the most uncertain sports seasons in history. Most hudl.com users take advantage of its powerful and flexible tools for analysis and improve performance. This website also provides a set of products including online tools, mobile and desktop apps, smart cameras, analytics and more.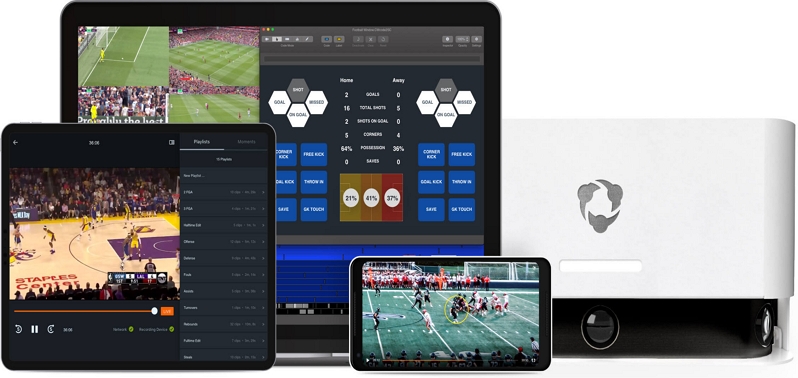 Sports Highlight Video Maker - Hudl.com
5. SportsRecruits
Through your SportsRecruits membership, you will have access to the in-platform highlight reel editor tool. After adding your description and video clips, you can publish the video to the community and others can rate, comment your video. It doesn't have many editing features, but lots of people watch sports videos here and this platform might increase your opportunity to be hired to camps and tournaments.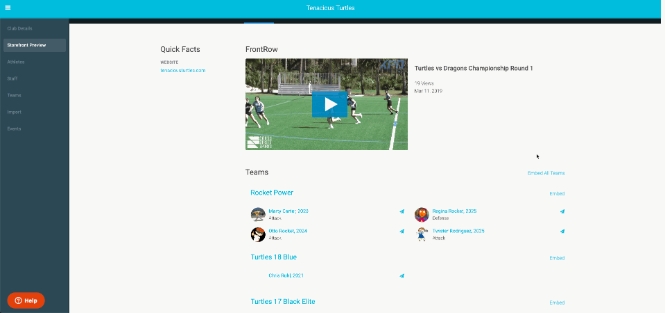 Sports Highlight Video Maker - SportsRecruits
6. iMovie
iMovie is a software available on all iOS and Mac tools. It is used to create all sorts of video editing tools. As is wide-known by all people, iMovie has the advanced video editing tools. The problem is that most green hands can't use it without any instructions. Another problem is that it doesn't have particular highlight effects. You may use other effects.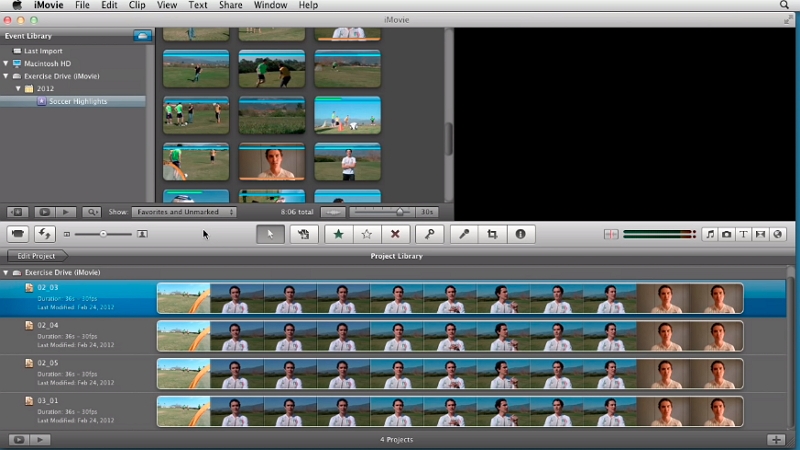 Sports Highlight Video Maker - iMovie
7. Adobe Premiere
Adobe Premiere Pro is the industry-leading video editing software for film, TV, and the web. Creative tools, integration with other apps and services, and the power of Adobe Sensei help you craft footage into polished films and videos. We recommend it for professional users and for those who creates sports highlight video for enjoyment.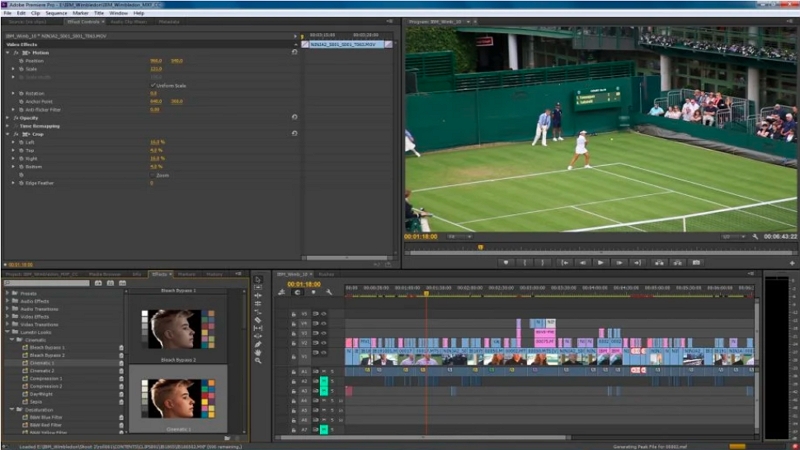 Sports Highlight Video Maker - Adobe Premiere
Best Sports Highlight Video Makers to Try for Mobile
8. Quik
The best sports video highlight reel maker for iPhone and Android has to be Quik. This application was free, but the new edition requires payment to unlock all features. However, you can have a free trail to know all about the features.
Here is how Quik can help. As for people who are short of time, Quick can automatically pull out sports highlight video clips on your phone or your GoPro cloud storage and highlight the video in seconds with excellent music and filters. Users can also take control by themselves. Select a theme, add videos and pictures you want to highlight, trim, add filters and more. The whole process is easy and effective.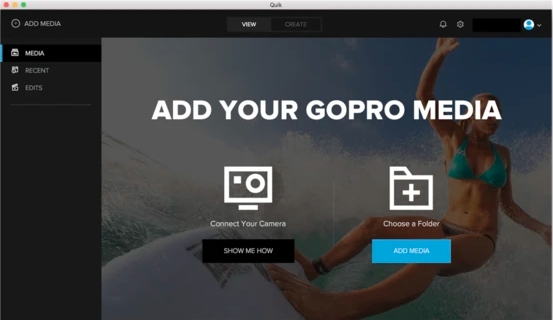 Sports Highlight Video Maker - Quik
9. CoachMyVideo
CoachMyVideo is a $9.99 sports highlight video application for iOS devices. Even though it is extremely easy to get started, its website has great tutorial videos.
We must say CoachMyVideo doesn't have much editing features. It can help you overlay text and effects on your video, but no other video editing features.
10. sport.video
Sport.video is an excellent application for recording and sharing sports highlight video clips. You don't need to know how to edit a video, you can just film some excellent clips of a sports match and sharing. Now, nearly 800000 sports highlight video clips are created with Sport.video.
Bonus Tip: How to Make Great Sports Video Edits
Tip 1 >> Video Clips Selection
Skip all shaky sports video clips, otherwise the sports highlight video may give people sea-sick feelings.
Tip 2 >> Video Length
The perfect sports highlight video length is 4-5 minutes. A sports video that is either too short or too long may fail to generate exciting feelings.
Tip 3 >> Avoid Too Many Edits
Coaches and other viewers don't care about fancy transitions, effects, so make your cuts neat and simple between the clips.
Tip 4. Identify/Label
A match may involve many people and sometimes people can't find you. Make sure other notice you.
The Bottom Line
Making a sports highlight video is no longer a daunting task with the help of FlexClip. FlexClip is indeed the best free sports video editing software. Besides sports video, it can also help you with other videos, like travel video, holiday video. Give FlexClip a try now!