Getting lost in the market intermingling with the good baby video makers and the bad or wondering how to start to make a baby video? Check this post to know everything about baby video creation.
Your babies can never be this cute and little again! This is what parents usually say to each other. Indeed, loving moments of children are precious and can never come back. Only with baby videos can those happy hours linger long on memory.
Most parents, like you are searching answers to the same question - how to create a baby's first year video? Here in this post, you can get all you need, including how to create a baby's first-year video and a list of best baby video makers. Check it out!
Also Read: Make a Video Collage >
They Could Be Your Baby Videos! Edit Them Before Anyone Else Does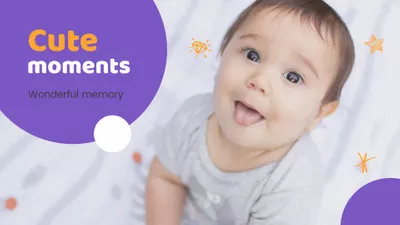 Baby Album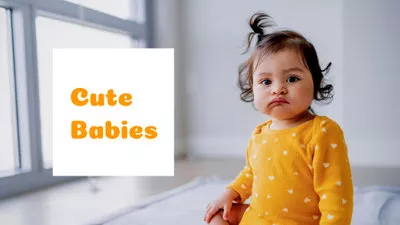 Baby Slideshow
How to Create a Cute Funny Baby Video
To create a baby's first-year video, you need all your baby's videos, photos, a computer and FlexClip.
FlexClip is an easy to use baby video maker. It provides free baby video templates to help you get started quickly. Powerful editing tools like filters, video speed changer, transitions allow you to make any edits. Millions of royalty-free media resources are there to level up your baby video. Now, why not click on the Create a Video button to get started? You are also welcomed to browse more baby video templates.
Step 1
Add your photos or video clips to the Media section and then apply to the storyboard.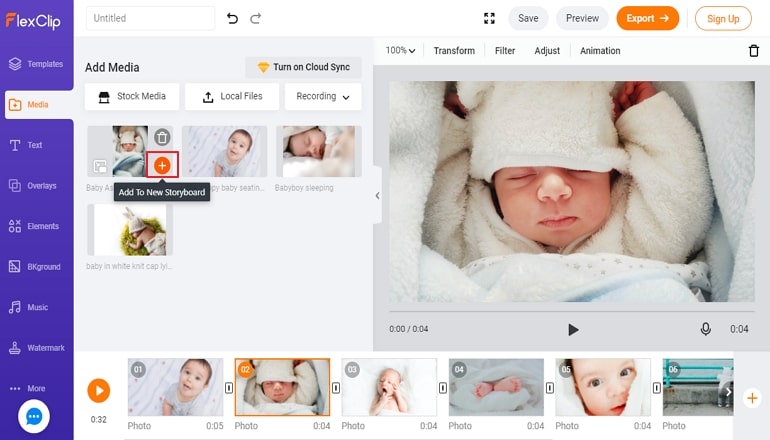 How to Make a Cute and Funny Baby Video - Step 1
Step 2
Go to the sidebar, click on Text, choose a text style you like and enter any words you like.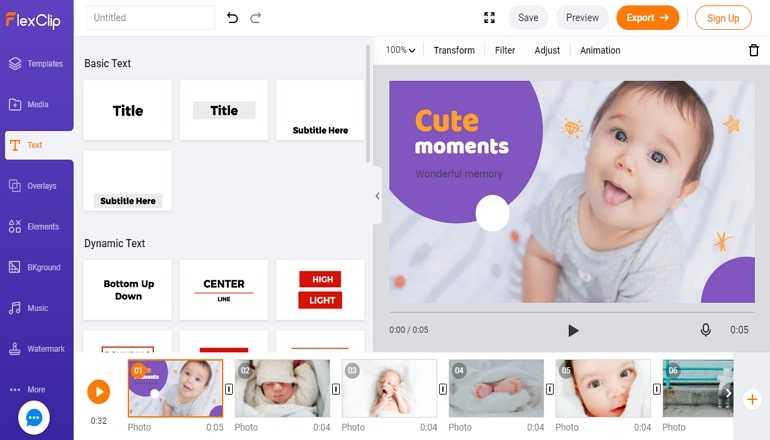 How to Make a Cute and Funny Baby Video - Step 2
Step 3
Add music to the baby video.
How to Make a Cute and Funny Baby Video - Step 3
Step 4
Make more edits, like adding transitions, filters, making collage.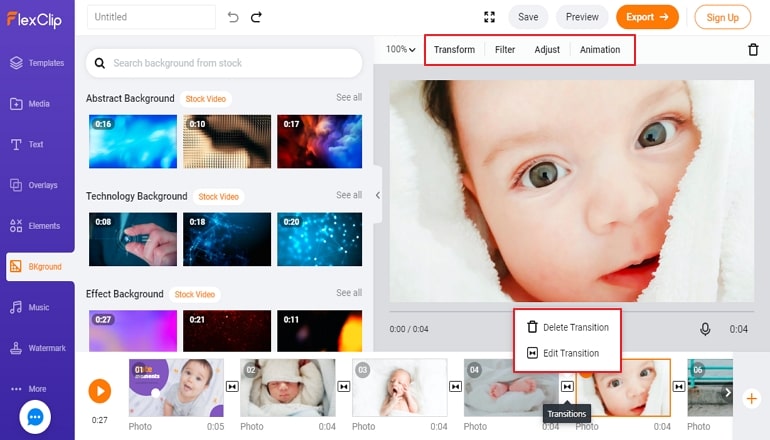 How to Make a Cute and Funny Baby Video - Step 4
Step 5
Preview and export. You can always come back and make edits again.
Part 2. Best Baby Video Makers to Try
Baby Video Maker with Song & Photo (Android)
Baby Video Maker with Song & Photo is an Android application that makes every precious moment special with stickers, filters, fonts, cute doodles, overlays and artworks and more. Not only you can take adorable photos, but also you can edit the photos and video clips with this amazing application. Loads of music effects can also be used, but many people complained there were no birthday songs.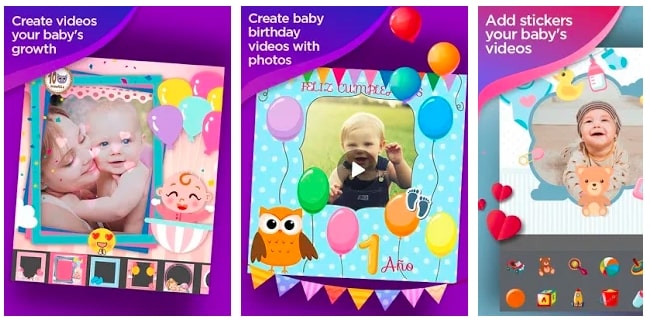 How to Make a Cute and Funny Baby Video - Step 1
Renderforest (Online)
Renderforest emphasizes on 3D and cartoon video creation. Numerous elegant 3D and cartoon video templates are ready to use. You can replace photos, videos, texts on the template but this online baby video maker has no other editing features, which means your video might not be unique enough.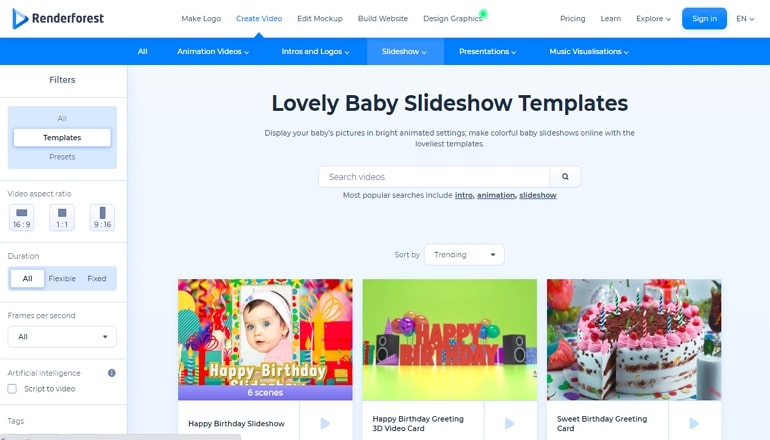 Baby Video Maker - Renderforest
iMovie (Mac/iPhone/iPad)
iMovie is a professional video editor equipped on every iOS devices. The best part of iMovie is its powerful tools and device sync. The shortcoming are, iMovie could be hard to catch up with for those who have never made any video edits and some advanced features might take you long to find and use.
Tips on Making Baby Videos
Get down to their level and film the world they see. The world adults see is different than the world the kids see. Get down to a kid's level (about six to eighteen inches above the ground level) so that you can capture children's faces and their world straight on.
Get more people involved. I am talking about not only kids but also adults. Twenty years from now, your video will have new audiences and they would be curious about your life now.
Pay attention to the time. If you are planning filming, remember to adjust the shooting time to the child and to the babies in particular. How disappointed you would be if the kid is sleeping when it is shooting time.
Tell a story. Generally speaking, videos with plots are more attractive to audiences, so is the baby video. Pick a theme, like shopping, going to the zoo. After that, you can make an interview, asking the kids "how is the shopping going?" or "how do you like the dolphin?" Don't overdo the narration, it would be hard to edit the narration.
The Bottom Line
That's all for the detailed steps and tips to make a cute and funny baby video. As you can see, it is easy and efficient to make a baby video with FlexClip. By the way, you can also use FlexClip to make other videos, like anniversary video, trip video. Give FlexClip a try!