Haven't decided on what to get for Dad on his day? We got you covered. In this post, we will show you how to create an excellent Father's Day video. Some excellent Father's Day video ideas are also included. Start reading this post and get what you need.
"Daddies don't just love their children every now and then, it is a love without end."
- George Straight
Daddies love us, no matter how they seem to be ineloquent or stuffy in daily life. And it is them who offered us protection from outside and shaped our way to view the world.
Father's Day gives us the opportunity to honor them and celebrate fatherhood and parental bonds. This year, 2023, It is on June 18. As this important day is approaching, many of you might be thinking about creating a Father's Day video as a gift, hoping to give dad a big surprise.
Undoubtlessly, this is a good Father's Day gift idea. The problem is how to make a warm and touching Father's Day video. Here in this blog, we will show you the detailed steps on making a Happy Father's Day video and offer you some ideas on making Father's Day videos. Follow us and get started.
Also Read: Best Birthday Wishes Video Makers & How to Create a Birthday Wishes Video >
Part 1. Best Father's Day Video Ideas & Templates
Nobody would hate sincere wishes, even though it may sound like quite cliche. What's your wishes? Add sweet words to the video.
Cartoon Alphabet Fathers Day Wishes
Fathers Day Wishes
Dig into the albums and see how many old photos you can get. Create a timeline with those photos and show your dad how you grow up. This would be a conventional but meaningful slideshow.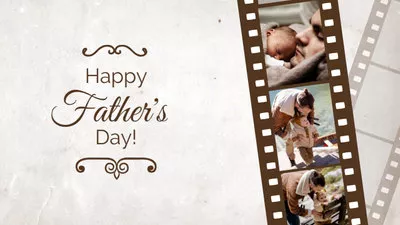 Fathers Day Photo Slides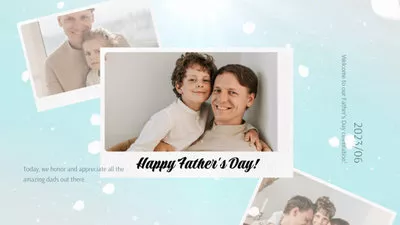 Blue Fathers Day Photo Slideshow Petal
Interview all your siblings and ask them how they think of Dad or ask them to share the sweetest memory with Dad. This can be both fun and touching.
Aparting from parents is painful, especially when it is a festival. For making videos, this could be an advantage. Shoot some scenes of the city you stay and show them to your Dad in the Father's Day video.
Part 2. How to Make A Father's Day Video
Here are things you will need to make a Happy Father's Day video.
- Photos or video clips,
- Background music,
- A computer (PC/Mac),
- FlexClip.
Step 1
Click on the Create a Video to start from scratch or View Templates to browse video templates to get ideas.
Step 2
Pick a template and upload all photos and videos.
Go to the Template section, pick a nice father's day video template you like. Click and apply to the timeline.
Make a Father's Day Video - Step 2
Step 3
Upload all photos and videos.
Switch to the Media section, upload your photos and videos. Drag and drop to replace the photos and videos in the template. Don't worry if your photos and videos will fit the template. FlexClip will automatically adjust your photos and videos so they look coherent.
Make a Father's Day Video - Step 3
Step 4
Add some heart-warming words
Hearwarming words is essential to let your father know how much he is loved and appreciated. Even though the words in FlexClip's father's day templates are great, but personalized messages are more welcomed.
Make a Father's Day Video - Step 4
Upload an MP3 file and set it as BGM. If you don't have any, you can always go to FlexClip's music library and use any music for free. You can also do voiceover and speak out your love in person by clicking the microphone button.
Step 6
Preview, save and share.
Click the Preview button and do the real-time preview. Save the video to Dropbox and desktop or one-click share, upload the video to YouTube.
1. Before getting started, please get all your photos and video clips organized. This would save you lots of work.
2. FlexClip also provides other online tools, like
video compressor
. All free and easy to use. Give them a try!
The Bottom Line
With FlexClip, you can make all your cool Father's Day video ideas true. Go to https://www.flexclip.com and explore more. If you find this post helpful, please share this blog with others. By the way, creating a video as a gift always surprises others. Try creating a birthday wishes video, same day slideshow, and more with FlexClip.