Want to send a unique Mother's Day gift to your Mom? This blog offers excellent ideas and detailed steps to make a Mother's Day video. Follow us and make one Happy Mother's Day video as a gift in a few steps.
Mother's Day is annually celebrated on the second Sunday of May. This year, this festival falls on May 14th, and it is just around the corner. When this big day finally comes, please let your mother knows how much you love her and make her feel special, cared and appreciated.
A simple but touching video is a unique Mother's Day gift. If you are also running a business, a Mother's day video can build emotional bonds between you and the customers, and increase profits. Whether you are an expert in video editing or a green hand who has no idea about video making, this blog is exactly what you need to create a mother's day video. Keep reading and get inspiration on creating Mother's Day videos.
Also Read: How to Make a Video Your Phone Wallpaper >
Mother's Day Video Ideas
It's the first step that costs trouble. You might have mouthful sweet words, photos or videos, but you just don't know what the video is going to be. Here are some ideas for creating mother's day video.
A simple Mother's day greeting video may sound too old-school. However, it never fails to make mothers happy. You can add some fun activities to make it more interesting, such as holding up signs or singing.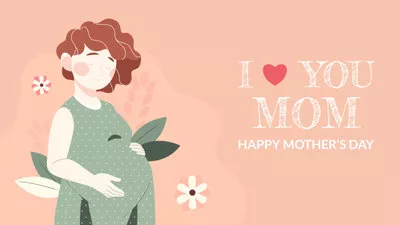 Mothers Day Thank You Message
Floral Mothers Day Greeting
This is one of the easiest kinds of Mother's Day videos to create. You just need to put the photos in sequence, and then let them go with sweet background music. If necessary, read a poem or say something you are too shy to speak aloud for the slideshow.
The past photos tell their own stories. They save you loads of work. Go and find as many photos as possible.
Mothers Day Slideshow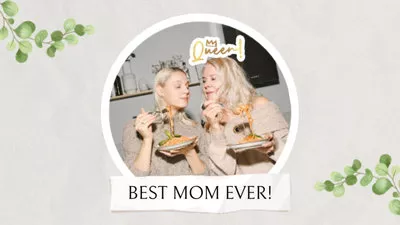 Mothers Day Best Wishes
Photos do bring past memories. If you don't have enough pictures of different times, you will need videos or photos of families on vacation or activity, for instance, the photos and videos of your families on the beach. Grasp only one moment to say Thank You to mom and tell her these moments can't be sweet without her.
Tell a Story of You and Her
What would you tell your child about your mom? Families are part of us. Besides appearance, what did you get from mom? This requires you to go deep inside and hear your voice.
Grandma is also a mother and grandchildren always forget that. Remember to send your grandma a festival video!
They are quite easy to be pleased. However, do make sure they get your jokes and she has access to your gift. For these grandmothers who seldom use smartphones or computers, burning the video into a disc for them would be great.
As for people in business, our suggestion is to name your discount directly. Many customers are more likely to be attracted by prices.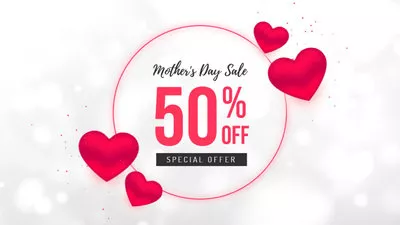 Mothers Day Ad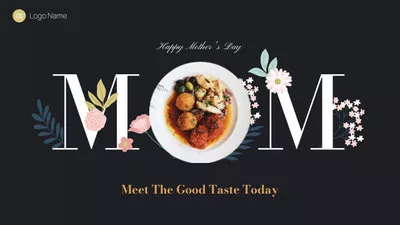 Mothers Day Restaurant Ad
There must be some new moms around you and motherhood is for real. Tell them how amazing it is to become a new mother and give them the courage to overcome all difficulties.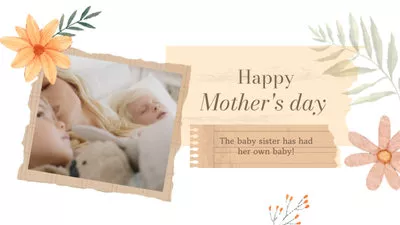 Happy Mothers Day For Sister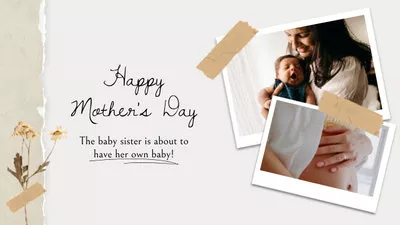 Mothers Day Scrapbook
How to Make A Happy Mother's Day Video
To make a Happy Mother's Day video, you will need some video clips, photos, music, and most important of all, FlexClip – The most professional and easiest-to-use mother's day video maker.
Now, click on Create a Video button below and then follow us to create a Mother's Day video. You can also browse and start with FlexClip's Mother's Day video templates.
Find any template you like and add to the timeline. Upload your videos and photos to the Media section and then drag and drop to replace the pictures and videos in the template.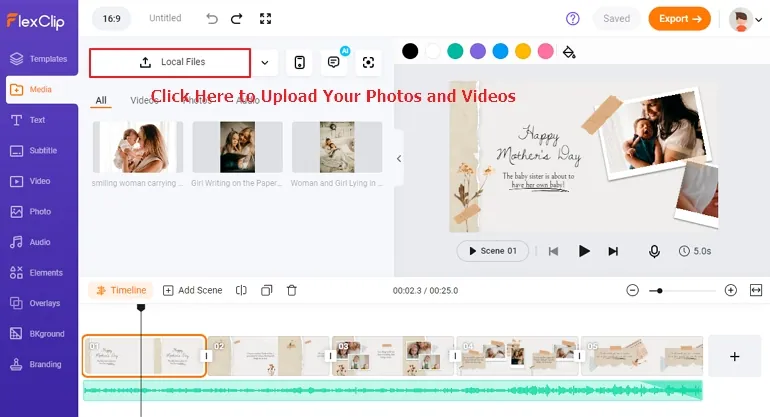 Make Mother's Day Video - Step 1
Step 2
Edit Your Photos and Videos
Your photos and videos may not fit the template. If necessary, please make some edits, for example, trimming, cropping, adding filters, changing video speed.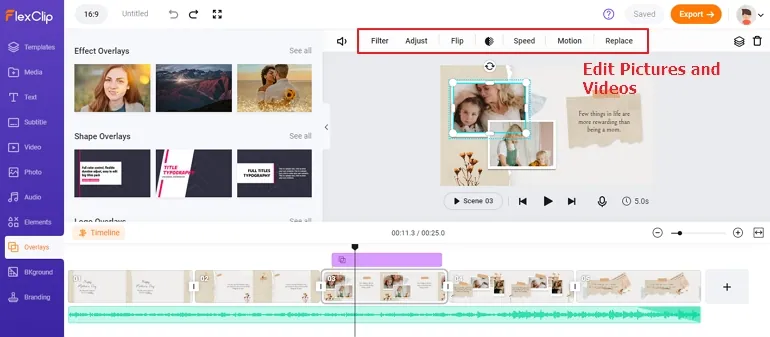 Make Mother's Day Video - Step 2
Double click the words in the template and then enter any words you want to say to your Mom.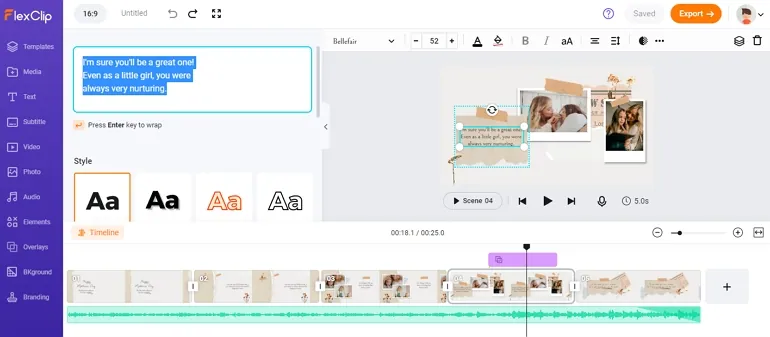 Make Mother's Day Video - Step 3
Click on the Audio icon and set background music for your Mother's Day music video. Besides any MP3 audio file on your computer, you can also use music in FlexClip's stock library.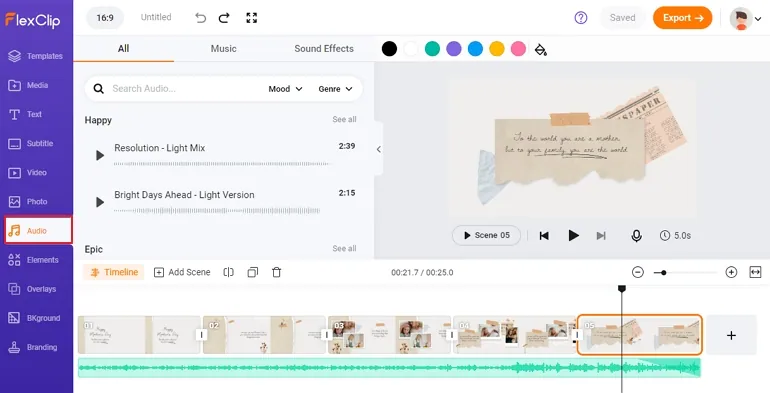 Make Mother's Day Video - Step 4
Download the Mother's Day video you created to your desktop. You also have the option to share the video to social media platforms or via a short link.
1. Before editing, please get everything organized. This would save you lots of time.
2. Videos will be uploaded to the server. You can always come back for further editing. However, your data is safe with us. We won't have access to your photos and videos, or sell them to the third parties.
3. The downloading speed may vary depend on the Internet. Make sure you are under good Internet connection.
Part 3. Best Mother's Day Video Makers You Can't Afford to Miss
Animaker
If you are a fan of cartoons, Animaker is definitely your cup of tea. It is an online video maker that requires no video editing experience. Aside from its rich media resources, it has many animated figures you can use to say anything you want without feeling awkward. Even though it doesn't offer you much options for editing, the templates Animaker has satisfy almost everyone. Pick any templates you like and get started quickly.
Price: Starts from $10 - $79 per month.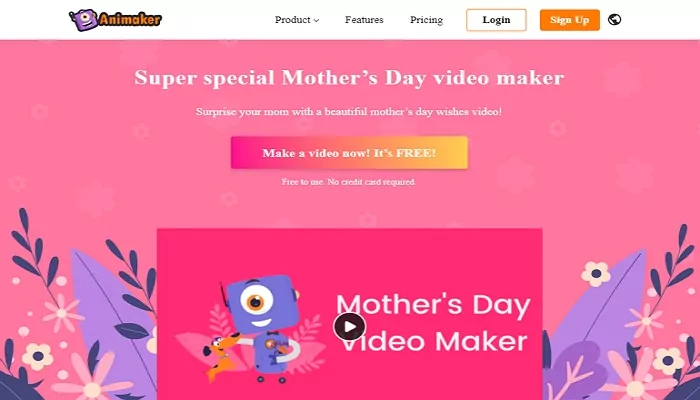 Mother's Day Video Maker - Animaker
Veed
Veed is also an online video editor with powerful and easy-to-use video editing tools. However, what makes it distinct from others is that Veed only provides you tools, even advanced tools like auto subtitle tools. However, there are no media resources or templates for you to get started, but anyone can get started with the basic timeline mode easily. The support team is also helpful when you have difficulties in editing.
Price: Starts from $12 to $38 per month.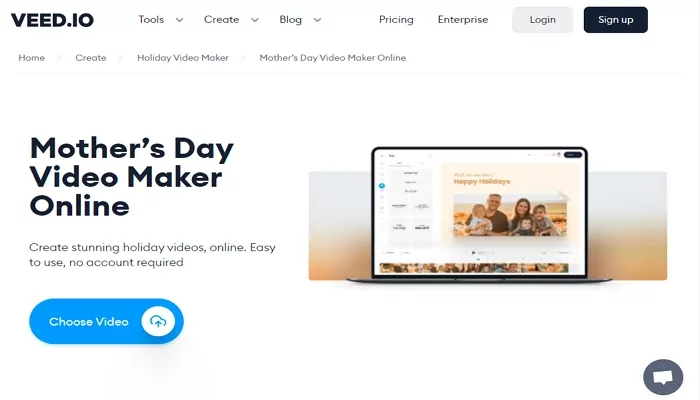 Mother's Day Video Maker - Veed
iMovie
iMovie is exclusive for iOS and Mac users. Currently, no windows users can download and use it. It is one of the most renowned video editing software for desktop for its powerful video editing tools, beautiful fonts, overlays, transitions and more. However, we do recommend it to those who have rich video editing experiences to use it. Its complicated interface may confuse lots of newbies.
Price: Free for all Mac and iOS users.
SlidePlus
The SlidePlus is an application both for Android and iOS. As its name suggests, it helps you create marvelous mother's day slideshows. You don't have to be a master in video editing. Upload all your photos, add some text and then change music, you can have a mother's day slideshow.
Price: Free to download. Offers in-app purchase.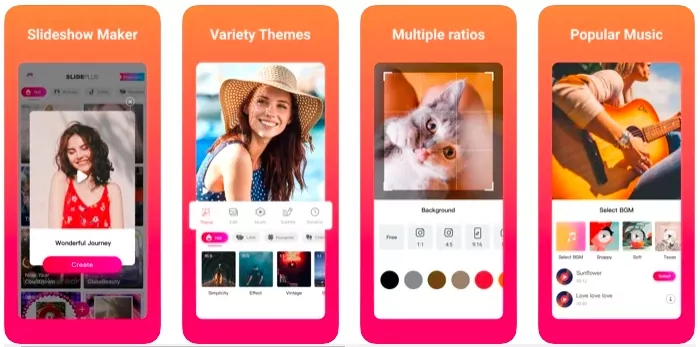 Mother's Day Video Maker - SlidePlus
The Bottom Line
With the above ideas and detail steps, you can surely make a good Happy Mother's Day video. Actually, any mom will love the present the children give to her, as long as it is from the bottom of the heart. Relax and get started with FlexClip. If you find this post helpful, we'd appreciate it if you can share it with others. By the way, Father's day comes the next month. Why not also create a father's day video?