This is a detailed guide on the best spooktacular Halloween video ideas. In case you are new to video editing, we will also show you how to create a Halloween video from scratch. Now, get started before anyone else does!
This year, the Halloween falls on October 31. Of course, big pumpkin lanterns, spider webs on supermarkets are not enough for this special festival of 2023. To highlight the festival atmosphere, you need to create spooktacular Halloween videos and share so that everyone has a haunted day.
It is always the first step that costs trouble. No worry, check the most brilliant Halloween video ideas to get inspired first and then follow the easiest steps to create an excellent Halloween video.
Can't Miss: Best Birthday Video Makers You Must Try >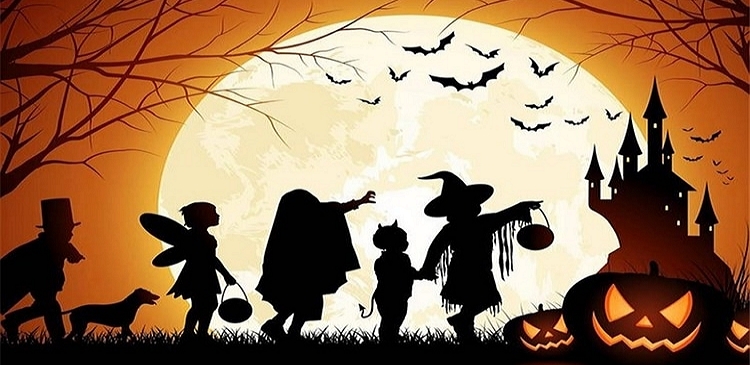 Halloween Video Ideas
Part 1. Best Ideas for Halloween Videos
Following ideas come with some free Halloween video templates in different aspect ratios. If you like any of them, edit them directly before anyone else does!
1. Halloween Video Greetings
We understand, Halloween greeting videos are too common. However, with a little bit of new ideas, Halloween greeting videos are outstanding from others. Pick a background video and then insert animated or 3D texts to deliver your Halloween wishes!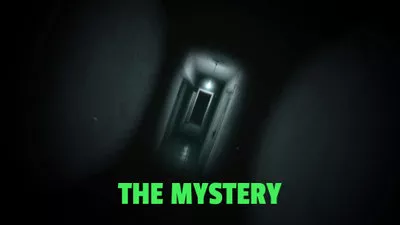 Halloween Greeting
Happy Halloween Intro Social Channel Greeting
2. Halloween Party Invitations
More people, more fun! Challenge your friends and families and see if they dare to come to a scary or fun Hallowee themed party. Whether you are hosting a Halloween cosplay party, or Halloween movie night, the party will always burst into laugh.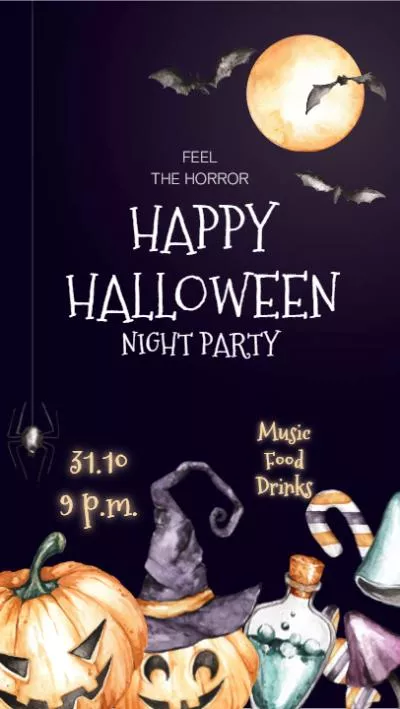 Cartoon Happy Halloween Night Party Invitation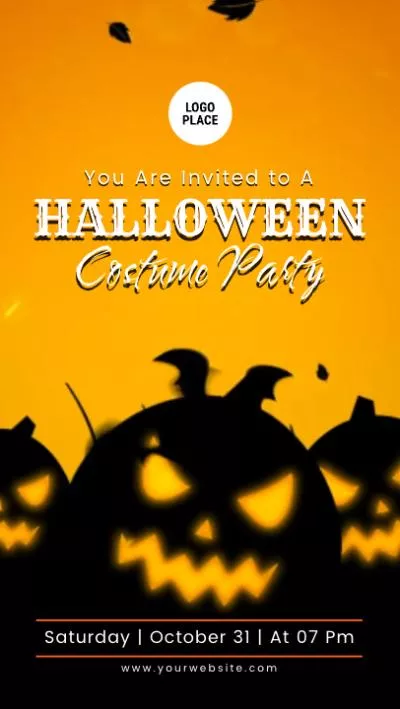 Happy Halloween Costume Party Invite Post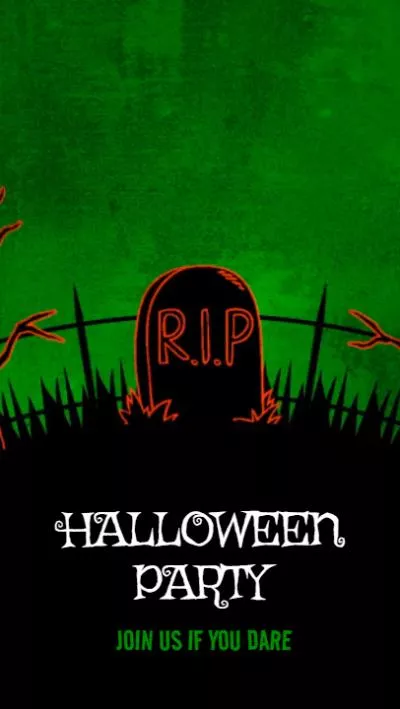 Happy Halloween Costume Party Invitation Video
3. Halloween DIY Tutorials
Before the Halloween comes, many people will search for Halloween decorations, costumes and the like. What is more attractive than DIY Halloween decorations and costumes? You can make a video showing DIY decoration, makeup, recipe and something like that. As long as you are good at making something, do remember create a video and share online.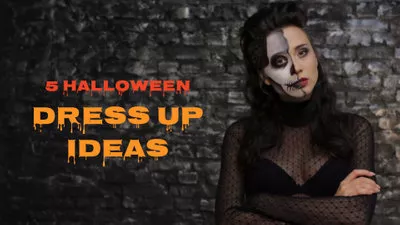 Halloween Dress Up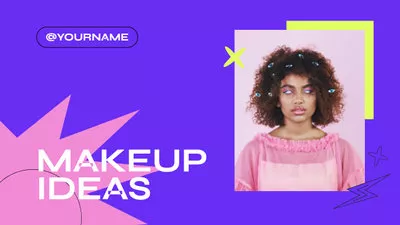 Halloween Makeup Ideas
4. Halloween Promotion
If you want to promote your business, making a promotion video is a good opportunity to sell your products. If you have a small shop, you can sell some Halloween items. If you open a restaurant, you can make the food look more shocking. Just like videos help you create a better online presence, having an online ordering system can help you to better promote your restaurant online.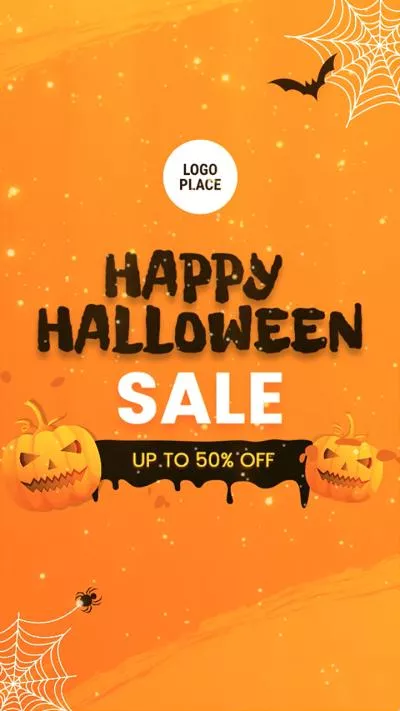 Black Orange Animated Happy Halloween Promo Sale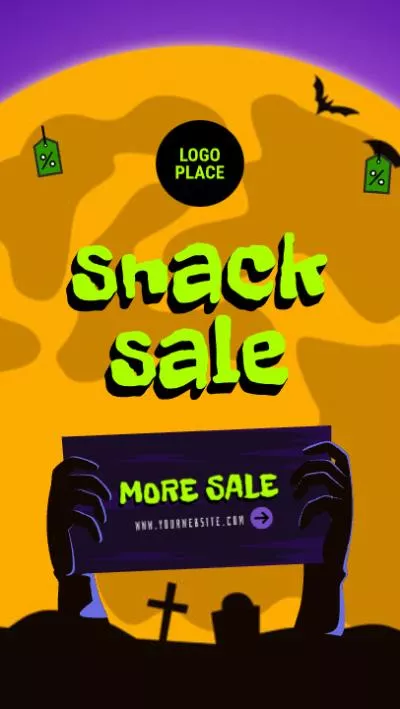 Halloween Snacks Sale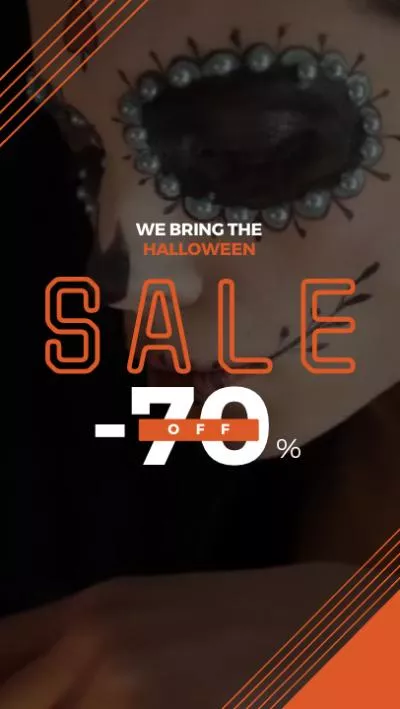 Halloween Costumes Sale
5. Halloween Photo Collage Video
If you have collected lots of pictures for Halloween, why not make them into photo collage so that you never forget the fun from this special day. It is not hard to create a photo collage video, as long as you have access to PIP tools.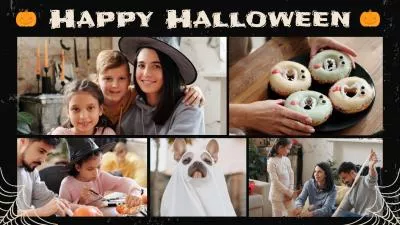 Halloween Happy Memory Photo Collage Instagram Story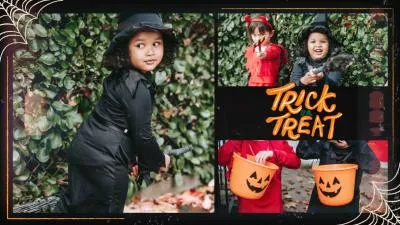 Halloween Trick Or Treat Spooky Glitch Photo Collage Post
6. React to Scary Movies
If you are tired or just want to have an easy day, why not sit down, watch a horror movie and record your action? Reaction videos on Instagram, TikTok are getting more views and likes than ever.
Horror Movie Reaction Video
7. Halloween List Videos
People are also trying hard to get most fun for this day, however, a bad choice can ruin the day. Others will thank you for recommending best movies, novels, custumes, Halloween songs, TV shows, and more.
Halloween List Video Example
8. Horror Story Video Generated by AI
It would be fun to watch a completely new horror story video, but where does that come from? Let's use ChatGPT and AI text-to-video tools to generate a new horror video! The whole process takes less than several minutes without any complex editing operations.
Halloween Horror Story Video Example
9. Halloween Prank Video
No matter it is Halloween, or Thanksgiving, your viewers will enjoy something fun. Create a prank video in Halloween to scare people and make lots of fun.
Halloween Prank Video Example
Part 2. How to Make Halloween Videos
Creating a scary Halloween video doesn't have to involve with complex design and editing process. You can edit the above Halloween video templates directly, or follow the steps below to create a Halloween video from scratch. The whole process takes only a few minutes.
Step 1
Enter FlexClip Editing Panel.
Visit FlexClip's editing panel without registration or subscription by clicking the Create a Video button. You can also click on the View Templates button to get more inspirations.
Step 2
Get Your Video Script Ready
You can write your Halloween messages on your own, which might take a few while. Instead, go to FlexClip's AI Script Generator tool and ask it to write excellent Halloween video script in seconds.
Get Video Script Ready
Step 3
Generate Your Halloween Video
Switch to AI Text-to-Video tool, copy and paste your script to the empty square. Hit Generate, you will soon have a video at hand.
Get Video Script Ready
Step 4
Customize the Generated Halloween Video
You can touch up the generated video with so many tools, for instance, replacing the resources with your own photos and videos, adding horror sound effects, background music, or visual effects.
Edit the Generated Video
After done with editing, you can save the video to your computer desktop, share the video via short link, or post the video to social media in just clicks.
Download & Share
The Bottom Line
That's all about making a Halloween video and some small tips for Halloween videos. It is also worth to mention that FlexClip will always keep all your data safe. Feel free to use this tool!
The Thanksgiving is also around the corner. Please also remember to create a Thanksgiving video to say Thank You to your beloved ones!