Whether you want to create a Halloween party invitation video to gather more people, Halloween decoration video to showcase your Halloween decorations, or Halloween promotional video to boost sales, check this post out! It shows you the detailed steps of creating a Halloween video. Let's get started!
This year, the Halloween falls on October 31. To celebrate Halloween, children will dress up as cute ghosts and knock on the door from the house to house, asking for candy, otherwise they will be tricky. At the same time, all kinds of ghosts will also be dressed as children to join in the crowd to celebrate the advent of Halloween.
Make Halloween Videos
Of course, big pumpkin lanterns, spider webs on supermarkets are not enough for this special festival of this special year. To highlight the festival atmosphere, you might need to create a Halloween party invitation video to gather more people, or entertain others with a fun Halloween decoration video. If you are a businessman, this holiday is a great opportunity to boost sales with a Halloween promotional video. Well, whatever the case is, let's follow the steps below to create a spooktacular Halloween video!
Part 1. Best Ideas for Halloween Videos
A great begin is half done. Here we collected some terrific ideas for Halloween videos and even Halloween video templates to customize directly. Check the following content first and make your Halloween video outstanding!
1. Greetings
We understand, Halloween greeting videos are too common. However, with a little bit of new ideas, Halloween greeting videos are outstanding from others.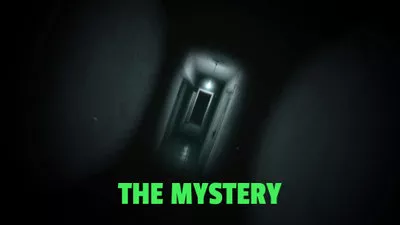 Halloween Greeting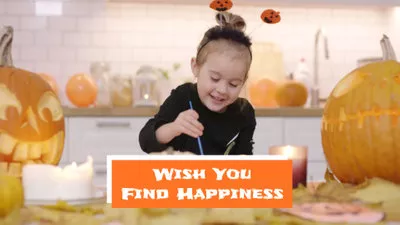 Halloween Opener
2. Halloween Invitations
More people, more fun! Invite your families and friends over your place for a huge crazy party. Check the Halloween invitation video templates below, customize and use them to gather everyone to have fun!
Spooky Halloween Invitation
Cosplay Party Invitation
4. Halloween DIY
Before Halloween comes, many people will search for Halloween decorations, costumes and the like. What is more attractive than DIY Halloween decorations and costumes? You can make a video showing DIY decoration, makeup, recipe and something like that.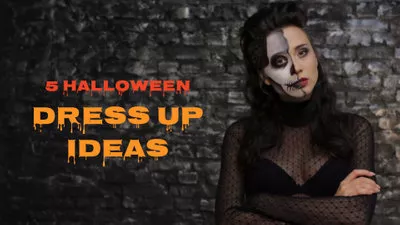 Halloween Dress Up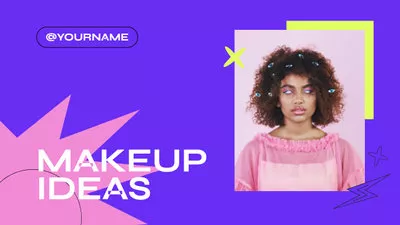 Halloween Makeup Ideas
5. Halloween Promotion
If you want to promote your business, making a promotion video is a good opportunity to sell your products. If you have a small shop, you can sell some Halloween items. If you open a restaurant, you can make the food look more shocking. Just like videos help you create a better online presence, having an online ordering system can help you to better promote your restaurant online.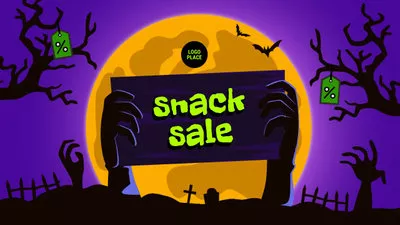 Halloween Snacks Sale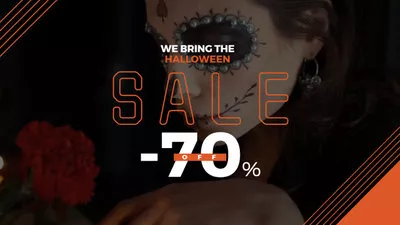 Halloween Costumes Sale
6. Other Halloween Video Ideas
We understand that you might have more Halloween video ideas. Whatever your idea is, putting a Halloween intro video before your video content to emphasize the atmosphere is always the right thing to do.
Holiday Intro Halloween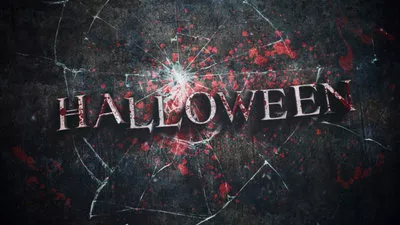 Spooky Halloween Intro
Part 2. How to Make Halloween Videos
Many people might think video editing as a time-consuming and daunting task. As a matter of fact, making an outstanding Halloween video can be as simple as 1, 2, 3 under the help of FlexClip. Follow the steps below and get started.
Step 1
Enter FlexClip Editing Panel.
Visit FlexClip's editing panel without registration or subscription by clicking the Create a Video button. You can also click on the View Templates button, select a template you like and start editing.
Upload all your video clips or photos you need to create a Halloween video to the Media section and apply to the timeline. Drag the slider to trim your video if necessary.
How to Make Halloween Videos - Upload Resources
If you don't have any Halloween videos and photos at hand, move to the Photo or Video section, pick photos and videos from the stock library and use for free. Even animations are available.
How to Make Halloween Videos - Stock Library
Step 3
Add Text, Stickers, GIFs, Animations or Even Overlays to Level Up Your Video.
Enter textual information to deliver your spooktacular Halloween information. Besides text, you can add some animations to your text, add some GIFs or stickers to enrich the audiences' viewing experience.
How to Make Halloween Videos - Add to Video
Step 4
Add Background Music
Background music could be the most important part of a Halloween video. Only with the right background video can you highlight the scary atmosphere.
How to Make Halloween Videos - Add Background Music
Export your video to the desktop. If necessary, you can generate a short link and sent the link to your friends and families. You can also share your video to YouTube.
The Bottom Line
That's all about making a Halloween video and some small tips for Halloween videos. It is also worth to mention that FlexClip will always keep all your data safe. Feel free to use this tool!
The Thanksgiving is also around the corner. Please also remember to create a Thanksgiving video to say Thank You to your beloved ones!