Here comes fun holiday video ideas and the detailed steps to make a holiday video. Follow us to make your holiday more unforgettable or boost sales with a holiday video. No cost, no download, no experience is needed.
There are many ways to spend a holiday. You can share the day with your families and friends, or go out to get relaxed. If you are a businessman, you might have a busy day to deal with errands. Whichever way you prefer to spend the holiday, you need to create a video for beloved ones or just record the day.
Here in this blog, we have rounded up some nice ideas for making holiday videos. Besides that, we will also show you some detailed steps on making a holiday video for free. Check it out.
Can't Miss: Create a Fun Travel Video >
Holiday Video Templates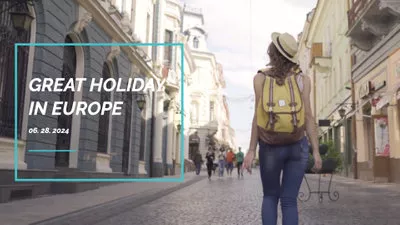 Unforgettable Holiday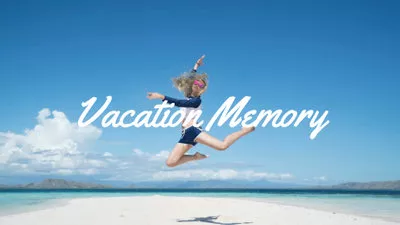 Vacation Slideshow
Part 3. Best Holiday Video Makers to Try
How to Make a Holiday Video Online for Free
Here is what you need to make a fun holiday video.
* A computer (PC/Mac);
* Video clips or photos;
* Background music (here is a post about how to choose the best holiday video songs >)
* FlexClip
FlexClip is the best video editor to create a holiday video because, firstly, you can edit your video easily. Any edits, like trimming video, adding text, adding music, adding transition, can be done in clicks. What's more, you have access to millions of media resources like video clips, photos and music. Use them to level up your holiday video. Besides, it is always free to use FlexClip. You don't have to pay a penny to strength the holiday atmosphere.
Click on the button Create a Video to get started. If you have no idea, browse the templates to be inspired.
Step 1
Drag and drop your video to the Media section and then apply to the storyboard.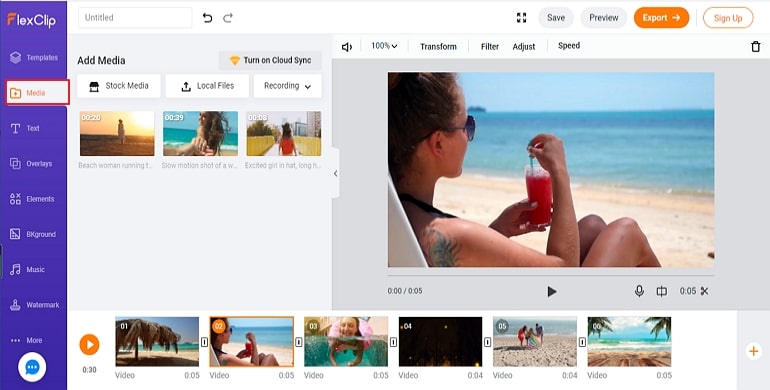 How to Make a Fun Holiday Video - Step 1
Step 2
Add any text to your videos or photos.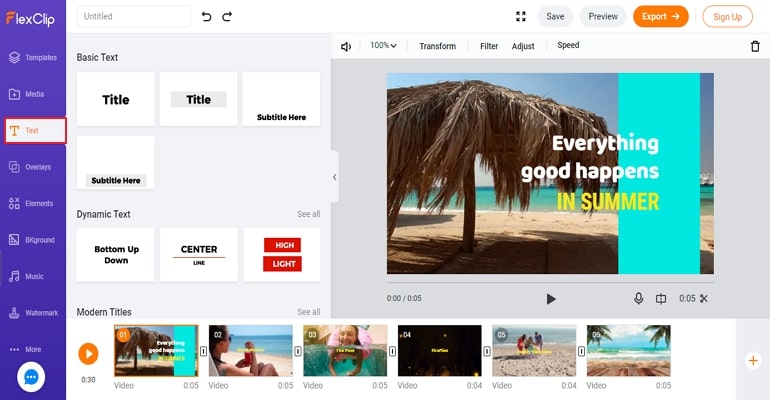 How to Make a Fun Holiday Video - Step 2
Step 3
Click on Music. Upload any MP3 files from the computer or browse the Media library and set as BGM.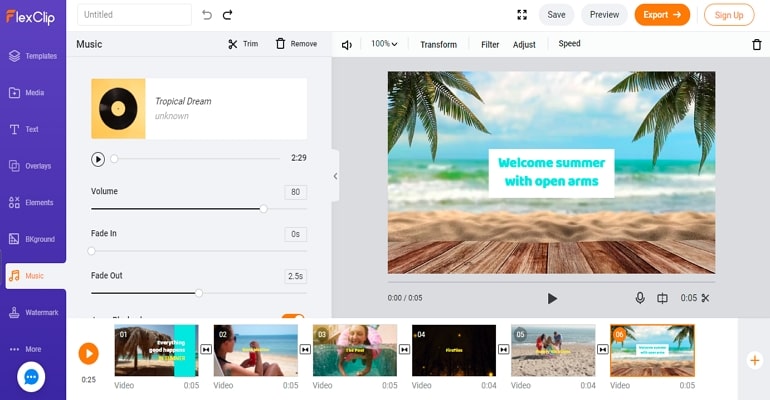 How to Make a Fun Holiday Video - Step 3
Step 4
Use effects like adding transitions and filters, changeing video speed to make video more interesting.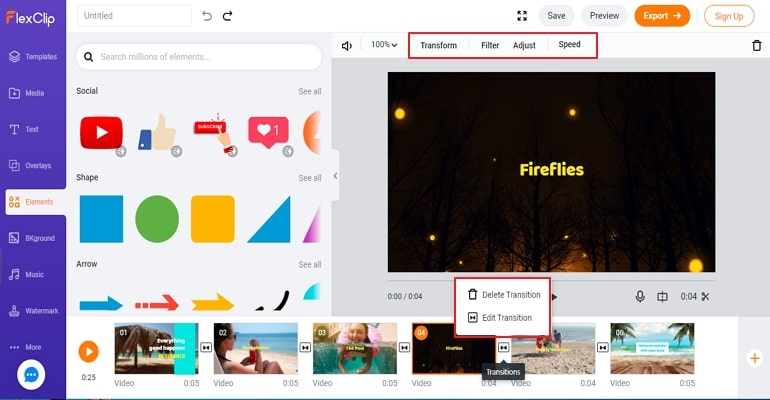 How to Make a Fun Holiday Video - Step 4
Step 5
Preview and save. Click on the Preview button. Continue editing or export your video in 480p, 720p, 1080p HD.
Ideas on Making Fun Holiday Videos
For each of the ideas to make fun holiday videos, take a few moments to choose what suits you most.
Holiday Greetings & Wishes
To make a simple holiday video, you may just contain some holiday greetings and wishes on the video. Think of the sweetest words and add them to the video with the greatest sincerity.
Stand at Other People's Ground
Telling last year's achievements of yourself in holiday video? No! Showing how much you thank others for their kind help? Check! Holiday videos are doomed to be shown to others. It would make others uncomfortable if you keep talking about yourself.
Make Holiday Videos Fun
One person may find reading fun while others may think reading is boring. It is hard to find one thing that all people like, but you can know what your friend is interested in.
Best Holiday Video Editing Software to Try
iMovie
If you are on PC, this one might not be the right one for you. If you are on Mac, you should totally go for it. As a video editor, it has high-fidelity filters to give your video a brand new look. The green screen effect allows you make creations with endless inspirations. What's better, all Apple devices are synchronized. That's to say, you can always come back and make edits in another device.
Magisto
iMovie is exclusive for Mac users, but Magisto is not. It is available online, on computer desktop, and on mobile phones. Magisto is an AI powered holiday video creation software. Pick a style, upload any photos and video clips, it would generate a video in seconds. You don't have to make any edits to get a good holiday video!
Adobe Premiere Rush
Adobe Premiere Rush is the best holiday video editing software you can use to make cinematic holiday videos. It can be said the simplified version of the Premiere Pro. Larger icons, panels, and fewer features. This application is also in conjunction with Premiere Pro, which means you can make extra edits to videos anytime.
The Bottom Line
With above detailed steps, you can surely make an eye-catching holiday video. Actually, FlexClip can help you make other types of video, like baby video, birthday wishes video. Go to FlexClip main page to explore more.