This post shows you the easiest way to create a football highlight video. Follow the steps below and get started with the easiest-to-use football video editor. Let's get started!
A couch can improve players performance by training the players under the guidance of football highlights videos. A football fan can enjoy the best moments in a football match by making a football highlight video.
No matter you are a professional coach or a football fan, an excellent football highlight video maker is needed. Here in this blog, we recommend you FlexClip, an easy-to use but powerful online editor to get started easily.
Can't Miss: How to Record Football Video Clips with Sound >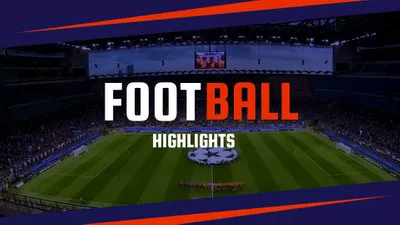 Football Highlight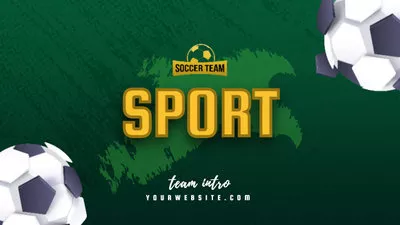 Soccer Team
How to Make a Football Highlights Video Online for Free
To access FexClip, just click on the Create a Video button below and then you will enter the editing page. If necessary, you can browse some football video templates for inspirations.
Step 1
Drag and drop your football video clips to the Media section and apply to the storyboard. You can also click on the Plus sign on the storyboard to upload football video clips.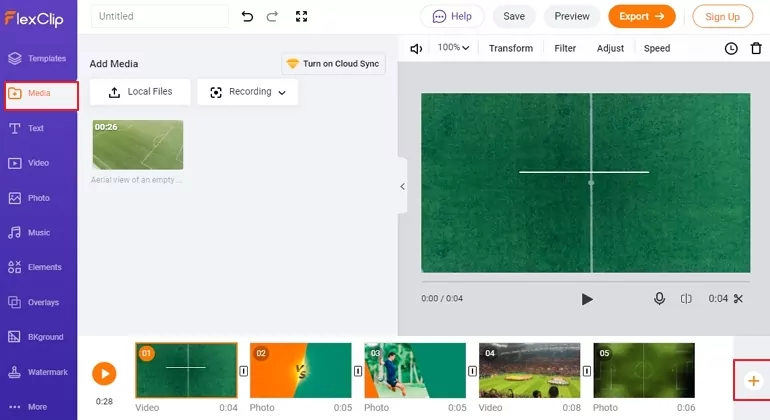 How to Make a Football Highlight Video - Step 1
Step 2
Trim the uploaded football video clips to remove redundant frames.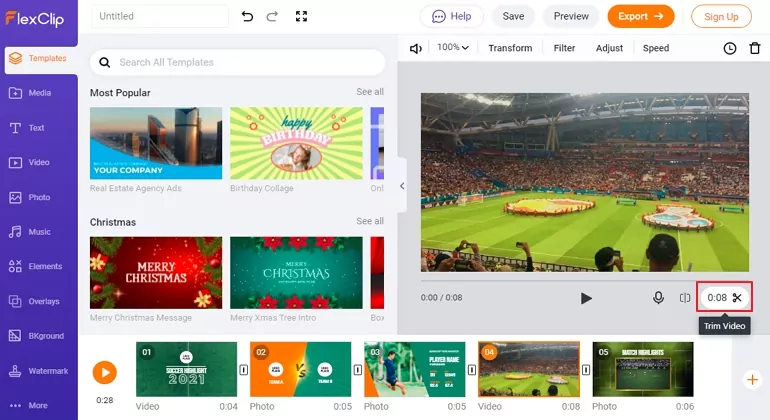 How to Make a Football Highlight Video - Step 2
Step 3
Go to text, pick any font and enter important information.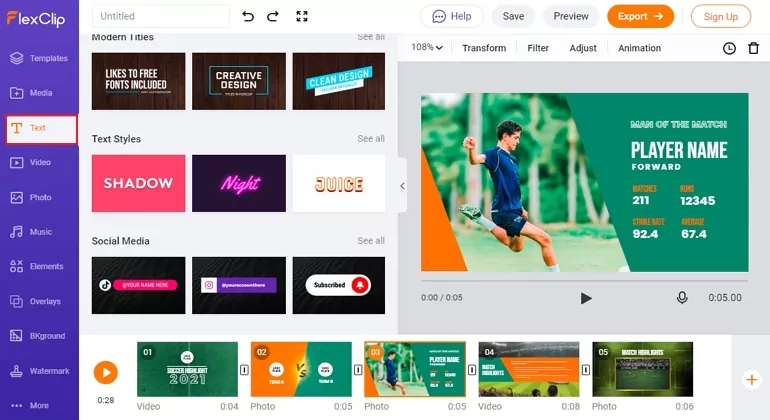 How to Make a Football Highlight Video - Step 3
Step 4
Add background music to highlight the atmosphere.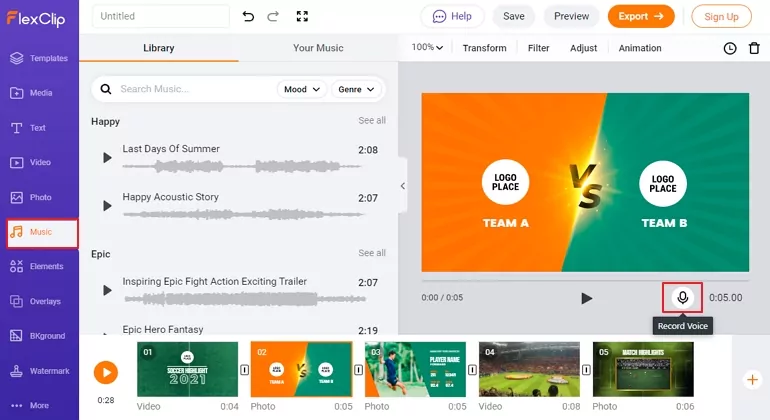 How to Make a Football Highlight Video - Step 4
Step 5
Make more edits to level up your video, like
adding voice-over
, adding transition, adding emojis. Be creative!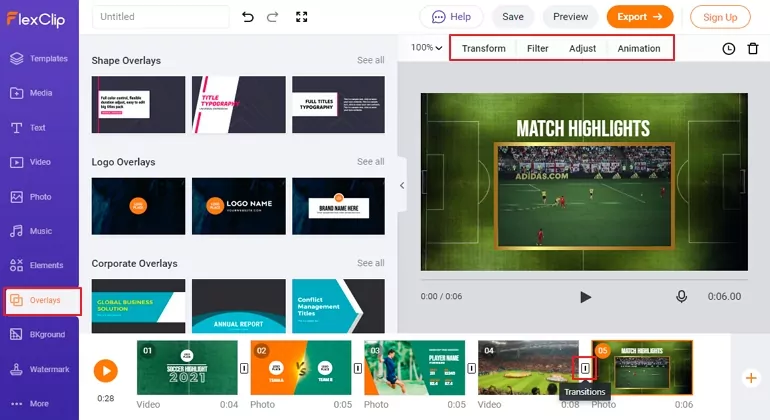 How to Make a Football Highlight Video - Step 5
Step 6
Download and share. FlexClip adds no watermark to your video. Share to YouTube directly or upload to YouTube.
1. Before getting started, please get everything, like photos, video clips, background music organized. This would save you lots of work.
2. FlexClip has a stock of
media resources
. Millions of royalty-free photos, videos and music are available for all.
3. FlexClip downloads your video 3X faster than any other competitors. Please make sure you are connected to a good Internet.
4. If you don't know where to get started, there are numerous football templates to help you get started quickly.
Tips on How to Make an Excellent Football Highlight Video
With some skills, you can make better football highlight videos. Check them out!
When filming a game, shoot from an unobstructed area. Hold the camera steadily and make sure the entire football match is captured. Some extra devices like a tripod could be very helpful.
Less is more. This is a principle that every editor must follow. The best football highlight video is less than 5 minutes and always remember to try to put the best part in the first minute.
The Bottom Line
Now, you can easily create a football highlight video. Why not get started and then share your football highlight video to all? By the way, FlexClip can help you make videos for TikTok, Facebook, YouTube and more. Do remember to give it a try!