Check this post out, you will get the easiest-to-use lyric video maker and the best way to make a lyric video for YouTube, even without copyright. Get started reading now!
Table of Contents:
Part 1. What's a Lyric Video
As the name suggests, a lyric video is one that displays the lyrics with the song playing. The main part of the video is music lyrics. The words may be animated in different ways and in different scenes, or they maybe just overlayed on a real filmed music video. Never confuse lyric videos with Karaoke videos, lyric video is more artistic.
Here are some lyric video templates.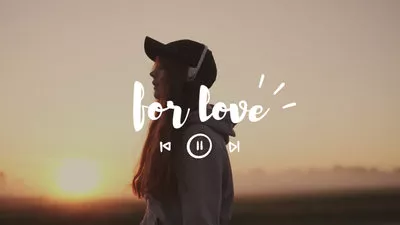 Can't Miss: How to Play Music and Record At the Same Time >
Part 2. Benefits of Creating a Lyric Video
The reason to create a lyric video varies, so are the benefits. Check the following benefits of creating a lyric video.
- Huge Views:
YouTube is packed with lyric videos! And they win a huge amount of views. For example, "Let It Go" lyric video wins over 3.1 billion views, "Closer" by Childish Gambino lyric video has been viewed 2.9 billion times. Lyric videos are also getting popular on other platforms, like Instagram, Vimeo, Spotify.
Even though you stand a rather small chance to make a good enough lyric video that gains millions of views, the lyric video you created stand a great chance to win satisfying views.
- Accuracy:
Lyric video makes sure your fans get every word right. Without it, your fans can only get inaccurate lines from other resources, which is aweful for most music producers.
- Cost-Effective:
You don't need to pay large sum of money to hire a professional to create a lyric video or spending days working on special effects. In a word, creating a lyric video is a cheap and effective choice for everyone.
- Storytelling:
With animated lyrics perfectly embedded into the scenes, your audiences will be more immersed into your music. Any work pulling people's heartstring will stand a bigger chance to be successful.
Can't wait to create a lyric video? Follow the steps below to create a lyric video for YouTube, Facebook, Instagram in minutes.
Part 3. How to Make a Good Lyric Video for YouTube
Step 1. Get Everything Ready
To fasten the process of making lyric videos, you will need to have an MP3 file, the lyrics, and photos or videos on your computer in advance.
Here is one more thing to do before getting started. You need to check if the MP3 file is royalty-free. The best way to do this is searching the title and artist on the YouTube, ging to the video description. It will state who owns the license. As for the lyrics, you can visit sites like lyrics.com, lyricsmode.
Step 2. Use a Great Lyric Video Maker
FlexClip is an excellent online lyric video maker. Click on the Create a Video button to start from scratch.
Click on the View Templates button, you will have access to FlexClip's substantial lyric templates. Check them out for more inspirations or edit them directly.
Step 3. Upload Your Music Track
Go to the Media section, click on Local Files, select any MP3 file, your music track will appear in the timeline. Drag and drop will also do.
How to Make a Lyric Video - Upload Music Track
Step 4. Create a Video
After uploading your music, the next thing to do is to include an eye-catching video! Upload your videos and photos to the timeline.
Not having any photos or videos at hand? Browse FlexClip's royalty-free stock library to find media resources that match your music best.
How to Make a Lyric Video - Create a Video
The most time-saving way is surely going to FlexClip's template page. There are tons of lyric templates for you to edit directly. Find the lyric video template you love most.
Step 5. Add Lyrics
FlexClip has powerful AI audio to text tool which automatically analyzes the music file and adds texts to your video. You don't have to add lyrics sentence by sentence.
Go to Subtitle > Auto AI Subtitle. In minutes, the lyrics will appear on your video.
How to Make a Lyric Video - Add Lyrics
Step 6. Edit the Lyric and Video
Now, it is time to polish your lyric video. Change lyric fonts, color and animations, or add visual effects to the video. Explore endless possibilities with FlexClip.
How to Make a Lyric Video - Edit
Step 7. Export and Share
Once you are satisfied with the video, click Download to save the video to the desktop. You can also share to YouTube directly in one click.
Part 4. Pro Tricks to Create a Lyric Video
The following is how to level up a lyric video while creating.
It is intolerable for an audience to watch lyric videos with wrong subtitles or typo. Generally speaking, you can get lyrics online, if there is not, please make sure you slow down the video and get every sentence right.
Say no to fancy fonts. You need to make sure all audiences can read the lyrics clearly, no matter what your lyric video is about. Besides, make sure the lyric fonts matches the music. For example, if you are creating a lyric video for pop music, do use some cool fonts instead of some official fonts for business documents.
High Quality Audio and Video
While making a lyric video, do use audio and video files in the highest quality. You will never want your ideas ruined by media resources in low quality.
Transitions are great. As for a lyric video, too many transitions are a huge burden. You just have to make each storyboard start and end naturally.
The Bottom Line
That's all for the detailed steps to make a lyric video. As you can see, FlexClip is an excellent free lyric video maker. Give it a try to make an irresistible lyric video for YouTube now. By the way, FlexClip can also make other videos, like birthday video, promotional video. Explore more possiblities with FlexClip!