In this post, we summarized the easiest-to-use video watermark removers to help you get rid of the tedious watermark on videos. Pick the one that's best for you.
Video watermark is annoying! Even though the watermark protects copyright, it also ruins the fun of using copyrighted video in legal ways.
You can find loads of video watermark removers online. Some of them are applications for mobile phones, some are software for desktop, and others are online tools. No need to waste time doing endless searching and testing. We've collected the best video watermark removers already! Pick the best tool from the recommendation list.
Also Read: How to Make Lock Screen a Video on iPhone >
Best Video Watermark Removers
1. Apowersoft Watermark Remover
Apowersoft is the ultimate solution for video processing, and watermark remover is just one of its excellent tools. With this software, removing any watermarks on video only takes 3 steps. Import the watermarked video, select the watermark that you hate and set the time for watermark that is shown during the video, then you wait for the watermark-free video to be downloaded to your computer. Easy and effective!
The technology behind Apowersoft watermark remover is Gaussian Blur, which is quite natural on the watermark. You can use the free trail version to process 30% of your video so that you know if the result is satisfying. To process a whole video, you need an upgrade.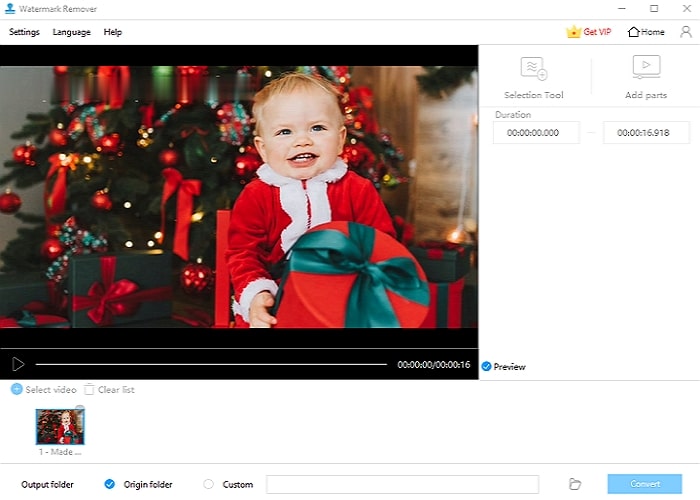 Best Video Watermark Remover - Apowersoft
Reasons for Recommendation
Supports batch operation.
Allows users to remove watermark in certain parts of the video.
2. Softorbits
Softorbits Video Watermark Remover helps you remove the watermark from videos perfectly. Besides that, it also works to clean annoying logotypes, text overlays and non-removable subtitles on videos.
The best part of this software is that it doesn't just add a mosaic above the watermark on video. It removes the watermark with AI technology and fill underlying areas with visual data so that static watermarks can be removed with no visible residue.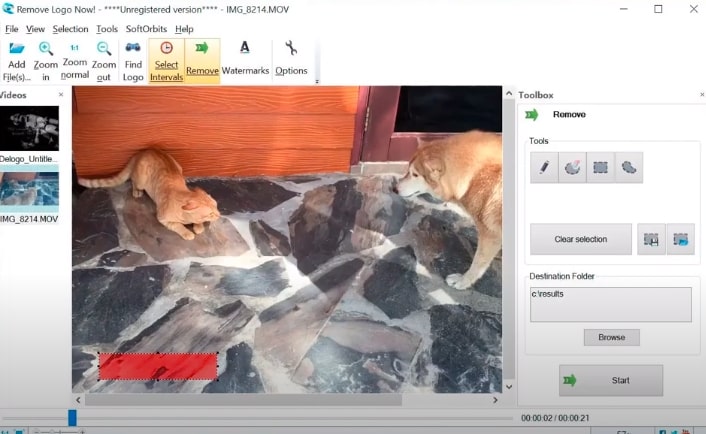 Best Video Watermark Remover - Softorbits
Reasons for Recommendation
AI technology that removes watermark.
Varieties of supported video formats.
Save the watermark-free video with different encoding, bitrate, and container.
3. FlexClip
FlexClip is an online video editor that helps you remove the video watermark without blur by adding elements or cropping video. It is quite easy to remove any watermark from the video with FlexClip. All you need to do is heading to the Elements, find a nice shape to put it above the watermark, or zooming out the video until the watermark is gone.
It is completely free to remove watermark from video with FlexClip. Different from other tools, before exporting, you can preview the whole video to make sure the result is satisfying.
As for the detailed steps to remove video watermark with FlexClip, please refer to the post 5 Easy Ways to Remove Video Watermark >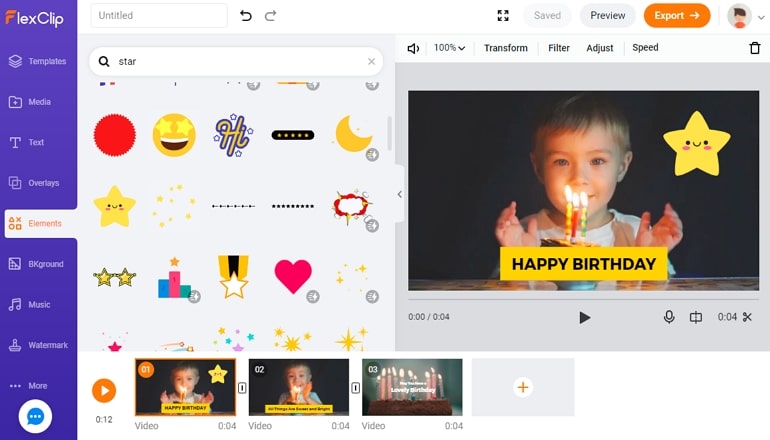 Best Video Watermark Remover - FlexClip
Reasons for Recommendation
No downloading, no installation, no registration required.
Numerous interesting shapes and elements to cover the watermark.
4. Video Eraser (Android & iPhone)
Video Eraser is a good application that works on both an iPhone and Android. It removes the text/picture watermark from your video and cleans the background from images. The new version also helps you compress video size, capture video, add text, icons, or your drawings to your video in clicks.
You might need to pay to remove ads within the app or unlock the advanced features.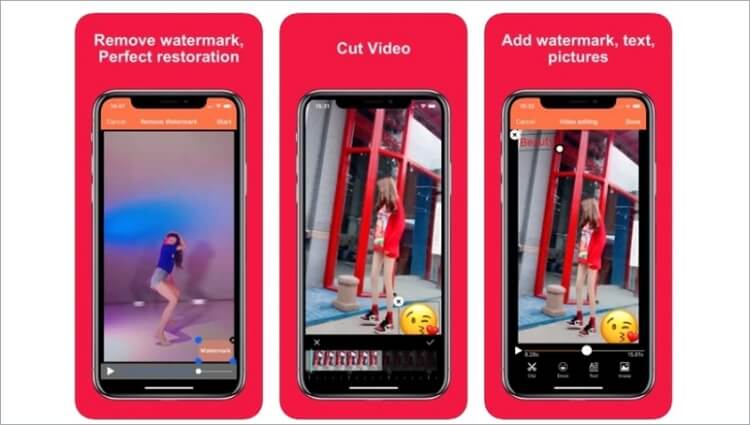 Best Video Watermark Remover - Video Eraser
Reasons for Recommendation
Good video quality after the watermark is removed.
Additional features that help you make more video edits.
5. Video Watermark (Android)
With Video Watermark application from Google Play, you can select multi-regions to remove watermark or logo at the same time with friendly UI. If you like, you can also add your own watermark to your video. Simple cropping, compressing, trimming tools are also available.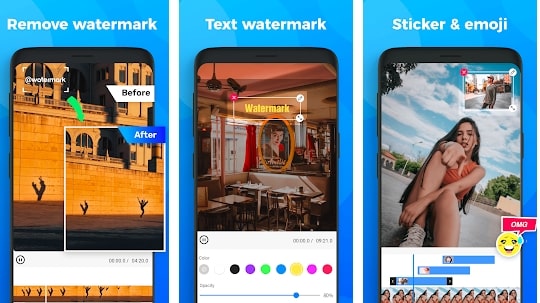 Best Video Watermark Remover - Video Watermark
Reasons for Recommendation
The app doesn't take too much space and CPU.
The Bottom Line
That's all for the best video watermark removers. What's your favorite one? Do you have more recommendations? Tell us via Facebook! If you find this post helpful, please share it with others.