Briefs: The article introduces 5 excellent free video editors, ranging from the simplest to the most professional. Check the list and find the best video editor right for you.
CONTENTS:
Grabbing good video editing software is half way to making a stunning video. Supportive video editors make it all possible to render your visual story.
Whether you're a beginner or a skilled designer looking for another video editor, our curated list of 5 best free video editing software has what you need. The list goes from entrance level to film-making level.
Part One: 5 Best Free Video Editing Software [2020 Updated]
#1.FlexClip Video Editor
Platform: Web-based, Online.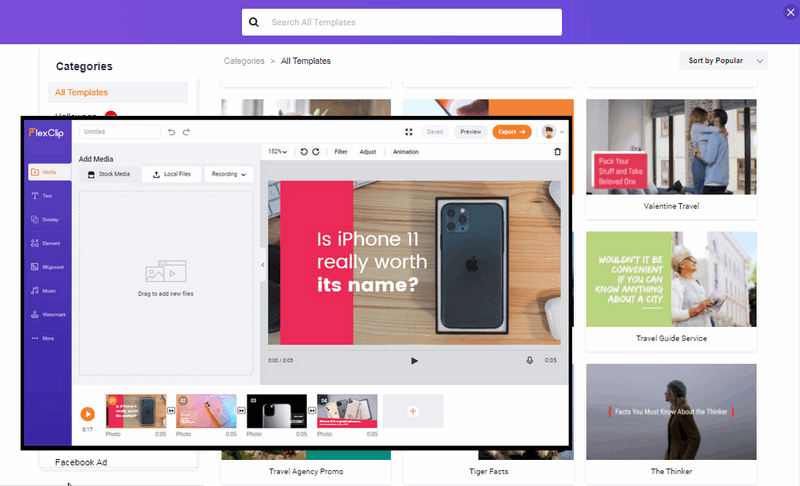 Image: FlexClip video editor free online.
FlexClip is an everybody's video editing software free online. Upload videos, images and audio to compose your own video story within minutes. Make use of its extensive stock media, and you'll find wanted visual elements for your video creation. You can do many video edits including but not limited to add cool texts/captions, search shapes/emojis for video, change voice volume, or speed up video footage. FlexClip is the easiest video editor & movie maker free online.
FlexClip Video Editor Pros:
Edit/merge videos & images to one easily,
Change video speed to render a creative/strange/funny video,
Millions of professional templates for video, image and music,
Zoom in/out, rotate a video(or a slideshow photo),
Add transitions, intros/outros, logos, video watermarks, etc.,
Record screen activities as a storyboard,
Quality video outputs - you can choose from 480P, 720P and 1080P.
Free Tools You Might Also Need:
No.2. VSDC Free Video Editor (Watermark-Free)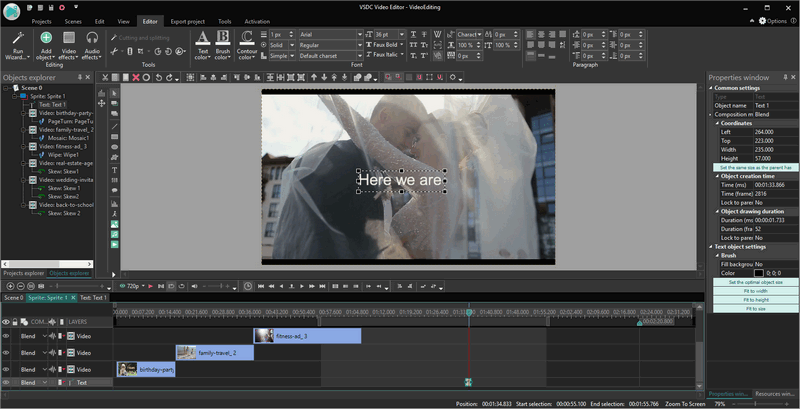 Image: VSDC Free Video Editor.
VSDC Free Video Editor is an HD video editing software using non-linear processing system. Though VSDC Free Video Editor has a modern interface, it tries to compiling nearly all options on its navigation interface, and that makes its learning curve steeper. We have to note VSDC is a little harder for a fresher to figure out how to use it.
VSDC Free Video Editor Pros:
Excellent video stabilization and picture-in-picture feature,
Drag and drop to add intro/outro clip,
Various file formats for support,
Wonderful effects and filters,
Handy video trimming support.
Advanced setup – Overlap video, hide the latter one.
No.3. Adobe Express Video Maker Online (Watermark)
Platform: Web-based, Online.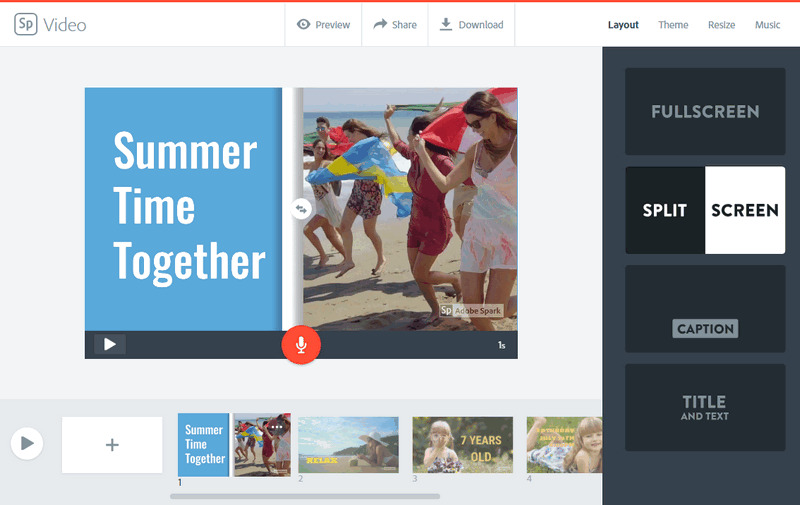 Image: Adobe Express Video Maker(Free with Watermark).
Adobe Express Video Maker is an easy video editor online, requiring no professional skill. To access the features, you need a free registration account with your email. Its video templates are fancier. However, there will be an AS watermark when you use its free video outputs. Also note that, its processing speed will be slow sometimes.
Adobe Express Video Maker Pros:
Easy to customize videos, add video/picture clips,
Edit videos online, drag-and-drop navigation,
Cool edits (but sometimes, you need to wait for loading and change),
The output video can be free but will carry a watermark.
Steps to edit a video with Adobe Express Video Maker:
Step 1

Search [Explainer Video] in "What would you like to create?" blanket,

Step 2

Write something "in the beginning",

Step 3

Pick a template,

Step 4

Customize your explanation video.
No.4 DaVinci Resolve 15 - Cross-platform (Watermark-Free)
Platform: Windows, Mac & Linux.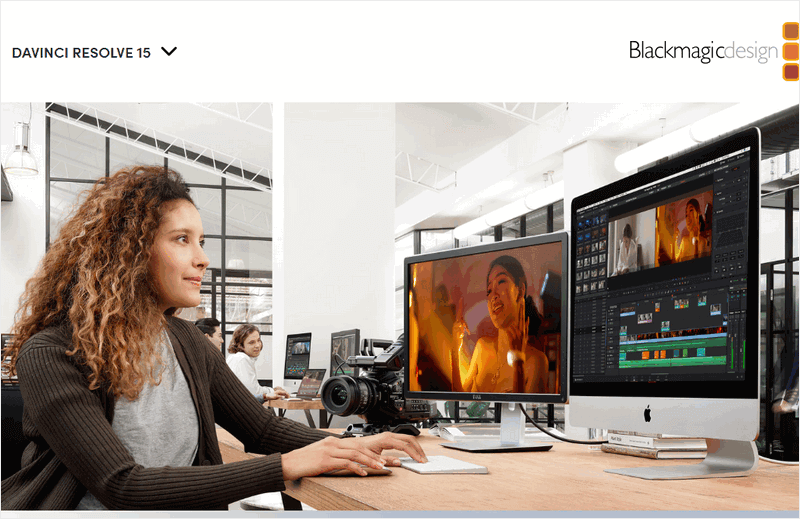 Image: DaVinci Resolve 15 - Free Video Editor for PC.
DaVinci Resolve is not a traditional video editing software. It's feature-rich & surperb for post-production editing. It takes sometime to learn basic edits. After you've been familiar with it, you will find it powerful.
DaVinci Resolve Pros:
All kinds of regular video editing,
Making color grading and color correction,
Customize your keyframe,
Apply 2D/3D effects with pre-made transitions(in [Effect library]),
Change video clip speed,
Add multiple picture-in-picture visual effects – Design how your keyframe shows in different time,
No.5. Vegas Pro 16 Free Trial (Watermark-Free & Watermark)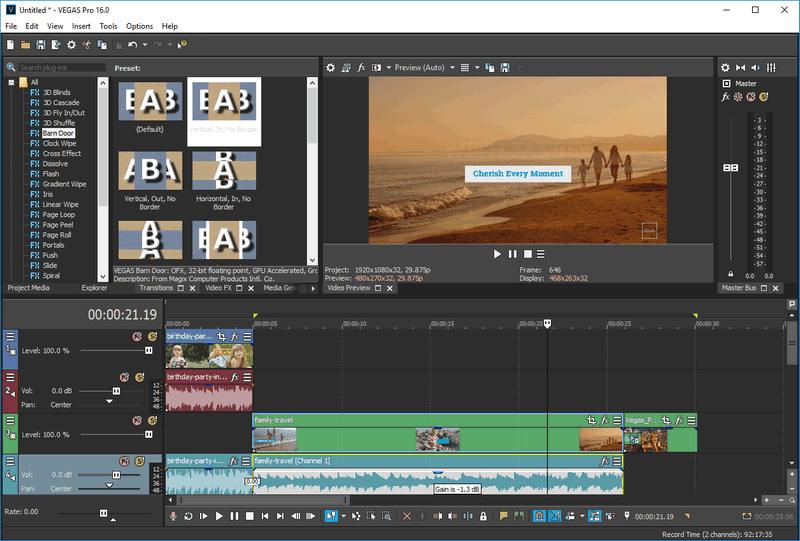 Image: Vegas Pro 16 Free Trial.
Vegas Pro is used and recommended by a large portion of Vloggers and YouTubers. Unlike Adobe Express Video Maker and other tools above, Vegas Pro is a real Professonal video editor for ultra HD videos and movies, especially for shot/site video editing. Many professionals agree Vegas Pro is the best video editing software for film producers with easy approaches.
Exclusively, regarding editing film shots, you may find it useful to get rid of video motion blurs: Select all video footages > [Switches] > [Disable]. To work out a 15-min professional video, Vegas Pro takes 2hrs-3hrs. FYI: It costs 1hr+ in the video rendering. For professionals, Vegas Pro is the handiest video editing software.
Vegas Pro Pros:
All video editing elements are easy to navigate on the tracks,
Add a picture/video clip as intro or outro,
Control the volume levels of audios with little sliders on the soundtrack,
Chop down footage,
Create fancy transitions,
Change color saturation, brightness, etc.
Render a video in all video frame sizes,
Precious timeline controls.
Sidenote: What's the video bitrate in the custom setting? - It is terminology for video quality: Decreasing the number of video bitrate will cause a teeny bit of video quality losing, while you will get a smaller size video.
Part Two: Wrap It Up
Above is our review of 5 best video editing software. Have you found your video editor? If still have no idea, here's a quick summary: We've categorized these video editing software into 3 groups and attach their parameters & variables for your reference:
#Group 1: The easiest approaching software:
#Group 2: Not-that-easy but powerful free software with no watermark:
#Group 3: Not-that-easy but most professional Video Editor & Film Maker(Free Trial):
Vegas Pro 16 - Not easy & Not hard to learn, edit professional shots.
Processing Time: 2hrs-3hrs.
App Installation Time: 4mins-9mins.