Briefs: Changing video background will change a video's overall feeling. We've rounded up 7 most renowned, easy-to-use video background changers. If you need to remove a video background or upgrade a plain video, give them a try.
Sometimes, we need to change a video background to render a better video we desire. We can level up a video by changing its normal background to a fantastic one. This way, video becomes more attractive and engaging. Especially when we lack equipments(i.e., professional lights), changing video background can help, too.
Let's say, you need a driving video in Grand Canyon (USA) without actually being there, then you can utilize background changing (overlay trick) to create those breathtaking & cinematic video scenes.
Below are the best 7 video background changers for your reference. They are also very handy to remove green/blue/red screen from video.
Part 1: Top 7 Proven Video Background Changers
#1 VSDC Free Video Editor
Link: Official URL
Platform: Windows x32 & x64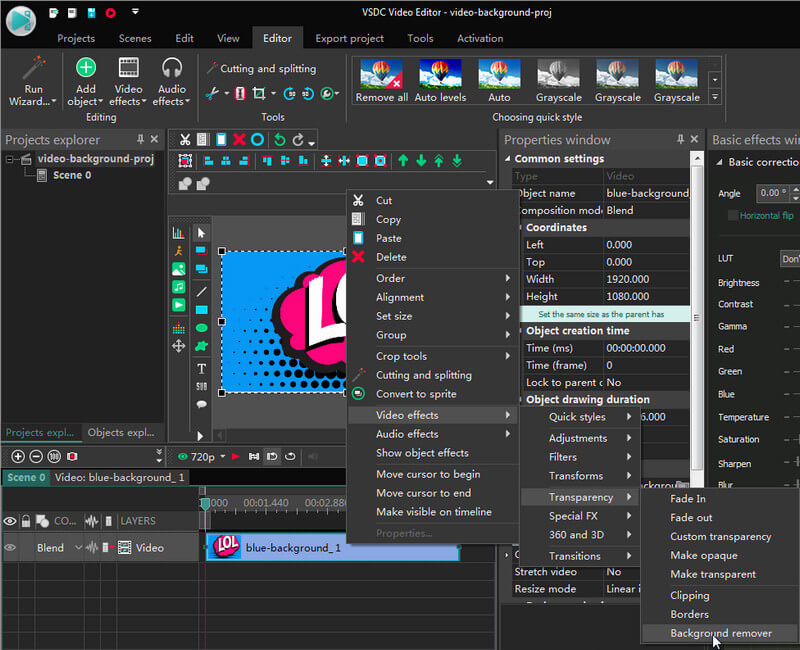 Image: VSDC removes background from video.
On the very top of our recommended list, it's always THE BEST FREE CHOICE. When it comes to the best video background changer, it has to be VSDC!
VSDC leaves users an option of removing video background from one video track: Find and prepare a scenic video you like. Place it in a track under your own video track. By using its background remover on your own video, two video tracks together will create a vision of changing video background.
#2 Photoshop Premiere Pro
Link: Official URL
Platform: Windows & Mac
Whenever we talk about graphics processing or video editing, the brand - Adobe comes to mind. By teaming up with the most authorized experts and developers, Adobe applications are doing the best in detail that no other brand can compete with. (For instance, PhotoShop logo, Illustration logo, Premiere video transitions, etc.)
#3 Camtasia Studio
Link: Official URL
Platform: Windows & Mac
Made by TechSmith – another big brand in video processing field, Camtasia Studio leaves users a section called "Visual Properties". Scroll it down, and you'll find the category of "Visual effects" with "Remove a color" option. Check it, and it will display the substantial background as you wish.
#4 KineMaster
Link: Official URL
Platform: iOS & Android
KineMaster is a very popular background remover for smartphones. It's only a piece of cake to remove and replace video background. With several trials and clicks, you can easily figure out how to navigate it and change a video background.
#5 Movavi Green Screen Chroma
Link: Official URL
Platform: Windows & Mac
Movavi Green Screen Chroma is to replace a single color background with any motion video. Technically, Green Screen Chroma is algorithm that's designed to subtract a single color.
#6 Wondershare Filmora Composer
Link: Official URL
Platform: Windows & Mac
Wondershare Filmora makes it way simple to remove video background in a single color. Right-click video track, hit [Green Screen], then you can pick a color to remove. Put a background video underneath, and you've done the trick of overlaying videos - video background should be switched.
#7 Final Cut Pro X Background Changer
Link: Official URL
Platform: Mac
Final Cut Pro X allows users to use a replacement video clip as video background. Final Cut Pro X provides Effect browser with Keyer effect, which is to remove and replace original video background.
Part 2 - Tips to Make Your Background-changed Video Better
#1.Ensure original video's background is changeable & in a single color:
If you want to change a video background without fail, you need to pick a color from the primary colors of Red, Green or Blue as your video background, and shoot your video.
Tips

Only dealing with a primary color background can a video background changer replace background without mistakes.
Using a secondary color or a tertiary color as the background, i.e., yellow(Red + Green), orange(Red + Red + Green), may cause a mistake.
#2.How to Find Cool Video Background for Video:
FlexClip has an extensive media library with a plenty of professional & cool background footage. Just go [Start from Scratch] > [Media] > [Stock Media], you'll find a stock of free background videos.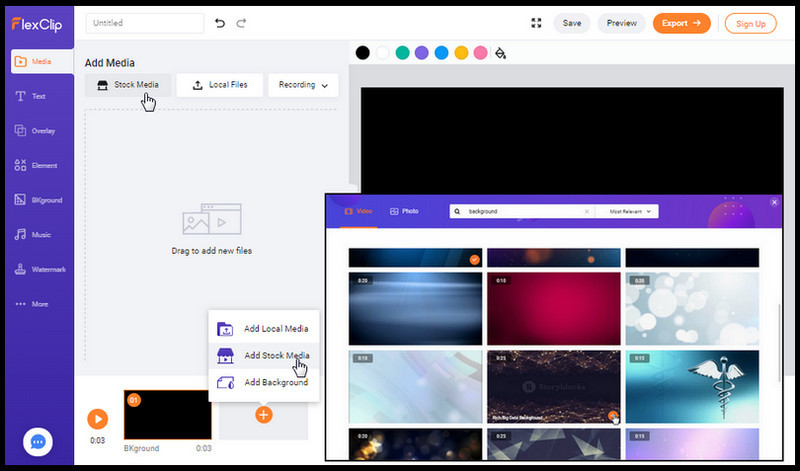 Image: Steps to find awesome video backgrounds for free.
#3.Upgrade your changed video freely:
Part 3 - Final Words
Do any of the best 7 video background removers pique your interest? Share the video background changer you like most in this post. Let's make a more creative visual world!