CONTENTS:
Part 2. How to Sync Audio and Video with 3 Free Audio Sync Software
Noticeable audio delay & audio offsetting are No.1 uncomfortable user experience, when audiences watch a video. Let's fix audio delay issue now!
For creating a high-quality video, the professional way is recording audio & footage separately.
2 Common Reasons of Audio Delay
Source is delayed: Video is originally created with an unsynced soundtrack - a slower audio or a sluggish video.
Transmission is unsynced: It's top reason for unsynced streaming video. Cases include not-synchronized cache, slow network, or display device (i.e., TV, PC display) failing to render video & audio signals simultaneously.
How to Sync Audio and Video with 3 Free Audio Sync Software
1) FlexClip Audio Sync App Online:
If you've recorded a separate audio and want to make a short intriguing video, then FlexClip online video editor can be your perfect assistant to sync audio and video free online.(Zero design experience required!) Click on the following Sync Video for Free button to get started.
How to Synchronize Audio and Video with FlexClip
Go to the Media section. Click on Local Files to choose a video from a local folder to upload. Alternatively, you can upload a video from your phone, or cloud services like Google Drive, Google Photos, OneDrive after giving FlexClip the permission to access your cloud service .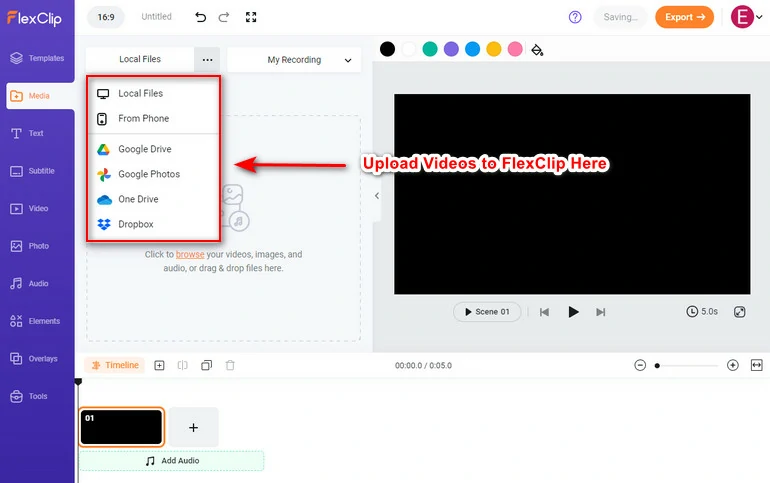 Upload Media Resources to FlexClip
Click on Add as Scene icon below your video. Your video will be automatically added to the timeline. Drag and drop will also do.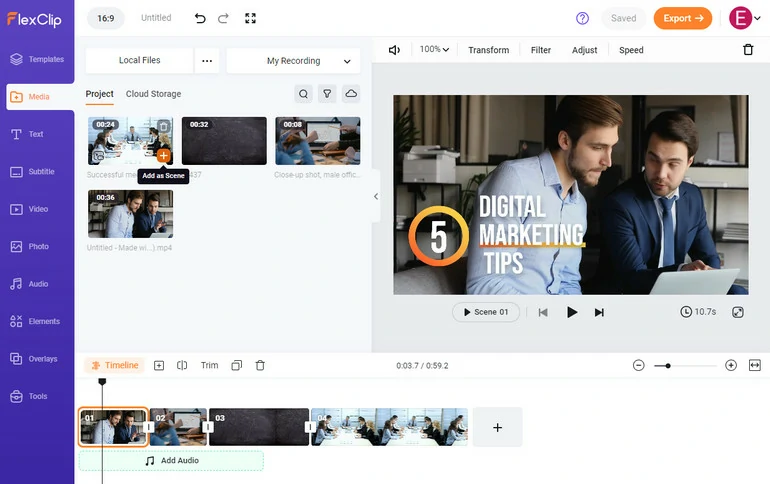 Add a Video to The Timeline
Step 2
Detach Audio and Video
Right-click the video on the timeline, select Detach Audio. The audio from the video is now bring detached.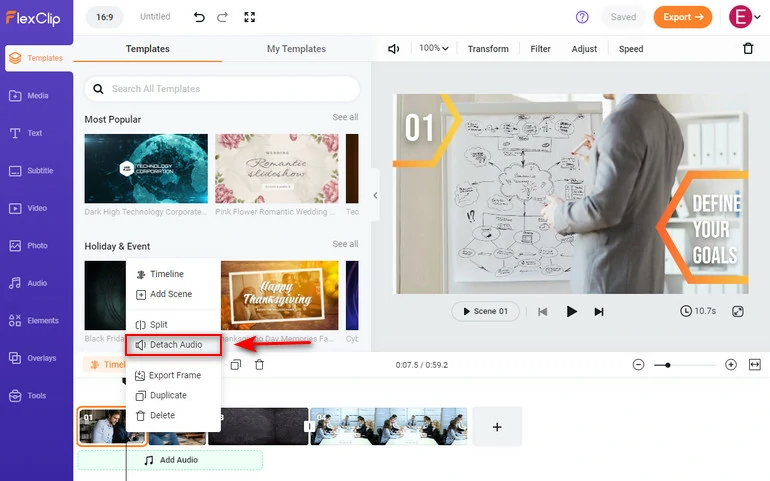 Detach Audio and Video
Now you can make edits on the audio. You can trim or split the audio, then drag the audio track to synchronize the audo and video.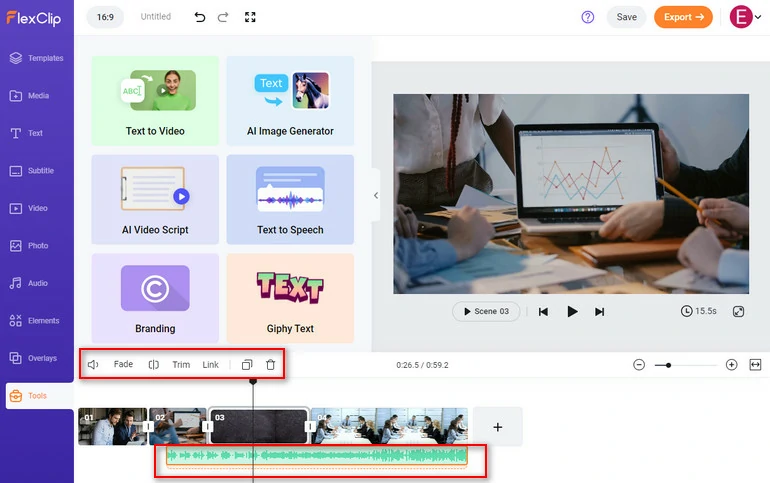 Sync Audio to Video
Step 4
Preview & Share the Synchronized Video
With FlexClip, you can directly download the perfectly synced video with audio. FlexClip also allows you to share a video via a short link or directly keep it on cloud services.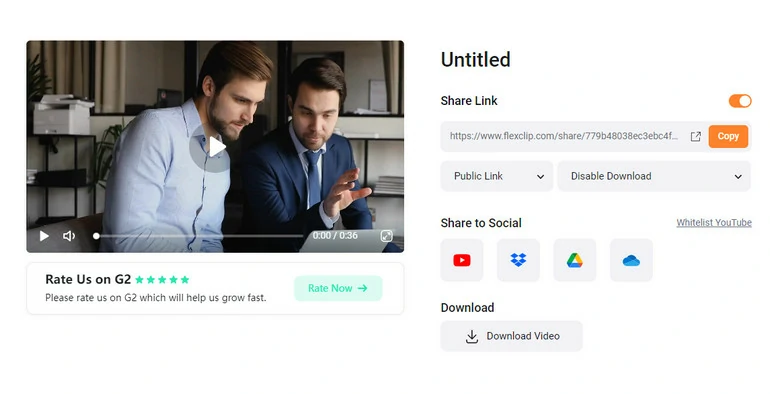 Video Download and Share
2)Blender Sync Audio Software:
If your problematic video is not a short video, you'll need to consider some complex audio sync software to adjust audio more efficiently. Blender is an effective & advanced way to sync audio and video for free: https://www.blender.org/.
How to Sync Delayed Audio in Blender Studio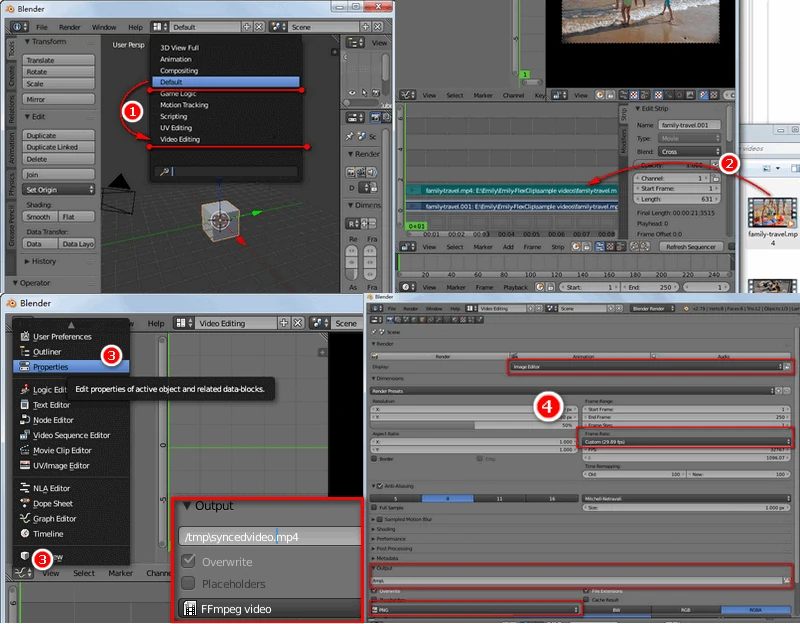 How to sync delayed video and output it to MP4 with Blender
Step 1
Open Blender, Switch to "Video editing" interface.
Step 2
Drag and drop your delayed video into the video sequence editor.
Step 3
Right-click the dark green track, keystroke "G", then you can move & correct the audio track. "Alt" + "A" to preview the fix of audio delay.
Step 4
Switch to "Properties" interface, and output synced video to MP4.
Step 5
Output synchronized video in Blender.
How to output videos in Blender
Step 1
Switch "Display" pull-down list from "Image Editor" to "Keep UI".
Step 2
Find "Frame Rate", click "Custom (29.87fps)" in black and choose "24fps".
Step 3
Find "Output", change the default path from "/tmp" to "/tmp/syncedvideo.mp4".
Step 4
Find "PNG" pull-down list, change it to "FFmpeg video".
Step 5
Keystroke "Ctrl + F12" to render (download) the MP4 synced video file.
Further Reading: Essential Tricks to Master Blender Video Editing Software
3)FLV Audio Sync Player(Only Fix Current Video-Playing Delay):
If you only want to watch a delayed video but play it in sync (there is no need to edit unsynced source), then FLV happens to one of your best solutions: https://www.videolan.org/vlc/index.html
How to Make Use of free FLV media player to Sync Audio and Video for Free
Step 1
Open FLV video player.
Step 2
Drag and drop audio delaying video into the interface.
Step 3
Hit [Tools] > [Track Synchronization].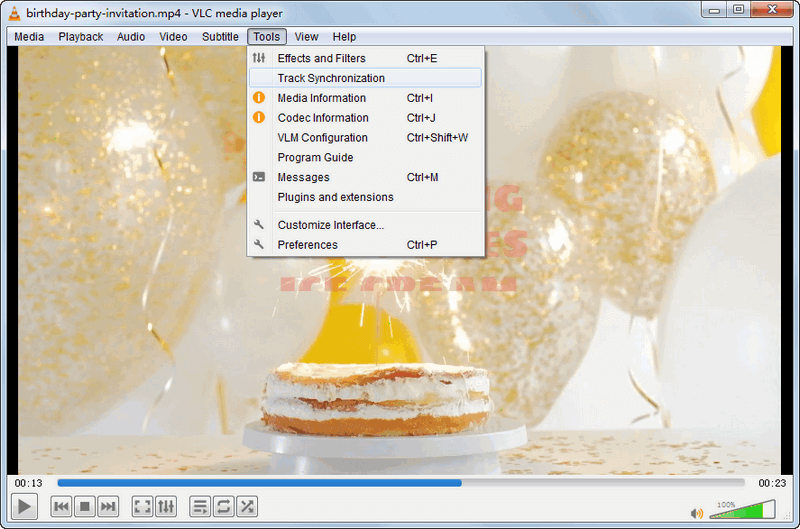 Sync Audio and Video
Step 4
Input a number in the blanket of Audio track synchronization. It will either hasten the audio or delay the audio.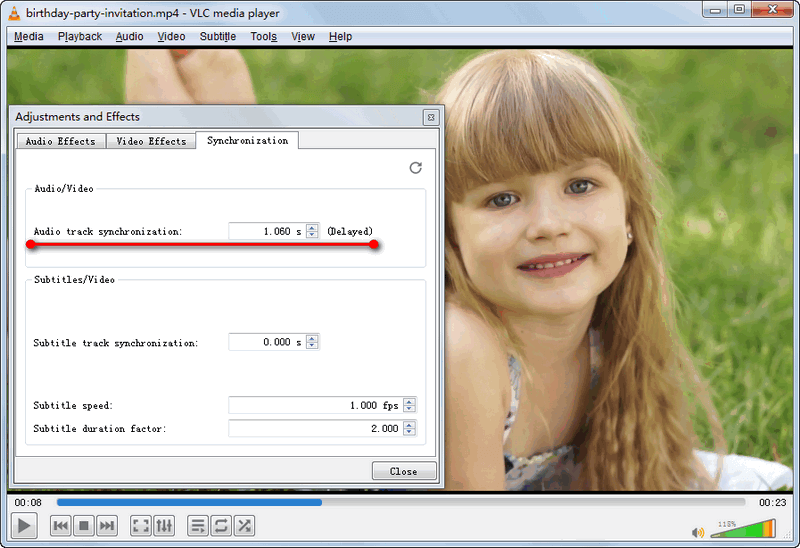 Sync Set-Ups
Once more, VLC player will only sync video play in VLC player, but it cannot sync the video content for saving. Nor can it output a synced video file.
Wrapping It Up
Among the 3 free audio sync software, online FlexClip audio sync app is the simplest to resolve audio delays of a short video and render a synced MP4 video easily. FLV video player is the most straightforward way to play a delayed video nicely. At last, Blender is the most complex method to line up your audio and video tracks to solve all video delay problems once and for all.
Find the article helpful? Kindly share it to help more people in need.