Briefs: Read 13 basic videography tips for beginner, including, dealing with lights, negative spaces, transitions, closeup filming, and shooting 2 people…With these tips in mind, you can shoot & create a cool video effortlessly.
Whether you want to DIY a creative YouTube intro, social media video, website video, or simply record a spectacular scene with iPhone / Andriod devices, following 13 tips will help you take your videography to the next level. sEven if you are a newbie, you are fully capable of shooting a beautiful video without any hassle!
13 Videography Tips: How to Shoot, Film An Excellent Video Correctly? [Entry-level Videograhy Tutorial]
Following 13 videography tips are what we collect for videography beginners, which are very basic and can be a guide to videography shooting & editing:
#1.Video Topic & Story, Making Sure The Whole Video Is Telling A Story.
People consume video contents, because they are consuming the video story. (What makes you prefer watching a movie? - It's story, right?) A good video is always telling a beautiful story, or reflecting something meaningful. Be it a wedding videography, an advertising video or an explanation video, good stories indeed make videos successful!
Interested? Read >>"How to Render Your Best Storytelling Video Ever"
#2.Select Images & Footage, Ensuring Each Clip/Picture Is Telling A Smaller Story
Choose what to shoot and select which video/picture to use for video creation regarding your video purpose - the whole video story.
Make sure each video clip/picture tells a mini story or offers a scenic view to audiences. Mini story clips together can create twist plots. Mini stories add ups and downs to whole video storytelling, which makes your video more real and appealing. If a picture or footage doesn't, delete/cut it!
You can try asking yourself these questions to create an engaging video production when you are composing the whole video story or creating the mini story:
In the eyes of audiences, what does the storyboard mean?
Will audiences like the mini story?
Is the clip necessary?
#3.Shoot with Soft Video Light.
Natural soft light is best to film a video, which will help to share all details – full colors & clear objects. The softest lights for videography are in the morning and evening.
When the videography light is bright or strong, the filming object/figure will appear somewhat darkness & dimness, which considerably ruins video quality and is bad for post video production.
Don't shoot straightly to the lights, but let lights in from a side. Near a window would be fine.
#4.Avoid Too Much Negative Shooting In Videography.
Image: Avoid too much negative space - Dos and Don'ts.
Negative videography is another reason that makes videography below the average. In a videography frame, negative space (darker parts in a bright videography) taking up over 1/4 space wil make people feel less comfortable (It's unbalanced & anti-harmony in most cases).
#5.Closeup Videography Shoot.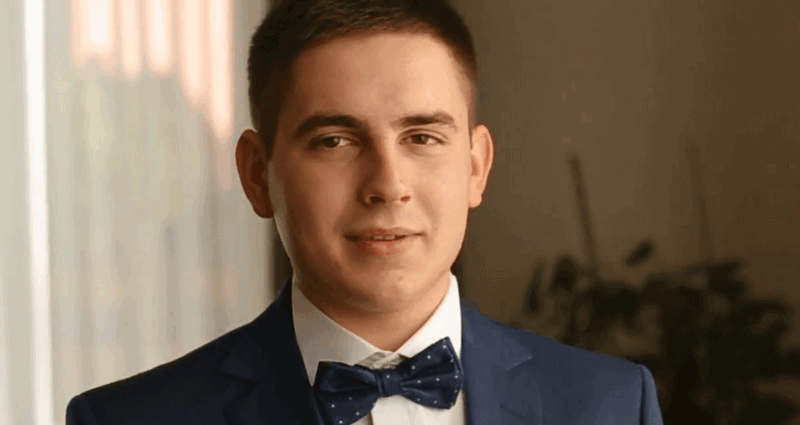 Image: Videography skill - Closeup shooting.
Closeup videography is another shooting trick that's key for people interviews, detail explanations, unraveling mysteries, and many more scenarios. When a professional videographer is about to explore something or deep into a topic, he will choose closeup shooting that feels more real and pulls audiences closer.
Only with closeup shooting can you film an object fixing top. When filming closeup, handle well with the videography lights.
#6.Divide Your Videography Frame into 3 x 3 Space.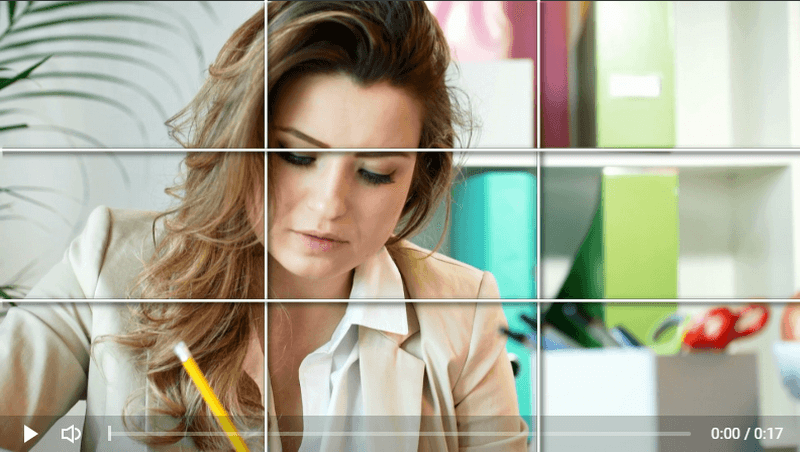 Image: Shoot with 3 x 3 grids.
For those non-closeup scenes, you would like to divide the shooting frame into 3 x 3 grids (with 4 lines - 2 horizontal divided lines + 2 vertical lines). Leave some room in the top area, place your major filming object at/near the joints of four lines, which will render cooler visuals.
#7.How to Shoot 2 Face-to-face People?
Video: How to shoot 2 facing people professionally.
Pick a side, stand in front of/right after one person and shoot to another person. This way will it look exactly like a Pro shooting.
#8.Add Proper Background Music, Use Great Sound Effect.
Think of your videography theme. Think about how you want to present it to audiences and how they may feel when watching your video. Search for your music accordingly. To produce the perfect sounds for video, you will like to turn to HD-microphones and noise removers for help.
#9.Add Fewer Transitions, Keep Necessary Transitions.
Video transitions are critical for all videography productions. But most videographyer beginners misuse video transitions by adding a lot of fancy transitions, which make the main video content less appealing. And audiences are less likely to get/remember the point of video story and get confused. [Remember how transitions ruin the 5.2/10 rating movie - Transformers 5: The Last Knight (2017)?]
#10.Use Zoom-in and Zoom-out Tricks.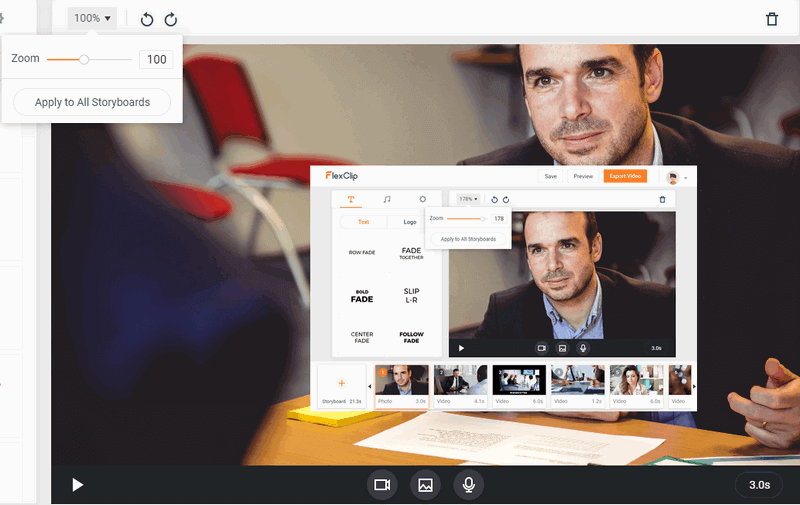 Image: Use Zoom-in and Zoom-out tricks.
With an advanced camera, you will like to try long focal lengths to shoot Zoom-in clips, as well as short focal lengths to capture Zoom-out scenes. Switching between a closeup and a wide shot can create an impressive shot.
What if you have no camera but only a smartphone? Can you create zoom-in & zoom-out effects?
#11.Upgrade Video with Logo & Explanatory Line.
High-quality videos always use lines and logos when necessary: Insert an intro picture or an outro storyboard with your logo, and it will level up the video production and make it look professional. Discover the best YouTube intro ideas.
Add explanatory lines when it's an abstract frame, it'll help audiences get your point across immediately.
#12.Plan Your Videography In Advance.
If you want to shoot something videography, you need to plan it at least a day before. The plan includes your shooting equipment(a smartphone or a DSLR) and shooting time.
13.Practice shooting and editing video.
Start shooting something, whether it's to shoot someone or some scenery. Try to compose your shots, and you'll learn a great deal in the process and grow better.
No matter how great and amazing a videography looks, all successful video come from smart, innovative & professional video editing. Most of them are made from normal shoots. If you have few video editing experience, you can try FlexClip.com online for free.
Some Other Words
How does your videography looks when you use some tricks above? Eager to put the clips into a video?
Give a try on a resourceful FlexClip video maker online! For starter, it's free. Second, it's super easy! Third, it embeds extensive images, videos and music for easy use.