Foreword: Doing great in video ads, you can ensure your products get a high chance to exposure to as many people as possible. Thus, your business has a promising future and presumably, returns you a significant profit. In this article, we break down commercial video advertisement into 3 parts:
- Part 1: How to Make An Advertising Video? – Free Ad Video Maker Online.
- Part 2: How to Create Advertising Video for Higher Conversion?
- Part 3. Advertising Media / Platforms, Which Has The Highest Revenues?
Let's get started!
Why Do Video ADs Have The Highest ROI?
Like it or not, advertisement videos are the Top 1 commercial advertisement media, with the highest ROI!
Getting info from visual contents is the most natural way for people to understand the world. Dozens of authoritative reports have proven that videos can effortlessly communicate with all people, way better than printed ADs:
->Written texts can use up limited audience attention, while videos won't.
->Readers must achieve certain levels of education to read contexts, while all people can watch a video effortlessly.
Image board: Written Ad VS Video Ad.
Part 1: How to Make An Advertising Video with Ad Clips & Images?
Let's say, you've already had advertising pictures, along with advertising video clips. Then, an online advertising video merger can make your producing work a lot easier.
Try FlexClip.com, your free advertising video editor. It will allow you to finish advertising video producing within a few clicks.
How to Make An Advertising Video for Free in Four Steps, with FlexClip?
Step One, open FlexClip in Chrome, or open FlexClip for Windows.
Step Two, choose an advertising video clip, or an advertising picture to upload:
Go [+Storyboard] > [Add Video] / [Add Photo] > [Browse My File].
(Or, you can search related video/picture templates, and use one directly.)
Step Three, switch the order of advertising storyboards, and make some edits if you like.
Step Four, go [PREVIEW] and [EXPORT VIDEO]. Your advertising video will get downloaded for free.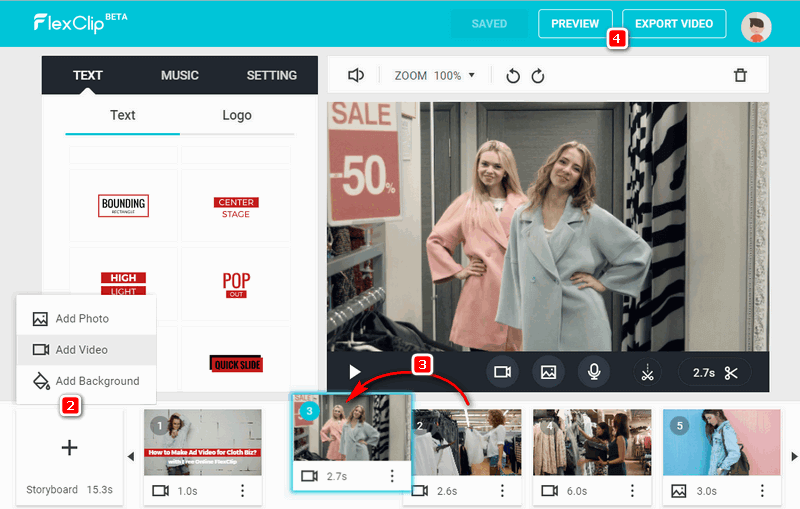 Image board: How to Make Ad Video for Free in FlexClip? - Full Steps.
Part 2: How to Create Advertising Video in Higher Conversion?
Video ad is very different from TV drama - video story is not everything for advertising video.
Consider the goal for commercial video advertisement: video engagement and conversion! The 2 key factors define if it's a good advertising video or not.
1)Choose Contents? Informative, Funny, Or Entertaining? – Go Informative!
Entertaining, funny and informative videos all attract audiences naturally. Among them, informative advertising videos prevail with a higher conversion rate:
Informative advertising videos can share some features helpful for audiences. Such an advertising video explains how viewers can benefit from using the product. This way, customers learn something from watching informative ad videos.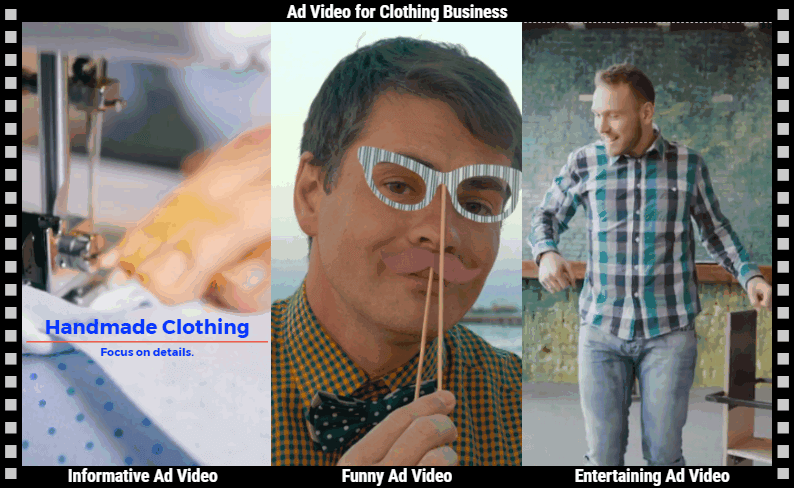 Image board: Informative Ad video VS funny Ad video Vs entertaining Ad video.
It won't help a little by only explaining what functions your product have. On the contrary, it turns out to be the most annoying video, because it makes people feel that the ad video just wants to sell them something and benefit from them. - No one wants to get taken advantage of.
2)Know Audiences' Age, Empathize with Them.
People of different age will show different interests. Get to know the age of your audiences, and you may find the best way to communicate with them.
Say words that your clients frequently use, empathize with your clients, and you will no longer see a low retention rate in your advertising video.
->Talk to clients in a way that they like.
->Find what services your target users prefer, and feature them in your advertising video.
That way, your customers will endorse your video ads, and your market share will grow.
3)Speak Native Language.
If you want to share your services in a market, then speak their native language.
We can't expect customers to understand how a product can ease their life in a language that they barely understand. - Sure, there are exceptions for those items that are very much needed and have no alternatives. However, it won't last long, new competitors will emerge shortly.
4)Show Creative Thinking via Visual Impact and Sound Impact.
Use visual impacts and sound impacts. Make your ad video colorful, vivid and gripping. If technology supports, personalize video to clients and immerse them in your content.
A great ad video creation will make viewers want to explore and know more.
Part 3.Advertising Media / Platforms, Which Has The Highest Revenues?
It matters a lot where to post your advertising video. The main options for video advertising include:
*Billboards in bus/subway station. – [Paid option].
*TV advertising. - [Paid option].
*YouTube advertising. - [Paid option & Free option].
*Facebook video advertising. - [Paid option & Free option].
*Email video Ads via newsletter. - [Paid option & Free option].
1)TV Advertising and Bus Stop / Subway Billboard Advertising.
-Cost a fortune, no guarantee on revenues.
-Suitable for wealthy brands to promote products useful for all people.
-Not efficient, not recommend for small businesses.
For billboard and TV advertising, they require substantial investments and have no guarantee on the revenue.
Audiences for billboards and TVs are random people – Their needs vary, and they may not need your product or service. That makes advertising on TV and billboard look like spending a fortune randomly and expecting some miracles to happen:
Well, for several years now, miracles did happen, only when advertising video is made by great brands selling commodities, beauty stuffs, TVs, smartphones, fast foods, or something consumable by the masses.
2)YouTube Advertising.
-Cost is reasonable, the best platform for video advertising.
-Suitable for all businesses.
YouTube is the largest video platform on the Internet with search function available.
In YouTube, you can create a free channel and post your advertising video for free. YouTube offers an option to monetize your advertising video:
Compared to TV or billboard advertising, YouTube advertising is more efficient and cost-effective:
YouTube will automatically judge where to show an advertising video, based on audiences, video metadata, and whether content is advertiser-friendly.
There are display ads, overlay ads, bumper ads and sponsor cards as the selections for your advertising video. If you have any interests, please refer to YouTube Official Lesson, Ads on YouTube.
Related Tips: Do you know it's way easy to design an advertising video, tailored for 6s YouTube bumper, with free FlexClip?
3)Facebook Video Advertising.
-It's the second choice for video advertising. Post video ads for free or by paid service.
-Suitable for small/local businesses.
Unlike YouTube, Facebook is a more social platform. That makes advertising on Facebook a little bit less target-driven than YouTube advertising.
On the bright side, Facebook has been improving its search and advertising packages. Currently, Facebook platform will share your video ads to those who might have the same interest.
4)Email Video Ads via Newsletter.
-Cost is cheap, but audience response may not be good.
-You can try, if you like.
There are uncountable posts sharing tips on how to boost sales via newsletter. While fact is, the click rate for newsletter or marketing email is very low, ranging from 1.80% - 4.78%, according to Mailchimp Email Marketing Report.