Forewords: Whether you are a Vlog lover or a commercial video producer, this article promises you with roundups to accomplish an extraordinary storytelling video with a free video app- FlexClip.com.
The essence of a video story is the story itself. Though shooting skills, videography tricks and light controls matter as well, without a cool story behind the video story, it is failure content.
It will be a lot easier to understand the tip when you think of the experiences of watching stunt films in a movie theater:
Commercial films that highlight special effects and stunts, often get forgotten by audiences when time flies. Without an impressive story across the movie, people may get shocked by the visual impacts at the first time, however, such an experience will not last long.
Part 1: How to Build Good Storytelling?
Good storytelling comes from real life, but it should convey something more meaningful and touching. Whether you are about to produce a love story video, a child story video, or just a baby story streaming content, ensure your story consists of the following 4 elements to be an attractive storytelling video:
Characters, conflicts, and a goal / a mission.
Sense of tension.
The major trouble.
When the goal is achieved (or the mission is completed), show audiences the grand(successful) vision.
In specific, characters will tell audiences whose story you are shooting at or who you are talking about. When there are characters, there lie conflicts. Characters have a goal, that's the end of the story. These 3 things will make your video content a real story. Learn to create an engagement video with free templates.
Sense of tension is to drive audiences' attention and interests. A story without tension turns out to be less attractive.
Troubles make story concrete. Troubles in visual storytelling will add more plots, more ups and downs. When building visual storytelling, focus on a major hurdle in the way up, then you get the key to hold audiences' breath and get high audience retention.
When the major trouble has been conquered and goal achieved, show audiences the grand or peaceful view that's right in front of the characters. That's for making a deep impression.
Video games are all telling fantastic stories. If you look at one of your most favorite video games with the 4 elements, you shall grasp the tricks better.
Part 2: How to Merge Storytelling Video Clips Effectively?
When video storytelling shooting is finished, you may consider joining visual storytelling clips to make an excellent video story. In the meantime, a simple tool is required.
We present you FlexClip - a free video story maker that's online and for Windows. It takes minutes to edit and merge storytelling clips.
Step One, open FlexClip with Chrome browser or on a Windows PC.
Step Two, add story videos, clips, or pictures as transitions via FlexClip storyboards. Check how to add transitions to a video in detail.
Step Three, edit the story clips, re-arrange the orders of storyboards.
Step Four, preview, examine and export your storytelling video.
Following steps above, anyone can finish a story video in about 2-10 minutes. Besides that, FlexClip offers a mute button and a volume option, so that you can mute a video, volume up, volume down easily. Those options are basic.
How to Tell A Story on Instagram?
Exclusively for Instagram, the video story uploaded requires to be in a ratio of 9:16.
If you are making a story video targeted on smartphone users or Instagram platform, FlexClip will make it much more straightforward.
Go [SETTING] > Ratio > pick [9:16] in the drop-down list.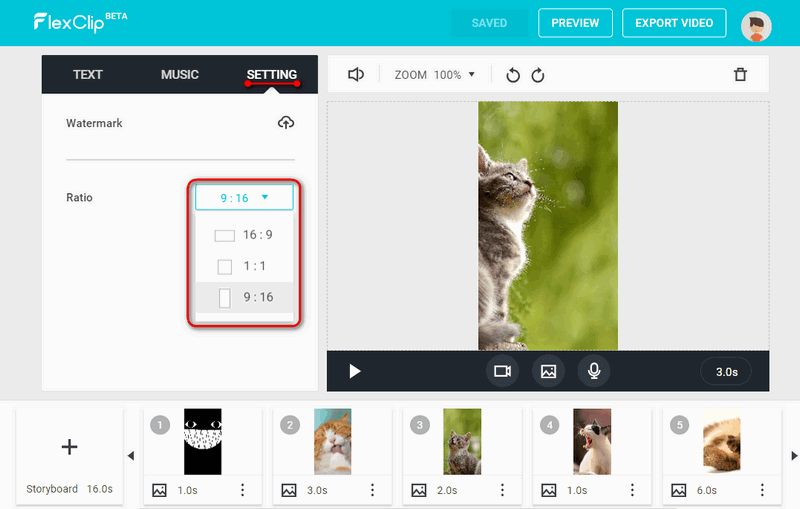 Image board: Make Instagram video story.
In default, it cuts the video frame to 9:16 and frames only the center graphics. But the default setting is not fixed, and you can drag the frame to a person or a position you like. Learn how to easily change the aspect ratio of a video.
It's more like video cutting, and the mere difference is that it sizes the frame for Instagram video story.
How to Make A Story Video for Facebook?
Facebook advertisers prefer an easy tool that can cut AD story videos automatically to Facebook requirements.
According to Facebook AD guideline, 16:9 (full landscape) and 9:16 (full portrait) are the most frequently used ratios for smartphones. Besides that, square size is another option for smartphone surface.
Within FlexClip, you will find the settings options have them all - a wide screen at a ratio of 16:9, a vertical screen at 9:16, or the square screen.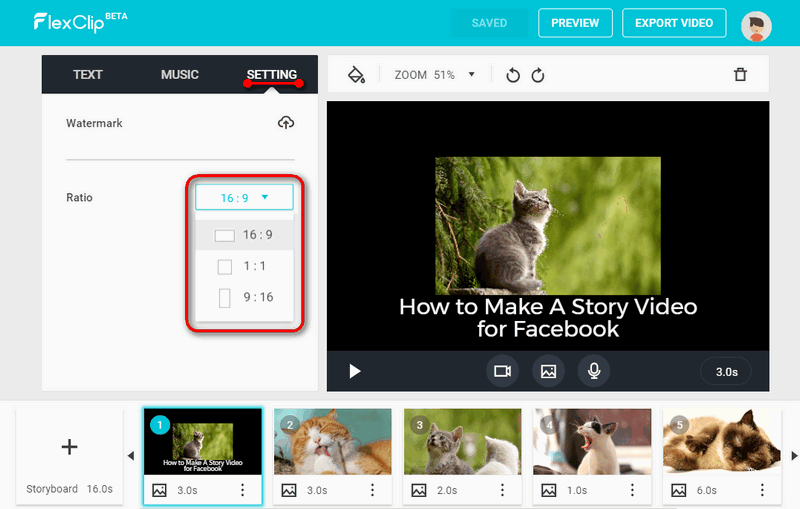 Image board: Make video story for Facebook.
Part 3: Shooting Skills for Storytelling Video
For beginners, there are some basic rules for videography, and if you are not familiar with them, we've shared the article below:
Beginner Videography Tutorial: How to Make An Excellent Video? - Full Tips>
A story without characters is incomplete. How you shoot the characters will largely determine the feedback of your story video. Below are roundups of character camera shooting tricks.
1.Center Frame Shooting
Place your character in the center of the frame, and it will get audiences attention towards the character. If you still remember the scenes in House of Cards, the center frame shooting of Frank Underwood makes audiences dread. (Usually he explains some political setups.)
2.Leading Lines
When the surroundings have lines and textures that point to one direction, it's ideal to place your character on the lines.
3.Leading Spaces
When your character is looking left, it will appear to be a better frame if you place him in the right of the frame. It is to leave some space for him to look at.
4.Contrasts and Lights
Contrasts and lights are always the methods to impress audiences deeply. Darkness and light frame will pull audiences' eyes to the bright spot.
5.Shrink a Person to Make Him Look Small
This way, it denotes importance to a particular small figure, emphasizing the feeling of a small person.
6.About Focal Lengths.
Shorter focal lengths give a broader view. Longer focal lengths present more details. Shorter focal lengths include 10mm – 20mm.
To get a medium shot, you can pick a focal length between 50mm and 90mm, which is used for dialogs and interviews.
For long lengths, it ranges from 60mm to 500mm.
If you want to build a heightened connection between the audiences and your character, then pick a long length that frame the chin to head top.
If you want to share the tension or emotion, frame the wrinkling eyes or the mouth only.