This article introduces an online engagement video maker with free templates to guide you on making a beautiful engagement video for free. Check out and learn how to make a free engagement video with template.
Looking for some romantic proposal ideas to surprise your loved one?
Want to invite your guests to celebrate your engagement together creatively?
Wondering the perfect way to announce your engagement?
- Just try an engagement video!
Free Engagement Video Templates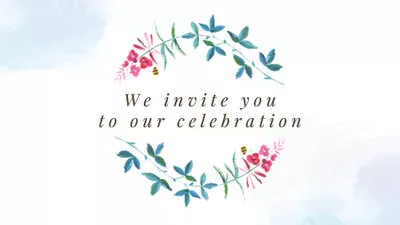 Engagement Party Invitation
Also Read: Best Save the Date Video Maker - Create Your Save the Date Videos for Free >
How to Make an Engagement Video Online Free
You do not need any fancy equipment or expensive videographers to make an engagement video: just some beautiful footage, and a talented engagement video maker - FlexClip.
Whether you want to make a romantic engagement video for her, need an engagement party invitation video to invite others to celebrate your engagement, or want to announce your big news in a video engagement announcement, no matter what the case is, FlexClip has get them all covered!
Let's get started with FlexClip online engagement video maker now.
Step 1
Start with a template
Once you get into the FlexClip video editor, you can select from hundreds of customizable free templates designed for tons of different use cases to pick one you like.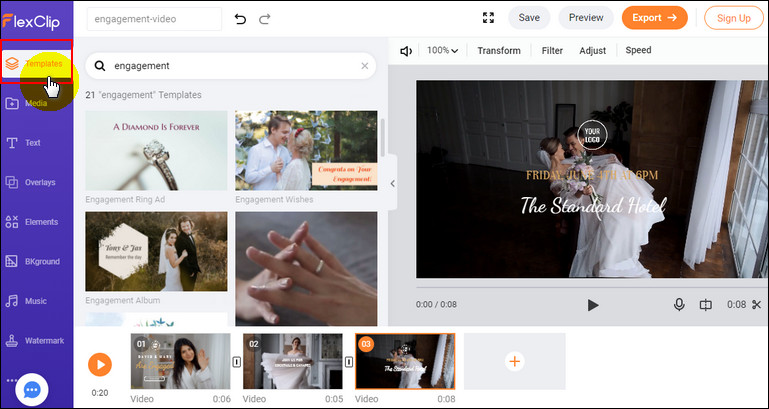 Image Board: Start with a Template
Step 2
Upload Your Footage
Then you can go to the Media section to upload your own footage for your engagement video or utilize our extensive stock library to access the high-quality video.
Image Board: Upload Your Own Engagement Video Footage
Step 3
Customize Your Engagement Video
When you uploaded the footage, you can edit your engagement video freely. You can split or trim your engagement video clips, add transition effects, add animated text, set background music, record voice over, and more.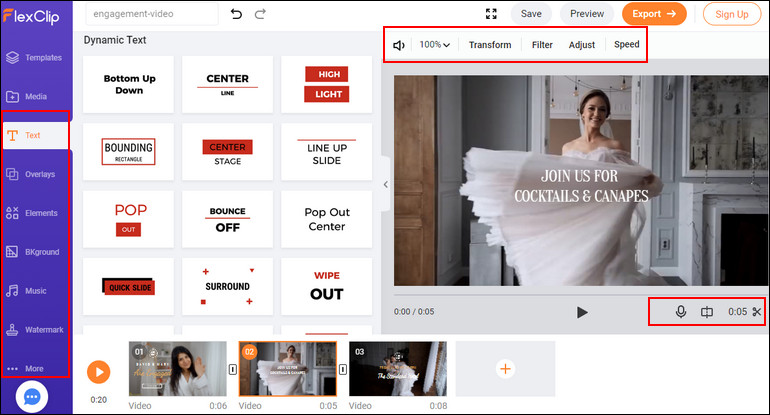 Image Board: Customize Your Engagement Video
Step 4
Preview and Export the Engagement Video
Once you finish your editing, you can preview your engagement video with the Preview button on the top right. If you're satisfied, click the Export button to save your video on the computer; if not, you can also continue editing.
Tips & Tricks on Creating a Romantic Engagement Video
Here we share some practical tips on how to make a romantic engagement video. Just use the following tricks, and your engagement video will turn out perfect.
Tell your love story - Create a romantic visual walk through your love story. You can include where you met, your first date, and any other significant milestones.
Include the important moment - Decorate your engagement video with pictures or clip of the moment the future groom (or bride!) popped the question, and remember to include their significant other's reaction. Highlight the big news with bold text saying "We're engaged!", or "She said yes!",
Use the right engagement music - Pick a song that sets the right mood for the engagement - romantic, happy, and deep in love.
Add the date
- If you've set the date when you'd like to get married, you can let your engagement announcement double as a
save-the-date video
.
Final Words
Follow these steps and tips above, and you'll have a fantastic engagement video to share with friends and family or post on YouTube to announce your big news. And you'll have more than a sweet memory of that moment - you'll have a way to travel back in time and relive your romantic engagement whenever you want.