Memorial tribute video for funerals is a meaningful way to say goodbye to someone. But never limit the tribute video to the funeral!
There is no better reason to make a tribute video than for an upcoming gala event or birthday, wedding, anniversary, or reunion celebration.
Whether you're going to make a memorial tribute video for the funeral or other event celebrating tribute videos, like video tributes for birthday and weddings, we'll share 3 powerful online tribute video maker that get them all covered and show you how to make a tribute video with music online for free.
Contents:
Part 2 Best 3 Free Online Tribute Video Makers
Free Editable Tribute Video Examples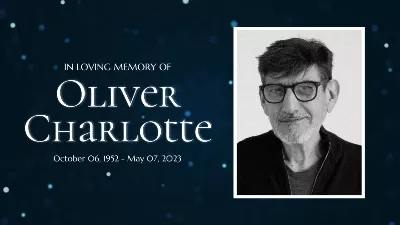 Blue Particles Fathers Life Tribute Funeral Memorial Slideshow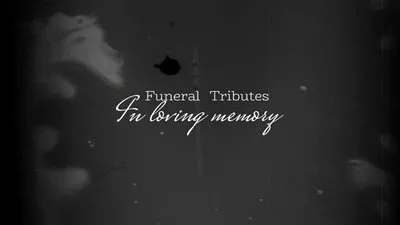 Black And White Movie Funeral Tribute Slide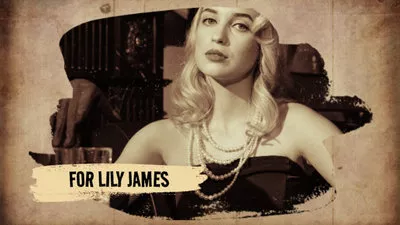 Photo Tribute Slideshow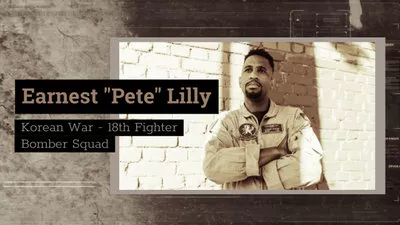 Military Tribute
Also Read: Best Save the Date Video Maker to Create Your Own Save the Date Videos >
Part 1 Best Tribute Video Examples for Funerals, Birthdays and More
Have no ideas on how to start your tribute video creation? Referring to some tribute video examples must can help you get started easily.
Below we pick out some great tribute video examples and templates to inspire you to create your tribute video with great ease. Whether it's a memorial tribute video fro funerals, a birthday tribute video, or an anniversary tribute, you can find various type of tribute video templates here. All of them are professionally designed and fully customizable.
Memorial Tribute Video for Funereal
The last thing we can do to the deceased is to make a memorial tribute video honor the life of him/her. To make one with ease, customize the template with youe video clips, photos, and music.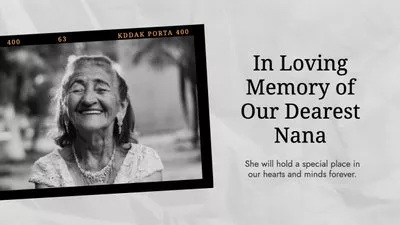 Funeral Memorial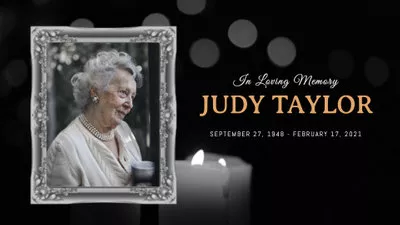 Funeral Memorial Photo Slideshow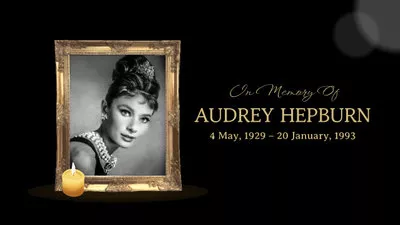 Celebrity Tribute Slide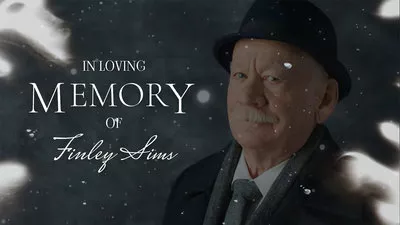 Black Minimalist Solemn Funeral Memorial Photo Collage Slideshow
Birthday Tribute Video
Of all of life's milestones, birthdays are one of the most cherished. Celebrate the birthday of someone you love with a custom birthday tribute video.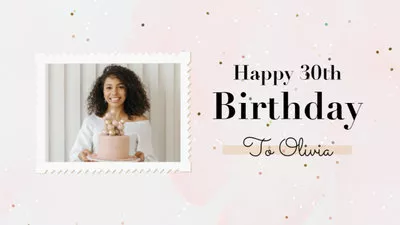 Woman Gold Foil Birthday Greetings Wish Slideshow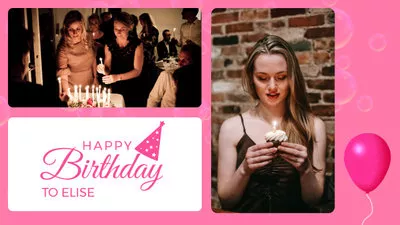 Pink Birthday Collage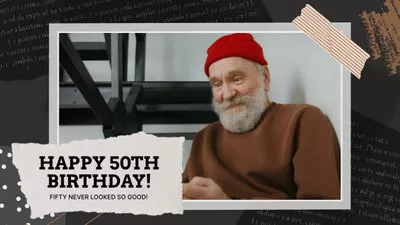 50th Birthday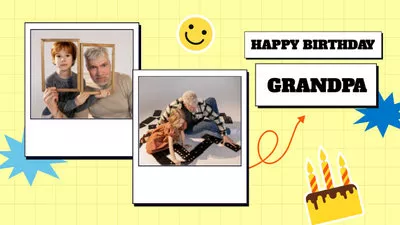 Birthday Wishes For Grandfather
Wedding Tribute Video
You may have someone in mind whose wedding is coming up and you are thinking of a gift for the new couple. What a surprise with a gift of a wedding video tribute!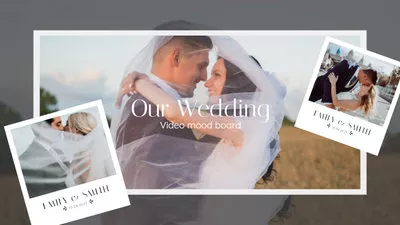 Light Spot Special Effect Memory Wedding Collage Slideshow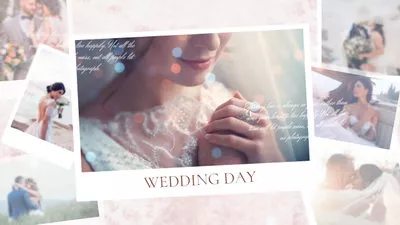 Wedding Photography Memories Slideshow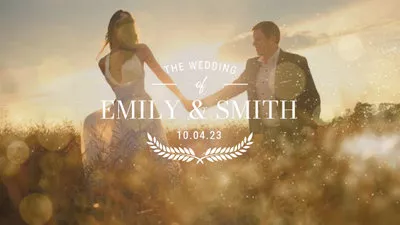 Golden Pastoral Wedding Love Mv With Lyric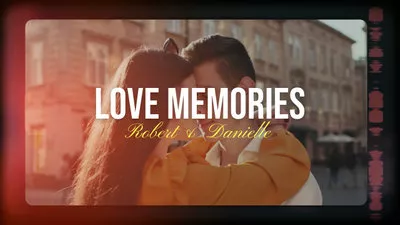 Wedding Announcement Memories Film Slideshow
Anniversary Tribute Video
If you're looking for some anniversary tribute video ideas, here are also some beautiful templates for you. Check them out now.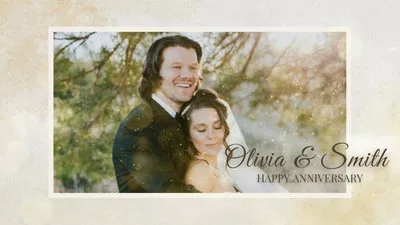 Romantic Bokeh Wedding Anniversary
Wedding 50th Anniversary Slideshow
Anniversary Photo Collage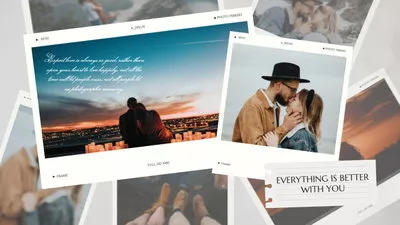 Anniversary Polaroid Photo Slideshow
Part 2 Best 3 Free Online Tribute Video Makers
To make a tribute video, it's important to pick the right tribute video maker, which an help you save time and efforts to produce an excellent video tribute for any occasions.
There are several tribute video software you can use to create a tribute video. iMovie by Apple, Windows Movie Maker by Windows, and some by Adobe are among the common ones. But here, we want to share some online ones to help you create your tribute video with music and more special effects.
Online Tribute Video Maker - FlexClip
FlexClip is an excellent option for tribute video creation. Its interface is user-friendly and no video making/editing experience required to make a tribute video. There are plenty of templates to choose from and extensive media library to rely on. While creating your tribute video, you can edit individual clips, crop pictures, add transitions, and choose audio tracks, and you can even use its pip feature to make tribute montage easily. The best part? You can use FlexClip to make a custom tribute video for free!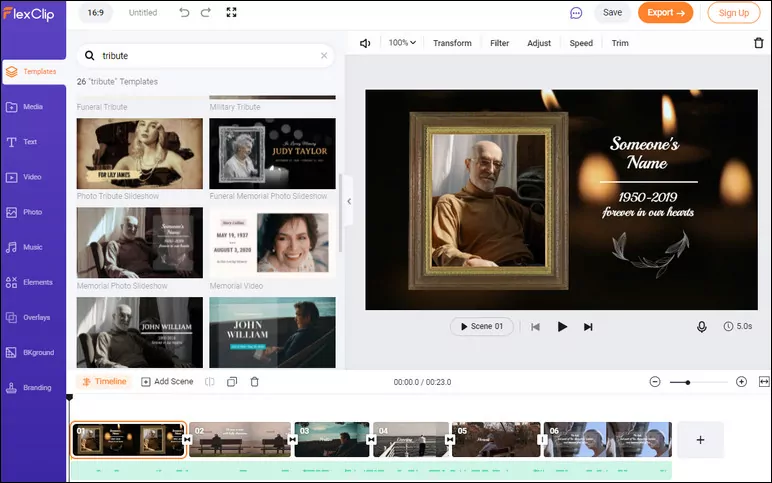 Image Board: Online Tribute Video Maker - FlexClip
Online Tribute Video Maker - Animoto
Animotio is one of the best video maker tools available for creating a tribute video online for free. It allows you to turn photos and video clips into a touching tribute video easily. There are plenty of templates designed to make it easy for you to add your own images and text and customize your own tribute video. What's more, customization is made easy with a variety of colors, fonts, and video styles to choose from. You can also trim and mute your video footage, enlarge photos, or add voice-over to make an awesome tribute video.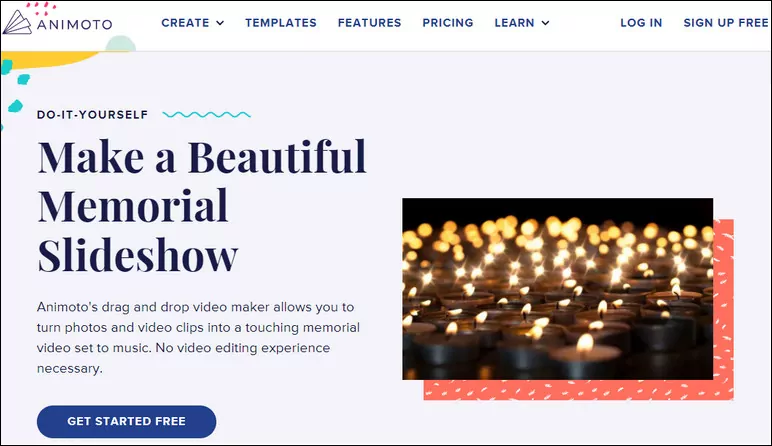 Image Board: Online Tribute Video Maker - Animoto
Online Tribute Video Maker - Smilebox
Smilebox is also a great option you can try to make a tribute video online for free. It offers hundreds of professionally-designed video templates to get you started, you can choose existing songs from Smilebox music library to use as the tribute video background music (or upload your own), titles and captions can be added easily to help memorialize your loved one. Simply combine images, video clips, music and text into a truly personal video tribute at Smilebox.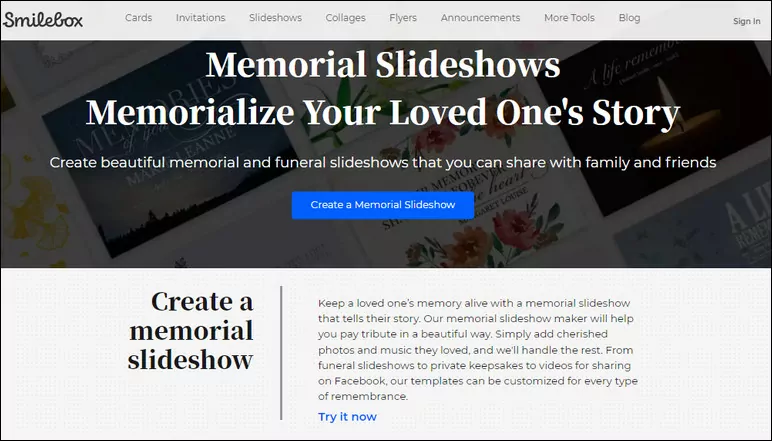 Image Board: Online Tribute Video Maker - Smilebox
Part 3 How to Make a Tribute Video with Music
Before getting started to make your own video tribute, get all materials organized, like video clips, photos, background music on your computer, then click the Get Started button below. Or you can view our stunning video tribute templates for inspiration and pick one to customize.
Step 1 Add Your Tribute Video Footage to FlexClip
Drag and drop all your tribute video footage, like photos and video clips, to the Media section and apply them to the storyboard. If necessary, you can trim your clips and use transition effect to tie your footage into a cohesive and smooth one.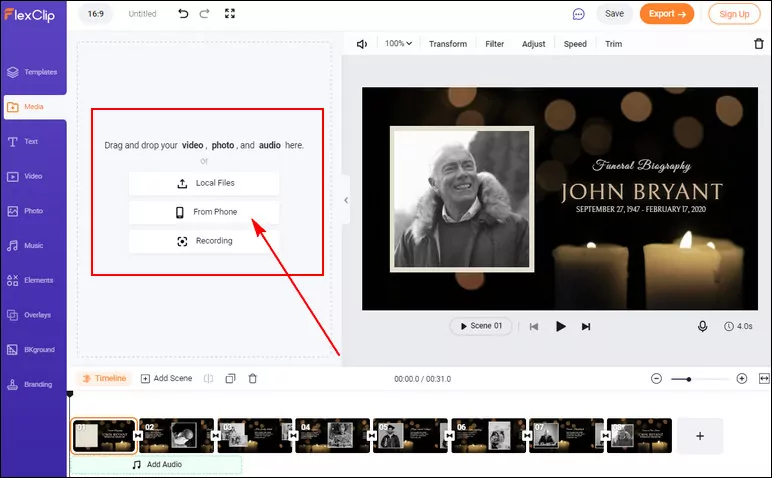 Image Board: Make a Tribute Video Online - Upload
Step 2 Enter Your Video Tribute Messages
Once you've added your tribute video footage, switch to the Text section and pick your desired text style, then double-click the text box to enter your tribute message. Here you can customize the text on font, color, and size, etc.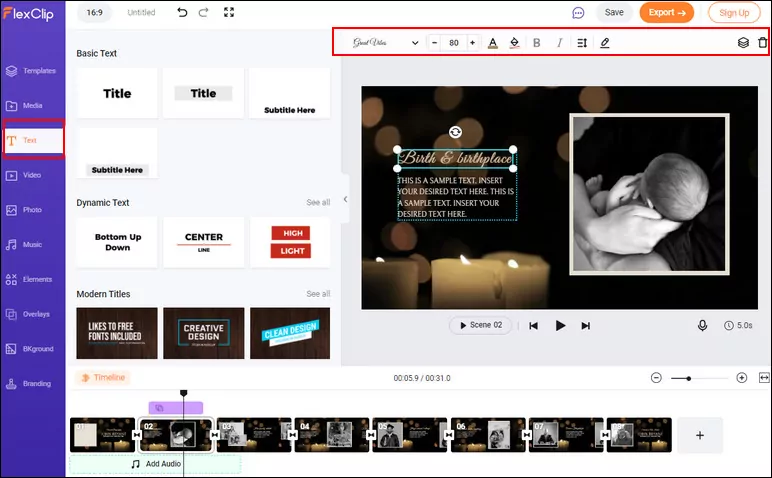 Image Board: Make a Tribute Video Online - Add Text
Step 3 Add Music to Your Tribute Video
Go to the Music section to add music to your tribute video. You can either upload a piece of music from a local folder on your computer or pick one from FlexClip's extensive music library.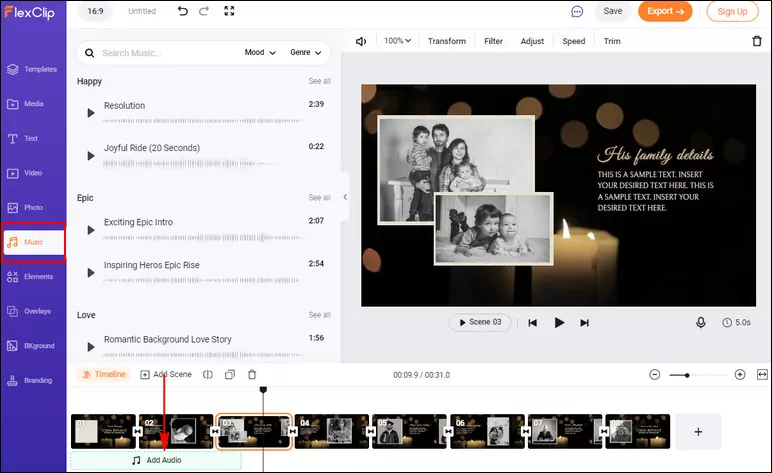 Image Board: Make a Tribute Video Online - Add Music
Step 4 More Edits to Enhance Your Video Tribute
FlexClip features many editing functions allowing you to customize your tribute video in many ways, like adding filters, make pip effects, color grading, etc.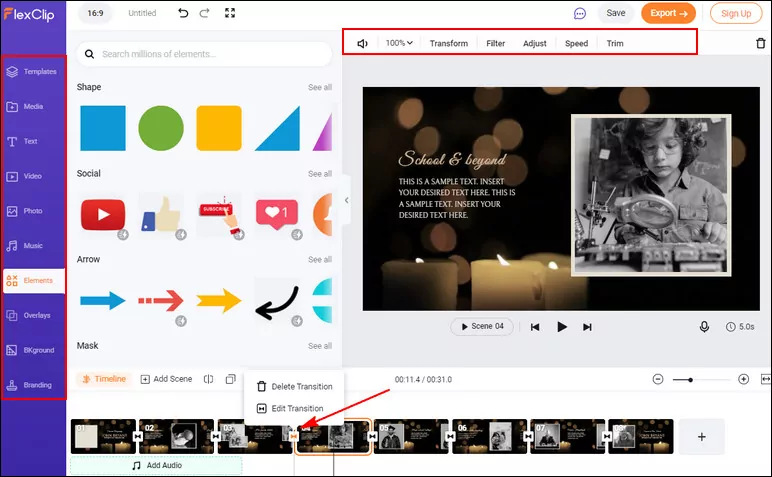 Image Board: Make a Tribute Video Online - More Edits
Final Words
Don't let your precious memories fade away! Team up with one of the tribute video makers above to get creative and create tribute videos for birthdays, weddings, graduations, or even anniversaries and other celebration occasions!