This blog offers you excellent ideas with free templates, and practical tips on making a college graduation video or senior graduation video. Follow us to learn how to make a virtual graduation video quickly and easily.
Making a graduation video is a great way to celebrate this important event for the graduate. Customizing a unique video to capture those fantastic memories is also a lovely gift that parents can give to their children on the day. Besides, creating a graduation invitation video proves to be a great way to invite your family and friends to your graduation party.
In this blog, we shared some best graduation video ideas with free school video templates and tips to help you make a graduation video with ease. Keep on reading to find out all the secrets for making a cool graduation video.
Contents:
Free Editable Graduation Video Templates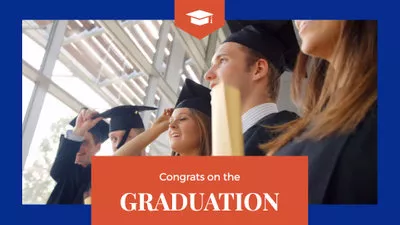 Congrats On Graduation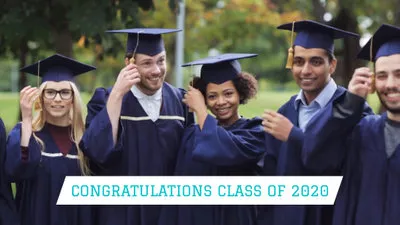 Happy Graduation Day
Can't Miss: Best Save the Date Video Maker - Create Your Save the Date Videos for Free>
Part 1 Virtual Graduation Video Ideas with Free Templates
Whether you're going to make a college graduation video or high school graduation video, here are various graduation video ideas to inspire you.
Graduation Video Idea 1 - Graduation Wishes/Greeting Video
The first thought for virtual graduation video ideas might be graduation wishes or greeting videos that send your warmest congratulations and best wishes to the grads on their graduation. Customize the template below to say "Congratulations" and celebrate graduation with a graduation wishes video now.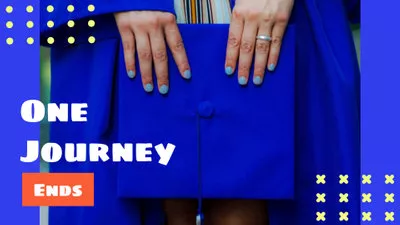 Graduation Greeting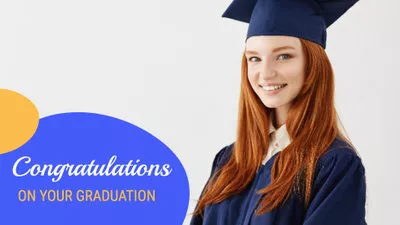 Graduation Wishes
Graduation Video Idea 2 - Graduation Party Invitation
Plan the best graduation party for the new grads? You can make a virtual graduation party invitation to invite more family and friends to the grad party, joining you in celebrating your grad's achievements.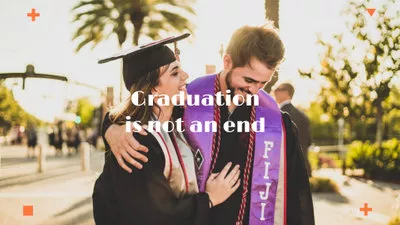 Graduation Party Invitation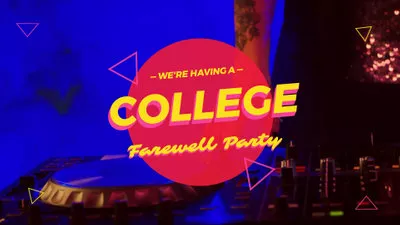 College Farewell Party Invite
Graduation Video Idea 3 - Graduation Announcement Video
Another great graduation video idea is making a video to announce your graduation in style. Create a virtual graduation announcement to share with your family, friends, loved ones, and anyone else.
Graduation Announcement
Graduation Video Idea 4 - Graduation Promotion Video
The graduation season is also the best day for your business to offer sales, which is a surefire way to boost sales. Spread the word about your graduation supplies promos with a video now.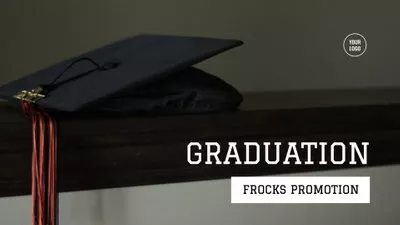 Graduation Prom
Part 2 How to Make Graduation Videos
Where to start? Just look for some video templates that are suitable for the graduation. We suggest turning to FlexClip online graduation video maker, it comes with an amazing set of video templates ideal for graduation.
Be it a graduation video to express your sincere wishes, a graduation party invitation video to have more people to celebrate your big day together, or a graduation day recap video to cherish the best moments. These video templates will serve as a perfect basis for your own graduation video.
Ready to create your own graduation video? Just click the button below:
Step 1
Add photos and video clips
Go to the Media section to add your photos and clips, then apply them to the storyboard. Think about arranging our footage to show every important moment.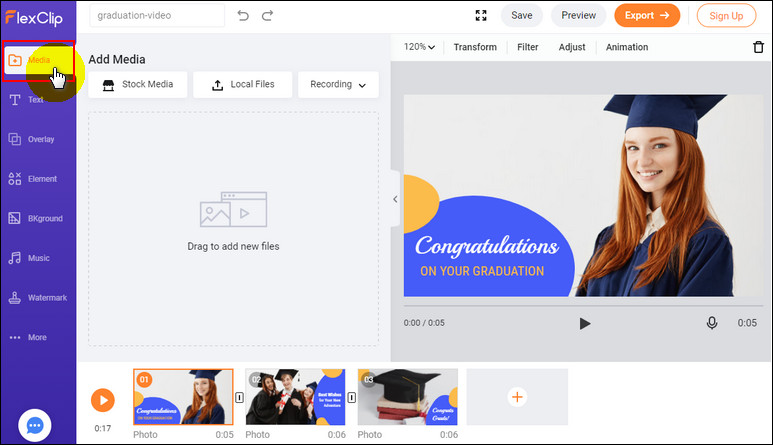 Add Photos and Video Clips
Step 2
Add text to your graduation video
When you add text to the video, think about adding different captions: simple text and people names, various quotes, mottos or funny slogans, and wishes & congratulations from the parents, friends, and even teachers.
Add Text to Your Graduation Video
Step 3
Juice it all up with music
Now, you can add your own music or use samples from our collection to the video and spice it all up with the right background music.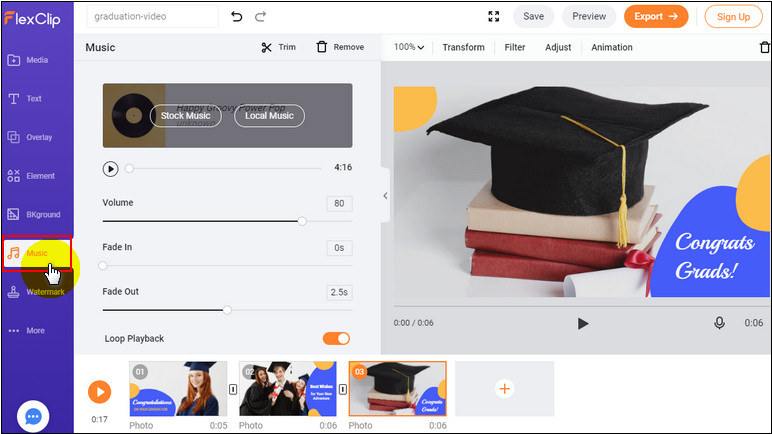 Juice It All Up with Music
You can also use more other tools to elevate your graduation video, like changing video speed and aspect ratio, adding filter or watermark, adding transition effects. Give them a try!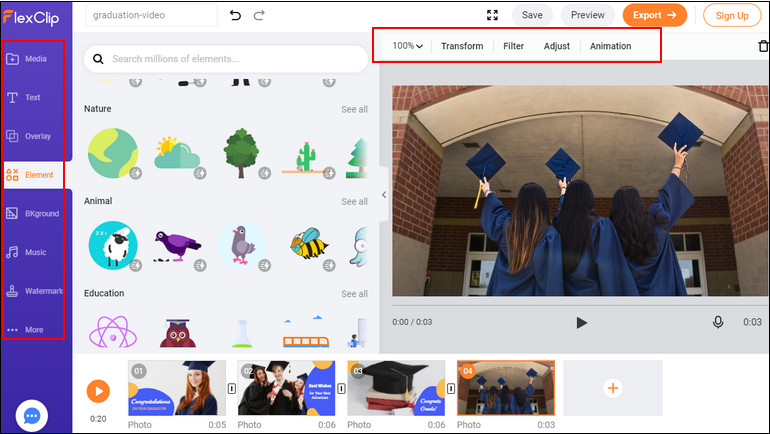 Make Other Edits
Step 5
Preview and download
Tap on the Preview button to preview your work. You can continue editing or save the video to your computer if you are satisfied with it.
More Tips on Making Cool Graduation Videos
Photos or video clips selection to make your graduation video simpler
Absolutely, there are lots of photos that the graduates took on their graduation day and school years, but it is not wise to add all of them into your video. Make sure what you really want to record for the graduation day and school life. Select the memorable and enjoyable moments to create a simpler video.
Add music to make your graduation video more attractive
A piece of perfect background music makes the video more vivid and attractive. Finding your best video background music is much helpful for your graduation video making. Do not forget that those graduation songs can be the best choice of background music for your graduation video, such as "Graduation (Friends Forever)" by Vitamin C, "My Wish" by Holly Tucker and so on.
Add quotes or wishes to make your graduation video more thoughtful
To make your graduation video more thoughtful, it is advisable to add some quotes or wishes to the video. A favorite quote or belief helps you to keep persevering! Sweet wishes come from families, or close friends contain their love and blessing; it's worth keeping forever.
Capture the most important moments to make your graduation video more meaningful
Beyond all doubt, there are many important and special events during the graduation day, while what are the most memorable moments. Here are two moments that never miss adding to the graduation video for the graduates, which are worth being with you throughout their life. The one is that when you get your degree or receive the achievement certificate. Another one, when you throw out your hats with your classmates together.
The Bottom Line
The above focuses on some tips and detailed steps for making an excellent graduation video. With FlexClip and above graduation video making tips, you can create a great graduation video easily and quickly for free. Actually, FlexClip not only can help you make graduation video but also can assist you to create many other videos, such as Anniversary Video, Training Video and so on. So helpful this software is, why not you go to FlexClip to have a try and explore more.