There are many occasions to be happy about - wedding, graduation, move to a new home, so why not send a custom video congratulations card for those special occasions that call for one! Here we introduce a powerful online congratulations video maker to help you easily create a congrats video with free templates in minutes.
Create free video congratulations cards for any occasion from professionally designed templates at FlexClip online congratulations video maker.
You May Also Like: Make a Greeting Card Video for Birthdays, Holidays & More >
Part 1 Online Congratulations Video Maker with Free Templates
Frankly speaking, various software can help you create a congratulations video. Which one should you choose? Here we highly recommend FlexClip's online congratulation video maker.
Pretty easy and free to use
Millions of royalty-free resources
Loads of ready-made templates
What's more important, it comes with stunning video templates that enable you with endless inspirations to create your own congratulations video with great ease. From a wedding congratulation to graduation, new baby congratulation to new home congratulation, and more, FlexClip gets them all covered!
Wedding Congratulations Video Templates
A couple's wedding day is often the most memorable day of their lives. Cheers the happy couple with video wedding congratulations cards that you can make in minutes with the free templates below.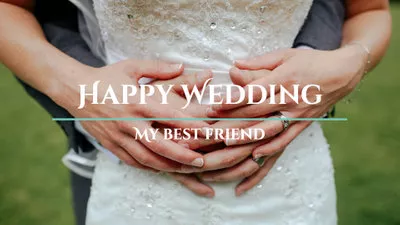 Weeding Congratulations Video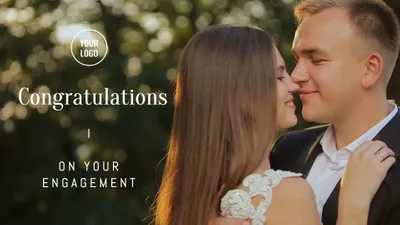 Engagement Congratulations Video
Graduation Congratulations Video Templates
Graduating is a great achievement, and we know that you want to send your best wishes and congratulations to the grads. Check the free templates inspiring you to create a custom graduation congratulations card.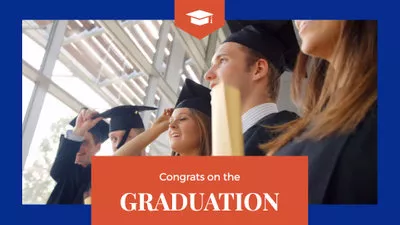 Congrats on Graduation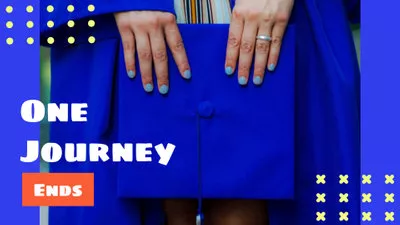 Graduation Congratulations Video
New Born Baby Congratulations Templates
Looking for a new baby congratulations card video to send to friends and family? FlexClip has a wide selection to choose from to make your own newborn congratulations video to congratulate a baby boy or baby girl.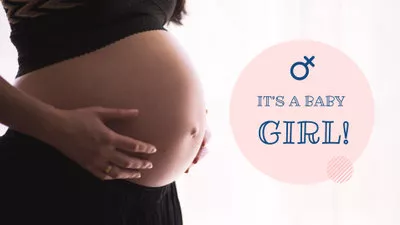 Newborn Congratulations Video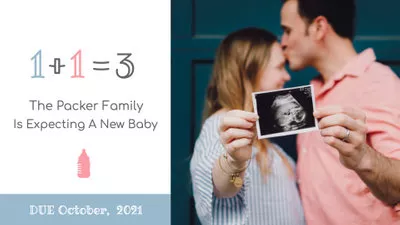 Congrats on New Baby
More Congratulations Video Card Templates
Besides that, FlexClip can meet all your needs in making video congratulations cards on all occasions - congratulations on a new job, congratulations on the new home, etc.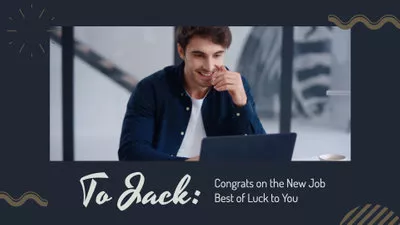 New Job Congratulations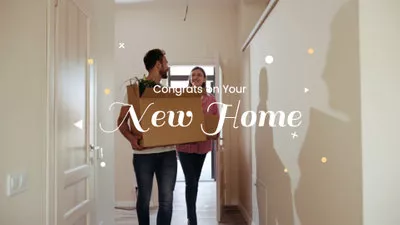 New Home Congratulations
Part 2 How to Make a Congratulations Video
Ready to get started creating your own congratulations video? Let's get the ball rolling.
Step 1
Visit
FlexClip Homepage
and begin with a template or start from scratch to create your own congrats video.
Step 2
Go to the Media option to add media from a local file or FlexClip's extensive media library. You can trim your clips, reorder them, and
apply transition effects
if necessary.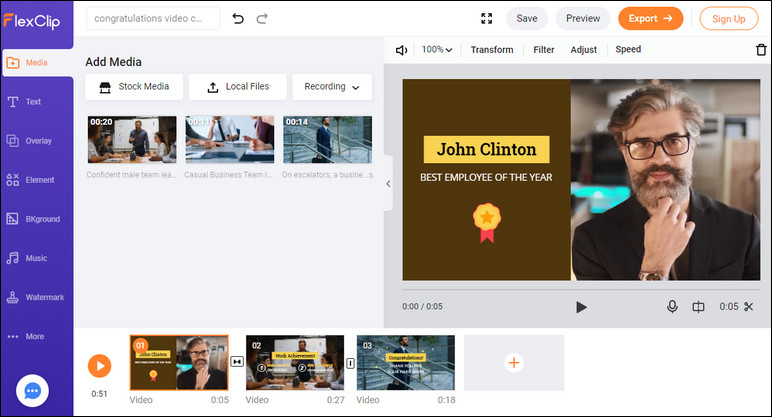 Image Board: Make a Congratulations Video - Add Media
Step 3
Make edits to your congratulations video as you wish, like adding
text animations
, setting background music, recording the voice-over,
adding emojis/stickers
, applying filter effects, and more.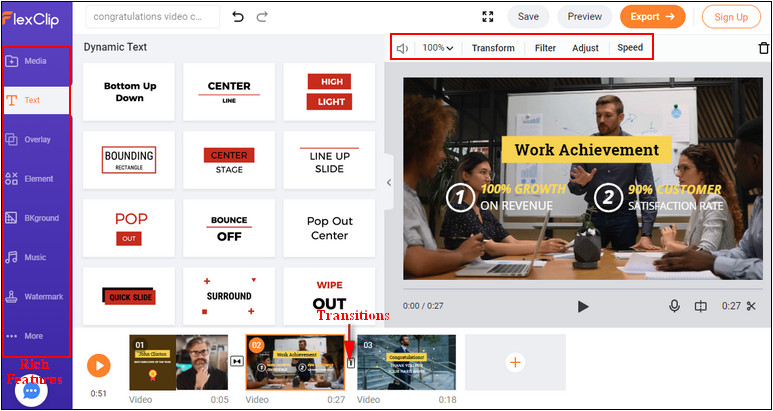 Image Board: Make a Congratulations Video - Edits
Step 4
Preview and download. Click on the Preview button on the top right to enter the live preview window. If you're satisfied, export it now; if not, you can continue editing.
Final Words
Get inspired? Just go to FlexClip Online Congratulations Video Maker and turn your great ideas and congratulation messages into a warm-hearting congrats video in no time!