Briefs: How to make family videos with family-moment footage, photos and music? Grab our free family video maker, soon you can digitize your family moments and create a lovely family video in a minute. Also, check the skills and ideas of shooting & editing beautiful family videos.
Family together moments & memories are the sweetest. There are dozens of ways to save & organize your sweetest family moments, one of them is making a video with family shots & images. Family videos are excellent media to express love to family members, like, your kids, parents and grandparents, etc.
Unlike amusement videos and marketing videos, family videos require much less on shooting & editing skills, but it's no harm to grab some skills & ideas to make lovely family videos. Now, let's check an easy free video editor and some tricks to make an outstanding family video easily!
CONTENTS
Part 1.Family Video Editor Free Online
It's easy to digitize your family videos & photos and make a beautiful family video with music, as long as you have a right video editor for you.
Professional designers often choose some advanced, steep learning-curve video tools, like Adobe Premium and spend hours in fine-tuning a family video. However for average users, a much simpler family video maker is a wiser choice. For instance, the free video editor online – FlexClip.com is a more accessible option.
About FlexClip Video Editor: FlexClip is a comprehensive & easy-of-use video maker online that allows users to make stunning family montage videos online with old photos & shots from smartphones, GoPros and many more devices. There are a variety of cool stock images, videos and royalty-free music available, along with transitions & effects that help work out stunning family videos. If you want to make family video with beautiful music, FlexClip allows you to either upload the music, or search it in its extensive music stock.
Part 2.How to Make Your Family Video for Free?
Step 1 Click [Make a Free Video], and find a template to begin or start from scratch.
Step 2 Upload your family photos and videos as storyboards.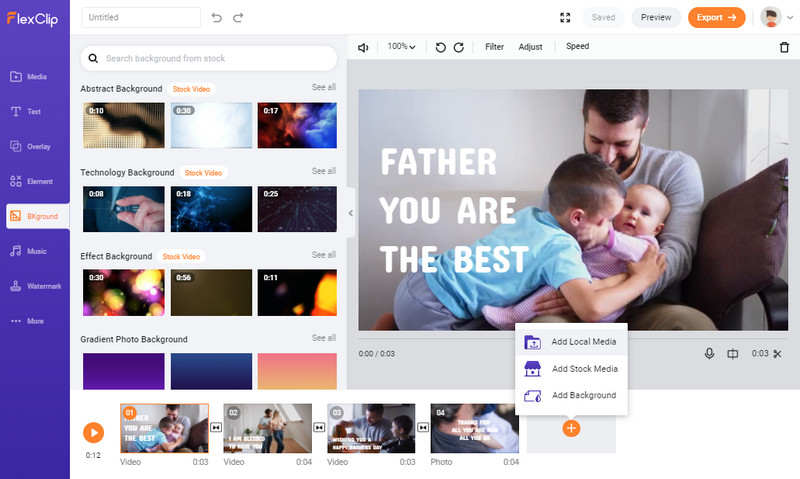 Image: Upload your family photos and videos.
Step 3 Edit your family video as you wish. Here, you can apply retro effect(or another effect) to each video you upload, and choose from tens of slide-in/slide-out transitions or millions of transition videos in stock media.
Tip: Transitions are very useful for creating various family montages. And if you like, you can further read "11 Best Video Transitions That Genius Creators Use".
Step 4 After editing your video creation, preview and download your family video.
Part 3.Five Tricks to Make An Engaging Family Video
#1.Utilize Video Captions & Scripts
Adding video texts(captions or scripts) will help to highlight what you want to express in video.
#2.Make Use of Voiceovers
We communicate & receive a large amount of information via voices & sounds daily. Voiceovers are a great power in family video creation, whether you want to express love to your families or highlight previous happy/fun moments.
#4.Pet Images & Videos
If your family has raised some pets, then don't forget to include their moments in your family video. They are adorable elements to make a virus video.
#5.Zoom in, Zoom out & Trim
If you can play the video editing tricks of zooming-in, zooming-out and trimming well, your producing video will turn out to be awesome.
Part 4.Virus Family Video Ideas
Whether you want to create family videos to become popular on various video platforms or just keep these family videos for your personal saves, you can try these family video ideas:
Video eco-friendly activities with kids.
Family fun video.
Dog videos, cat videos, bird videos, etc.
Funny baby videos, such as, baby steps, giggling little ones... (Such a baby video always brighten a day.)
Make family video compilation with all kinds of hilarious videos.
I love my family video.(Moving & touch video)
Wedding video.
Improtant days for families. Graduation day, celebration day, anniversary day, to name a few.
Part 5.Closing Up
Anyway, wish this article is helpful for you. Hope you've created your wanted family video with us. If you have any questions, welcome to reach us. A share of this article or the app - FlexClip.com is encouragement to us!