Just want to DIY videos for fun? Here're 7 great ideas to make a fun video for amusement or business. We try to cover everything you are looking for to make an awesome fun video, from introducing an easy free video maker to fun video creation ideas, from fun video editing tricks out of normal/boring footage to business tips of creating fun videos.
CONTENTS:
Fun videos have won billions of views & laughters in video platforms, like FB, TikTok, YouTube and other places! Fun videos are perfect media to pique interests & gather people around. No one will hate a fun video.
Fun Video Benefits: What You Can Accomplish with Fun Videos?
For businessman, fun videos have great potentials to promote business to next levels. (When fun videos go rival, they help business grow exponentially.)
For average joe, fun videos bring happiness & laughters to daily life. Watching fun videos, people forget about troubles and enjoy comforts temporarily.
For health, doctors say that laughters help relieve stress, improve immune system, and even relieve pain.
Fun videos have so many advantages for both creators and audiences. Why not make your own funny videos? It shouldn't be difficult to make fun videos for friends, families, babies or business purposes, as long as you've got a right fun video editor.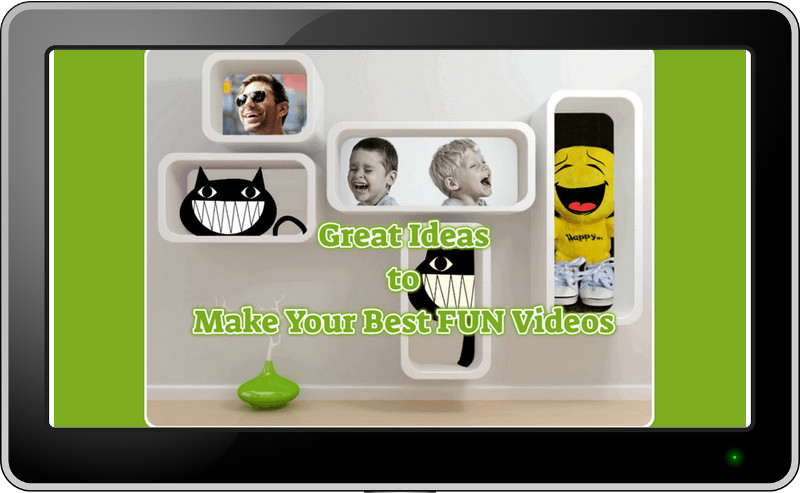 Image: Let's DIY fun videos freely now.
Part 1: Easy Fun Video Maker Free Online
For people lacking design experiences, a right fun video maker will provide a lot of help and make video edits way easy.
On the Internet, many a software vendor advertises their funny video tools to be free & easy. Often, facts are these tools are not 100% free, and thier navigation's easiness varies. Instead, you can try one of the few funny video makers – FlexClip: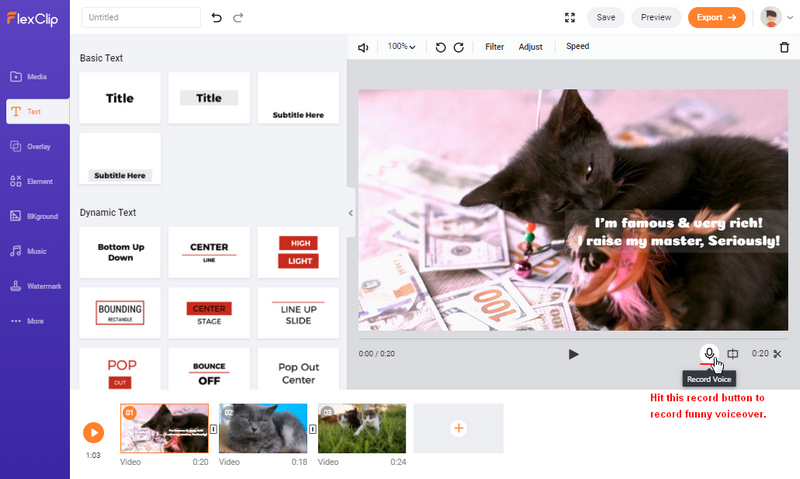 Image: How to make your fun videos easily with FlexClip.
Reasons to Choose FlexClip:
Free to use online(for Chrome, Safari & FireFox).
It's only a few clicks away to cut and compose a customizable funny videos.
Support you record your own funny voiceovers.
Insert funny pictures, videos as you like.
Add fun memes, scripts, etc.
Adjust footage speed to make video fun.
A large library with fun videos and pictures.
Need a Logo for Your Very Fun Videos?
Part 2: Best 7 Ideas for A Funny Video
With a handy fun video maker to ease your creation, you need to focus on video content, figuring out how to make your video fun: Video content is everything! Playback your footage, try to find out some fantastic ideas to make a fun video via clipping and merging.
1.Funny Animal Video Series
Hundreds of funny videos about cats and dogs have won 10,000+ views in YouTube, many of them spread like a flu: Dog fighting for nonsense, cat dancing on the floor, cat wearing a sad face, dog falling to asleep, etc. - Those are real cases and brilliant ideas to make a funny animal video that people love.
2.Silly, Stupid Videos
TikTok is rapidly growing to be the largest streaming giant with a large number of silly videos that people love. So does its rival - Instagram Reels. In the stressful & rapid-pace world, people really need to consume stupid video contents and enjoy a leisure moment.
If you are considering making a fun video, it's not a bad idea to merge silly moment clips and make a dumb video for amusement.
3.Fall Videos
Baby falls, young mom falls, handsome cute guy falls, to name a few, audiences will like such a video and laugh with tears.
4.Funny Baby Series Videos
Funny babies ideas include: Baby acting like an adult, Baby crying for a boyfriend or a girlfriend, Baby eating lemon (and hating it), Baby pronouncing some words seriously but his/her sounds are just awkward...
Cute babies are the most innocent creatures on the earth. Their funny videos can touch audiences deeply, and laughters burst out.
5. Tricks & Pranks
April fool videos or prank videos are another type of fun videos. If you decide to make prank videos, put safety first and never overdo it. You won't want to hurt people and get in trouble. Remember terrible prank videos make no fun, they only make audiences feel afraid.
6. Parrot, Bird Videos
Our big-head bird – Mr. Parrot, is always the main character in various fun videos. Mr. Parrot speaking and talking like a human makes a strange sense of humor. Besides, their walks are distinctive and hilarious.
Consider adding memes or funny scripts to videos, they can level up your fun bird video.
7.Wired Costumes
If you are a fan to a funny TV drama - The Big Bang Theory, then you must remember wired costumes Howard and Shelton wear for Comic-Con fair.
Wired costumes attract attentions, and soon laughter burst out. For a fun video, wearing wired costumes is a "plus" joke.
Above ideas are what we've collected and learned from popular funny videos across popular video streaming platforms. But it doesn't mean you must follow these ideas to create your fun video. It just gives you some ideas.
Part 3: How to Create a Fun Video with Normal or Boring Footage?
Not all producers are fortunate to capture funny moments in time using a camera/smartphone. More often, fun videos can be produced creatively from normal or boring footage. Below are some advanced tips & tricks used by professional producers to turn normal and boring footage to a fun video:
Try Punchlines: Let your video story goes on in one direction, then twist expectations and surprise viewers with unexpected connections.
Sarcasm or Irony: Say something opposite to what you mean.
Exaggeration: Use exaggeration, or make some video parts absurd - they will help bring laughters.
Add Funny Voiceovers & Scripts: Humans are auditory and visual learners. Take advantage of funny voiceovers & scripts, they'll take your fun video to the next level.
Loud, Goofy & Rowdy: Loud, goofy and rowdy videos are more engaging.
Find Fun Moments in Life: Designing a fun video on purpose may fail. What makes people feel funny is those strange moments capturing in real life.
Story: An intriguing story is a must-have for all videos. Without a story, audiences will be distracted or just turn off your video, and fun video won't feel fun any more.
You can try these tips to create your own fun videos as well.
Whenever you create a fun video, keep in mind that different people has different sense of humor. By knowing your audience tastes, you'll have a better understanding of "What is a funny video?" to them and make a better fun video with lots of likes.
Part 4: Fun Video Tips for Business & Product Promotion
#1.Where to add your business product matters a lot.
For business purpose, above tips won't be enough. You shall consider how to add your business to make the fun video across, and how to make people remember your product without only remembering the fun story.
#2.For commercial video, it's best to reveal your product in the climax of the fun story. Introducing your product in a fun video elsewhere other than its peak might not be good for business, since audiences are likely to remember the fun instead of your product.