Briefs: How to make a tasty video for foods & drinks? How to shoot a cook video like a professor? Any video editor recommends for average users, then you can make a custom food video fast? Follow basic shooting tips for food to record your best yummy video. FlexClip will help you produce your food video swiftly & effortlessly.
No one can resist the temptation of a mouth-watering dish, that's the reason that tasty recipe videos are always popular.
Whatever you are planning for, or whoever you are (i.e., a chef, a cook, or a food lover, to name a few), this article will offer you easy shortcuts on how to make an outstanding food video, to share your recipe & happiness worldwide.
Part 1 - What Are The Hottest Video Types for Foods & Drinks?
If you love to watch videos in YouTube, then you'll find that quite a few YouTube channels sharing tasty videos have won a goldmine of subscribers. Discover how to create great YouTube videos.
3 types of food videos always rank top: "Losing weight diets", "Trying out new dishes & eateries", and "Cook & Recipe".
Part 2 - Essential Tips to Record/Shoot an Engaging Tasty Video
Like yummy foods have their secret recipes, and recording an engaging food video is no exception. In this part, we aim at those essential tips to record a great food video.
1. Choose Where to Shoot Tasty Video for Foods & Drinks. (Lights)
Only with enough lights can your video show color, brightness & freshness. A dim environment often ruins food video quality.
So when you shoot a tasty recipe video indoor, you need to consider lights. Choose a video spot near a window with abundant natural light. Or, if you insist, you can set up lights indoor, like a professional vlogger does.
2. Shoot Vertically, from High Top to The Board, Bowl or Pan
Image: How to shoot tasty recipe video - Tricks: Shoot from top to bottom.
Abandon the standard way to record a cook video. Instead, fix your camera or smartphone on the top where you cook, recording what's going on in the bottom. This way, audiences can see all recipes & cooking details in an overhead view.
3. Keep Your Camera Closer
Want to show how tasty your food is? Try moving your shooting device closer, or replacing with a longer focal length, so that yummy details get displayed.
4. The Importance of Choosing Plates
Foods served in different plates will have a vast difference in video performance. When recording a tasty video, all white or all black plates always perform better than other kinds, and they are ideal plates to record a tasty video for foods and drinks.
Another thing, the simpler the plate is, the better experience viewers have. You'd better not use plates that have prints, since potentially those prints will get audiences attention away from your cooking.
5. Tricks of Table and Table Cloth
Choose a right table. For example, a texture table will reflect how yummy foods are, or how fresh your food materials/ingredients are. Besides, its wooden color will "rhyme" with food colors.
If you think your table isn't ideal for recording a cook video, no need to buy a new one. A table cloth in texture or a single color will save your scene.
6. Keep Your Frame Simple
Don't make your table look complicated or stuff it with other foods. It will ruin the beautify of food cooking and make your picture intricate. - Just frame the ingredients that you are using now.
7. Use Scripts and Voiceovers When Necessary
Especially for recipe videos, it's necessary to list ingredients, favors or other recipes that you are putting in the pan/pot/boiler. Video text scripts and voiceovers will be necessary. Also, some video editors, like FlexClip, can help add them in editing food video.
Part 3 - How to Make Your Tasty Video for Foods & Drinks?
For starter, it's critical to find a proper application to help "glue" tasty video clips together and make your own food video.
Given that many readers or cooks use computers not so often, some of popular video editors may not appear to be a very good choice. (Some advanced editor has complex navigation.)
Any better recommendation? Hmm…
Try FlexClip.com – the few free video maker online with super easy interface!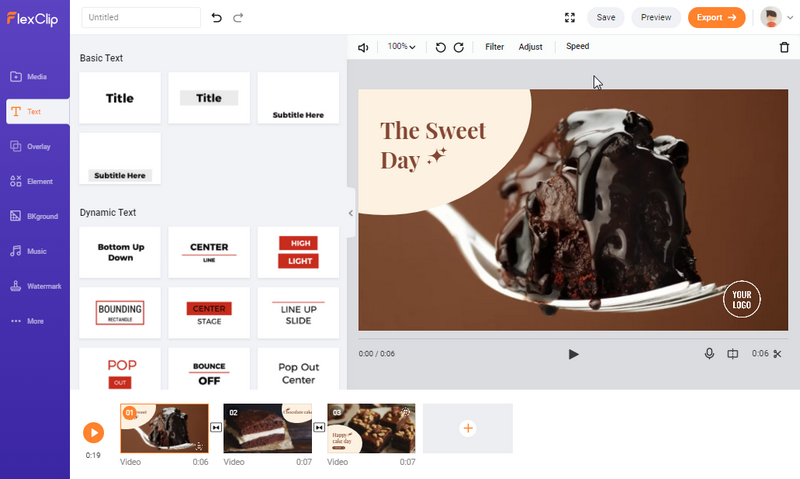 Image: FlexClip helps you make tasty food video online.
It's only clicking away to make a tasty food video. And, even better, no design skills are required!
Let's check it out:
How to Make Awesome Tasty Video for Foods & Drinks Freely?
Step One, Open FlexClip.com, and register a free account.
Step Two, On editor page, find [Start From Scratch] to create a cook video project. Or, you can search for professional food templates to make edits.
Step Three, Upload pictures and video clips by clicking [+ Storyboard], [Add Local Media] and select your file in sequence, and then, make customization until you are satisfied.

How to make custom video edits? In editing interface, FlexClip allows you to add text scripts, record voiceovers to explain a chosen video storyboard. FlexClip doesn't limit you to upload food images/collages as storyboards, you can set the time lapse - defining how long a tasty recipe frame will get displayed. And, you can easily switch tasty storyboard orders.

On the top left, [T] lable allows you to add various texts, or scripts to explain current video frame, like attaching ingredients, materials, and how long to cook, etc. The next music icon allows you to upload or search for a beautiful background music.

Add logo watermark: If you are a new YouTuber, then you may want your channel logo floating on your cook videos - Just find cog setting icon on the top left to upload your channel logo.
Step Four, Preview and export your tasty food video. [PREVIEW] gives you a real-time play for your food video, before really download it to an MP4 file.

If you are not satisfied with your tasty video, a click on [Continue Editing] will take you back to editing interface. When finished, [Export Video] will present you 3 video quality as food video outputs – 480P, 720P and 1080P.
Part 4 - Over to You
Do you find any tips for tasty video useful? Have you made your mouth-watering foods & drinks video? Hope you've gotten what you want.