What are 480P, 720P, 1080P, 4K, HD, Full HD and Ultra HD? These terms are everywhere - We see these tags in YouTube, video output, TV specification, etc. But, are they the same things? How to understand them? Which resolution is the most friendly video resolution for audiences & video platforms? Let's find answers today!
CONTENTS:
Part One: What Are 480P, 720P, 1080P and 4K for Video? What's HD, Full HD and Ultra HD?
1.Get to Know Video Resolution via YouTube
Want to get a direct impression of "How a 480P video looks"? You can just open any typical YouTube video with a smartphone. The YouTube video that you play on a smartphone, is a 480P video.(YouTube is defaulting video quality to 480P on cellular networks.) Or, you can deploy yourself a 1080p+ display monitor. Pay a visit to YouTube, and adjust the quality of a video by [Settings] > [Quality] > 480p, 720p or 1080p.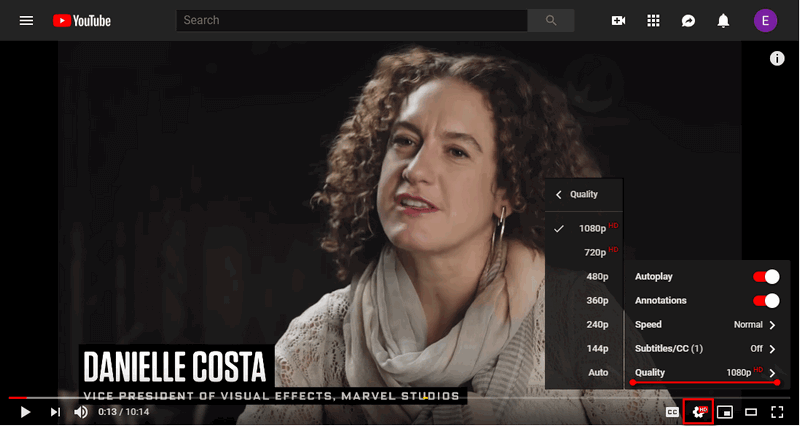 Image: Check & switch YouTube video quality among 480P, 720P and 1080P.
2.What Do 1080P, 720P, 480P And 4K Resolutions Mean for Video? What Are The Differences?
480P, 720P, 1080P and 4K videos are all video display resolutions. Or simply, you can understand them as video quality.
480P: 480P(SD), known as the standard definition, stands for 640px*480px video/image resolution with an aspect ratio of 4:3.(Exclusively for YouTube videos, 480P is 854px*480px.) A 480P source is composed of 480 horizontal progressive scan lines/pixels in vertical direction and 640 vertical progressive scan lines/pixels in horizontal direction. Generally speaking, 480P contains 307,200 pixels to store video graphics information.
720P: 720P(HD), known as widescreen high definition, is short for 1280px*720px resolution with 921,600 pixels in total. It's the minimal requirement for HD. 720P is a progressive HDTV signal format with 720 lines/units/pixels vertically for horizontal progressive scan and 1280 lines/pixels horizontally that needs vertical progressive scan. Its aspect ratio is 16:9.
1080P: 1080P(Full HD) has a resolution of 1920px*1080px, and it's the cap of HD resolution. 1080P follow progressive scan(non-interlaced scan) with 1920 pixels/scan units horizontally and 1080 pixels/scan units vertically. 1080P is also called Full HD, FHD, BT.709, and Blu-Ray with 2,073,600 pixels.
4K: 4K(Ultra HD) goes with 3840px*2160px resolution (with 3840 pixels/units horizontally and 2160 pixels/units vertically). It has 8,294,400 pixels to keep graphic information.
In all: We've summarized an equation to explain the relation & difference of 480P, 720P, 1080P and 4K: 4K = 4 x 1080P = 9 x 720P = 27 x 480P.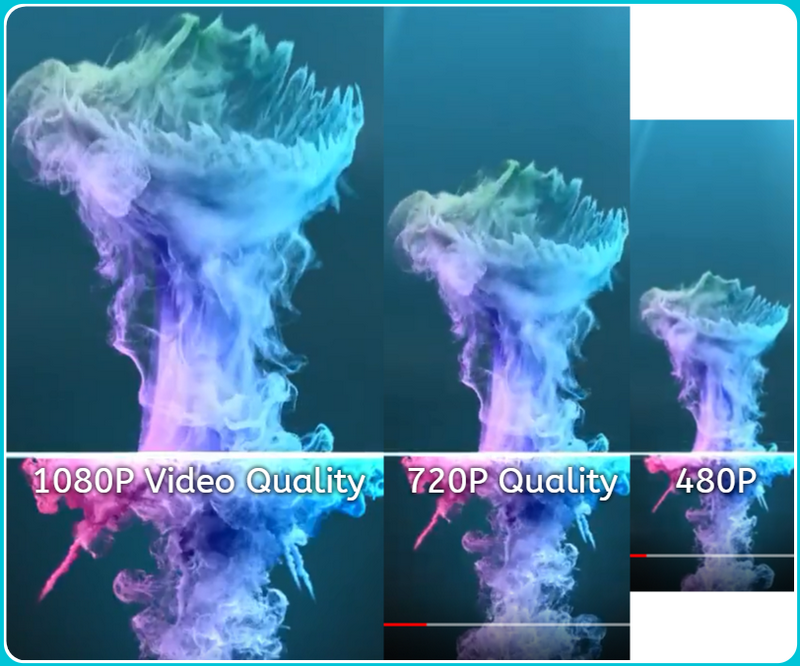 Image: Compare video quality of 1080P resolution, 720P resolution and 480P resolution.
Further Reading: Technically speaking, all of these video quality/resolution are enhanced definition digital TV formats. "P" standing for progressive scan (non-interlaced) of horizontal lines. Or, you can check our hand-crafted illustration of video resolution below.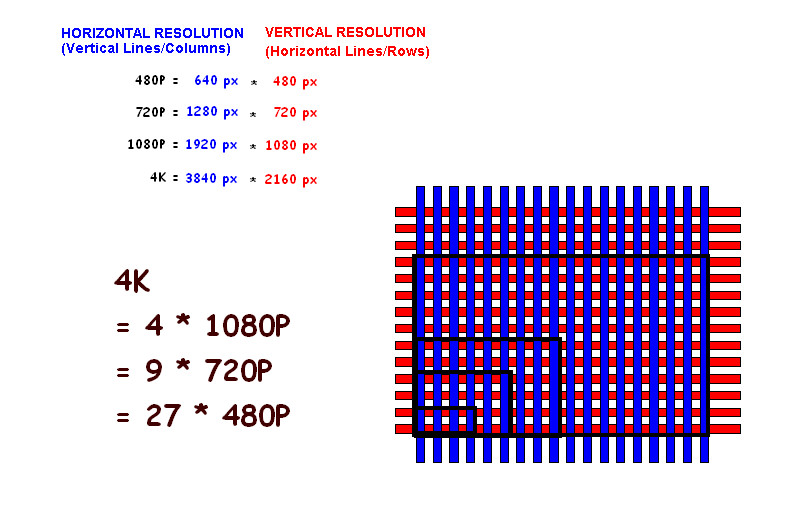 Image: Video Display Resolution - The differences of 480P, 720P, 1080P and 4K videos.
Part Two: 480P, 720P, 1080P, Or 4K, What Is The Best Video Resolution to Video Creation?
Have no idea of how to choose a video resolution after designing a video? We've rounded up the best strategies for your consideration:
If your video is made for YouTube, Hulu and Vimeo, 1080P is a good choice, which is more friendly for audiences and platforms. 1080P video has a good video quality and a much smaller video size compared to 4K video.
If your video is made for smartphone users, 720P video turns out to be a wise option for mobile devices. (Nowadays, the majority of brand-new Android smartphones has a display at 1440px*2560px, while iPhone series pack a screen of 750px*1334px or above. So, 720P is better.)
If your video targets tablet users, consider outputting your video in 1080P. Tablet display ranges from 1920px*1200px to 2736px*1824px, and 4K video won't be proper.
If you are considering burning video in a DVD or Blu-Ray disc, it's common to choose 720P for DVD-R and 1080P for Blu-Ray disc. (Blu-Ray disc is famous for recording large 1080P videos.)
Part Three: How to Convert Video Resolution Easily?
If you want to convert 4K video to a 480P/720P/1080P video, then you'll need a resolution converter for an assist. FlexClip free video converter online is versatile to convert any video among 1080P, 720P and 480P freely in minutes, you can try it here: https://www.flexclip.com/tools/convert-video/.
Just to upload your 4K video, select a video resolution from 360P, 480P, 720P and 1080P, and start conversion for free.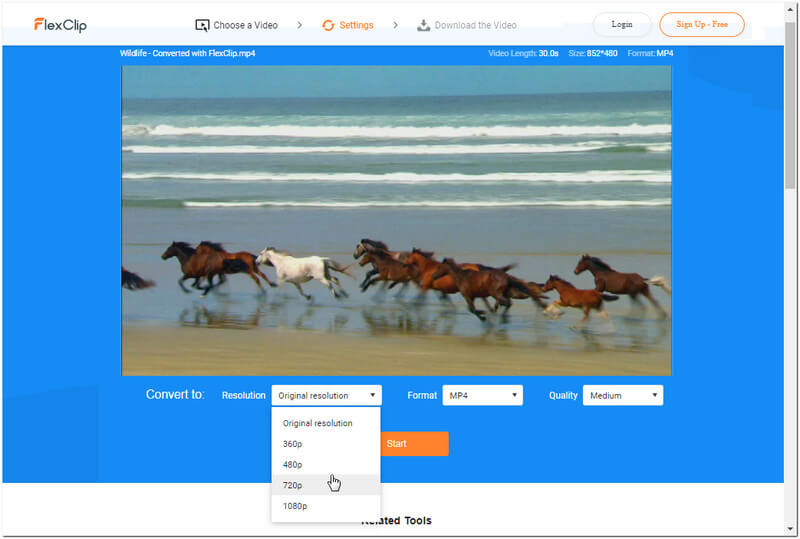 Image: Video Resolution Conversion - Convert 4K/1080P/720P video to 1080P/720P/480P for free online.
Part Four: Distinguish Video Resolution from Screen Resolution
"480P", "720P", "1080P", "4K" are also used to label monitors and consumer digital devices, following the standard of National Television Standards Committee. There are some differences and connections in video resolution and screen resolution:
Case 1: When downloading a video online or buying DVDs, you see labels of 480P, 720P, 1080P and 4K. They are all video graphic resolutions.
Case 2: However, "480P", "720P", "1080P", "4K", "HD", "Full HD" and "Ultra HD" printed on a digital device specification, (i.e., smartphone, tablet, TV, laptop, desktop monitor, etc.) are consumer device resolutions (a.k.a, hardware screen/display resolutions).
Q&A:
How to distinguish 4K video from 4K monitor easily
Think the 4K monitor like an ice-cream machine, then 4K video is like an ice-cream. 4K video needs 4K display to render.
What is the requirement of watching a 4K video
A 4K display + a readable 4K video file(4K MP4).
Can I play a low-resolution video with a high-resolution device/display? (For example, can I play a 1080P/720P video on a 4K TV?)
Yes. 1080P video can be rendered to the fullest on 1080P+ screens.
Is it possibile to play a high-resolution video on a low-resolution display? (Such as, can you watch a 4K video on a 1080P TV?)
Yes! If you use a 1080P TV to play a 4K video, you may find 4K video may look sharper than a regular 1080P video. It only happens when your 1080P TV has advanced CPU and RAM to compress 4K video contents to render a real-time 1080P video.
Part Five: Wrap It Up
Although 4K video is cutting-edge technology, it doesn't make it universal and accessible for all audiences. So far, only 4K cameras can record 4K videos, and only 4K and 4K above TVs are capable of playing 4K videos to the fullest. That makes real 4K videos unavailable on a large scale.
On the contrary, 1080P videos with advantages of high quality and relatively small size, have dominated video streaming world.
Lastly, if you want to make a video in 1080P, 720P or 480P within mouse clicks, try FlexClip.com – it's free, easy & web-based.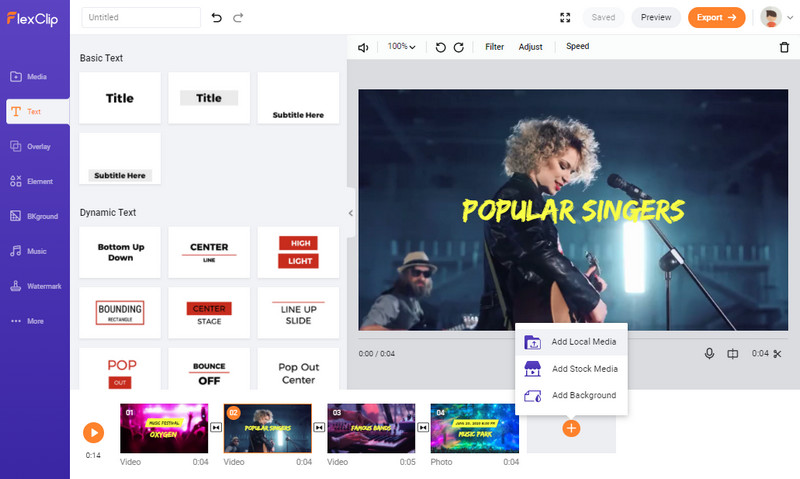 Image: Make a video in 480P/720P/1080P resolution freely.