Briefs: Instagram Reels is a new platform for short-term videos with lots of potentials & opportunities. The article will walk you through all features of Instagram Reels and related tips. You'll read "How to use Instagram Reels?", "How to create IR video?" and "How to make your IR rival?".
Part 1.Instagram Reels Briefs
What Is Instagram Reels?
Launched on Aug 5th, 2020, Instagram Reels is designed for creators to make & share short-form videos on Instagram. It's owned by FaceBook and now available in over 50 countries.
"Reel" is a new term, meaning short-form videos created on IR (abbr. for Instagram Reels). IR lets creators shoot various types of short videos, and viewers decide whether to watch and follow. Learn the best time to post on Instagram.
Instagram Reels Background, Public Loves & Hates
The timing for IR launch and many features of Instagram Reels coincide with TikTok's. Though IR product director insists IR is a different product, the public doesn't buy what they say: WSJ sites Instagram Reels as another copy app of Instagram.
Part 2.How to Use Instagram Reels?
A)Sign up.
If you don't have an Instagram account, you need to sign up for a free Instagram account. (If you have a Facebook account, you can use it log in.)
B)Find Interesting Reels and watch Reels videos.
Click in a page of an Instagram account, then find the video play icon (It looks like YouTube button in black and white) below his/her profile. As long as he has shot/uploaded some videos as reels, you can find or watch them there.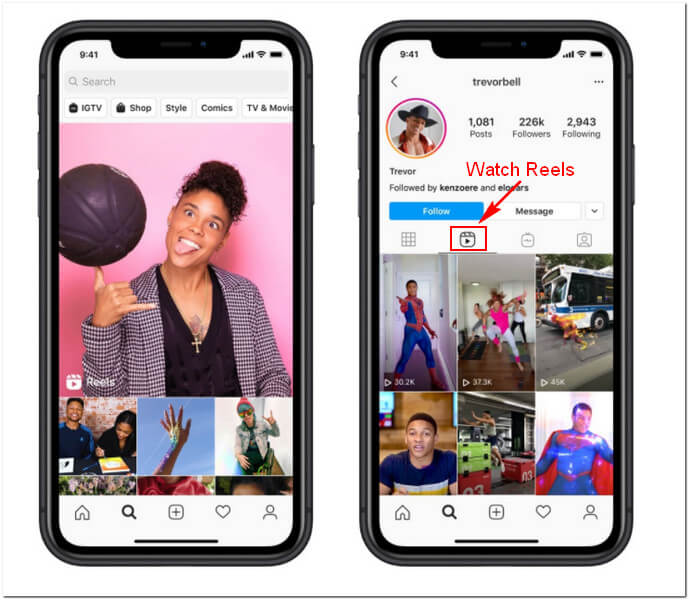 Image: Find interesting reels to watch and follow.
C)Build your following.
If you are a video creator, then Instagram Reels is another wonderful video platform to build your following.
Part 3.How to Make Instagram Reels Video?
Step 1 Enter Reel filming. On your Instagram account page, tap your profile avatar. Next, tap the [+] icon on the smaller avatar on the top left of the new interface, you'll enter the camera mode. Lastly, change the shooting mode from "STORY" to "REELS", and you'll be able to create a Reel video.
Tip: Currently, Instagram Reels feature is only available in 50+ countries. So if you don't have Reels in your account, you may wait some time for Reels' releasing, or alternatively, switch to other short-term video platforms, like TikTok.
Step 2 Choose your camera. Instagram Reels film function allows you to shoot/film a footage, either from your front camera or the back camera.
Image: Choose or change your shooting camera.
Step 3 Shoot/Film a reel footage. There are 4 setups for reels filming to render a stylish shot: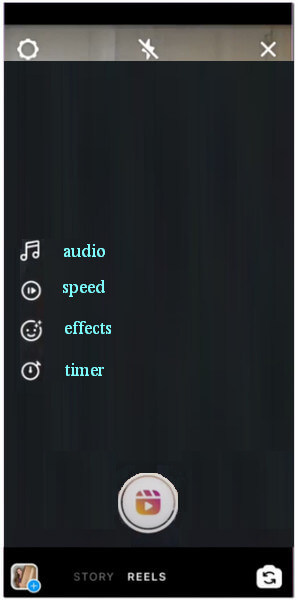 Image: 4 setups for reels shooting/filming.
Audio - It allows you to search through a vast library of songs for your filming.
Speed - The filming speed ranges from 0.3x to 5x. It's much useful to create funny reels.
Effects - There are a ton of playful filming effects. With a click of it, your film button will change to effects button, and you can scroll and preview them in real-time.
Timer - Set up how long to shoot your reel. If you want a 10-second reel without trimming, then Timer can help you complete it. Before filming, it will count down.
Step 4 Enter caption or hashtags and share your reel.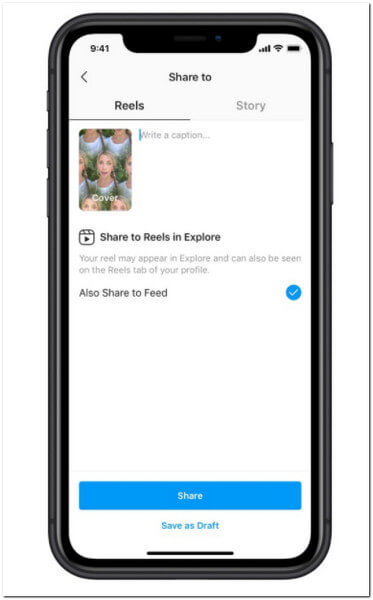 Image: Share to Instagram Reels.
Part 4.How to Edit Instagram Reels Video?
Instagram Reels filming functionality is not good enough to create a stunning reel. If you want to make your reels outstanding and engaging, you need some other tool to upgrade your reels.
Preparation:
First Download your Instagram Reel video.
Second Prepare the things to upgrade your reel, such as, text for video, your own music, picture, video, etc.
Third Go to Reels editor - FlexClip.com.
What Is FlexClip? - FlexClip is a powerful yet easy video editor online, which has almost everything you'll need to make a custom video professionally. It allows you to add stunning video effects, change video speeds, add transitions. If you want something you don't have, its extensive library will surprise you with a number of cool things.
How to Edit Your Instagram Reel, Easily & Professionally?
Step 1 Visit FlexClip.com and register a free account. FlexClip has vertical video editor to edit smartphone videos.
Step 2 Upload your download reels for editing. Go [+Storyboard] > [Add Local Media].
FlexClip lets you choose to upload a single reel video or combine several reels into one. Here, you can trim the best part and make a 15s video precisely.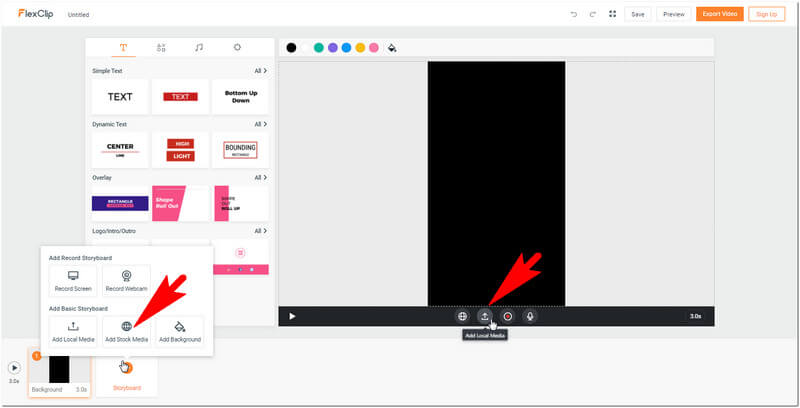 Image: Upload reels to FlexClip.
Step 3 Edit your IR video freely and professionally.
Feel free to enrich your IR video by adding other images, videos and music of yours.
Split your reel to a dozen of clips as storyboards, so that you can add some texts separately.
Render engaging visual experiences by adding fun/cute elements to storyboards, trying different music, or changing clip speed.
Step 4 Edit your IR video freely and professionally.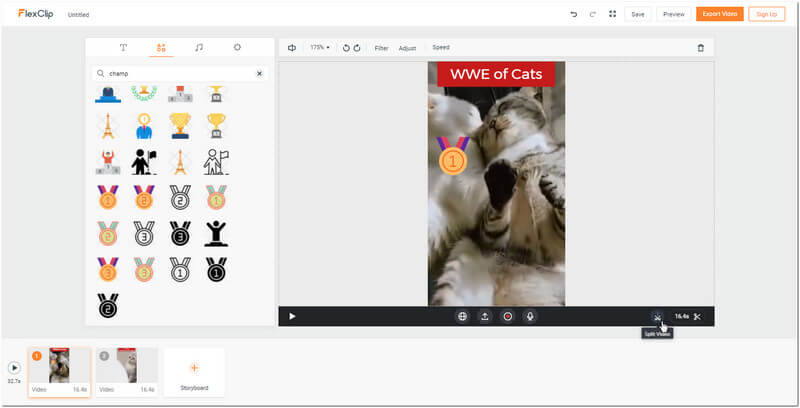 Image: Edit your reels.
Step 5 Preview and download your new video production for Instagram Reels.
Part 5. Ideas to Make Your Instagram Reels Rival?
Instagram Reels has an [Explore] section for top/hot reels, which has considerable exposure. To make your IR rival and gain following, you can try below ideas:
Insist using keyword-rich captions: When sharing your reels, make sure you've added a caption to current reel. A keyword-rich & content-related caption is good for ranking in Instagram Explore function.
Hashtags: Hashtags are much useful, since you are on Instagram. It'll help viewers find your reels in Explore.
Focus your Instagram account in a specific field (It will be user-friendly): Never share various types of reels like a celebrity. Viewers have no interest in your personal life.
Use memes, funny things/elements: People can't resist memes & funny things, these things will help keep audiences stay (with a high retention rate).