In this post, we will share quick tips on fixing Instagram music not working problem. Follow us and get more.
Instagram Music Sticker allows users to add music or a soundtrack to a photo/video in the Instagram story, and it makes your post much more appealing and engaging. Unfortunately, sometimes you may encounter the problem that Instagram music isn't available or not working.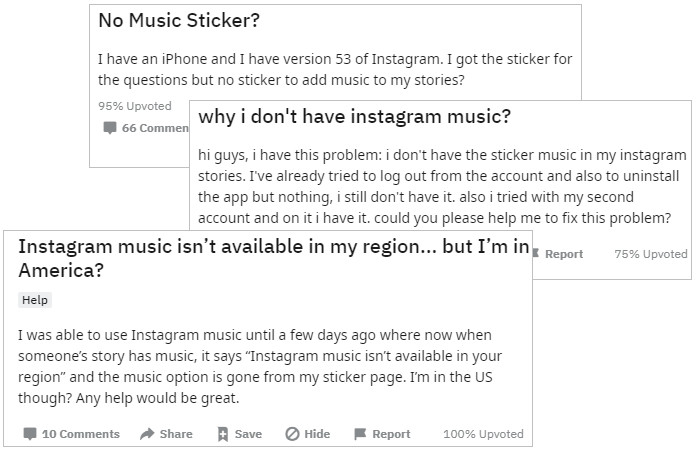 Instagram Music not Working Reports from Reddit
Don't worry! We have the perfect solution for you. In the following section, we share some quick hacks to fix if your Instagram Music Not Working!
Contents:
Part 2 How to Add Music to Instagram?
Can't Miss: How to Have Video Play On Instagram Story>
Part 1 How to Solve Instagram Music Not Working Issue?
Try these quick seven tips below to fix the "Insta Story Music Not Working" issue:
Instagram Music Not Working Fix 1 - Update Your Instagram App
If you want to access the Music Sticker feature and enjoy the music in Instagram Story, you need to update your Instagram app to the most recent version.
Sometimes updates are not possible without connecting to the Wi-Fi. So, try updating the Instagram app using your Wi-Fi to get Instagram Music working again.
Instagram Music Not Working Fix 2 - Log out & Log back in the Application
You can also try to sign in, sign out, and then sign back in to see if it's working. Follow the simple steps: go to your Profile > tap on three horizontal lines from top-right > go to Settings & tap on Log out button > log in using the same credentials and check if you can use an Instagram music story.
Log out & Log back in the Application
Instagram Music Not Working Fix 3 - Reinstall the Instagram App
Another fix you can try to solve the Instagram story music not working problem is reinstalling the Instagram app from your phone. Reinstallation can help you remove bugs that are present in the link & choking the story.
Instagram Music Not Working Fix 4 - Switch to Personal Account
Sometimes the reason why music not working on Instagram just because you're using an Instagram Business account. So, you can try giving it a try to switch your account to personal and enjoy the Instagram Music feature again.
Instagram Music Not Working Fix 5 - Switch To Creator Account
Switching to Creator Account helps many users to get the Instagram Music Story sticker working again. To switch to the creator account, follow the steps: go to Instagram Settings > navigate to the Account section > choose the option "Switch to Creator account".
Instagram Music Not Working Fix 6 - Use a VPN Application
Using a VPN can certainly help you access the Instagram music feature. Because of specific license restrictions, Instagram Music Sticker is now available in limited countries. But using a VPN application will let you hide your real IP Address, and you can replace it with any country's IP where Instagram Music is available.
Instagram Music Not Working Fix 7 - Contact Instagram Support Team
Contacting Instagram support team might/might not work for some users, but it's worth a try to fix the Instagram Music Not Working problem quickly.
Part 2 How to Add Music to Instagram?
Here is our simple guide on how to add music to an Instagram story.
2.1 Add Music to Instagram Story with Music Feature
Step 1
Sign into your account, and create a new Instagram story as usual, then swipe up to choose Music sticker from the set of options.
Step 2
Find Instagram Music sticker and tap on it.
Step 3
Then, it will bring to a library of thousands of songs, just select a song under the menu of Popular, Moods, and Genres.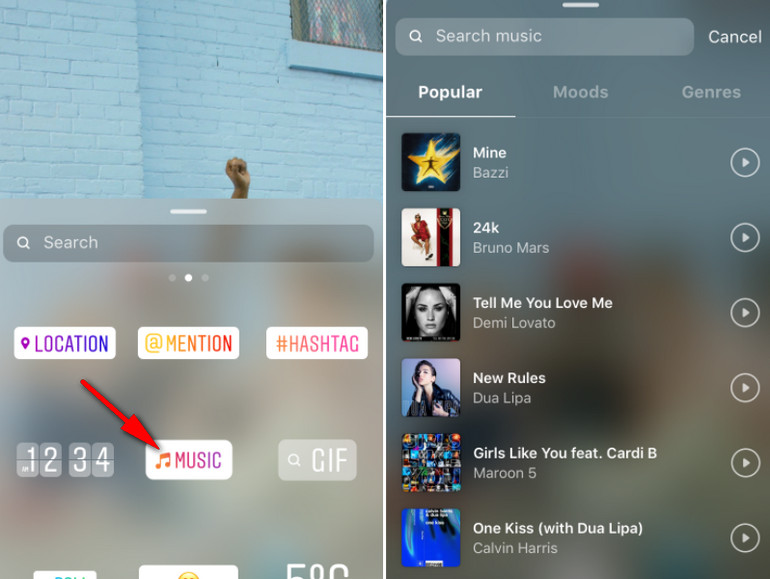 Instagram Music Sticker
Step 4
Once you finished, publish the story with your favorite music.
You can also choose a song before capturing a video:
Step 1
Tap the plus icon next to your profile picture or click the camera icon at the top right to open the camera.
Step 2
Swipe to the new "Music" option under the record button.
Step 3
Search for a song, select the exact part you want and record a video as the song plays in the background.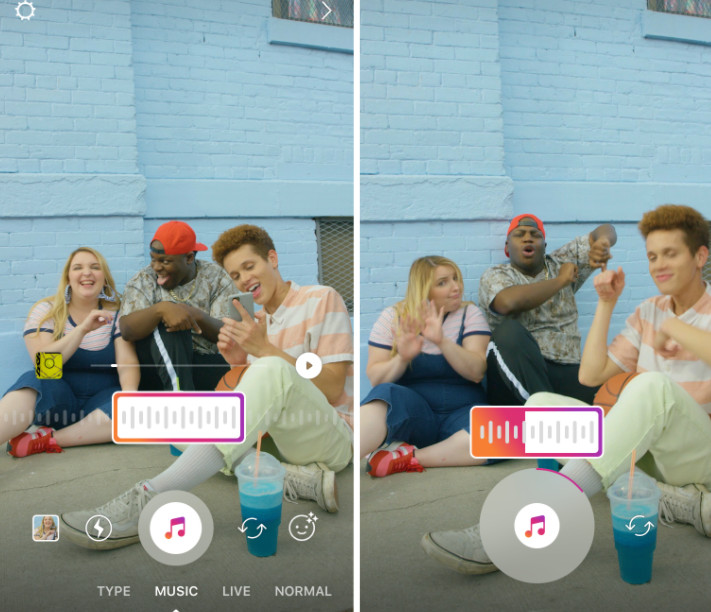 Instagram Music Feature
2.2 Another Way to Add Music to Instagram
The music sticker is now available as part of Instagram version 51 in select countries, and the ability to choose a song before capturing a video is available on iOS only. To help more users can add music to their Instagram story successfully, here we share another way to you, just click the button below and get started now:
Step 1
Upload videos and photos to the Media section and apply them to the storyboard. Here are also numerous stock media you can use for free.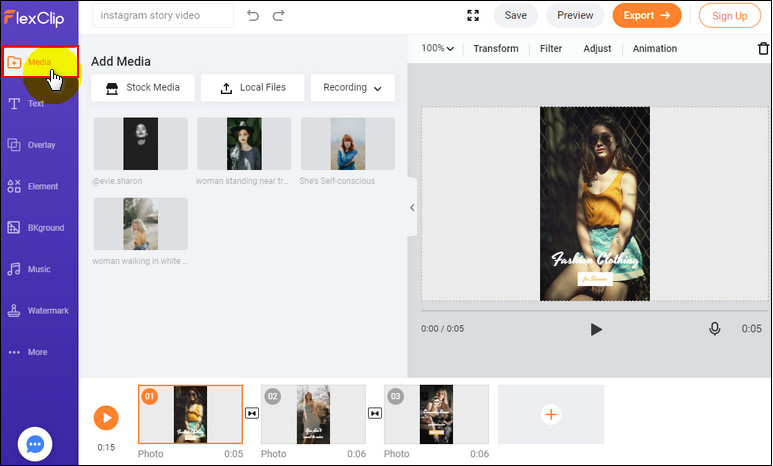 Add Photos and Video Clips
Step 2
Go to the Music section to upload your own song from a local file or pick one piece of music from FlexClip's music library.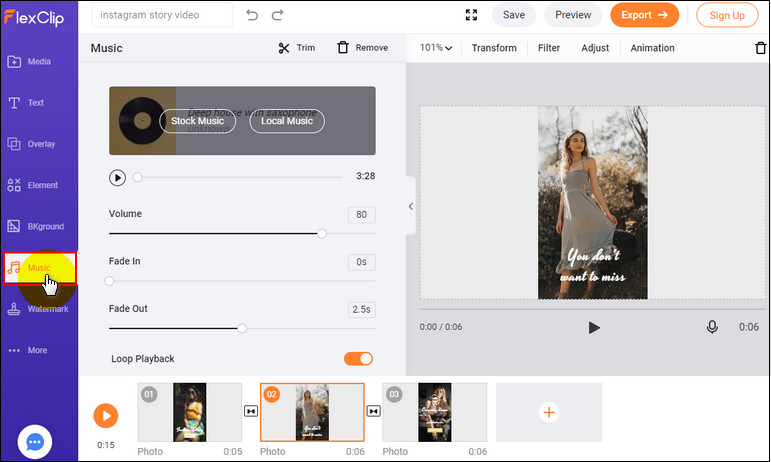 Add Music
Step 3
Make more edits to level up your Instagram video: add text, apply filters, change video speed, etc.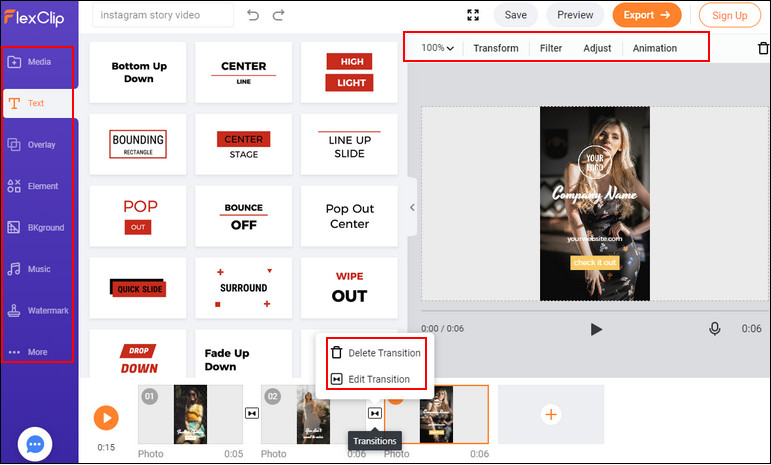 Make more Edits
Step 4
When you finished, you can click on the Preview button to preview your video, then download your video to share on Instagram.
Besides, FlexClip online video maker offers beautiful pre-made Instagram Story video templates inspiring you to make a stunning Instagram story video in minutes easily:
The Bottom Line
That's all about our instruction on how to fix Instagram music not working issue. Fixing it is pretty easier than you think, just try those fixes one by one! Hopefully, one of them will work for you.