A quick guide on how to add a link to your Instagram story! Check out and learn more.
If you're on Instagram, you've probably noticed the swipe up link. It allows you to post exciting content about a new product, service, or event and then encourage those users to "swipe up for details".
The Instagram swipe up link helps drive Instagram traffic to your website or other owned media by adding links to your Stories.
But not everyone has access to this feature. There are certain requirements you need to meet before you have access to it:
Have your profile set up as a Business Profile, and have over 10,000 followers
Or you're a verified user
If you have worked hard to win over 10,000 followers, then check the instructions on how to work that link below right now.
Reaching the staggering figure of 10,000 will be tricky. If you need help in making stunning videos for your Stories attracting more followers, you can turn to
FlexClip's Instagram Story Maker
.
How to Do a Swipe up Link on Instagram Story
Ready? Let's drive into how to do a swipe up link on Instagram story!
Step 1
Take a photo or upload one from your camera roll to your Instagram Story, and then click the icon at the top right that looks like a chain.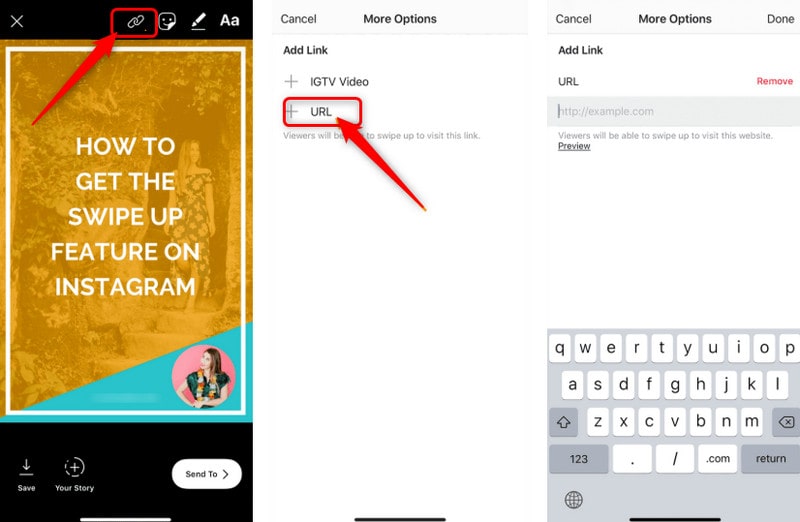 Image Board: Add Swipe up Link to Your Instagram Story
Step 2
Then click the "+ URL" to add a link to a web page. Here, you can also link your Story to your IGTV video with the "+ IGTV Video" option.
Step 3
Now, you can type the URL into the text box. When you're finished, click the "Done" button in the top right.
Alternative Option to Add Link on Instagram
May you also wondering how to use links on Instagram if you don't have 10k followers.
Yeah! There is a workaround for you to add a link to Instagram Story without the Swipe up feature - link in bio. Although it's not ideal, it's super easy to implement, and anyone can try them.
Step 1
Go to your profile through the person icon.
Step 2
Click the "edit profile" beside your username button to customize or edit any of the information - not only add a link.
Step 3
Now can add a link in the Website option, and it doesn't have to be a website link, you can add a link to anywhere you want.
That's all! You've added a link to your Instagram bio!
After you add a link in your profile, you can create your Instagram Story and add text saying "link in bio" to remind your viewers to track your URL.
Bonus: Best Online Instagram Story Video Maker
If you want to achieve more viewers and win more followers, you need to create high-quality content for your Instagram account. Then a powerful video maker/editor is essential.
FlexClip Online Instagram Story Maker has numerous media resources you can apply, including royalty-free video clips, photos, music, and special effects. It also provides elegant Instagram story video templates and editing tools to level up your Instagram story video creation.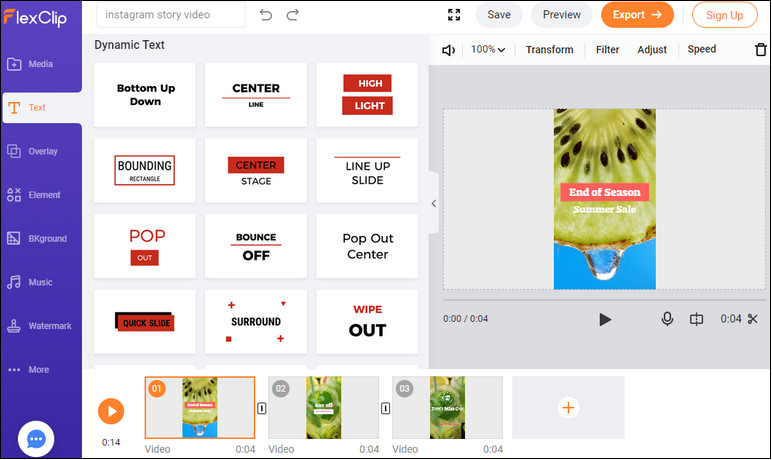 Image Board: Add Swipe up Link to Your Instagram Story
While you're in the editor, you can use FlexClip's tools to make any other edits you'd like to your Instagram video:
Also, FlexClip offers beautiful video templates enabling you endless inspirations to make your own Instagram video with great ease.
Final Words
That's all about how to add a link to Instagram Story. If you want to add a link to your Instagram Story, just try to apply for it with the steps above. Do remember to try FlexClip Video Maker to make stunning videos for your Instagram Story!