Briefs: The top 7 video errors/mistakes are the most common mistakes that anyone can make when shooting or making a video production. Whether a video mistake is small or big, you won't want to see it mixed in your video.
It's not easy to shoot ideal videos. Editing/producing video is never a piece of cake. Even, you've successfully created a video with days of work, a few video mistakes can ruin your video, and make you repeat your previous work. Therefore, we round up common video mistakes & errors that all people may make, so that you can refer to and avoid them in video shooting and editing.
Tip: Find any video mistakes and want to correct them? Try FlexClip video editor and correct video mistakes immediately!
Part One - Top 7 Video Errors/Mistakes You Want to Avoid
NO.1.Video with No Topic (Serious Video Production Mistake)
There are dozens of users making travel videos with journey shots(i.e., picturesque locale shots, interesting place shots, etc.). When we go YouTube, we see a lot of these. But only a few of journey videos get lots of visits & likes, why? Most videos seem to have no topic!
If you decide to make a scenery video only because it's beautiful, you are likely to make a video production mistake. Only merging scenery footage will make audiences feel confused - No story, no point, no topic.
No Topic YouTube Example: Cool travel/Vlog video feels no topic.
Troubleshooting:
Figure out what you most want to share with your audiences, find a topic based on it, and cut your video based on your video topic, and brief your video topic & content in the first 5s. (Cut out the irrelevant clips, even if they are fantastic views. For instance, if you want to share beautiful sceneries of a travel place, then you can make a review video of the place. Delete all video clips that are not reviewing the travel spot.)
Tip: Studies show the first 5 seconds of video is critical: If a video fails to brief itself in the first 5s and pique viewers' interests, audiences will turn impatient and jump out.
NO.2.Video Lags, Out-of-Sync Issues (Serious Video Production Mistake)
Another severe video production mistake is video lagging problem(also called out-of-sync error). It happens when a creator uploads some video clips and sounds but forgets to place them at the correct time.
Troubleshooting:
To fix the issue, you need to download the sounds and sound-free video separately, and re-assemble them at the right point on the timeline.
Further Reading: How to Sync Audio and Video with Free Audio Sync Software?
NO.3.Video without Sound (Common Video Production Mistake)
Video without sound turns out to be strange somehow. Subconsciously, audiences expect to hear opinions & voices when watching a video.
Troubleshooting:
If your previous videos are silent, you can record voiceovers with some tool, like free FlexClip video editor, and it's clicking away to add sound to your video.
NO.4.Footage & Song Rhythm Don't Match (Common Video Production Mistake)
Especially in Vlog videos and travel videos, Vlogger beginners can easily craft out unsynchronized video. When slow/tranquil music pairs with fast-motion footage, visual experience will be dizzy and uneasy.
Troubleshooting:
Change footage speed and make video pace at music beat/twist. Specifically speaking, slow down footage speed when music plays slow, and speed up video when music turns fast.
NO.5.Transition Sound Volume/Pitch Goes Much Higher (Common Video Production Mistake)
Another common video mistake YouTubers made is inserting higher volume/pitch transitions, which makes the whole video feel less comfortable in hearing. Find out how to get more views on YouTube.
When audiences hear high-pitch transition, they often turn down the volume of video player. Then, your video will be played in a relatively low volume. That way, audiences fail to receive sound information clear enough. It's no good.
Troubleshooting:
Upload your video to the free video editor - FlexClip.com, and make/edit transition storyboard.
Turn down the volume of transition storyboards. Go voice icon, move Volume slider to get a lower volume.
Preview and re-edit the volume, until transition volume is no different from main video content volume.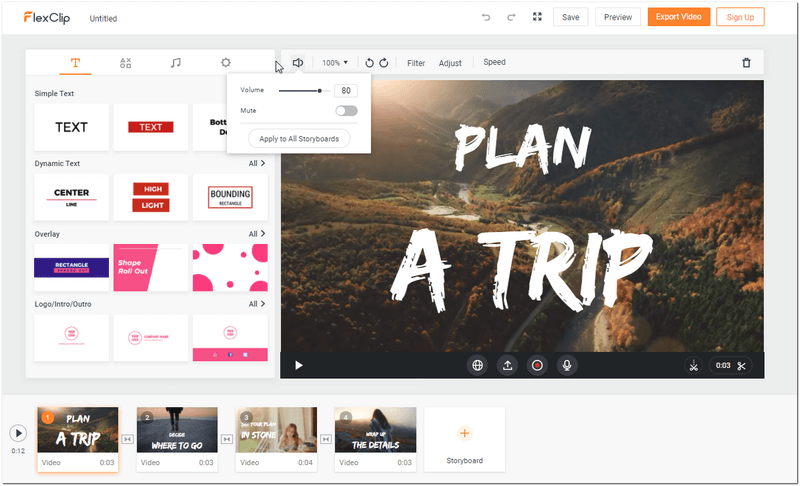 Image: Turn down transition volume.
NO.6.Shaky Videography (Common Video Shooting Mistake)
There are many videos with shaky frames. That always makes audiences feel dizzy and unwell.
Troubleshooting:
Grab a stabilizer, videography will appear a lot better. When you try to film/shoot something, find some static objects as your filming fixations.
NO.7.Transitions without Explanatory Video Texts (Common Video Editing Mistake)
Many video creators insert fancy transitions. However, these transitions are merely special effects - They are more like breaks, and make audiences feel less irrelevant to video topic.
Troubleshooting:
Why not make use of transitions to retain audiences? Video transitions can perform as a perfect media to arouse viewers' interests for the latter video, when you add 1-2 sentences to brief/introduce the following contents.
Think of some words that viewers would like to know and that can brief your next video content simultaneously. Add the words as video texts in the transition. Your transition will work for your topic.
Related Reading:11 Best Video Transitions That Genius Creators Use.
Part Two: Last Words
Hope our collection of 7 most commonly made video errors is helpful to you. If you like to discuss video errors with us, we'll be happier to see you with us.