Briefs: To boost your YouTube views, you need to be focused and have a clear logic about "how to plan your channel and videos". This very article has collected and summarized some essential tips to get more views on YouTube and grow your YouTube channel.
You are on this page, because you want to grow YouTube channel and get more views. You won't want to miss out on viable strategies to build a successful YouTube channel.
This article is a comprehensive guideline for people who want to do something and make a difference on YouTube. Whether you are a beginner or a YouTuber with troubles to increase views, you'll find solutions (or at least something useful) here.
Part 1 - How to Get More Views and Grow YouTube Channel?
If your goal is to create a YouTube channel with lots of views and win your own subscribers, the 11 tips below will lend you a hand.
1.What to Video?
Find your niches and your specialties. It will be a nice strategy to create YouTube videos based on one of your niches.
2.Define Your Channel, Focus Your Video Contents, and Find Target Audiences
In several studies for YouTube, channels with massive views & likes are all focusing their video contents in a specific field, i.e., cooking, crafting, or traveling. If you want to create a successful YouTube channel, it's the same to you: You need to focus your video contents.
YouTube Video-Following Logic: Followers follow your YouTube channel, because they are satisfied with what they watch now. Focus your video contents, and your channel followers can receive consistent new video contents, which are similar to what they watched & followed previously. So they will be likely to have some interests as well. (You can't expect an audience to like your phone-review videos and your cooking videos at the same time.) So, it's a good bet to focus your video contents.. Learn how to create a great YouTube video using a free video editor.
Also, you need to figure out who will be your target audiences in advance. You might not want to target a small group, you need to target sizeable audiences. Find out the connections between your niches and what your audiences like to watch & know - Follow this path, dig deeper, and it shall pay off.
3.Decorate Your Channel (Channel Art, Logo, as well as Channel Description & Contact Info at About page)
Popular channels all have a stunning channel art, as well as a creative logo. Also, they must equip with a decent About page with a reachable contact and crystal-clear introduction (in the description).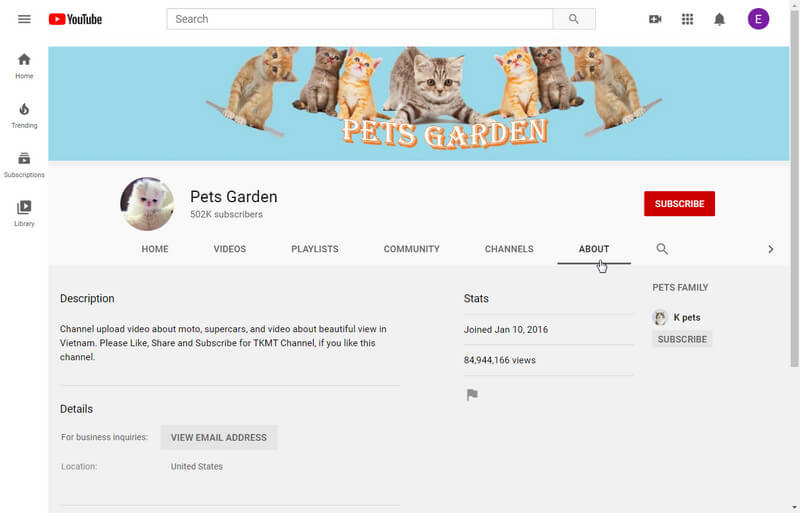 Image: Decorate your YouTube About page.
4.Prepare a Channel Feature Video
Take a look at those channels with lots of subscribers, you can soon find that these channels all have a feature video.
What is a channel feature video? - Feature video will be displaying at YouTube channel homepage, with something YouTuber wants to say. In most cases, it's a channel introduction video, telling audiences what they can expect from following this channel.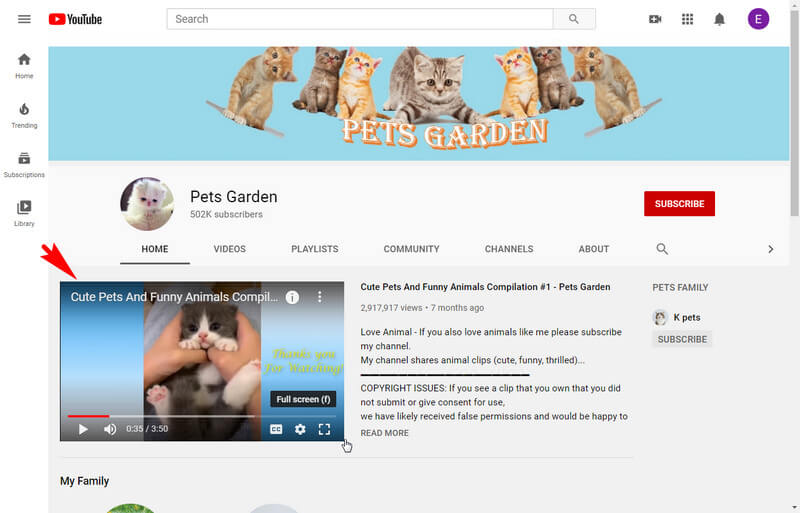 Image: YouTube channel feature video.
Above are basic tricks to grow your YouTube channel. But to increase views for a specific YouTube video, you need some advanced tricks as below:
5.Create an Awesome YouTube Intro
YouTube data says the very first 15s video is the most important. Therefore, you need an awesome YouTube intro with great visual impacts and necessary video briefs. >>Read "How to Make An Effective Youtube Intro?"
If you want to find intro ideas for option, give a click on FlexClip editor and go [+Storyboard] > [Add Stock Media] > Search "intro" in sequence, and you'll have uncountable intro designs for use.
6.Find Right Keyword & Topic for Your Video
There are some tricks to choose keywords and topics to make videos for a YouTube channel.
Although there are many hot keywords and topics out there, you can't ignore fierce competitions. Instead of heading to those hottest keywords straight away, we recommend YouTubers (who lack competition) go for less competitive keywords and topics. It will be easier to rank better and win clicks from YouTube search result.
As for those fierce competitive keywords, you can consider them later when your channel has won some weights and subscribers.
7.Find & Build Video Content Value
Contents without values can never succeed, especially when you look at video success at a long timeline. It's worthwhile to build valuable contents for your YouTube channel. Do create video contents that will pique audiences' interests or they will be curious!
How-to videos are also perfect video ideas to create YouTube videos. It's a fact that a number of YouTubers have successfully grown their channels via how-to videos.
8.Thumbnail Is Crucial - Make Your Thumbnail Descriptive & Eye-catching
Video thumbnail leaves the first impression of a video on an audience. An effective thumbnail will cause a click-in. Find out how to create a YouTube thumbnail for your YouTube channel.
The thumbnail will show in your own video list, suggested video list, and YouTube search results - They are the only ways in YouTube for a viewer to access a video. Therefore, we can reach a conclusion: A stunning video can hardly survive well in YouTube with a bad thumbnail.
To make an effective thumbnail, you can sum up your video with 4-5 descriptive words and add them to the thumbnail image. And, it shall stand out in the search result when you use a keyword-rich & topic-related thumbnail.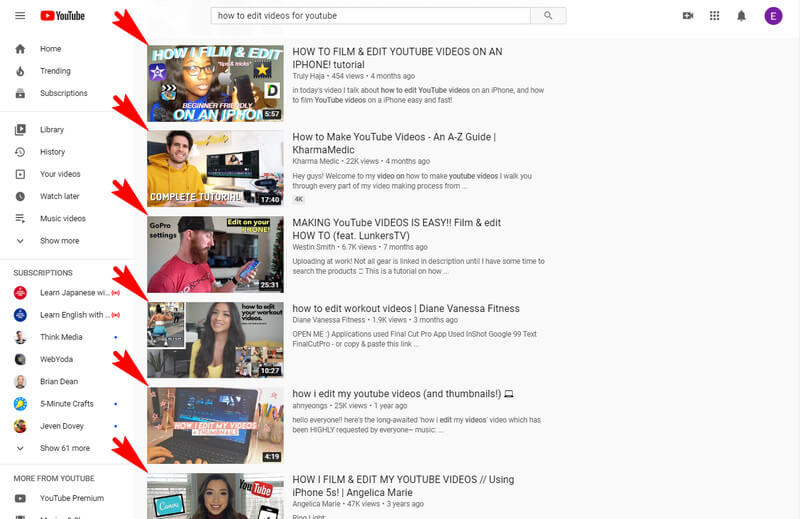 Image: YouTube thumbnail in YouTube search result.
9.Try to Rank in Suggested Videos
Though YouTube system can automatically get your messages across from video soundtrack, it's still necessary to utilize video tags.
YouTube machine can't translate every single word precisely because of various spoken dialects and background music. Check out 3 different ways to add subtitles/captions to YouTube videos. Video tags will tell YouTube what the video is about or related to, tags also help rank your video in related videos.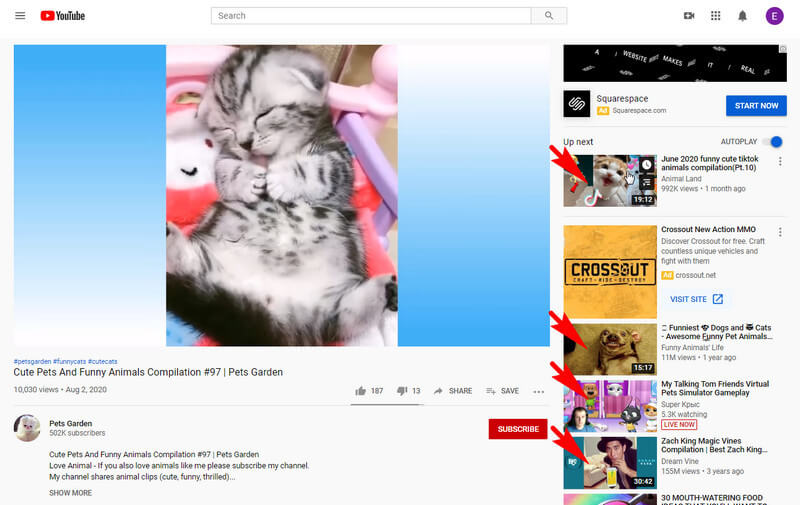 Image: YouTube suggested videos.
10.Use Videography Tricks
When you shoot video for YouTube, videography tricks will ensure your video won't be too boring or feel too low.
Try a-roll & b-roll shots to reduce visual fatigue. If you are fresh to video, you can check some beginner videography tricks, they will be helpful as well.
11.Use Transitions and Other Editing Tricks to Upgrade Your YouTube Video
If your shooting videos are not good enough, no worry! You can use some video editor to upgrade your YouTube video.
For average joes, we introduce free video editor - FlexClip.com.
With it, you can easily zoom in/out a video clip, replace video audio, or add transitions to reduce visual fatigue. There are massive video templates, professional videos, images and beautiful music for your options, and you can effortlessly make an engaging video with ordinary shots in FlexClip.
Transitions in Review Video
Transitions in Class Video
Part 2 - Sum It Up
To win more views and clicks, you need to feed your target users what they need & want. It's never a waste of time to think about the blueprint and bigger picture for your YouTube channel, before you make an action.
You've found something helpful in the article. If you've found any other ideas to improve video views that work great, you can share them with us.