Summary: This article tells you everything you want to know about video thumbnail, including what thumbnail are and why them matter, some practical tips to best video thumbnail practice, and the detailed steps to create a video thumbnail. Check it out.
"Don't judge a book by its cover" may be sound advice, but in today's click-bait world, the cover plays a huge part when it comes to attracting the clicks your content deserves.
People judge videos by their thumbnails every day. In this visual age, if your video thumbnail is not visually appealing, you can not get a chance to impress your audience.
In this post, we're going to discuss everything you need to know about video thumbnails, including what thumbnails are and why them matter, video thumbnail best practice, and how to create them.
Also Read: Facebook Cover Video Guide: Specs, How-to & Tips >
What Are Thumbnails & Why Video Thumbnails Matter
What are thumbnails? Thumbnails are reduced-size versions of image or video that exemplifies large content such as a video or article. Originally the term got the name from being about the size of the nail of the human thumb.
Various platforms (especially social media, like YouTube, Instagram, etc.) use thumbnails which can be easier to scan and organize than original files.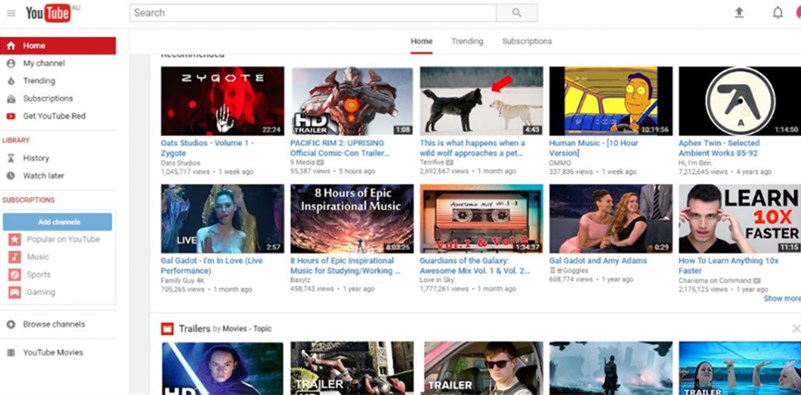 Image Board: Video Thumbnail on YouTube
A video thumbnail can make all the difference on whether the viewers click through your video or not. A great video thumbnail lets the viewers know what they're about to see, and it plays an essential role in encouraging viewers to hit the PLAT button. With so many videos on the Internet competing for attention, your video thumbnail can determine whether your video is watched or ignored.
A great thumbnail makes your content stand out! Thumbnails are more important than you may have guessed.
Video Thumbnail Best Practice - Practical Tips
# Select an Image That Reflects Your Video Content
A video thumbnail needs to make sense to the viewer. That is you need to show the viewers what they're about to see in the thumbnail. If your thumbnail doesn't relate to the video, you'll run the risk of eroding the trust of the viewers.
# 2 Include Simple Yet Powerful Text
You do not have a lot of room to add text because video thumbnails are small. Therefore, you need to write something that inspires viewers to click to make full use of the space.
# 3 Include a Human Face to Build An Emotional Connect
When people feel more connected, they're more likely to click your video. So you need to decide what emotion your video is trying to evoke, and use a face in your image that exaggerates this emotion.
# 4 Make the Thumbnail Visually Appealing
Try to impress your viewers at first sight with the right color palette. Avoid making it end up too flashy and bright. You can enhance your thumbnail with some image editing tools like FotoJet.
# 5 Brand your thumbnails with a logo
A logo can differentiate your brand from others and bring some consistency to your videos. Remember not to let your logo take up too much of the space on the image.
How to Create a Video Thumbnail - Detailed Steps
Ready to apply the above tips into your video thumbnails? But before we get started, we need to know the thumbnail sizes for different platforms.
Here we show you a picture to help you to know the thumbnail sizes for most of the social media platforms.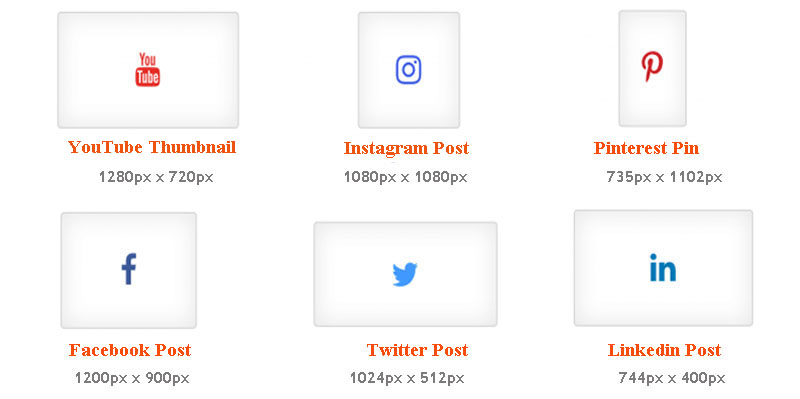 Image Board: Video Thumbnail Sizes for Different Platforms
Here are the detailed steps to make a thumbnail for YouTube video:
Step 1 Get the original image ready
First, you need to get the original image that you want to use as your video thumbnail, here are two ways:
- Create thumbnail from video
- Snap a still photo separately
Creating thumbnail from the video just by taking a screenshot: Pick an image that best reflects what your video is about or one that is visually appealing overall, then take a screenshot fro it to use as your video thumbnail. Sometimes it may take a few tries to get the perfect moment with nothing blurred.
If you prefer not to use a screenshot of your video, you can take a photo separately and use it for the thumbnail. Taking this route, you will have more control over the results. When shooting an original image for your video thumbnail, make a point of having everyone stop for a moment while you take a few still shots.
Step 2 Customize the image
Once you have the image you want to use for the thumbnail, you'll need to add details to the thumbnail
# 1 Go to FotoJet and then click on the Edit a Photo button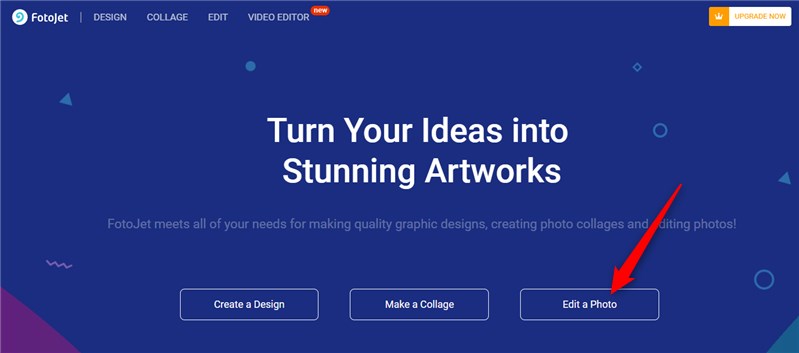 Image Board: Edit a Photo
# 2 Upload your original image with the open button, then click on the "computer" to find your photo.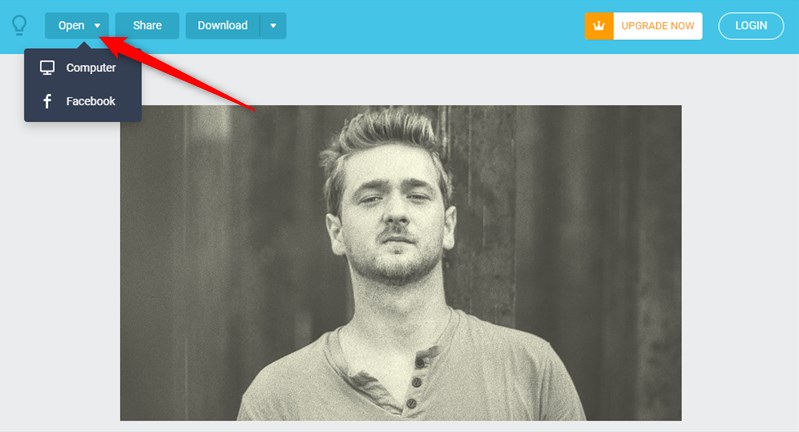 Image Board: Upload Your Image
# 3 Adjust the size and add additional elements with the sidebar.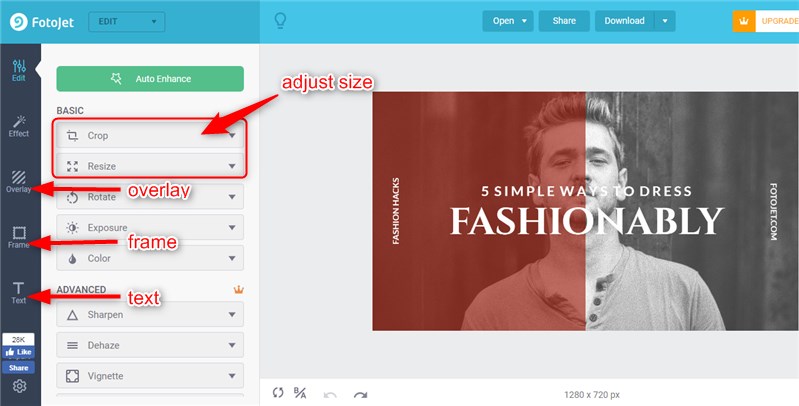 Image Board: Customize
# 4 Download and run with it!
Step 3 Upload video thumbnail
After you've uploaded a video, you'll see three default thumbnails that auto-generated by YouTube at the bottom of your video settings. And you can also see the "Custom Thumbnail" button here, Just click it to add the thumbnail of your choice from your computer.
Image Board: Upload Custom Thumbnail
Once you've uploaded the custom image, it will appear in the custom thumbnail. If you want to swap it out with another, you can click on this image; If you're satisfied with it, click done on the top right.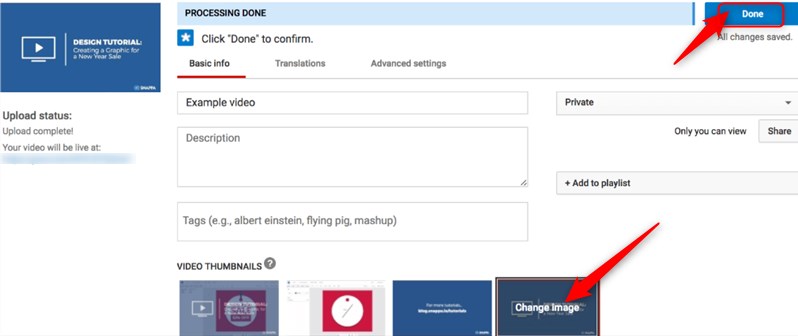 Image Board: Save the Video Thumbnail
Note:Note: To upload custom thumbnails, you must have a verified account. Check out our post on How to Get Verified on YouTube >
Final Words
Hopefully, with the tips and tools we covered in this article, you can create attractive video thumbnails to boost your video views. However, a click-worthy video thumbnail is a stepping stone to get more views; a valuable video is the key. FlexClip has a big data of video template and vast media library, start to look through them and get some inspiration to create your masterpiece!