Summary: This blog tells you how to get verified on YouTube. Follow us to get YouTube verified badge for your channel with great ease.
The "√" checkmark you see next to a YouTube channel's name is the verified badge. Even though a YouTube verification badge brings no special features, it helps you stand out in the sea of YouTube videos, gives your channel legitimacy and prevents any copycats from stealing your traffic, which all might lead to a traffic boom.
Here in this blog, we will show you the detailed steps to verify a YouTube channel. Follow us to know to get the YouTube verified badge.
Can't Miss: How to Post a YouTube Video to Facebook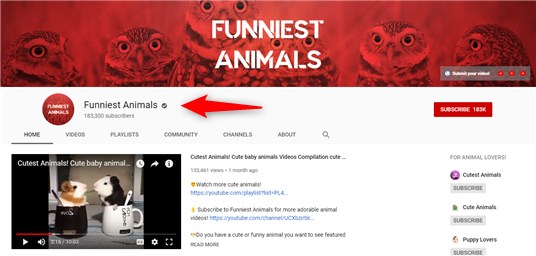 Image Board: YouTube Verified Badge
Requirements for Requesting a Verified Badge
Not any YouTube channels are qualified to request a verified badge. To verify a YouTube channel, it should have over 100,000 subscribers. The requirement might change over time.
How to Verify a YouTube Channel
Step 1 Go to YouTube support page https://support.google.com/youtube/answer/3046484?hl=en.
Step 2 Click on the Contact flow > Email support. The Contact flow link is under the 'Eligibility' section.
Step 3 Fill out a form and submit. The form should be easy to answer. Submit it and you will get a reply within 24 hours informing you whether the application is approved. If approved, the verified badge will appear in a few days.
How to Stay Verified on YouTube
* As mentioned above, you need to have over 100,000 subscribers to request a YouTube verified badge. If your YouTube channel subscribers fall below 100, 000, please contact YouTube support group.
* Renaming your YouTube channel means you are going through a rebrand. You will lose the verified badge. However, you can always reapply.
Tips to Get Verified for YouTube Channel
100,000 subscribers won't guarantee that you can have the verified badge. Here are some tips to help you get the verification badge easier.
Don't violate YouTube policies
Any violation of YouTube policies will make it harder to get your YouTube channel verified. However, most of the YouTube channels will be fine.
Post high-quality content regularly
High-quality content is crucial for a YouTube channel. Nobody would follow a YouTube channel posting shoddy videos. Also, it is suggested to upload videos once or twice a week.
No clues for creating YouTube videos? Read this post and let FlexClip help you.
Build your brand
It is worthwhile to show related experience of your field on your profile, even in your videos. There are cases that YouTube bend the 100,000 subscribers' requirement for some strong brands.
The Bottom Line
That's all for how to get verified on YouTube. With these tips and detailed steps, getting a YouTube badge is just a piece of cake. If you find this post helpful, please share it with others. Last but not least, don't forget to give FlexClip a try.