Can you put a video as your Facebook cover? Yes! Gone are days when Facebook profiles were packed with still photos! Facebook cover video will play automatically in mute when someone visits your page. Whether you are a normal person who wants more interactions with friends or marketers who need to create more engaging interactions or influence customers' purchasing decisions, Facebook cover video is definitely a great way to go!
This post is about Facebook cover video specs and how to create a Facebook cover video then post. Check them out.
Table of Contents
Facebook Cover Video Specs
Dimension: 820*312 pixels minimal. Recommend dimension is 820*462. On mobile phone, the Facebook cover video will be cropped to 640*360 pixels, so make sure all your text is on the center.
Resolution: 1080p maximum.
Aspect ratio: 16:9.
Size: 1.75G maximum.
Length: 20-90s.
Format: MP4 or MOV.
Facebook Cover Video Templates
FB Cover Video Template 1
FB Cover Video Template 2
The Best Facebook Cover Video Maker You Will Need
We don't upload any video on phone or computer without any edits. Thus, a Facebook cover video maker like FlexClip is necessary! It helps you add text, background music, transitions, change video speed and more in clicks, making your Facebook cover video special and unique. Moreover, FlexClip's Facebook cover video maker provides rich templates and royalty-free photos, videos and music to level up your video. Last but not least, it is completely free!
Now, click the Create a Video button and follow the steps below. You are also welcomed to view more templates.
How to Create a Facebook Cover Video
Step 1. Add your media
Open FlexClip, click the plus symbol to choose photos and video clips from your computer.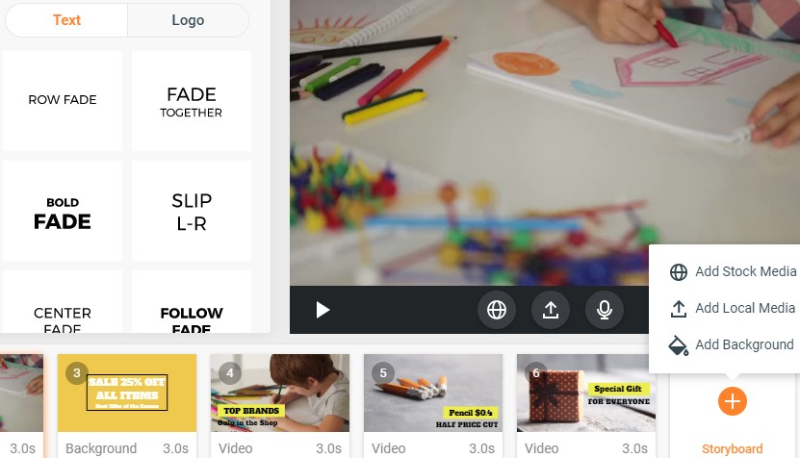 Step 2. Edit the cover video
Combine the media together and customize your videos. The sound of Facebook cover video is muted by default when it is uploaded. Please style the text to deliver your story.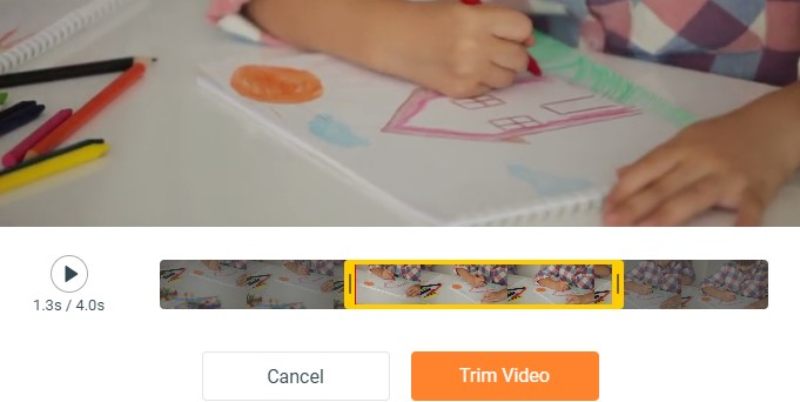 Step 3. Preview and finalize the video
Preview the video to see whether you get the video that you actually want. If not, give it more edits to make it meet your needs.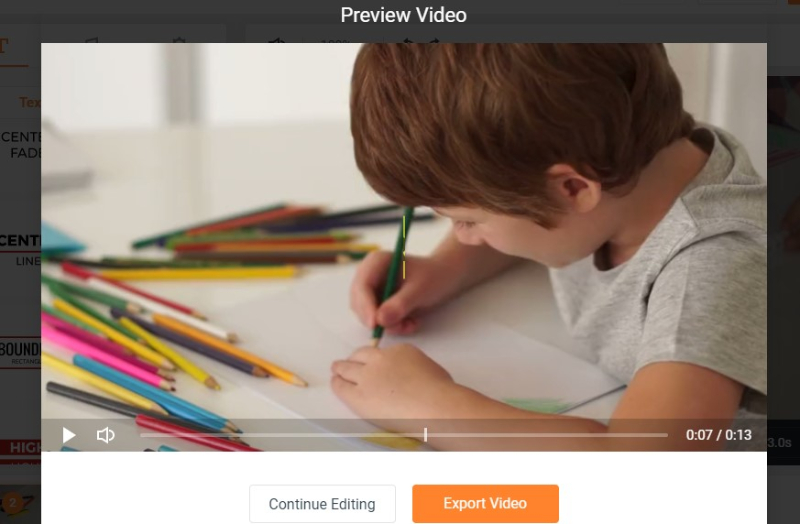 Step 4. Export the video
When all adjustments are finished, you can save the video to your computer now. The preferred video resolution for Facebook cover is 1080p. We have this option for you. And the exported video is in MP4 format, which is supported by Facebook.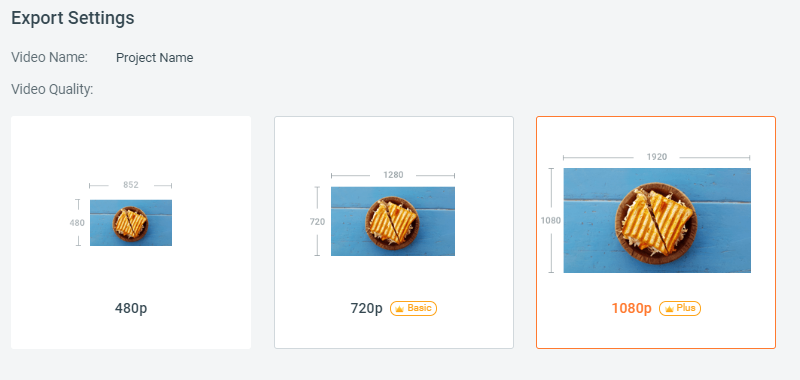 How to Upload Your Facebook Cover Video
Enter your Facebook page, hover over your cover photo, click 'Change Cover' and then choose 'Upload Photo/Video'.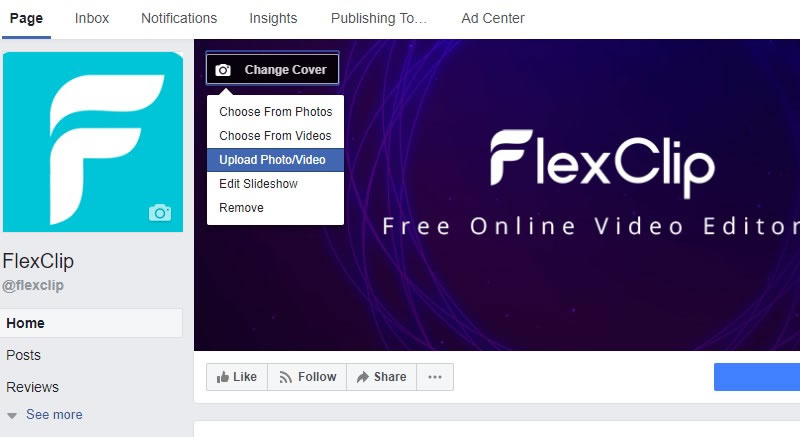 Select the video file from your computer and upload it.
Once it's uploaded, you can drag the video currently displaying to reposition it as you want, then click 'Next'.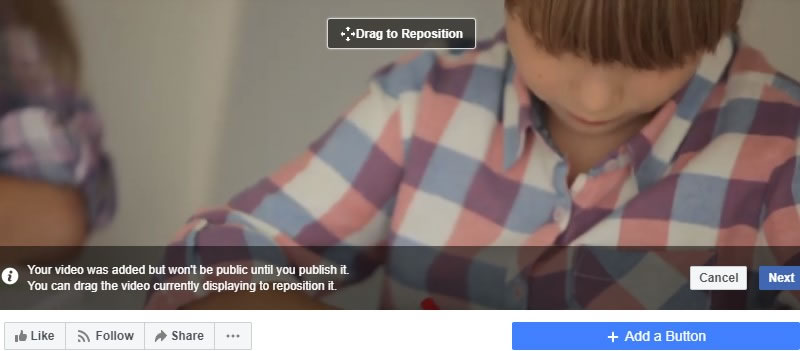 Click 'Publish' to set up the video as your Facebook cover.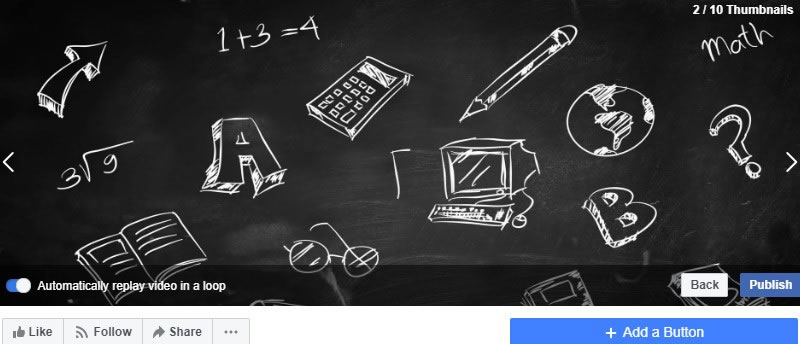 Facebook Cover Video Tips
Now you may get the Facebook cover video specs clearly and know how to make a cover video easily and quickly. We also have some useful tips for you to make the video successful.
Make the video simple, short, but attractive.
Always keep the specs in mind.
Keep the important information centralized so they won't be cropped out.
Add your logo and slogan to brand your business.
Test to find out whether your cover video works better with or without background music.
Get ready to make a Facebook cover video for your page? Try FlexClip video maker to create a perfect video now.