Briefs: YouTube AD videos has become the most effective advertising method. Let's find out how to work out a YouTube advertising video quickly. Also, we share you how to set up your YouTube ADs, along with the best YouTube AD strategies.
THEVERGE report says YouTube brought in $5 billion in advertising revenue in the third quarter of 2020. Many marketers and businesses have already run profitable YouTube AD campaigns to reach more customers & extend business. And it's never late to begin YouTube advertising.
"YouTube Works 2020" video features top 7 YouTube ADs. Check winning AD campaigns here.
Regardless of who you are (a beginner or an experienced marketer), our all-in-1 YouTube ADs guide has everything you need for YouTube advertising.
CONTENTS:
Part One: How to Create a YouTube AD Video Easily Online for Free?(Zero Experience Required)
Easy Online AD Video Maker for Free
FlexClip.com is an online video editor with massive visuals for you to choose from. Anyone can effortlessly create a unique AD video with it. Whether you want to start with AD video templates or start making your AD video from scratch, your design navigation will be very comfortable in FlexClip.
How to Create Your YouTube Advertising Video for Free?
Step 1 Open flexclip.com with a browser, and hit [Make a Free Video].
Step 2 Search for an AD video template to begin, or go from [+ Start From Scratch].
Step 3 Upload your videos and footage as your AD video storyboards, and move their orders as you wish. (If you want to screen record something, you can do it here with FlexClip.)
Step 4 Edit your AD video, such as, change footage speed, edit audio, or add text/script/intro/outro/watermark to video, etc.
Step 5 Preview and download YouTube advertising video of your own. Learn how to create a high-conversion video ad.
Part Two: How to Set Up YouTube Advertising from Zero?
In order to set up YouTube AD, you just need to go through the steps of adding a new YouTube ad.
Step 1Hit "Campaign" under "Overview" on Google ads page - https://ads.google.com/
Step 2Click [+] icon, and then choose [+ New campaign].
Step 3Choose a campaign type among the selections of [Search], [Display], [Shopping], [Video] and [Universal App], here we go [Video] block.
Step 4Set your goal of YouTube video advertising.
Step 5Set up your YouTube video advertising campaign in details, such as, budget, ad start & end dates, language, location, bidding cost, demographics(audience profile), audience options. You can exclude something as well for your ads.
Step 6Set your YouTube ads topic and keyword.
If you still have any confusion, you can check the Billy Willson YouTube - "2019 YouTube ADs Beginner Tutorial" for detials.
Video: YouTube Ads Beginner to Expert in 1 Video | YouTube Ads Tutorial.
Here are some key points that you won't want to miss during you set up your YouTube ads:
Run YouTube advertising campaign, you must register a free YouTube account (to upload your advertising video). Then, link your YouTube account with your Google AD account.
Choose "YouTube channels" in Placement, so that it will be a YouTube AD campaign.
You must uncheck "Disable interested-based ads" option for your advertising video on YouTube. Or, your YouTube AD will never show up.
Take advantage of "Event snippet", "In-stream ad", demographics, etc, to control your expense on YouTube advertising.
YouTube AD Types & Options
Skippable in-stream
Bumper
Non-skippable in-stream
Outstream
AD squence
For all YouTube AD formats, you can check YouTube advertising formats for YouTube video monetization options.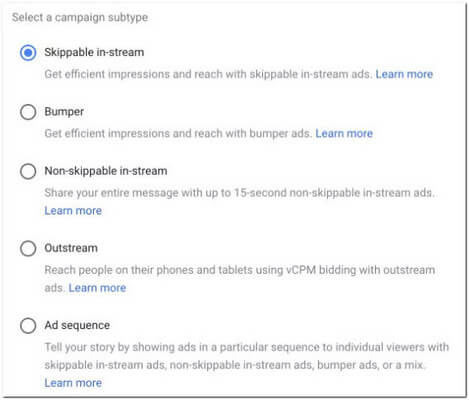 Image: Choose a YouTube AD way for your advertising.
Part Three: How to Optimize YouTube ADs? - Key Factors Influence Advertising & Rank
How to optimize your YouTube ADs to achieve a higher ROI? You should know that key factors will influence your YouTube advertising and rank:
3 Key Factors Will Influence Your YouTube Advertising & Rank
YouTube AD title, description and keywords.
Audiences retention time: How long an average user will spend watching your YouTube AD video? Will they skip your AD or click it through. Enjoy insider tips to get more views and followers on YouTube.
How many people subscribe, comment, like or dislike your YouTube ADs.
How to Optimize Your YouTube ADs?
Make your topic and description engaging and content-related.
Try to make your YouTube AD video interactive, impulse/encourage share.
If possible, inserting subtitles to your YouTube AD video. Video with subtitles are more user-friendly.
Share your YouTube AD video to other social platforms, like Facebook, Twitter, reddit, etc. Check the complete guide to Facebook video ads.
Make your YouTube AD video short.
Let your YouTube ADs play before a YouTube video that reviews alternatives/competitive products.
Set up your YouTube AD running before "How-to" videos.
Utilize YouTube AD exclude function well, it will cut down your advertising expenses much.
Check/monitor YouTube advertising results, and adjust your advertising strategy in time.
Part Four - Wrapping It Up
Setting up YouTube video advertising is a bit of complex. But with some practices, all of us can handle it well. The key to YouTube advertising success is making a YouTube video to the taste of right audiences.
Let us know if you have successful YouTube advertising instance. Hope you find this article helpful. A share of this post will help more people in need.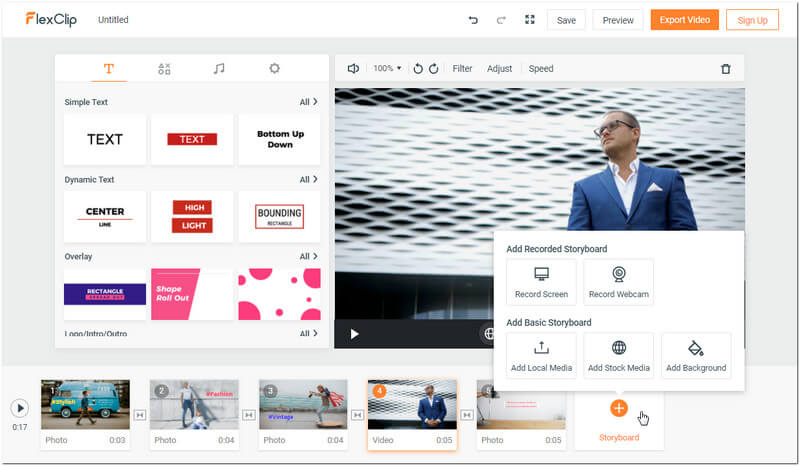 Image: Make a YouTube AD video freely.