With Facebook's micro-targeting feature and affordable daily cost, using Facebook video ads is a proven solution to connect with the target audience, promote your products and services and build brand awareness.
If you are about to use Facebook video ads as a new marketing strategy to get more leads and conversion, we've got you covered.
In this post, we will be walking you through the latest Facebook video ads specs, offering a feature-packed Facebook video ads creator to make engaging Facebook video ads and how to set up your video ads using Facebook's Ads Manager, etc.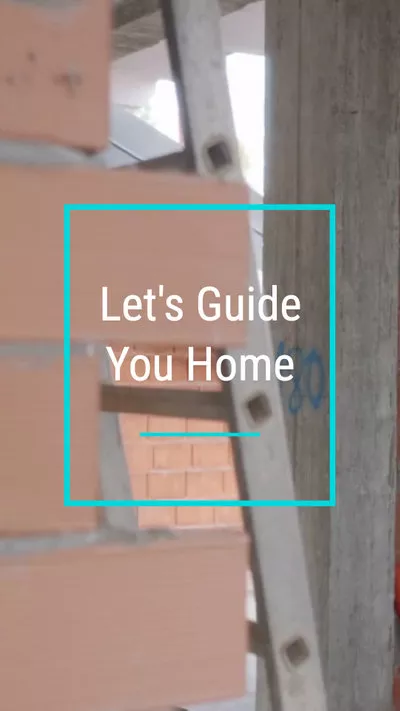 Real Estate Agency Ad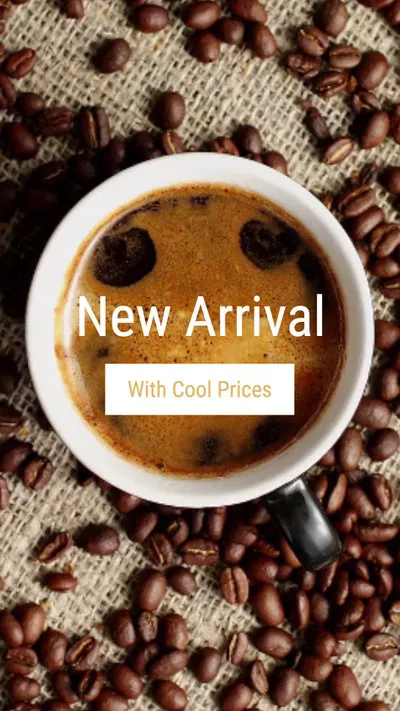 New Arrival Promo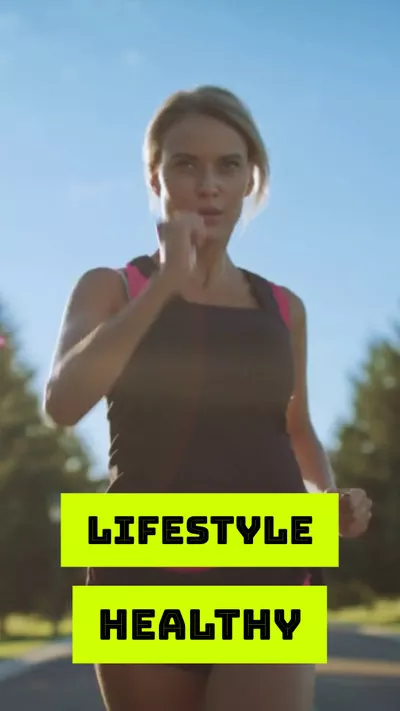 Fitness Center
Here's what you'll learn:
Latest Facebook Video Ads Specs You Should Know
If you are a first-timer to create Facebook Video Ads, learning the following official Facebook video ads specs 2021 and essentials should be your first step. Learn more about the Facebook cover video.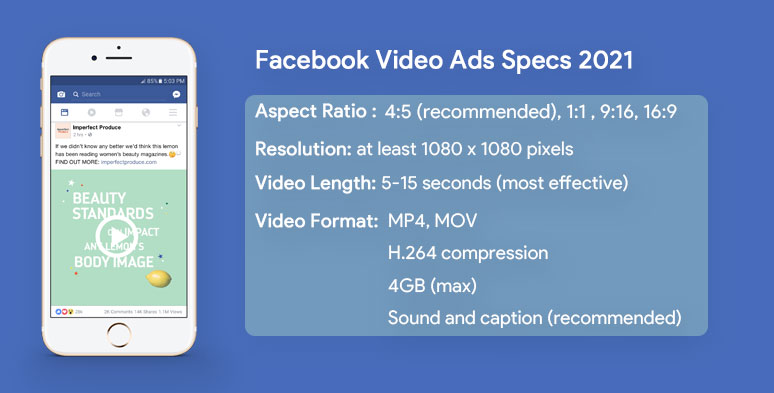 Facebook video ads specs for Facebook News Feed 2021
Facebook Video Ads: Aspect Ratio
Vertical Video: 4:5 (recommended for the best compatibility across platforms), 9:16 and 16:9
Resolution: at least 1080 x 1080 pixels
Facebook Video Ads: Video Length
15 seconds or less are considered by Facebook to be the most effective video length for Facebook video ads
Facebook Video Ads: Video Format
H.264 compression, fixed frame rate, progressive scan, and stereo AAC audio compression at 128kbps+
Sound and Video Caption: Optional, but highly recommended
Apart from these technical requirements for creating video ads on Facebook, you should also ask the following questions because they will be needed for both video ad making and setting up the video ads on Facebook Ads Manager later.
Who are the primary target audiences?
What are the objectives for making these video ads? Is It for more traffic for your website or to convert more sales or to reach wider viewers to boost brand awareness, etc.?
How can my products and services help the target customers?
Do you prefer a daily budget or lifetime budget for Facebook video ads?
How to Quickly Create Engaging Facebook Video Ads Using FlexClip
Once you've figured out the technical parts of Facebook video ads, now you need a versatile video editor to make it happen because to most small businesses with limited budgets, hiring a professional camera crew doesn't seem to be a viable option.
A feasible way to easily and quickly create thumb-stopping Facebook video ads is by using FlexClip, a free and feature-packed online video editor. You can instantly access its in-browser video editor and customize its designer-made Facebook video ads templates with your images, audio, and logo in minutes.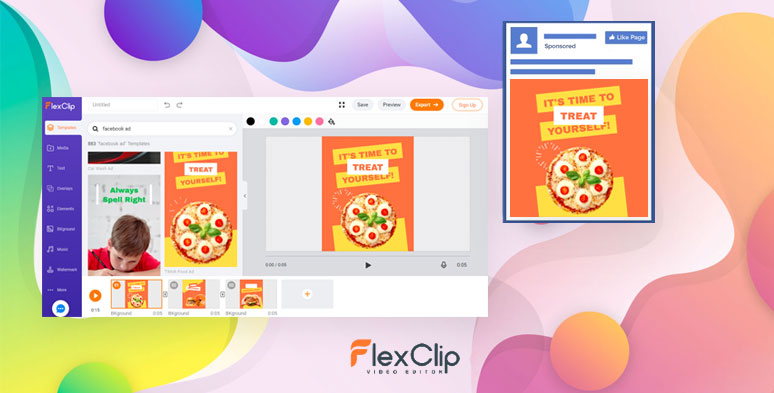 Create Facebook video ads by FlexClip
Besides, millions of royalty-free HD videos, photos, and music in its media library together with dozens of handy video tools allow you to make compelling Facebook video ads as easy as ABC.
Step 2
Select the Aspect Ratio for the Facebook Video Ads
Head to "…More" and you can select from 4:5, 9:16, 16:9, or 1:1 to create Facebook video ads.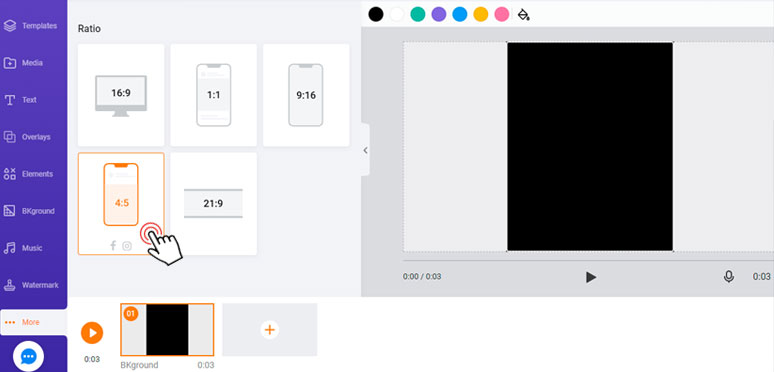 Select 4:5 aspect ratio for Facebook video ads
Step 3
Select a Facebook Video Ads Template to Work with
Head to "Templates" and enter the keywords "Facebook ads" or any keywords of your business. Then select an ideal template and add it to the storyboard.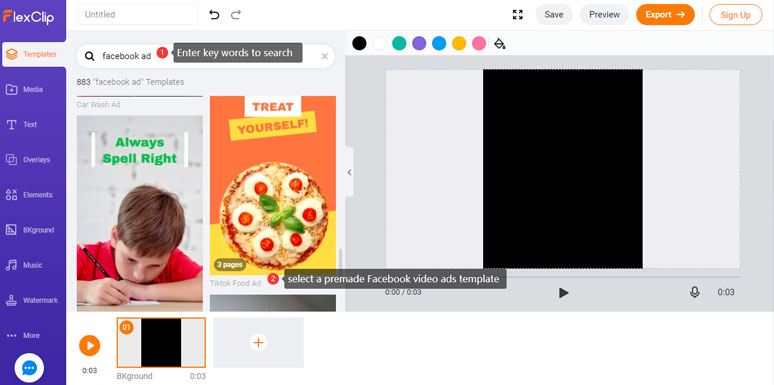 Select a pre-made Facebook video ads templates to work with
Step 4
Customize the Pre-made Facebook Video Ads Template
You can customize call-to-action texts for your latest campaign, including its color, fonts, alignment, style, or motion.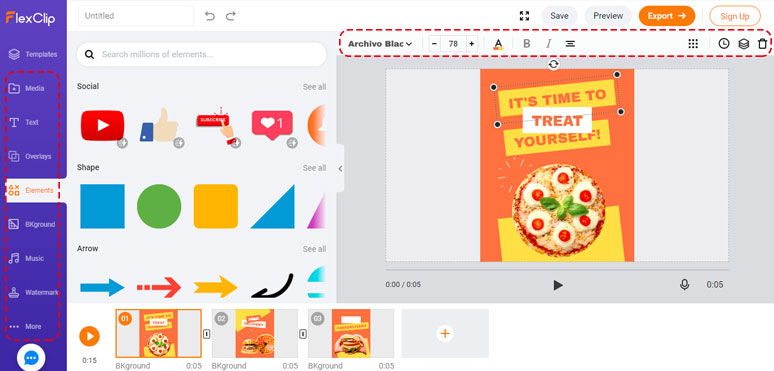 Customize the elements in the pre-made Facebook video ads templates
Or add music, video transition, dazzling elements, and shapes to grasp the target audience's attention. Just don't forget to upload your logo to build brand awareness and discover HD stock assets in FlexClip's media library. Just have great fun playing with it.
If you don't have a professional logo image yet, try using DesignEvo logo maker to create yours.
Step 5
Preview and Export the Edited Video in MP4 Format to the Local Drive
Or with one click, you may also save it to Dropbox for storage.
How to Setup Facebook Video Ads by Facebook Ads Manager
The next move is to set up the details of Facebook video ads and upload them to Facebook Ads Manager to publish your latest video ads campaign.
How to set up Facebook ads using Facebook Ads Manager
Step 1
Create a New Campaign in Facebook Ads Manager
Head to Facebook Ads Manager and select "Campaigns" and click "+ Create"

Create a new Facebook ads campaign in Facebook Ads Manager
Step 2
Choose a Campaign Objective
You have three options:
Awareness: to build brand awarenss or trigger the target audience's interest
Consideration: drive more traffic to your site or have more comments or your apps installed, etc.
Conversion: drive valuable actions on your site/app/messenger like booking a service or inquiring for a product, etc.
Select an objective for Facebook video ads campaign
Step 3
Name the Campain and Choose the Daily/Lifetime Budget
Step 4
Select Where to Drive Traffic: Website, App, Messenger, or WhatsApp
Meanwhile, you need to select a pixel or event to track conversion.
Step 5
Customize the Target Audience to See the Facebook Video Ads
Define the target audience's age, gender, location, even enter keywords like "demographics, interests, or behaviors" related to your field to maximize the number of the target audience to see the Facebook video ads.
Step 6
Tell Facebook Where to Place Your Video Ads in the "Placement" Section
Select "Edit Placements" and check the place where you want the target audience to see your video ads, such as Facebook News Feed, Facebook suggested videos, Facebook right column, Facebook stories, or In-stream, etc.
A widely-used place is by selecting the Facebook newsfeed and in-stream ads, which is a non-skippable ad within a video as a commercial break on TV.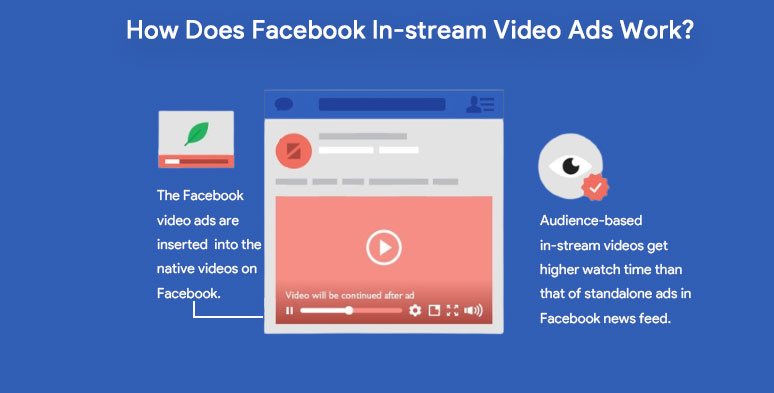 Facebook In-stream video ads and their advantages
Step 7
Upload Your Edited Facebook Video Ads
It's also advisable to upload a custom thumbnail to Facebook video ads. Check how to create an eye-catching video thumbnail.
Step 8
Enter Primary Text (125 characters), Description (30 characters), Headline (40 characters), URL, Call-to-Action (e.g. book now, apply now, or contact us, etc. )
Step 9
Preview the Ads and Confirm It before Facebook Reviews it
FAQs about Facebook Video Ads
1. What Is Facebook Video Ads?
As the name suggests, Facebook video ads are Facebook advertising in the format of videos posted on Facebook instead of written words or uploading an image. Eee-catching video ads can easily attract more audiences' attention. Facebook video ads can allow you to customize your content, audience, and even budget.
2. Is It Worthy to Post Video Ads on Facebook?
As the world's largest social platform, Facebook advertising allows you to easily reach the exact target audience you want. And the benefits of using Facebook video ads are self-evident:
Advertising on Facebook is very cheap: Ads met its lowest cost on Facebook in history. According to Moz Brian Carter, the cost per 1000 impressions (CPM) is only an average of 0.75$, far cheaper than that cost in traditional media.
Audience on Facebook: There are 2.38 billion monthly active users, a huge potential market for you to tap into. The reason why it's worth advertising videos on Facebook is also that it would be generated 22 billion ads click per year.
Lookalike Audience: It is also noted that Facebook can search for those who have a similar interest and taste to your followers and fans, so you can customize your ads' descriptions to match their demands.
Surely, target these audiences with customized video ads can be more possible to get a higher response, and they may get converted to potential customers. In this situation, you can post a corresponding advertisement in front of them to increase the conversion rates.
3. What Is Facebook In-stream Video Ads?
Facebook in-stream video ads are a 5-15 seconds non-skippable mid-roll video placed within a Facebook news feed. It works better to get a longer view duration, compared with standalone Facebook news feed video ads.
4. What Are the Best Practice for Facebook Video Ads?
In new feeds, there are too many distractions around, so how can you grasp the audience's attention before they click away is very important.
The first 3 seconds matter most. Firstly, you need to showcase your brand right away. Get the brand name out, win users' brand awareness of your business.
'Facebook business' offers the following graphics to show different time audiences spent in different types of video ads. It shows the major consumption is very fast, but it gives a chance to have a deep connection with users.

Facebook audience's attention span
Therefore, next, you are required to get your message as soon as possible to catch the viewers' attention, which decides whether they will stay or drop off.
Make Your Video Ads Short and Punchy
Keep your video ads short. Facebook recommends 5-15s for in-stream videos and 15s or shorter for standalone. It's showed that shorter videos have a higher completion rate.
Never forget that anyone in a business environment would turn sound off. Add captions to make it easier for viewers. Facebook states 'video ads with captions can increase by around 12% of video views.
To avoid the distractions on the news feed, the best way is to automatically play your video, so that you can grasp your viewers' eyes in the multi-tasking scroller.
Get vertical or square? To make sure your Facebook video ads won't be automatically cropped, the aspect ratio of 4:5 is the best option that is compatible with all platforms, though you can use the size of 1:1, 9:16, 16:9.
Optimize the Title and Description of Your Video Ad
You are required to enter an engaging text including your title and description of the video ad to appeal to audiences to watch your video. And make sure you highlight relevant keywords to stress your video content.
Final Thoughts
The catchy Facebook video ads have proven to be triple efficient than traditional texts or image ads. With an affordable daily cost and micro-targeting features for potential customers, Facebook video ads can be your ultimate weapon for a higher click-through rate or branding. So, start using FlexClip to create engaging Facebook video ads with ease now. If you find this post helpful, don't forget to share it with your friends on Facebook. Many thanks.